Everyone loves cheesecake and everyone loves ice cream, so of course everyone will love Cheesecake Ice Cream.
When I was growing up there was a Hungarian family that lived in my neighborhood. Mr. K was a chef and Mrs. K was a baker. Even though I generally hated babysitting, I mean really hated it, I didn't mind babysitting for this family because I couldn't wait to raid the refrigerator after the kids went to bed. They always had the best food.
Mrs. K. had a collection of Wilton Cake Decorating books that she would lend to me sometimes. I pored over those books endlessly. Every year I looked forward to the Hungarian poppy seed and walnut rolls she made for Christmas. I guess even then I should have realized that I was meant to be a pastry chef.
One year at a block party Mrs. K. served homemade strawberry ice cream. You have to understand that this was in the 1970s, the era of Hamburger Helper and powdered mashed potatoes. I remember watching her layer the ice and salt into an old-fashioned ice cream maker shaped like a wooden bucket. Turn the crank, turn the crank…I couldn't believe that she actually made ice cream. It was like magic.
To this day, every time I make ice cream at home it feels like some kind of magic happens. Even with all the pastries and foods that I make there's just something about homemade ice cream that always brings back that feeling.
With the start of summer I'm ready to dust off the ice cream maker and crank out batch after batch of creative flavors. Luckily I don't have to layer salt and ice. I just grab the insert for my machine from the freezer and the ice cream is ready in minutes. Even better, home ice cream makers are pretty inexpensive. The model I use, Cuisinart, currently sells for about $50. I also own the attachment for my Kitchen Aid mixer, which I've never used so I can't really say if it works well. I'll give it a try on my next batch of ice cream to see how it works.
The base recipe I use is actually a frozen custard. If you've ever made Creme Anglaise or pastry cream it's the same procedure; make the custard, add any flavors that you want, chill the custard and run it through the ice cream machine.
I love cheesecake and fruit together so I created this cheesecake ice cream and topped it with a cherry/blueberry compote. With the red, white and blue colors this would be a perfect dessert for your holiday cookouts this summer.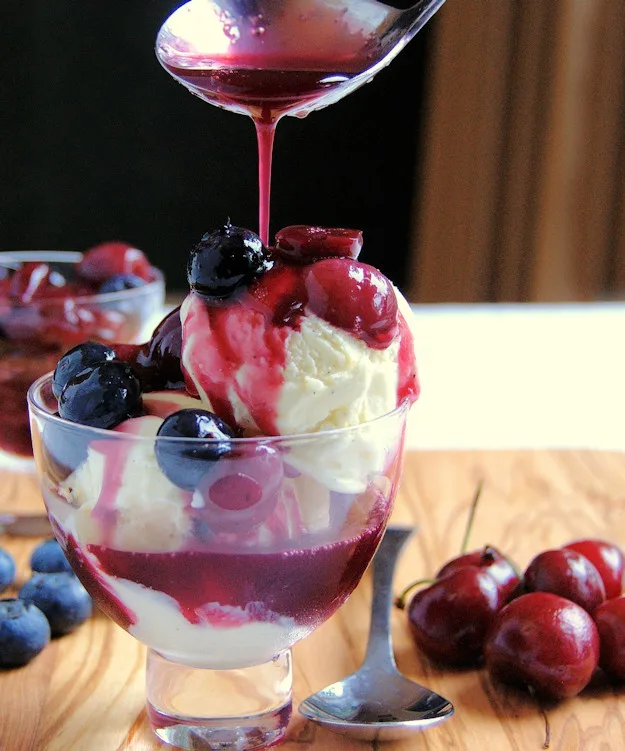 Cheesecake Ice Cream with Cherry & Blueberry Compote
Yield: 8 servings

Prep Time: 30 minutes

Total Time: 30 minutes

Everyone loves cheesecake and everyone loves ice cream, so of course everyone will love Cheesecake Ice Cream
Ingredients
Ice Cream
1 cup whole milk
1/2 cup heavy cream
12 oz cream cheese, softened to room temperature
6 oz (3/4 cup) granulated sugar
1/4 vanilla bean or 1 tsp vanilla extract
5 egg yolks
1/2 tsp lemon zest
1/2 tsp lemon juice
pinch of salt
Compote
1# (About 4 cups) fresh Bing cherries
1 cup fresh blueberries
1/2 cup fruity red wine (such as Pinot Noir or Zinfandel)
1/8 teaspoon black pepper
1 teaspoon fresh lemon juice
1/4 cup granulated sugar
1 teaspoon pectin powder (or 1.5 teaspoons corn starch, see note)
Instructions
Ice Cream

Combine the milk, cream, 1/2 cup granulated sugar in a small saucepan, scrape the vanilla beans out of the pod and add them to the milk, toss the pod into the pan as well

Heat the milk mixture over medium high heat until scalding hot

While the milk heats up, whisk together the yolks, lemon zest and 1/4 cup of the sugar in a small bowl

Once the milk mixture is scalding hot pour it into the bowl with the yolks and whisk to combine

Return the entire mixture to the saucepan and heat over medium low heat, stirring constantly

Cook the custard until it coats the back of a spatula or wooden spoon

Remove from the heat and strain into a bowl

Add the lemon juice and a pinch of salt

Cut the cream cheese into 5 or 6 lumps and toss them into the warm custard

Gently whisk until the cream cheese is melted into the base

Cover the bowl and cool until very cold. At least 4-5 hours or over night

Freeze according to the directions for your ice cream machine
Scoop into a quart container, cover tightly and freeze until firm

Compote

Stem and pit the cherries

Combine the cherries, wine, pepper, lemon juice, sugar and pectin in a small saucepan

Cook over medium high heat until it comes to a boil

Reduce the heat to medium and cook until the cherries soften but still hold their shape, about 5-7 minutes

Remove from the heat and pour into a small bowl

Immediately stir in the blueberries

Cover and refrigerate until completely cooled.
Notes
If you don't havePectin you can use 1.5 teaspoons of corn starch to lightly thicken the compote. If made with cornstarch the compote will become watery after a day or so.

Pectin is usually available wherever canning jars are sold. I can get it in my local grocery store. You could also buy it on-line.