Make creamy Peach Ice Cream at home. Because it's made with roasted peaches, this frozen treat is never icy. Roasting the peaches intensifies the flavor and reduces moisture for a creamier texture.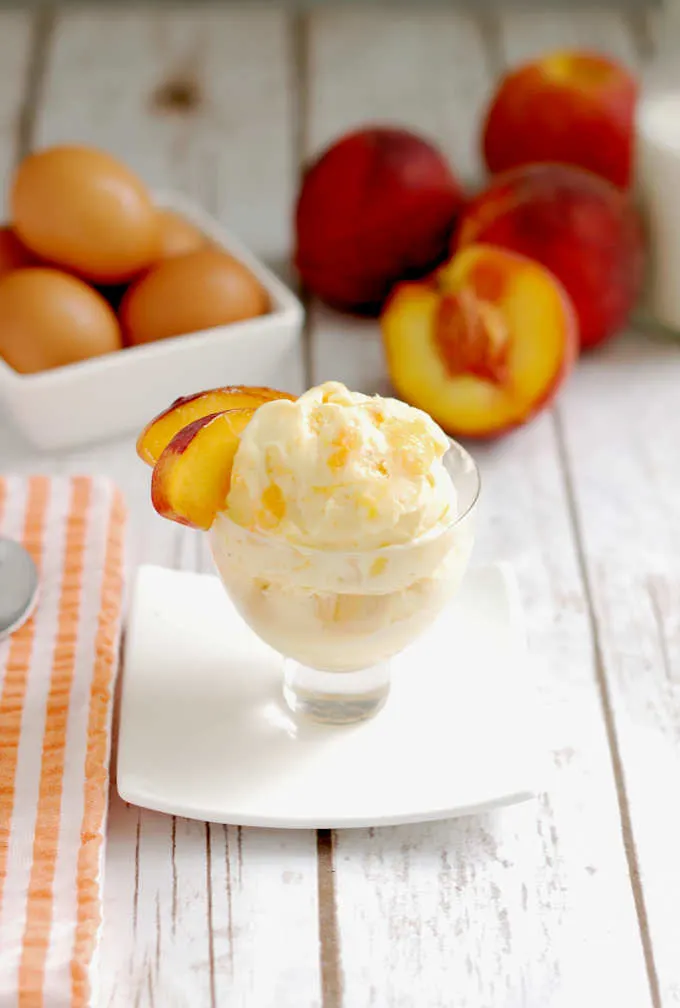 Like tomatoes, peaches really are only worth eating when they're in season. I eat as many as I can while the gettin' is good. I have to indulge enough to carry me through to next summer!
I mostly prefer them as they are, in all their fuzzy, juicy glory. But hey, why not create a truly summery treat while peaches are bountiful?
There's nothing more summery than a perfect peach, except maybe a delicious scoop (or three) of homemade ice cream.
Ice Cream recipes are generally very simple with a fairly short list of ingredients. I mean, basically, it's just frozen cream. But of course there's plenty of chemistry working behind the scenes in every ice cream recipe.
If you're a geek like me and enjoy the science behind a recipe, you should visit this post about making Homemade Ice Cream. But first, lets make homemade peach ice cream.
We want peach ice cream with great peach flavor but without chunks of rock-hard frozen peach. How do we do that? Roast the peaches to reduce the moisture in the fruit and intensify the flavor.
Ingredients
Ripe peaches – Ripe seasonal peaches have the best flavor, and are super juicy (that's why we roast them).
Whole milk/Heavy Cream – For a balanced proportion of fat and water use 1/2 heavy cream and 1/2 milk.
Vanilla bean – Fragrant vanilla pairs beautifully with ripe peaches.
Egg yolks – Egg yolks are not strictly necessary for making ice cream. I use them in my ice cream for the luscious custardy flavor and texture that the yolks contribute to the ice cream.
Granulated sugar – Of course sugar sweetens the ice cream, but it also prevents it from freezing rock hard.
Salt – Just a touch of salt balances out the flavor of the ice cream
How to make creamy Peach Ice Cream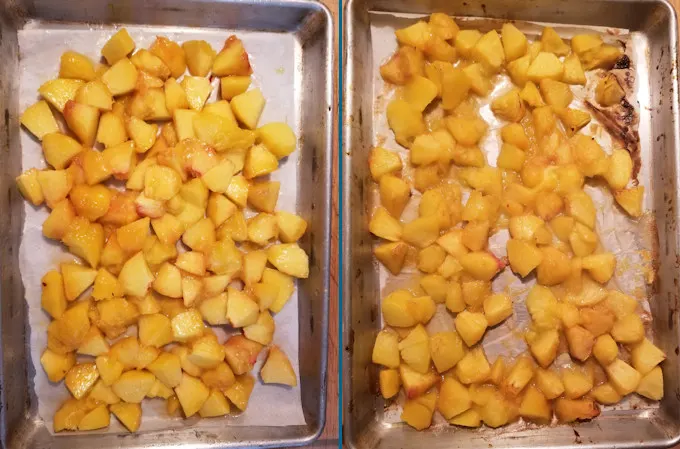 Chop up the fresh peaches and roast them to intensify the flavor and reduce moisture.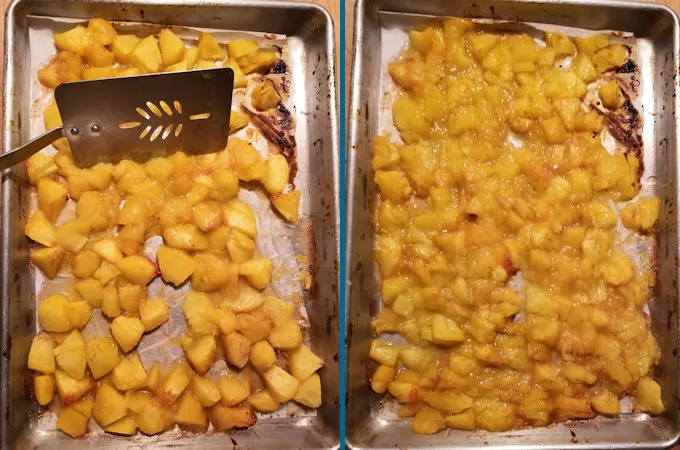 Roughly chop the roasted peaches.
You want a rough puree texture so there are some pieces of peach visible in the ice cream. Because we've reduced the water in the peaches, the chunks of peach won't freeze rock solid as a raw peach would.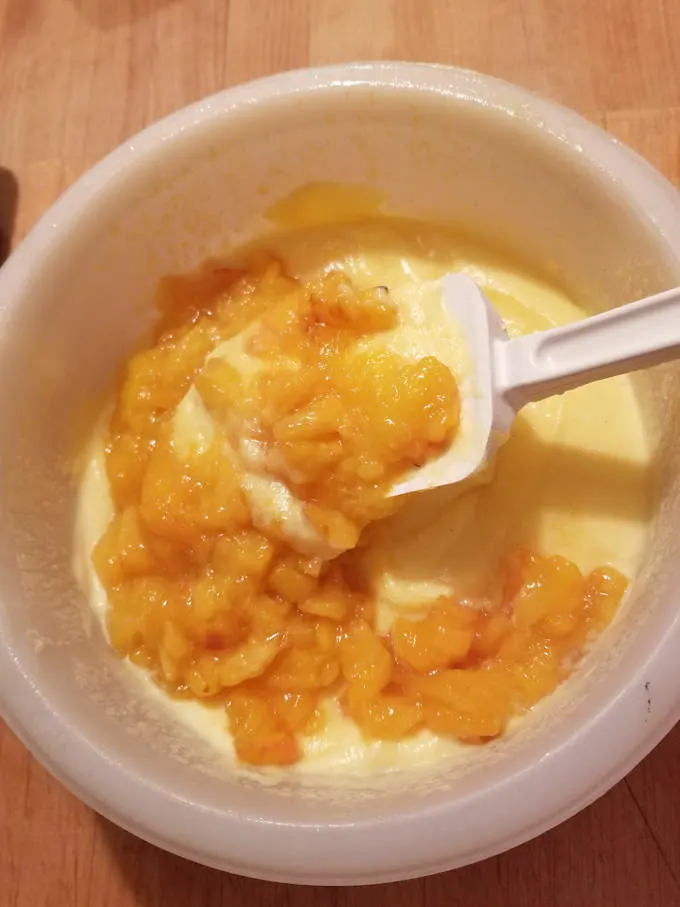 Fold the warm peaches into the warm ice cream base.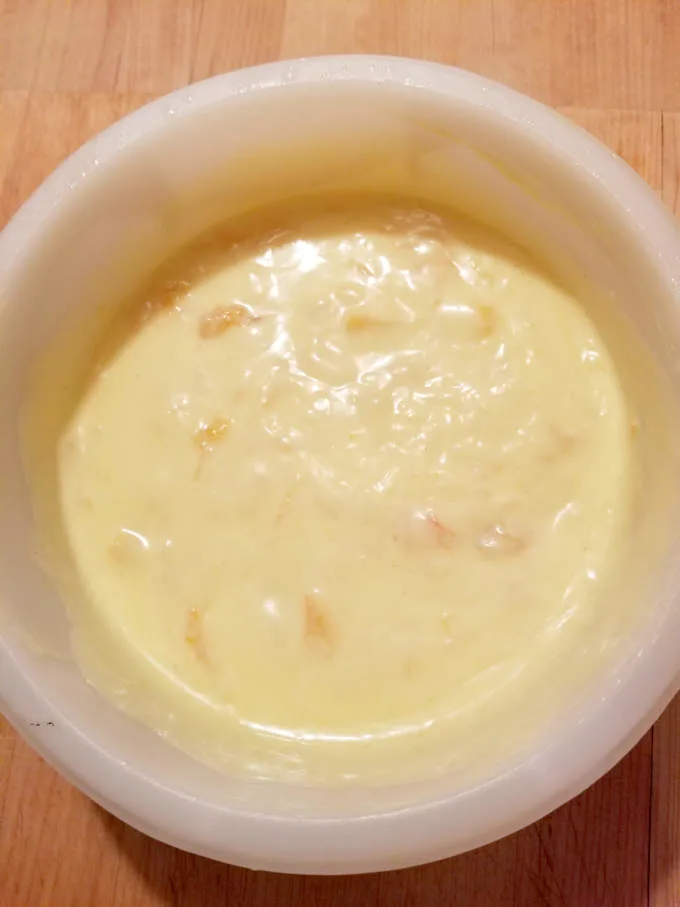 Chill the roasted peach custard until very cold before running in your ice cream machine.
While the ice cream base is chilling, the peaches have time to infuse their flavor into the custard.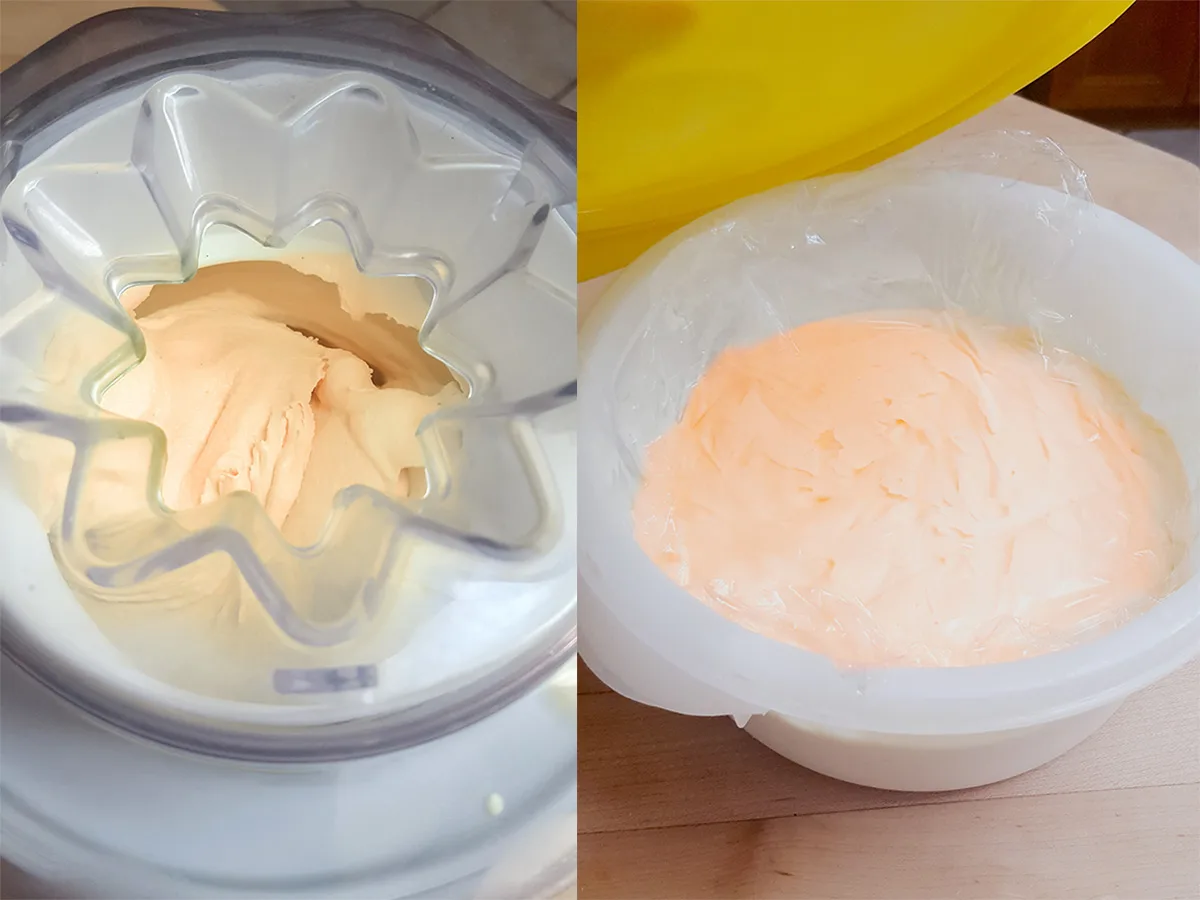 Run the chilled peach custard in your ice cream maker according to the manufacturer's instructions.
Transfer the ice cream to a freezer container. Cover the surface with plastic wraps and freeze until solid.
FAQs
What is peach ice cream made of?
Peach ice cream has the basic ice cream ingredients of cream, milk, sugar and egg yolks. The ice cream is flavored with ripe seasonal peaches and a little vanilla for the best flavor.
How do you peel peaches for ice cream?
Many people dunk the peaches in boiling water to remove the peel. That does work. You can also use a vegetable peeler to remove the skin.
How do you make fruit ice cream not icy?
Fresh fruit is delicious because it is so juicy. That juice is mostly made up of water. The water in fresh fruit will freeze solid in ice cream so you get hard icy bits of fruit in the ice cream. You need to remove water from the fruit to prevent having icy chunks.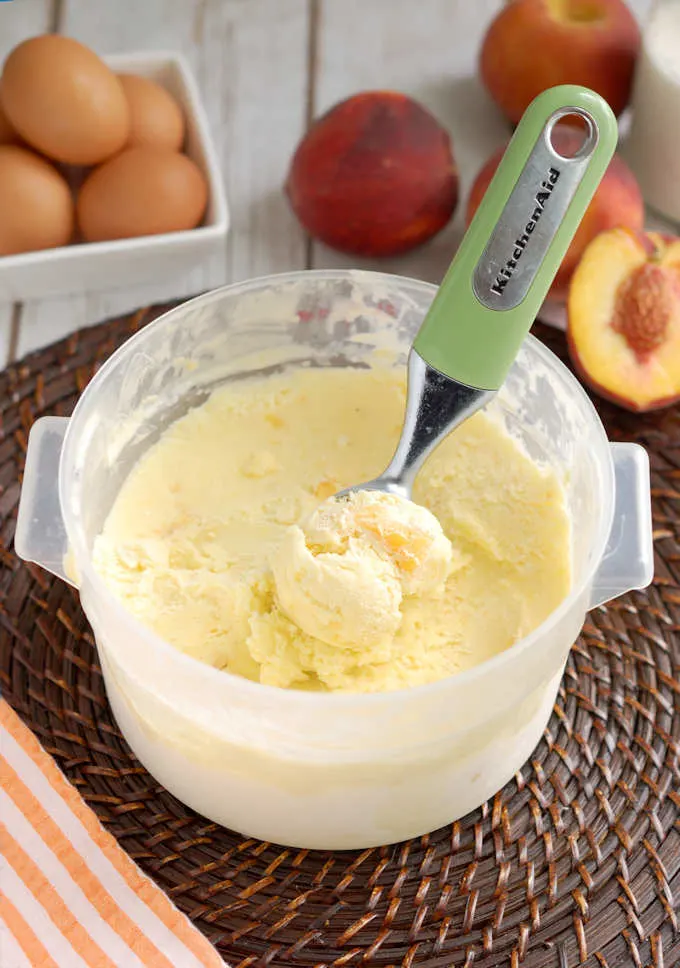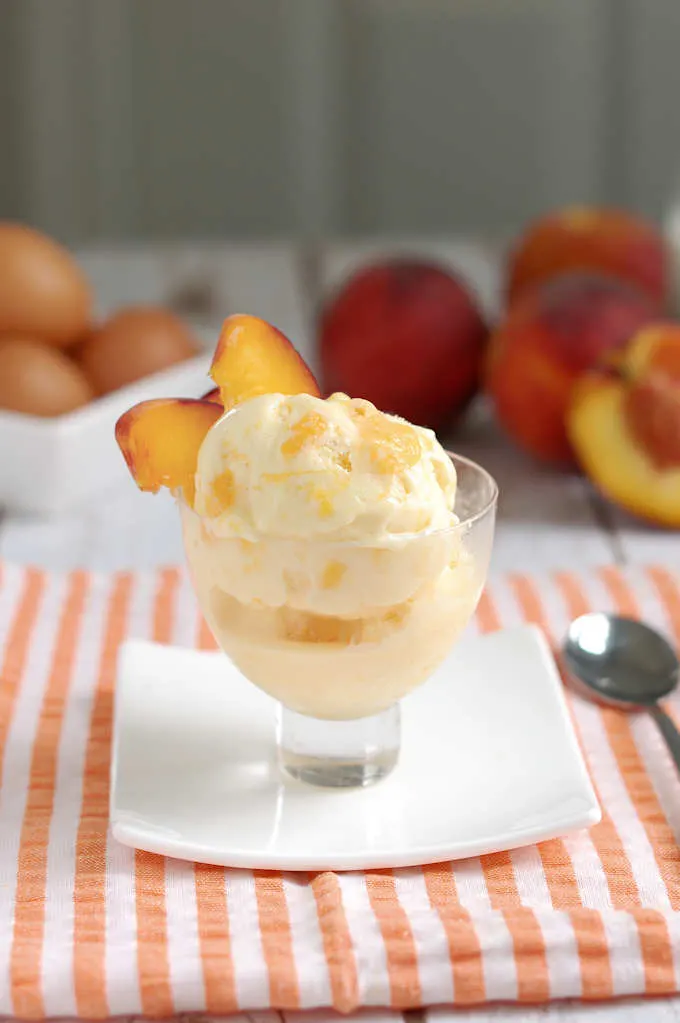 Here are more recipes featuring fresh peaches:
Check out my entire list of Homemade Ice Cream Recipes.
If you love this recipe as much as I do, I would really appreciate a 5-star review.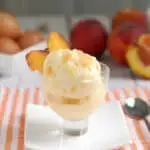 Print Recipe
Peach Ice Cream Recipe
Delicious and creamy homemade ice cream flavored with roasted peaches and fragrant vanilla bean. Roasting the peaches intensifies the flavor and reduces moisture for a creamier texture.
Ingredients
1 ½

pounds

ripe peaches

(about 4)

12

oz

whole milk

(1 ½ cups)

12

oz

heavy cream

(1 ½ cups)

1

vanilla bean

(split)

6

egg yolks

8

oz

granulated sugar

(1 cup)

1/8

teaspoon

table salt
Instructions
Preheat the oven to

350

°F

. Chop the peaches into ½" chunks, spread them on a lightly oiled or parchment lined roasting pan or sheet pan. Roast the peaches for 20 minutes until most of the juices are absorbed and they are a little brown around the edges. Use a spatula to roughly chop the peaches. Set aside the peaches while you make the ice cream base.

Combine

12 oz whole milk

,

12 oz heavy cream

and

1 vanilla bean

in a small saucepan. Heat the milk mixture over medium high heat until scalding hot.

While the milk heats up, whisk together

6 egg yolks

,

8 oz granulated sugar

and

1/8 teaspoon table salt

in a small bowl.

Once the milk mixture is scalding hot, pour it into the bowl with the yolks and whisk to combine

Return the entire mixture to the saucepan and heat over medium low heat, stirring constantly. Cook the custard until it thickens enough to coat the back of a spatula or wooden spoon. Do not allow it to come to a boil. Remove from the heat and strain into a bowl. Scrape the seeds from the pod and stir them into the custard. Return the pod to the custard. Stir the roasted peaches (and any accumulated juices) into the ice cream base.

Cover the bowl and chill until very cold. At least 4-5 hours or over night.

Discard the vanilla pod (or save it to make vanilla sugar) from the custard. Freeze according to the directions for your ice cream machine. As the ice cream churns, the chunks of peach will be broken down into the ice cream.

When the ice cream is ready, scoop it into a container and smooth to an even layer. Lay a piece of plastic wrap directly on the surface of the ice cream, cover tightly and freeze until firm.
Equipment
Freezer Storage Containers
As an Amazon Associate and member of other affiliate programs, I earn from qualifying purchases.
Nutrition
Serving:
1
serving
|
Calories:
359
kcal
|
Carbohydrates:
41
g
|
Protein:
6
g
|
Fat:
21
g
|
Saturated Fat:
12
g
|
Polyunsaturated Fat:
1
g
|
Monounsaturated Fat:
6
g
|
Cholesterol:
199
mg
|
Sodium:
82
mg
|
Potassium:
223
mg
|
Fiber:
1
g
|
Sugar:
39
g
|
Vitamin A:
1166
IU
|
Vitamin C:
4
mg
|
Calcium:
102
mg
|
Iron:
1
mg