Blueberry & Cherry Shortcakes are the perfect dessert to celebrate the red, white & blue. This shortcake recipe brings together rich biscuits, a blueberry & cherry compote made with a hint of red-wine and a mound of vanilla whipped cream on top.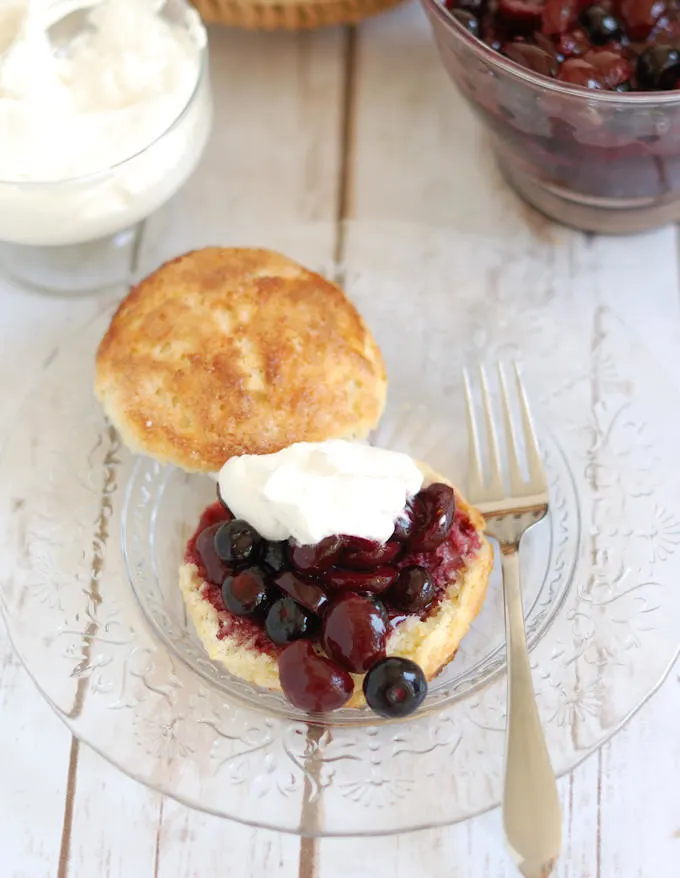 Shortcakes are one of my favorite summer desserts, especially for get-togethers. Shortcake Biscuits are similar to buttermilk biscuits, but the addition of a couple of eggs makes them a little lighter and more cakey than a plain biscuit. That lighter texture is perfect for absorbing the delicious fruit juices.
Beyond Strawberry Shortcake – Shortcake can change with the seasons.
While the basic elements of shortcake are consistent, this one recipe can be made with different fruits as the summer goes on.
When we get local strawberries in the late spring and early summer, it's the time for classic Strawberry Shortcake or Strawberry Rhubarb Shortcakes.
By early July it's time for cherries and blueberries. Red cherries, blueberries and white cream make Blueberry & Cherry Shortcakes the perfect treat for July 4th parties.
By the time August rolls around, I'm ready for fresh Peach Shortcakes.
You can also use Chocolate Shortcakes with Chocolate Chips as the base for this desserts. If you are a true chocoholic, top it off with Chocolate Whipped Cream.
Ingredients
Dark cherries
Red wine
Black pepper
Lemon juice
Granulated sugar
Pectin powder
Blueberries
Heavy cream
Vanilla extract
Shortcake Biscuits
Shortcake is the perfect make-ahead dessert.
Though the shortcakes come together quickly and can be made the day you're serving them, you can to make them a few days (or weeks) before the party and freeze them. Defrost and reheat in the oven to revive the texture.
The compote can be made several days ahead and refrigerated.
The day of the party all you need to do is re-warm the shortcakes and whip some cream.
Set out the biscuits, filling and cream and allow guests to build their own Shortcake.
If you're not hosting a party, make the shortcakes and freeze any leftovers for later.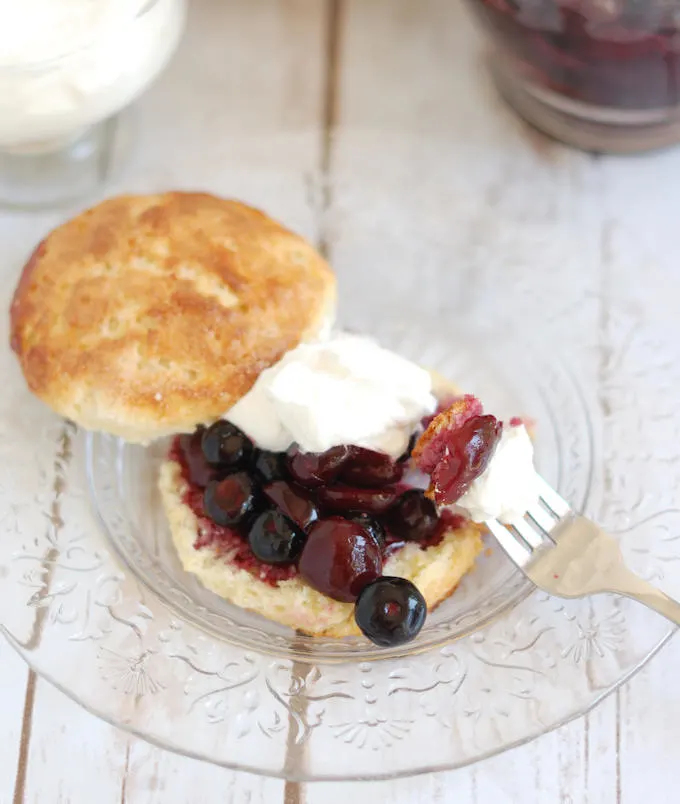 If you love this recipe as much as I do, please consider leaving a 5-star review.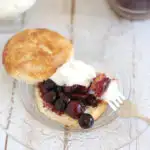 Print Recipe
Blueberry & Cherry Shortcake Recipe
A red, white and blue shortcake with a luscious berry compote. The shortcake biscuits are the perfect base for this summer treat.
Ingredients
Blueberry & Cherry Compote
16

oz

dark cherries

(2 cups)

4

oz

red wine

(1/2 cup)

1/8

teaspoon

black pepper

1

teaspoon

lemon juice

2

oz

granulated sugar

(1/4 cup)

1

teaspoon

pectin powder

(or 1.5 teaspoons corn starch, see note)

6

oz

blueberries

(1 cup)
Instructions
Compote
Stem and pit the cherries. Combine the cherries, wine, pepper, lemon juice, sugar and pectin in a small saucepan. Cook over medium high heat until it comes to a boil.

16 oz dark cherries,

4 oz red wine,

1/8 teaspoon black pepper,

1 teaspoon lemon juice,

2 oz granulated sugar,

1 teaspoon pectin powder

Reduce the heat to medium and cook until the cherries soften but still hold their shape, about 5-7 minutes. Remove from the heat and pour into a small bowl. Immediately stir in the blueberries. Cover and refrigerate until completely cooled.
Assembly
Whip the cream with the sugar and vanilla. Split the Shortcakes, top with compote, cream and more compote

16 oz heavy cream,

2 oz granulated sugar,

1 tablespoon vanilla extract,

12 Shortcake Biscuits
As an Amazon Associate and member of other affiliate programs, I earn from qualifying purchases.
Notes
If working with cornstarch, stir the cornstarch with 1 tablespoon of the wine. Mix the rest of the wine with the cherries. Once the cherries come to a boil, allow them to cook until softened. Then stir in the cornstarch. Bring the mix back to a boil and cook until it begins to thicken. Remove from the heat and stir in the blueberries.
Nutrition
Serving:
1
biscuit
|
Calories:
308
kcal
|
Carbohydrates:
32
g
|
Protein:
3
g
|
Fat:
18
g
|
Saturated Fat:
9
g
|
Polyunsaturated Fat:
2
g
|
Monounsaturated Fat:
5
g
|
Cholesterol:
43
mg
|
Sodium:
266
mg
|
Potassium:
206
mg
|
Fiber:
2
g
|
Sugar:
18
g
|
Vitamin A:
588
IU
|
Vitamin C:
4
mg
|
Calcium:
45
mg
|
Iron:
1
mg