Double Malted Chocolate Ice Cream is made with malted milk powder & malted barley syrup. It's luscious and has a deep chocolate flavor thanks to a generous hit of cocoa powder.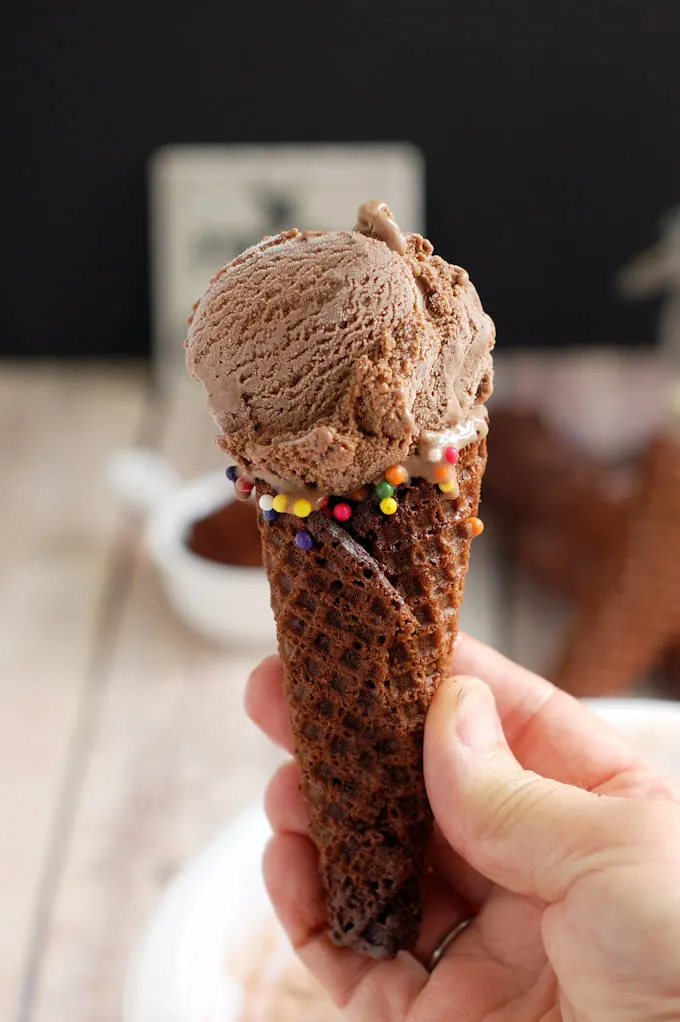 Ok my fellow ice cream lovers, I've pulled out all the stops with this recipe.
Ice Cream recipes are generally very simple with a fairly short list of ingredients. I mean, basically, it's just frozen cream. But of course there's plenty of chemistry working behind the scenes in every ice cream recipe. If you're a geek like me and enjoy the science behind a recipe, you should visit this post about making Homemade Ice Cream.
The most interesting thing about this particular recipe is the two forms of malt in the mix, and what they do for the flavor of the ice cream. Spoiler alert, they make the flavor amazing!
Because I've been on a bit of a malted milk kick, I naturally decided that making plain chocolate ice cream wasn't good enough. Of course I had to make malted chocolate ice cream. But wait, there's more.
I've been adding barley malt syrup to a lot of my breads lately. Light bulb! That caramely, malty flavor would work beautifully with cocoa.
I mean, if malted chocolate is good, double malted chocolate has to be even better, right?
Before I go on, since you've got malted milk powder already, you might also want to try my Malted Milk Ice Cream.
How I developed the recipe for Double Malted Chocolate Ice Cream:
The first step was to add malted milk powder for flavor. Based on my recipe testing for Malted Milk Cream Pie, I knew a 1/2 cup would add plenty of flavor without ruining the texture of the custard base.
Barley malt syrup has a strong flavor, so a little goes a long way. I replaced just 1/4 of the sugar in the recipe with the syrup.
A high quality cocoa powder adds pure chocolate flavor without added fat. Melted chocolate would add fat in the form of cocoa butter.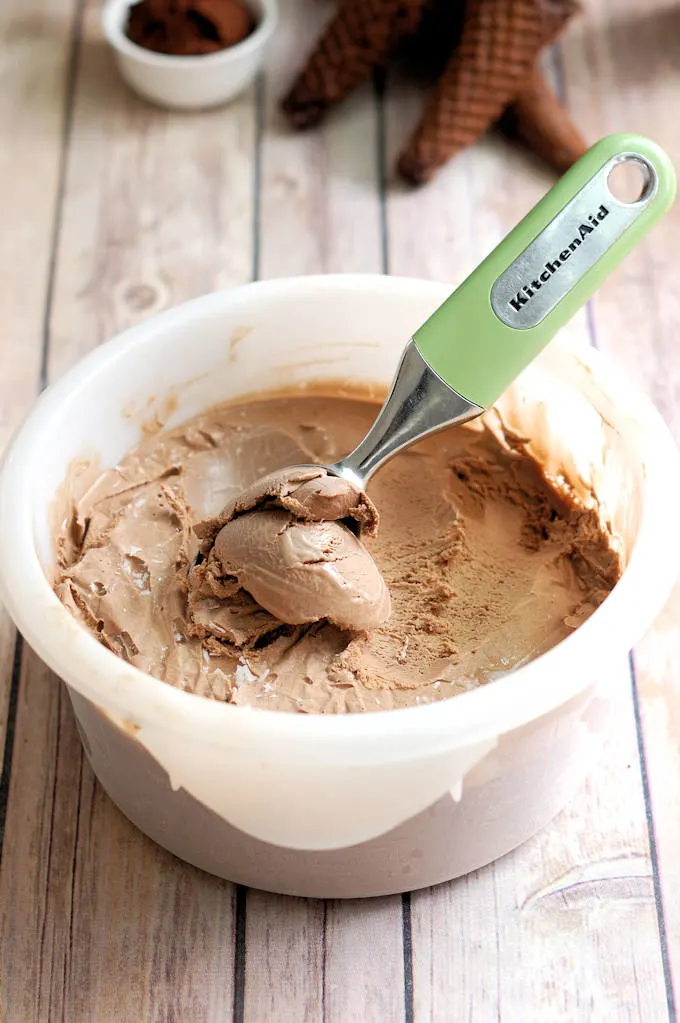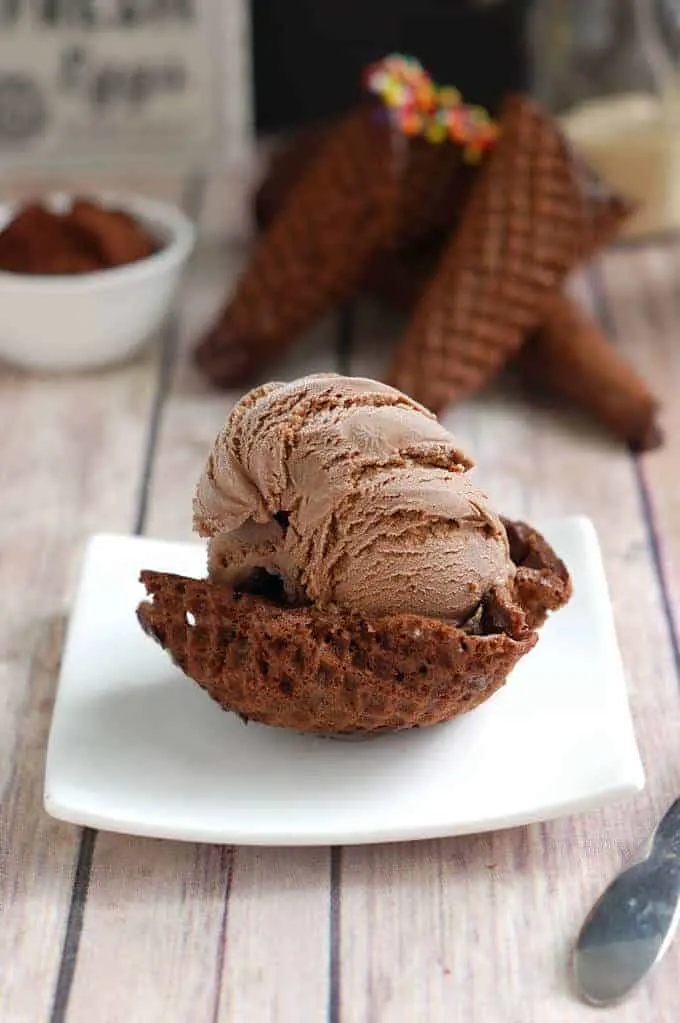 I absolutely love the flavor of this ice cream. It's got a super-sized chocolate flavor that I think you'll enjoy. This is not an ice cream flavor you'll find in the supermarket freezer aisle. It's totally worth making at home.
Wondering what to do with the left over egg Whites? Make Angel Food Cake, Chocolate Angel Food Cake, Macarons, Italian Meringue Buttercream or freeze them for later.
Now that you've made this recipe what should you do with all the extra egg whites? Check out this collection of recipes that use extra whites for some great ideas.
If you love this recipe as much as I do, please consider leaving a 5-star review.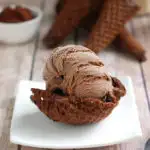 Print Recipe
Double Malted Chocolate Ice Cream Recipe
Deliciously creamy! Made with malted milk powder and cocoa for an extra special flavor. The malted barley syrup makes the ice cream soft, luscious and scoopable texture, straight from the freezer.
Instructions
In a small saucepan, whisk together

12 oz whole milk

,

12 oz heavy cream

,

3 oz malted barley syrup

,

3 oz malted milk powder

1 oz cocoa powder

. Heat the milk mixture over medium high heat until scalding hot but not boiling.

While the milk heats up, whisk together

6 egg yolks

,

6 oz granulated sugar

and

1 tbsp vanilla extract

in a small bowl.

Once the milk mixture is scalding hot, pour it into the bowl with the yolks and whisk to combine

Return the entire mixture to the saucepan and heat over medium low heat, stirring constantly. Cook the custard until it thickens enough to coat the back of a spatula or wooden spoon. Do not allow it to come to a boil. Remove from the heat and strain into a bowl. Cover the bowl and chill until very cold. At least 4-5 hours or over night.

Freeze according to the directions for your ice cream machine.

When the ice cream is ready, scoop it into a container and smooth to an even layer. Lay a piece of plastic wrap directly on the surface of the ice cream, cover tightly and freeze until firm.
Equipment
Freezer Storage Containers
As an Amazon Associate and member of other affiliate programs, I earn from qualifying purchases.
Nutrition
Serving:
1
serving
|
Calories:
382
kcal
|
Carbohydrates:
42
g
|
Protein:
7
g
|
Fat:
22
g
|
Saturated Fat:
13
g
|
Polyunsaturated Fat:
1
g
|
Monounsaturated Fat:
6
g
|
Cholesterol:
202
mg
|
Sodium:
79
mg
|
Potassium:
280
mg
|
Fiber:
1
g
|
Sugar:
36
g
|
Vitamin A:
912
IU
|
Vitamin C:
1
mg
|
Calcium:
146
mg
|
Iron:
1
mg