Fresh Mint Chocolate Chip Ice Cream Pie, also known as Grasshopper Ice Cream pie, is made with a dark chocolate crust filled with homemade mint chocolate chip ice cream and topped with a mound of whipped cream. Ice cream with pie is great, ice cream IN pie is even better!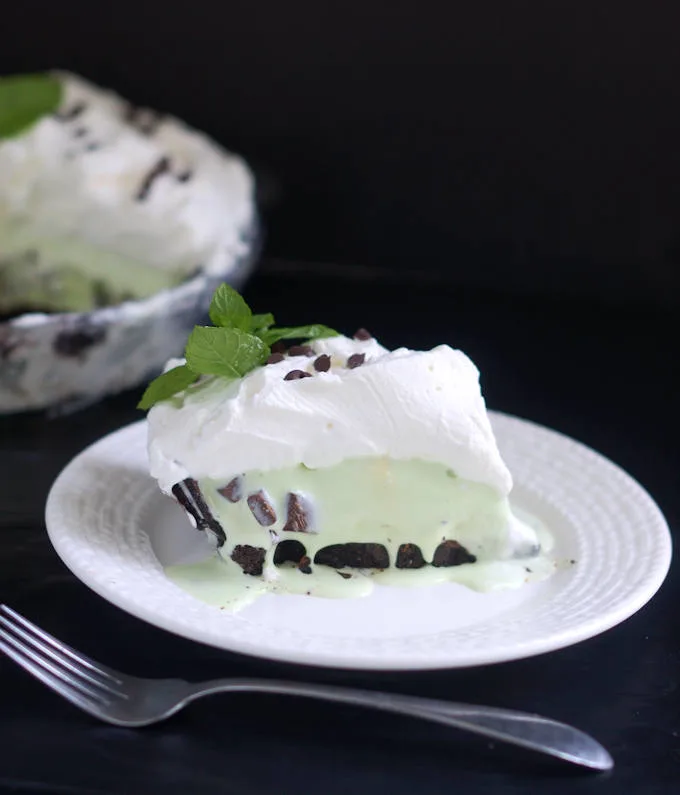 To learn all about the basics of making homemade ice cream, check out my Vanilla Bean Ice Cream post. But first, let's make a Mint Chocolate Chip Ice Cream Pie.
The flavor pairing of chocolate and mint is a classic. In fact, there is an old-timey cocktail made with creme de menthe and creme de cacao called the "grasshopper".
Some folks call this "Grasshopper Pie" after the cocktail. Whatever you call it, it's a decadent and delicious treat.
Ingredients
Whole milk/heavy cream – For a balanced proportion of fat and water use 1/2 heavy cream and 1/2 milk.
Fresh mint – For deep mint flavor
Egg yolks – Yolks are not strictly necessary for making ice cream. I use them in my ice cream for the luscious custardy flavor and texture that the yolks contribute to the ice cream.
Granulated sugar – Of course sugar sweetens the ice cream, but it also prevents it from freezing rock hard.
Salt – Just a touch of salt balances out the flavor of the ice cream
Green food coloring (optional)
Chocolate chunks
Chocolate cookie crumbs
Butter
Confectioner's sugar
Vanilla extract
How to Make Chocolate Chip Mint Ice Cream with fresh mint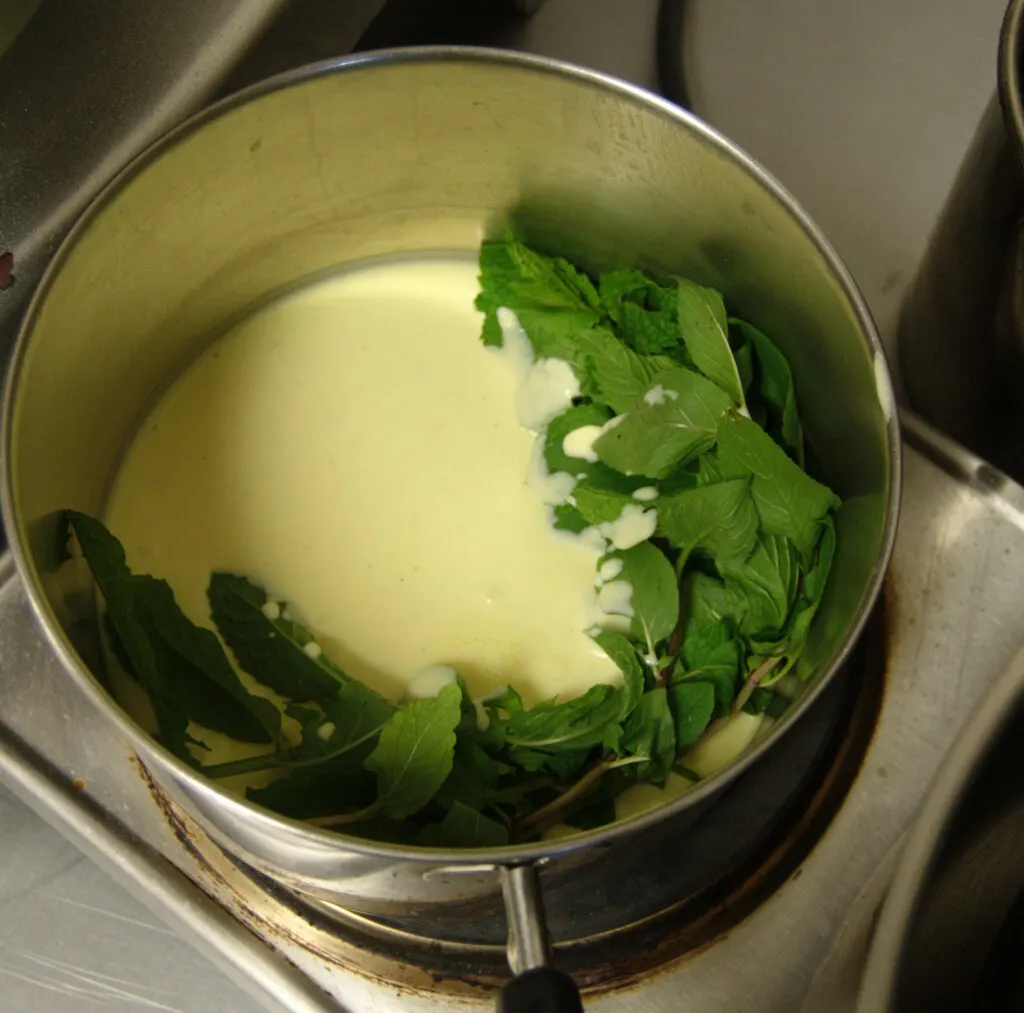 Heat the milk and cream until scalding hot.
Turn off the heat. Add fresh mint sprigs to the cream and set it aside to steep for 30-60 minutes.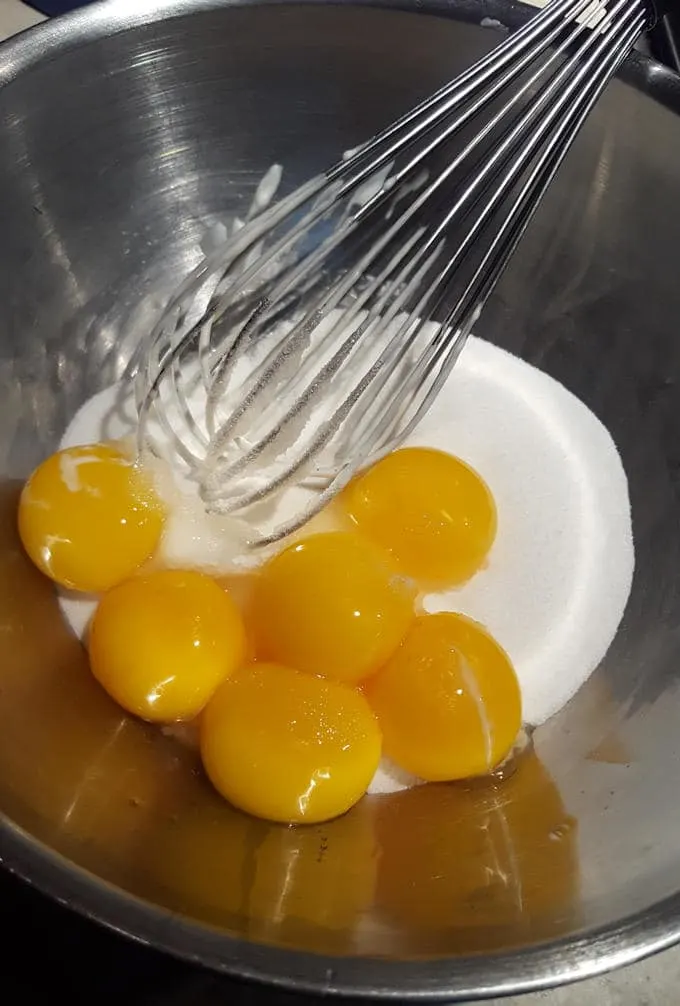 Whisk the yolks with the sugar.
Remove the mint stems from the cream and bring it back to scalding.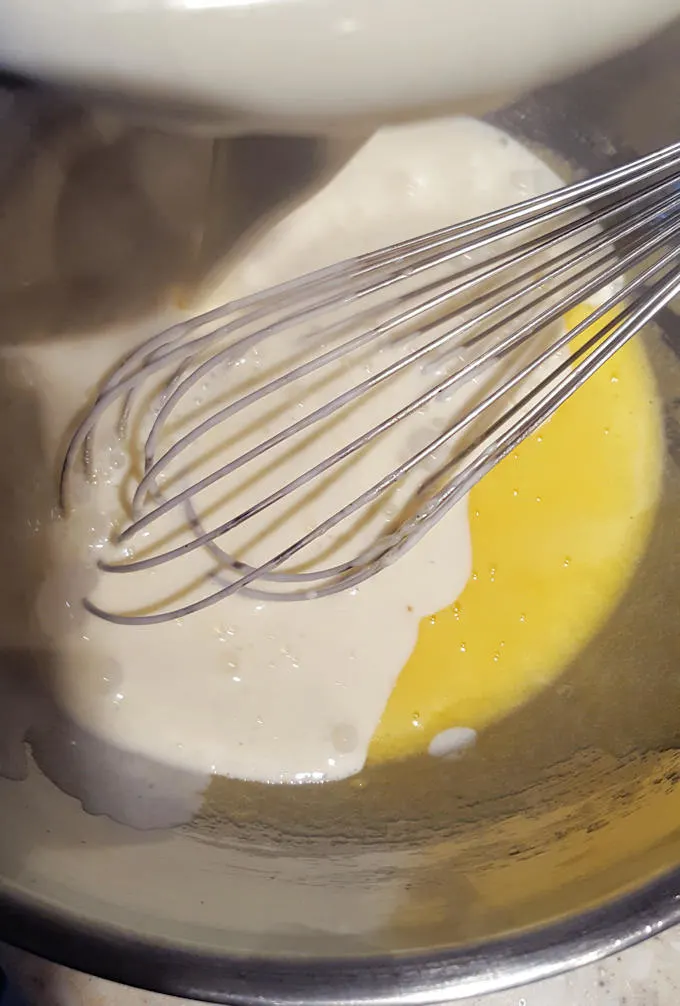 "Liason" the scalding milk into the egg yolk mixture.
Return the custard to the pot. Cook over low heat, stirring constantly.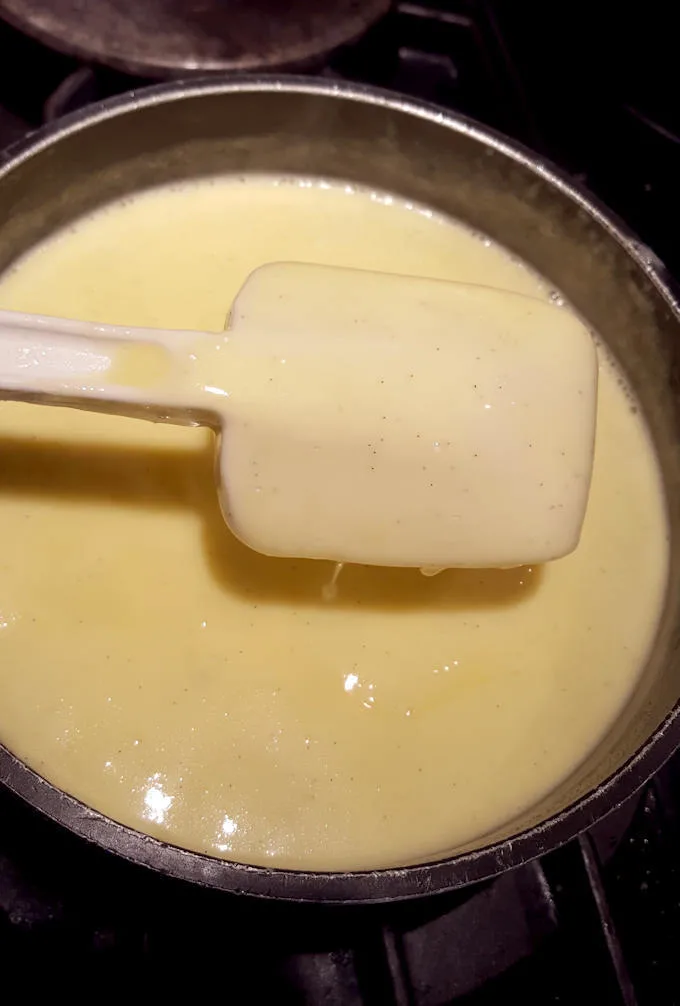 Cook the custard over low heat, stirring constantly, until it is thick enough to coat the spatula (this is called "nappe").
Chill the custard until it is very cold then run it in your ice cream machine according to the manufacturer's directions.
Add the chocolate chips and optional green food coloring just before taking the ice cream out of the machine.
Use the ice cream immediately to fill your pie shell. If you are just making ice cream, pack it in a freezer container to freeze solid.
Although I'm offering this as a pie recipe, of course you could just make the ice cream and serve it by the scoop or in a cone or a chocolate cone bowl.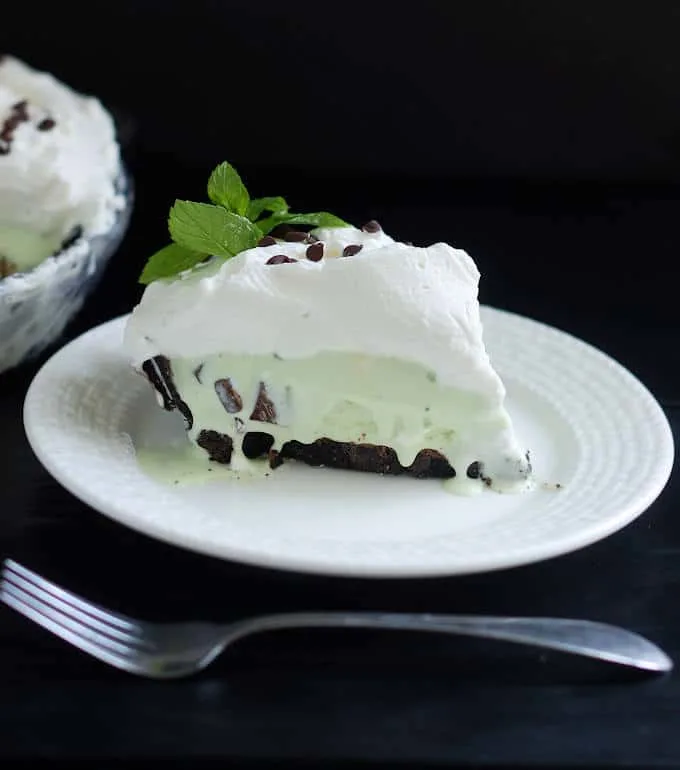 Watch the video to see how to make a Fresh Chocolate Chip Mint Ice Cream Pie.

Now that you've made this recipe what should you do with all the extra egg whites? Check out this collection of recipes that use extra whites for some great ideas.
Check out my entire list of Homemade Ice Cream Recipes.
If you love this recipe as much as I do, please consider leaving a 5-star review.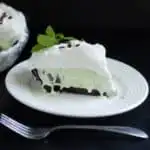 Print Recipe
Mint Chocolate Chip Ice Cream Pie Recipe
A dark chocolate cookie crust is filled with homemade fresh mint chocolate chip ice cream. Top the pie with a mound of lightly sweetened cream for a luscious treat.
Ingredients
For the Mint Chocolate Chip Ice Cream
12

oz

whole milk

(1 ½ cups)

12

oz

heavy cream

(1 ½ cups)

1

bunch fresh mint

(at least 10 large sprigs)

5

egg yolks

6

oz

granulated sugar

(¾ cup)

⅛

teaspoon

salt

green food coloring

(optional)

11 ½

oz

chocolate chunks
For the Chocolate Crust
9

oz

chocolate cookie crumbs

1

oz

granulated sugar

(2 tablespoons)

2

oz

unsalted butter

(4 tablespoons, melted)

⅛

teaspoon

salt
For assembly
16

oz

heavy cream

(2 cups)

3

tablespoons

confectioner's sugar

2

teaspoons

vanilla extract

Chocolate chips and fresh mint leaves for garnish
Instructions
Make the Ice Cream
Combine

12 oz whole milk

and

12 oz heavy cream

in a small saucepan. Heat the milk mixture over medium high heat until scalding hot. Toss in half of the mint sprigs, cover the pot and allow to steep for 30-60 minutes.

Remove the mint sprigs from the milk mixture. Heat the mixture until scalding.

While the milk heats up, whisk together

5 egg yolks

,

6 oz granulated sugar

and

⅛ teaspoon salt

in a small bowl.

Once the milk mixture is scalding hot, pour it into the bowl with the yolks and whisk to combine

Return the entire mixture to the saucepan and heat over medium low heat, stirring constantly. Cook the custard until it thickens enough to coat the back of a spatula or wooden spoon. Do not allow it to come to a full boil. Remove from the heat and strain into a bowl. Add the remaining fresh mint sprigs to the bowl.

Cover the bowl and chill until very cold. At least 4-5 hours, preferably over night.
Make the Crust
Grind

9 oz chocolate cookie crumbs

in a food processor. You'll get about 2 cups of crumbs. Add

1 oz granulated sugar

2 oz unsalted butter

and

⅛ teaspoon salt

. Pulse a few times to combine. Dump the crumbs into a pie plate. Press the crumbs into the bottom and up the sides of the pie plate. Freeze the crust while the ice cream is churning.
Assembly
Remove the mint sprigs from the chilled ice cream base and freeze according to the directions for your ice cream machine. Add the optional food coloring. When the ice cream is ready, toss in

11 ½ oz chocolate chunks

. Allow the chunks to mix through the ice cream.

Transfer the ice cream into the chilled chocolate crust and spread to an even layer. Cover with plastic wrap and freeze until solid, several hours or overnight.

When ready to serve, remove the pie from the freezer. Whip

16 oz heavy cream

,

3 tablespoons confectioner's sugar

and

2 teaspoons vanilla extract

. Spread the cream over the pie. Decorate with a sprinkle of chocolate chunks and a fresh mint leaves.
As an Amazon Associate and member of other affiliate programs, I earn from qualifying purchases.
Nutrition
Serving:
1
slice
|
Calories:
738
kcal
|
Carbohydrates:
62
g
|
Protein:
9
g
|
Fat:
53
g
|
Saturated Fat:
31
g
|
Polyunsaturated Fat:
3
g
|
Monounsaturated Fat:
15
g
|
Trans Fat:
0.2
g
|
Cholesterol:
206
mg
|
Sodium:
249
mg
|
Potassium:
378
mg
|
Fiber:
3
g
|
Sugar:
45
g
|
Vitamin A:
1513
IU
|
Vitamin C:
0.5
mg
|
Calcium:
136
mg
|
Iron:
3
mg