Have you ever tasted creme fraiche? Mmm, it's so good. Never one to leave well enough alone, I decided to make ice cream from creme fraiche. Creme Fraiche Ice Cream has a lovely, earthy flavor that goes well with fresh fruit, cooked fruit desserts and any type of ice cream sauce.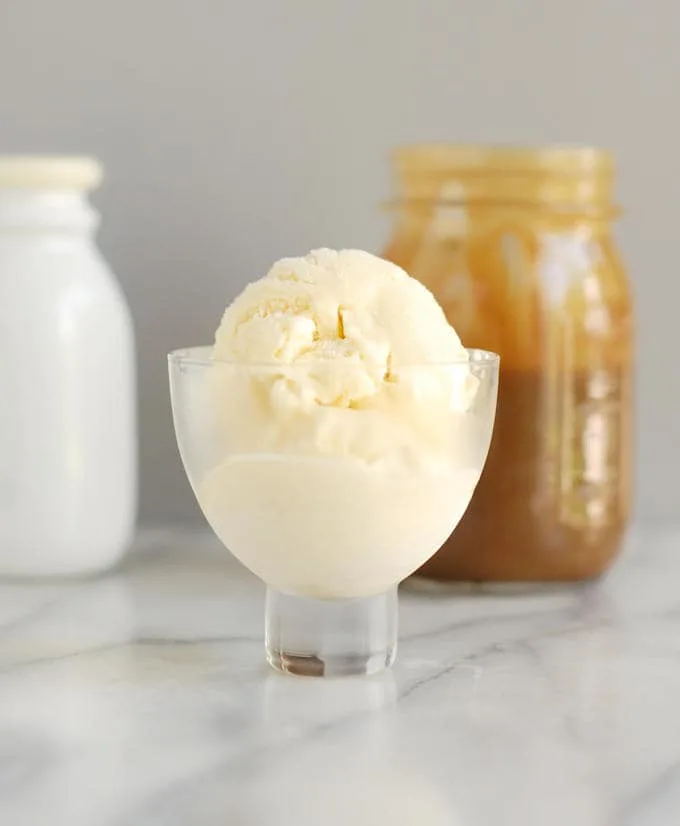 I love making ice cream at home. Sure, it's easy enough to buy ice cream, but it's fun to play with different flavors when making your own. For years I used the same cream and milk base and simply added different ingredients to make new flavors.
Ice Cream can be made with diary products other than milk and cream.
Recently, I've moved beyond heavy cream and have been experimenting with a variety of dairy products as the base for ice cream. I've made Cheesecake Ice Cream using cream cheese as the base. Because of my love affair with buttermilk as an ingredient, I just had to make Buttermilk Ice Cream, YUM!
So now I'm making ice cream with another alternate dairy product, creme fraiche. Have you ever tried creme fraiche? I love it. It has a texture similar to sour cream, but it's not overtly sour.
I would describe creme fraiche's flavor as earthy with a bit of a cheesy background note. I know, I know, I'm not making it sound delicious. But creme fraiche really has a specific, wonderful and complex flavor.
I originally made this ice cream last fall to go with Apple Tarte Tatin. Because of the holiday rush I didn't have time to photograph either the tart or the ice cream. So, no blog post at that time.
Now, ice cream season is coming! It's time to break out my ice cream maker and get to work. I couldn't wait to give you this recipe for Creme Fraiche Ice Cream, which has me completely obsessed. Since the recipe was already done, I just had to run a batch and take the photos to get it to you.
Scroll through the process photos to see how-to make Creme Fraiche Ice Cream: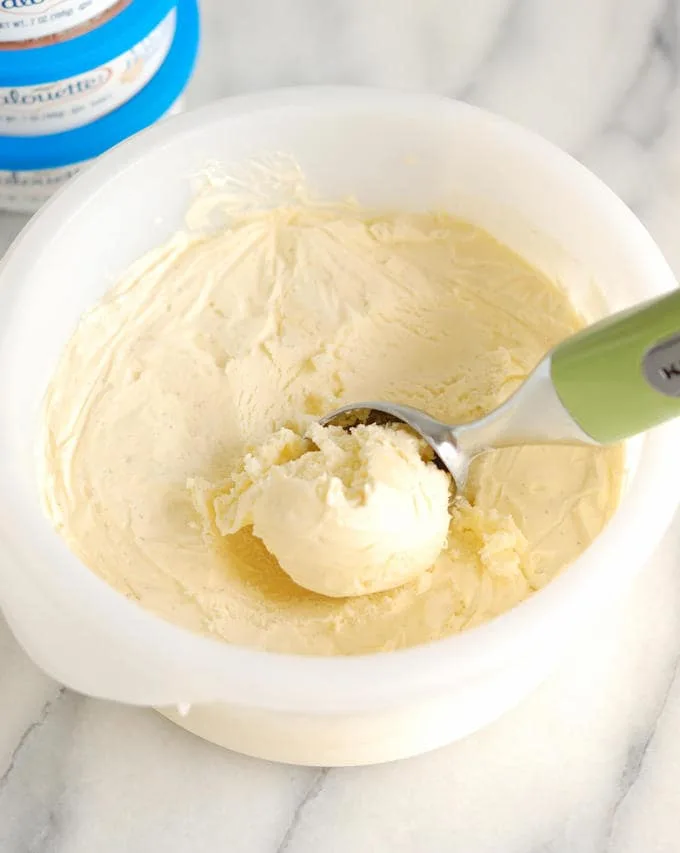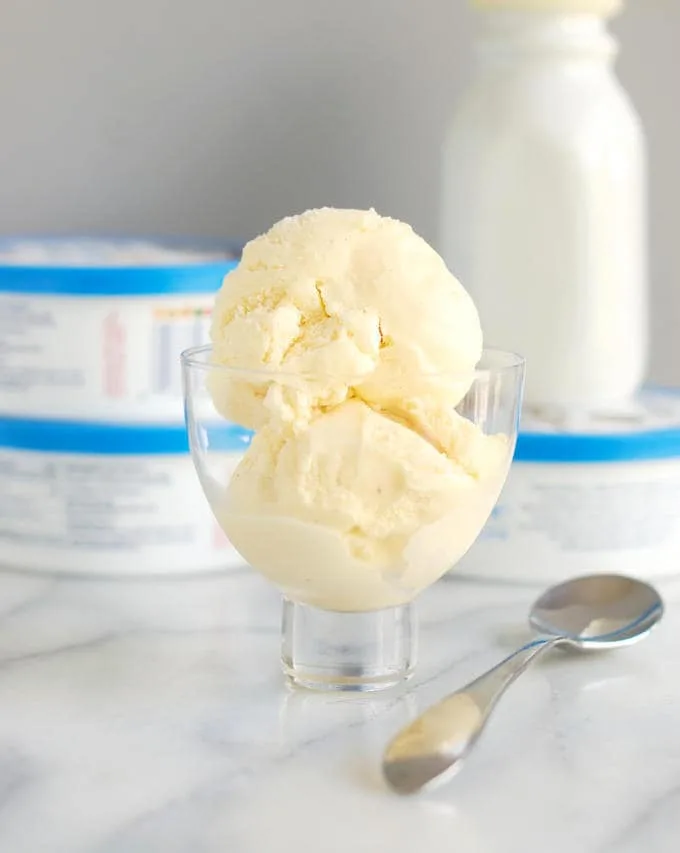 The rich earthy flavor of Creme Fraiche Ice Cream complements sweet and tart fruit flavors. It pairs perfectly with fruit pie, fruit compote or fresh fruit.
Ummm, I guess I shouldn't admit to eating an embarassingly big bowl of Creme Fraiche Ice slathered with Butterscotch Sauce last weekend. But I did, and I'm not sorry. It was totally worth the calories…
If you love this recipe as much as I do please consider giving it 5 stars.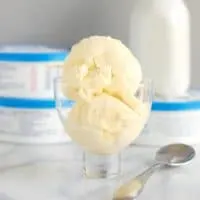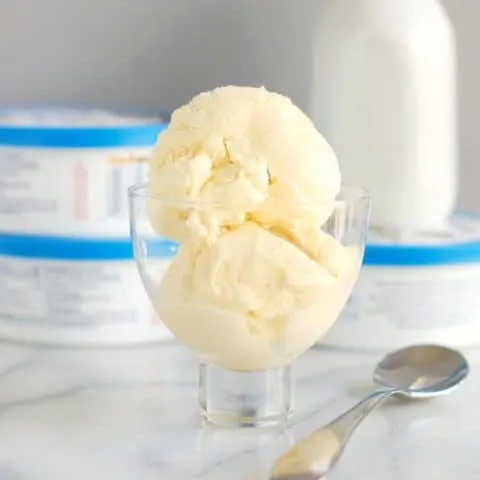 Creme Fraiche Ice Cream
Total Time:
6 hours
20 minutes
Creme Fraiche Ice Cream has a lovely, earthy flavor that goes well with fresh fruit, cooked fruit desserts and any type of ice cream sauce.
Ingredients
3 containers (7oz or 198g each container) creme fraiche
1 cup (235 ml) whole milk
8 oz (1 cup, 225 g) granulated sugar
6 egg yolks
1/2 vanilla bean or 1 teaspoon real vanilla extract
Pinch of salt
Instructions
Over a medium flame, heat the milk and creme fraiche in a saucepan with the vanilla bean seeds and the pod. As the mixture heats up it will thin out a bit. Heat just until scalding hot. Do not allow the milk come to a full boil.
While the milk mixture is heating, whisk together the yolks and the sugar. Whisk the scalding hot milk into the yolks. Return the mixture to the pan and reduce the heat to medium low. Cook the custard, stirring constantly, until it coats the back of a spoon or spatula or the temperature registers 165°F.
Strain the mixture into a bowl, allow it to cool to room temperature. Leave the vanilla pod in the mixture while it cools then remove before freezing (see note). Cover with plastic wrap and refrigerate for at least 6-8 hours, until very cold. Run the custard in your ice cream maker according to the manufacturer's directions.
Pack into a container. Place plastic wrap directly on the surface of the ice cream and cover the container with a lid. Freeze 8 hours or overnight.
Recommended Products
As an Amazon Associate and member of other affiliate programs, I earn from qualifying purchases.