Save the taste of summer with home made blueberry lemon preserves. Think making homemade preserves is hard? Not at all. All you need is a big pot of boiling water and the proper canning jars.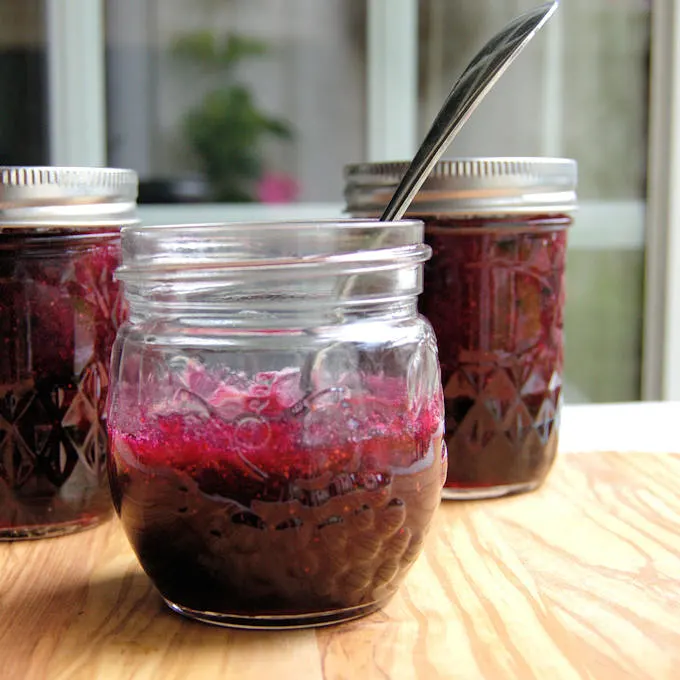 There are certain experiences in my life I think of as "food memories". Those are the times when I've tasted or shared a dish that was particularly memorable not only because it was delicious, but because the moment was a perfect combination of great food, a beautiful setting and, especially, great company.
Years ago, when our kids were very young, we visited my sister on Martha's Vineyard. She lived in a house on a wooded lot in Vineyard Haven. One afternoon while we were exploring the woods we found a wild blueberry patch in a clearing. The dozens of bushes were covered with little ripe berries. I can still see my kids with their pudgy little fingers plucking the berries off the bushes and popping them into their mouths. Those tiny blueberries had the purest and most wonderful flavor of any blueberry I'd ever tasted.
Perhaps is was the beautiful setting with people I love, the perfect ingredients for a food memory, but I don't think I'll ever taste a blueberry as good as those we picked in the woods that day.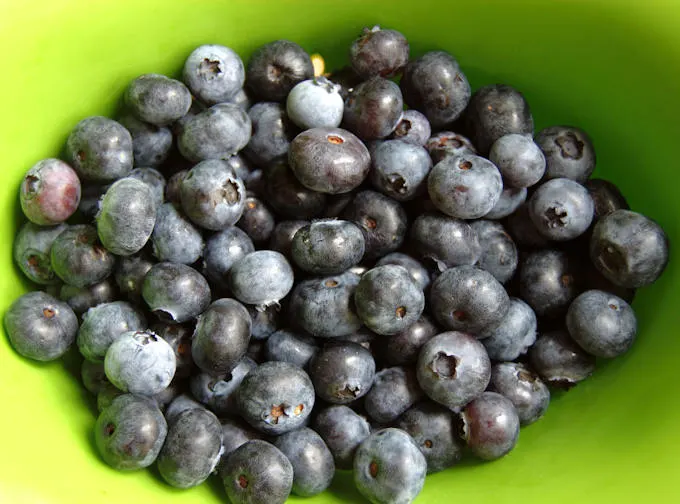 For the past few weeks we've been getting blueberries with our farm share as a u-pick item. While no berry may ever match those Martha's Vineyard Blueberries, the fruit I picked at the farm last week was pretty darn tasty.
Since our farm uses no pesticides or herbicides the growing areas are abundant with life. There are lots of "weeds" growing between the bushes and more than a few bees, beetles and other critters flying and crawling around as you pick. I love to munch on the berries still warm from the sun. They have a fuller flavor than commercial berries, with an almost herbal aftertaste.
In our area blueberries are available and inexpensive all through the summer months. This is the time to buy some extras and preserve them to enjoy later in the year when the price goes up and the quality goes down.
It's easy to freeze blueberries. Spread them out on a parchment lined sheet pan in a single layer. Pop the tray in the freezer until the berries are frozen then transfer the berries to a freezer bag.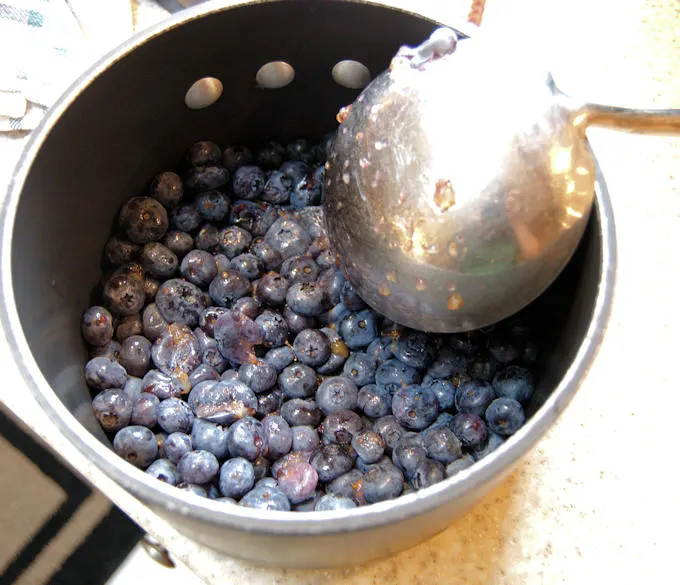 Blueberry preserves are another great way to save the taste of summer. As I've said in previous posts, making fruit preserves is so much easier than you might imagine. Even processing the preserves is easy to do as long as you have the proper jars and a big pot for boiling them.
For this recipe I've added the zest of a lemon and a little juice for hint of lemon flavor. Lemon and blueberry are always great together. The lemon juice also helps insure that the preserves are acidic enough for long term storage.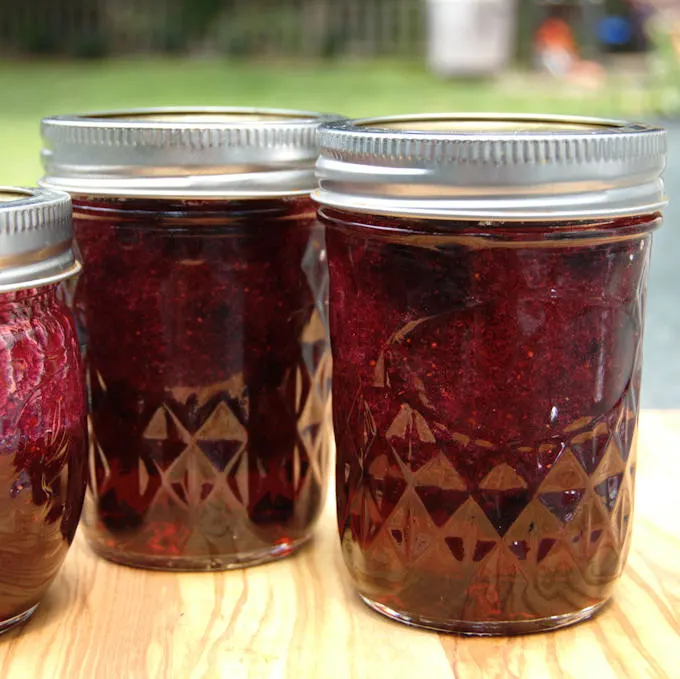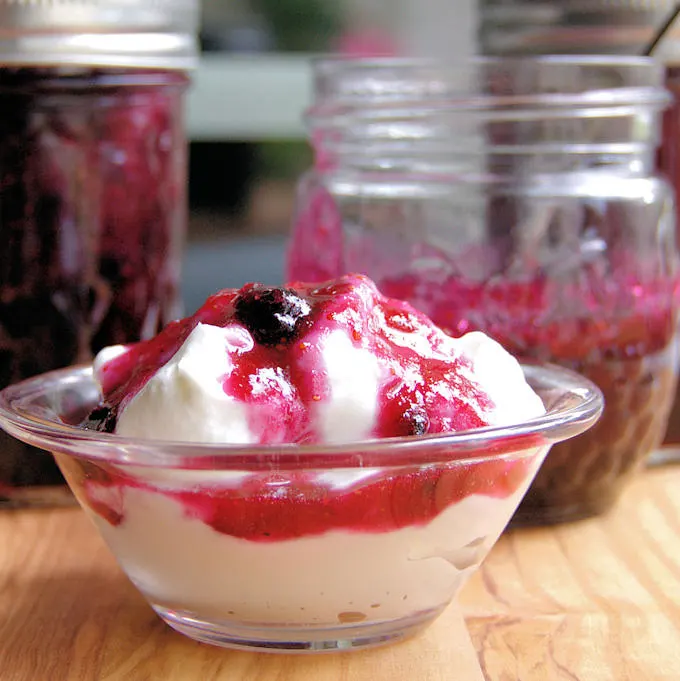 Do you have food memories? Are there moments in your life when the setting and company made the food taste even better?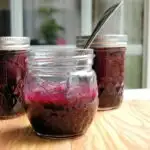 Print Recipe
Blueberry Preserves with Lemon
Make your own fresh blueberry preserves with a hint of lemon. Home canning is easier than you think!
Ingredients
12

oz

blueberries

(1 pint)

3

tablespoons

Ball Classic Pectin

18

oz

granulated sugar

(2 1/4 cups)

1

each

lemon zest

(finely grated)

1

tablespoon

lemon juice
Instructions
Bring a very large pot of water to a full boil. Sterilize your canning jars (3 half pints) and lids by boiling in the water for 10 minutes (or with the sterilize setting on your dishwasher). Use a jar lifter or tongs to remove the hot jars from the water. Line them up on a clean kitchen towel.

Sprinkle an even layer of blueberries into the bottom of a medium saucepan. Using a potato masher or the bottom of a ladle, lightly crush the berries (it's okay if not all of the berries are crushed). Sprinkle the remaining berries in another layer and crush those. Sprinkle the pectin over the berries and stir together

12 oz blueberries,

3 tablespoons Ball Classic Pectin

Bring the berries and pectin to a boil over medium high heat. Add the sugar, zest and lemon juice. Return the mixture to a full boil and boil vigorously for 1 minute, stirring constantly.

18 oz granulated sugar,

1 each lemon zest,

1 tablespoon lemon juice

Ladle into sterilized canning jars and process on a hot water bath for 15 minutes.

The preserves can be refrigerated for a couple of weeks, frozen for 9-12 months or processed in canning jars to keep for one year
As an Amazon Associate and member of other affiliate programs, I earn from qualifying purchases.
Notes
This recipe makes enough for 3 half pints jars. Visit the Ball Canning website for home canning directions.
Nutrition
Calories:
90
kcal
|
Carbohydrates:
23
g
|
Protein:
0.1
g
|
Fat:
0.1
g
|
Saturated Fat:
0.005
g
|
Polyunsaturated Fat:
0.02
g
|
Monounsaturated Fat:
0.01
g
|
Sodium:
0.4
mg
|
Potassium:
12
mg
|
Fiber:
0.3
g
|
Sugar:
23
g
|
Vitamin A:
8
IU
|
Vitamin C:
2
mg
|
Calcium:
1
mg
|
Iron:
0.1
mg