I'll teach you how to make Sourdough Starter from scratch without any commercial yeast. You need just 3 ingredients and 7-10 days to begin making real sourdough bread at home.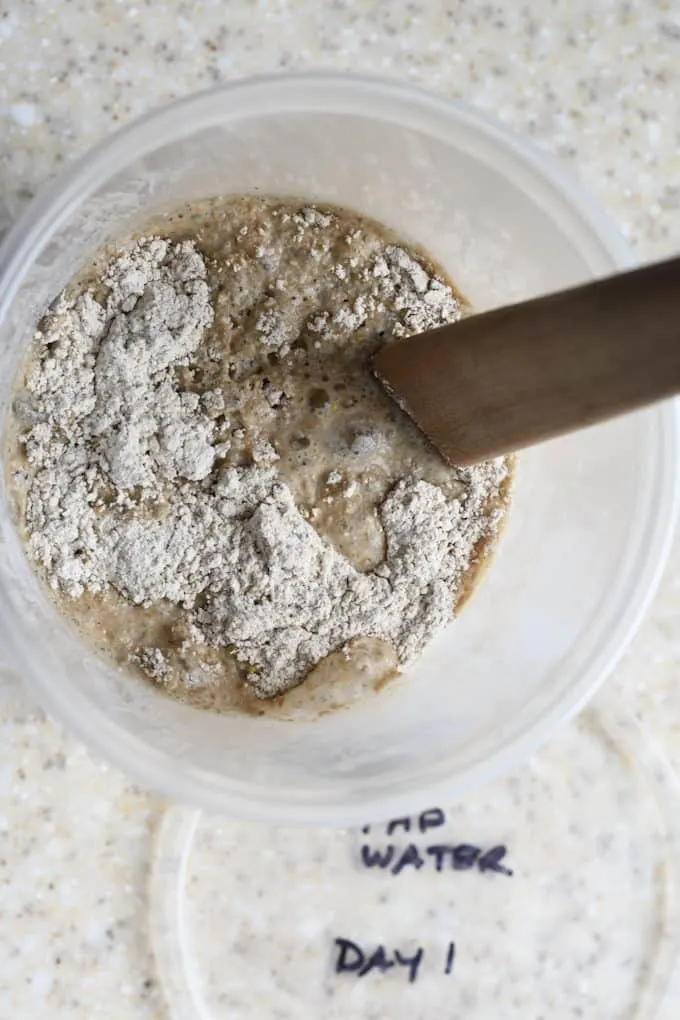 If you're new to the world of sourdough baking, I'm so excited to get you "started" (pun intended!). Before you know it, I think you'll be as obsessed as I am by the incredible living thing that is sourdough.
Yes, a sourdough starter is a living batter. It is built over several days to cultivate wild yeast from the environment and from the flour itself.
There are many ways to create and maintain sourdough starter. You may have read all sorts of warnings that you must use bottled water, that you should take it on vacation with you and treat it like a child. Relax, it's really not that complicated.
I'm going to explain to you, step by step, how I created my starter. Along the way I'll bust some myths about sourdough starters and, hopefully, show you that's it's really a very simple and forgiving process.
Once you have a starter, as long as you feed it periodically it can, theoretically, live forever.
Tips for making a successful Sourdough Starter:
You don't have to use bottled water to make sourdough starter. I mixed two starters side by side, one with bottled water and one with tap water. You can see in the process photos that they behaved exactly the same. As long as your tap water is good to drink and is not excessively chlorinated, there is no need to use bottled water. I baked with both starters with good results.
I like to begin the starter with half all purpose and half whole grain rye flour. The wild yeast likes the extra nutrients in the whole grain flour.
This is a 100% hydration starter. That simply means that it is made and replenished with equal weights of flour and water.
For best results, weigh your ingredients. The weight of the flour can vary based on how you fill a measuring cup. Weight measurements are most consistent and accurate.
The warmer the room, the faster your starter will activate. Since I was working in the winter months, I placed my starter near the furnace in our basement.
About day 4 or 5, the starter may start to smell cheesy (like sour milk) and may not rise as much. Don't give up! The smell will gradually become more yeasty/fermenty and less cheesy. It will sort itself out as random bacteria die out and the good yeasts take over.
Use a plastic or glass container so you can see the progress of your starter. I like to use plastic, quart-size deli containers. They're cheap and reusable. Get extra containers so you can transfer the starter to a clean container each time you feed it. They're also handy for giving away starter to your baking friends.
Once your starter is ready to go, you can bake with it right away.
Scroll through the step by step process photos to see how the starter looks each day:
Daily Notes on My Sourdough Starter Progress:
Day 1. Mixed at 11am.
Day 2. No activity.
Day 3. Doubled in volume, smells "grainy", like wet rye. Not pungent. Fed at 11 am.
Day 4. Rose to fill the container overnight, then collapsed. Smelled cheesy. Fed at 1 pm
Day 5. Didn't rise much, cheesy but less pungent, fed at 12 noon
Day 6. Rose almost double. Smelled less cheesy, more sharp. Fed at 12 noon.
Day 7. Rose to double and almost overflowed the container. No cheesy smell, just fermenty, yeasty smell.
Day 8. Both rose to fill the container. No cheesy smell, smelled pleasantly fermented and yeasty. Ready to use.
Day 9. Left at cooler room temp overnight. Rose to double in less than 6 hours and didn't collapse by 24 hours. Nice yeasty, beery smell. First day baking.
Congratulations! You've done it! You've created a living batter filled with wild yeast. Now let's see how to feed & maintain your sourdough starter.
Now that you've got your starter ready, check out the entire list of My Best Sourdough Recipes. Have fun!
I know you hate to throw away that sourdough discard. Check out these recipes that use sourdough discard.
If you love this recipe as much as I do, I'd really appreciate a 5-star review.
Sourdough Starter
You can make Sourdough Starter from scratch without any commercial yeast. You just need 3 ingredients and 7-10 days and you can begin making your own sourdough bread at home.
Ingredients
3 oz (1/2 cup + 1 tablespoon + 1 teaspoon or 84g) all purpose flour, plus more for feeding.
3 oz (1/2 cup + 1 tablespoon + 1 teaspoon or 84g) whole grain rye or whole wheat flour
6 oz (3/4 cup or 180ml) water, room temperature
Instructions
Combine the all purpose flour, whole grain flour and water in a 1 quart or larger glass or plastic container. Mix until it forms a thick batter. Loosely cover with plastic wrap or a lid.
Set aside at warm room temperature (about 75°-80°F is ideal) for 48 hours, until the mixture starts to bubble. The warmer the room temperature, the faster the starter will become active.
Weigh out 4 oz (1/2 cup or 112g) of the starter and discard the rest. Combine the reserved starter with 4 oz (3/4 cup or 112g) all purpose flour and 4 oz (1/2 cup or 120 ml) room temp water. Stir to form a thick batter, cover and set aside at warm room temperature for 24 hours.
Repeat the feeding procedure every day for about 7-10 days. After 3 or 4 days the starter might smell cheesy. It's fine. The starter is ready when it doubles in volume within 8 hours of feeding and has a pleasant, slightly fermented yeasty aroma.
Recommended Products
As an Amazon Associate and member of other affiliate programs, I earn from qualifying purchases.