Chai Tea Ice cream is a delicious and creamy homemade ice cream. It's flavored with fragrant chai spice and tea leaves. It's a tasty treat.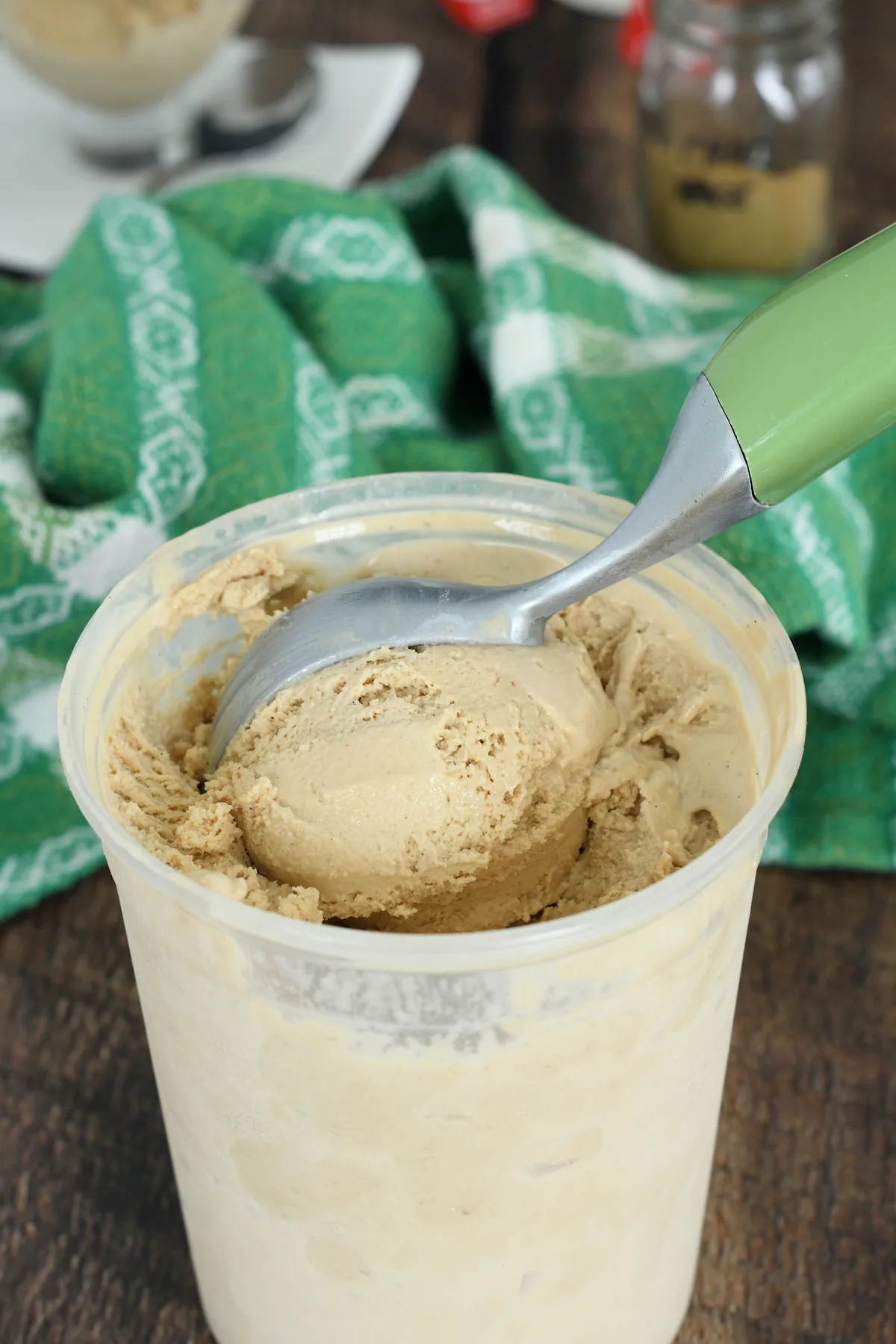 The idea for this recipe came from our recent trip to India. I know, I know. You hate it when bloggers write a personal story before a recipe. Bear with me.
The inspiration for this one really was our trip to India. I got addicted to the amazing chai there and came home determined to make a cup of spiced tea that was as peppery and fragrant as the tea I enjoyed on our trip.
I found a great spice mix on one of my favorite Indian food blogs, Manjula's Kitchen. It has the perfect combination of warm spice and black pepper bite. I use her spice blend to flavor my Masala Tea and this Chai Tea Ice Cream.
Ingredients:
Green cardamom pods
Black peppercorns
Anise seeds
Ground ginger
Ground cinnamon
Whole milk
Heavy cream
Table salt
Tea bags (black tea)
Egg yolks
Granulated sugar
How to make Chai Tea Ice Cream: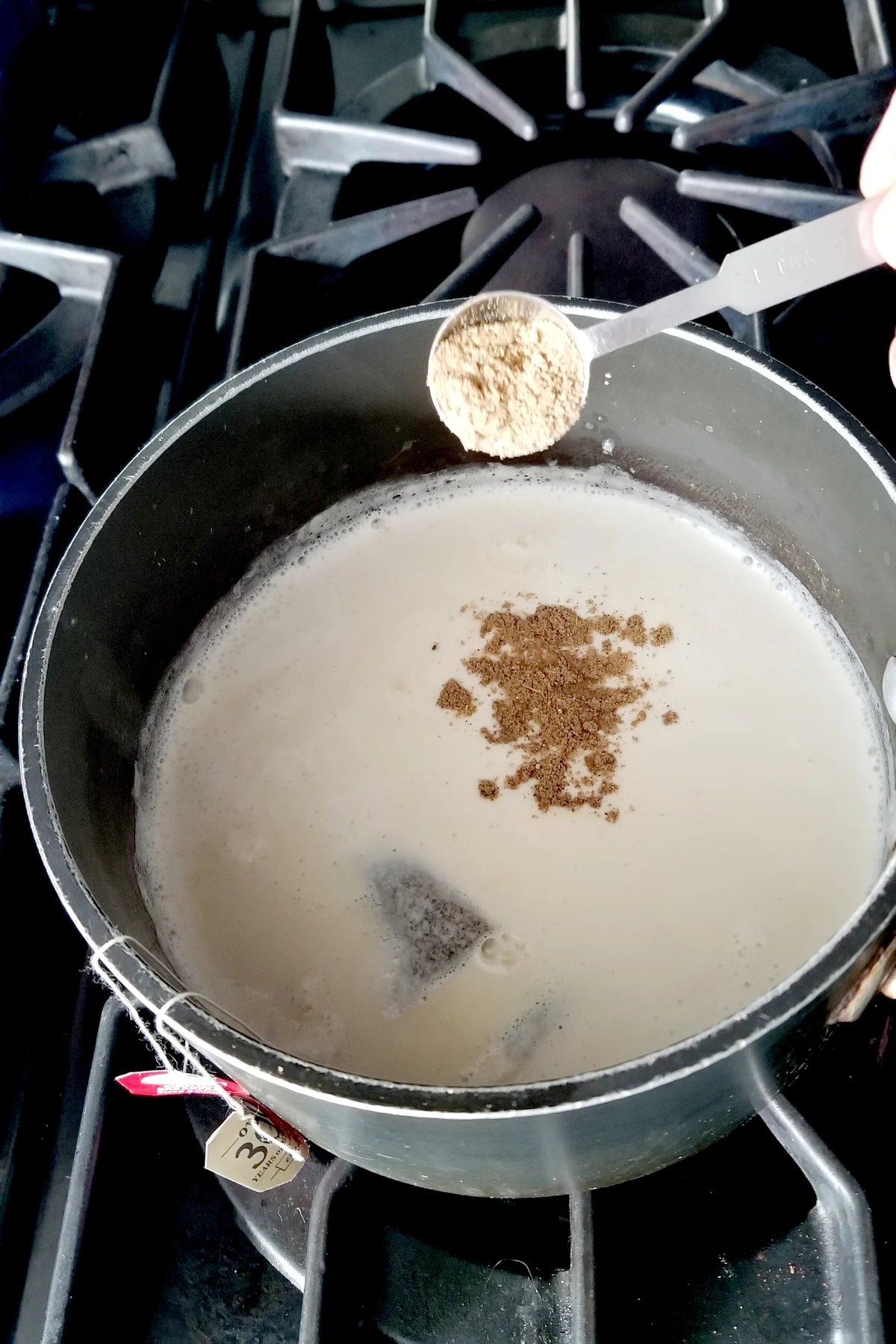 Scald the milk and cream then add the tea bags and ground spices to steep.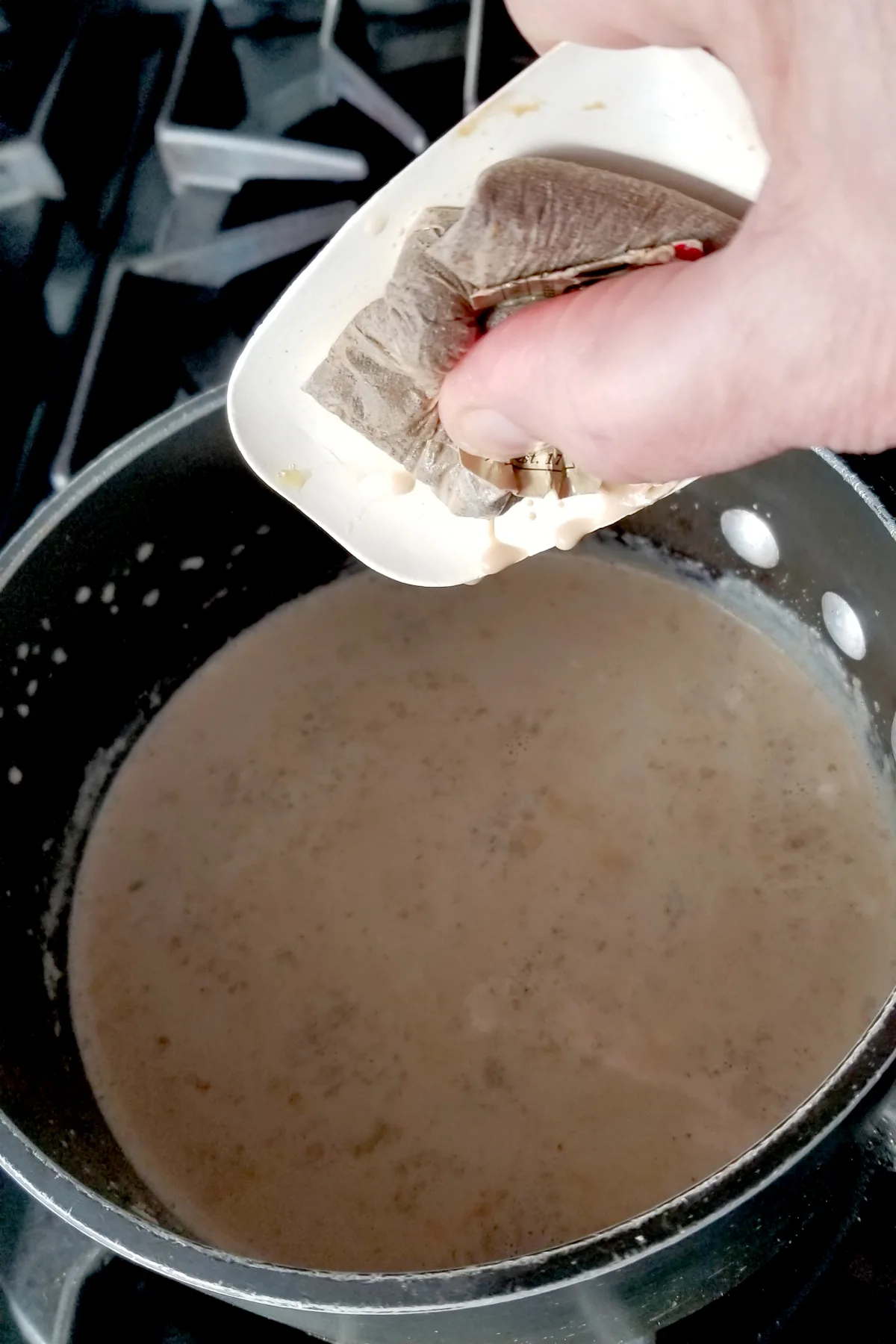 Remove the tea bags from the milk mixture.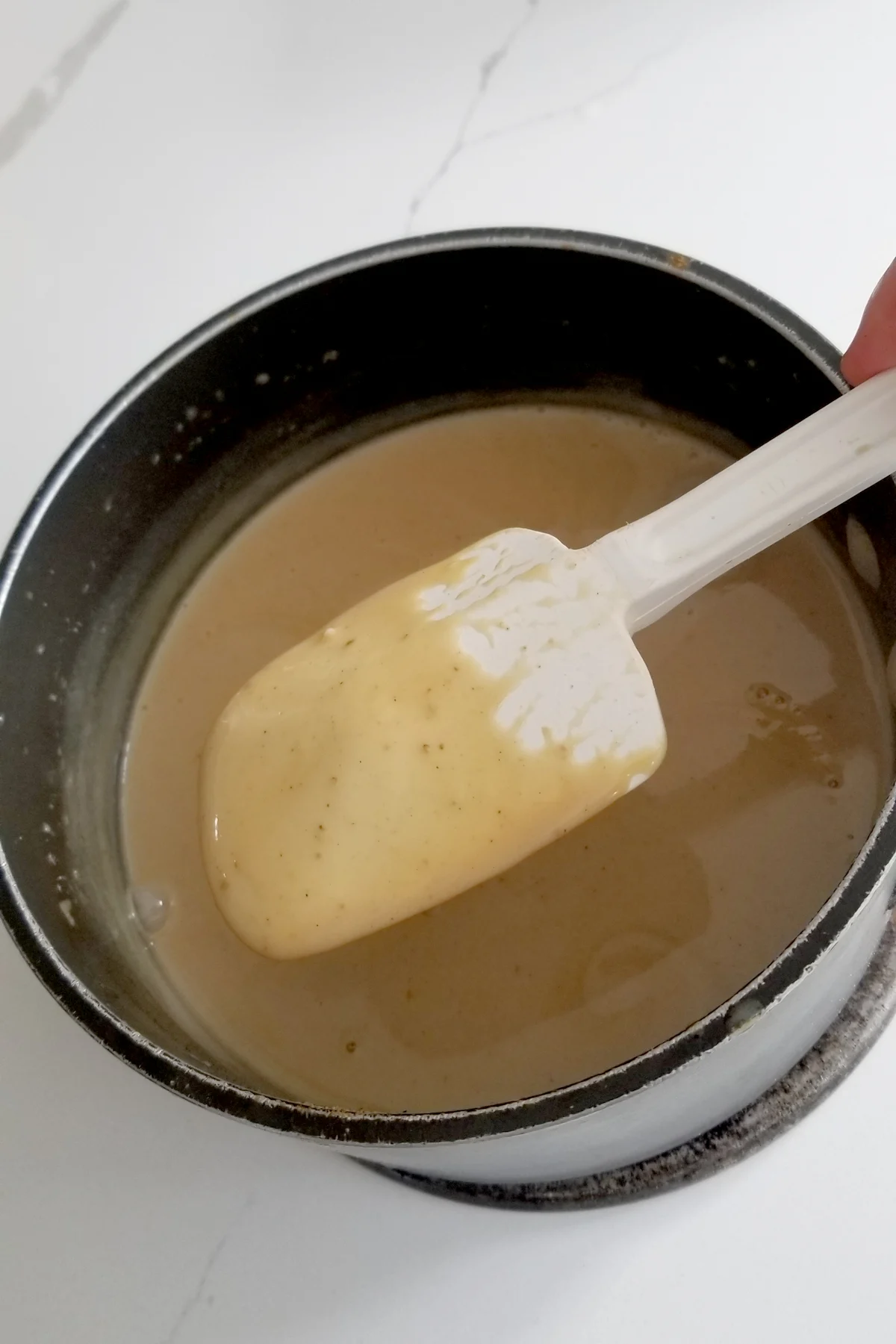 After adding the egg yolks, cook the custard until it coats the back of a spatula or spoon.
Chill completely before freezing in your ice cream maker.
FAQs about making Chai Tea Ice Cream:
Can I use a premade Chai Spice Mix to make Chai Tea Ice Cream?
Of course. I love the mix from Manjula's kitchen, but you can use your favorite spice blend.
Is Chai Tea Ice Cream the same as Masala Tea Ice Cream?
Yes, Chai is just the word for "tea" and Masala is the word for "spice". In the US we use the term "Chai Tea" to describe Masala Chai.
Can I leave out the tea bags and just flavor the ice cream with the spice mix?
Sure, the ice cream will have a different flavor, but if you don't like the tea flavor you can just add the spice mix to the milk. You still want to steep the milk with the spices to bloom the flavor.
Can I use green tea to make Chai Tea Ice Cream.
The flavor of Masala tea comes from a strong black tea combined with spices and milk. The delicate flavor of green tea would be lost in the spices.
Can I make this as a "no churn" ice cream? Do I have to use an Ice Cream Machine?
This recipe does need to be churned in an ice cream machine to get the proper texture. "No churn" ice cream is made with a different technique. If you have a favorite vanilla no churn ice cream recipe you could flavor it with tea and spices to make your own version of Masala Tea Ice cream.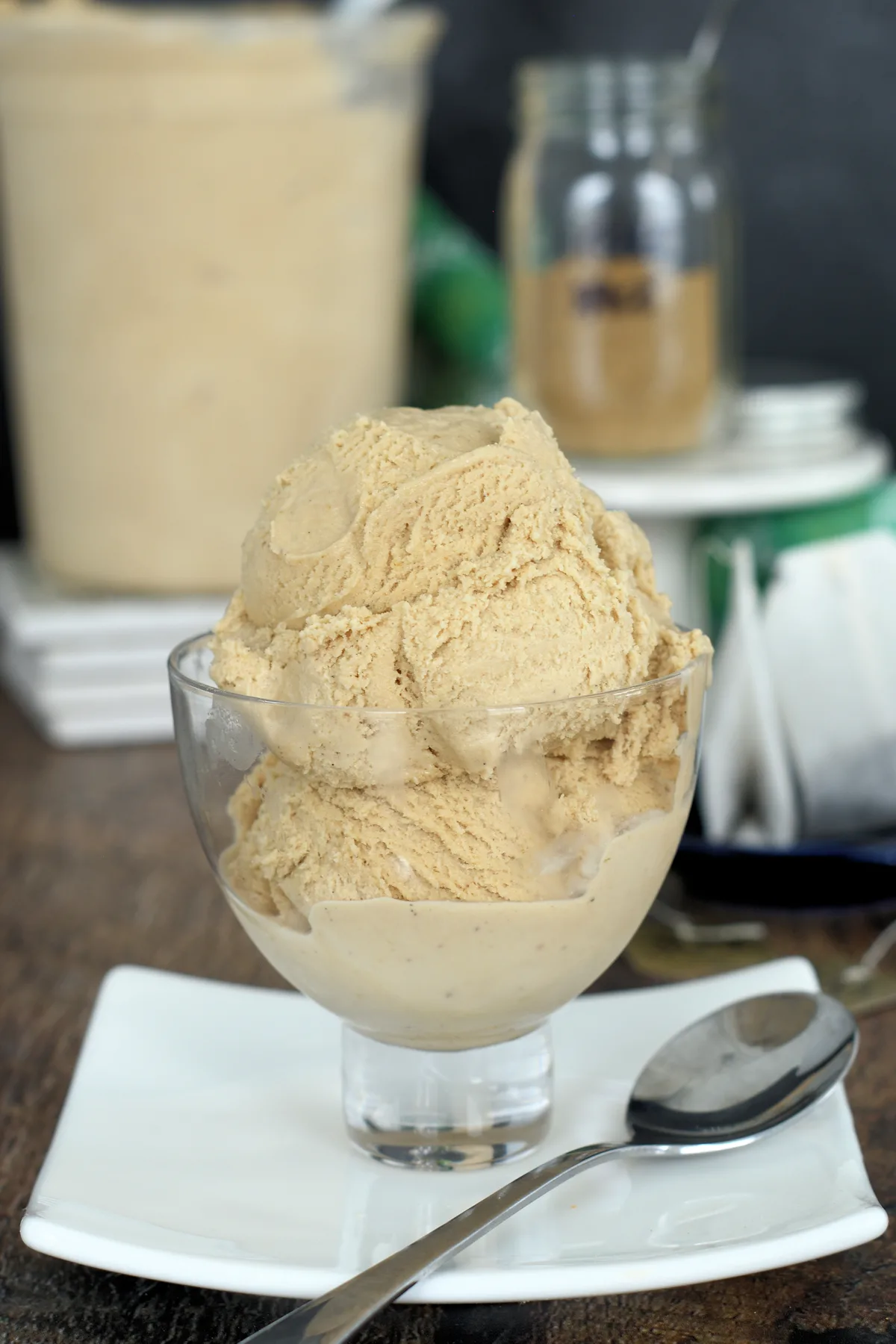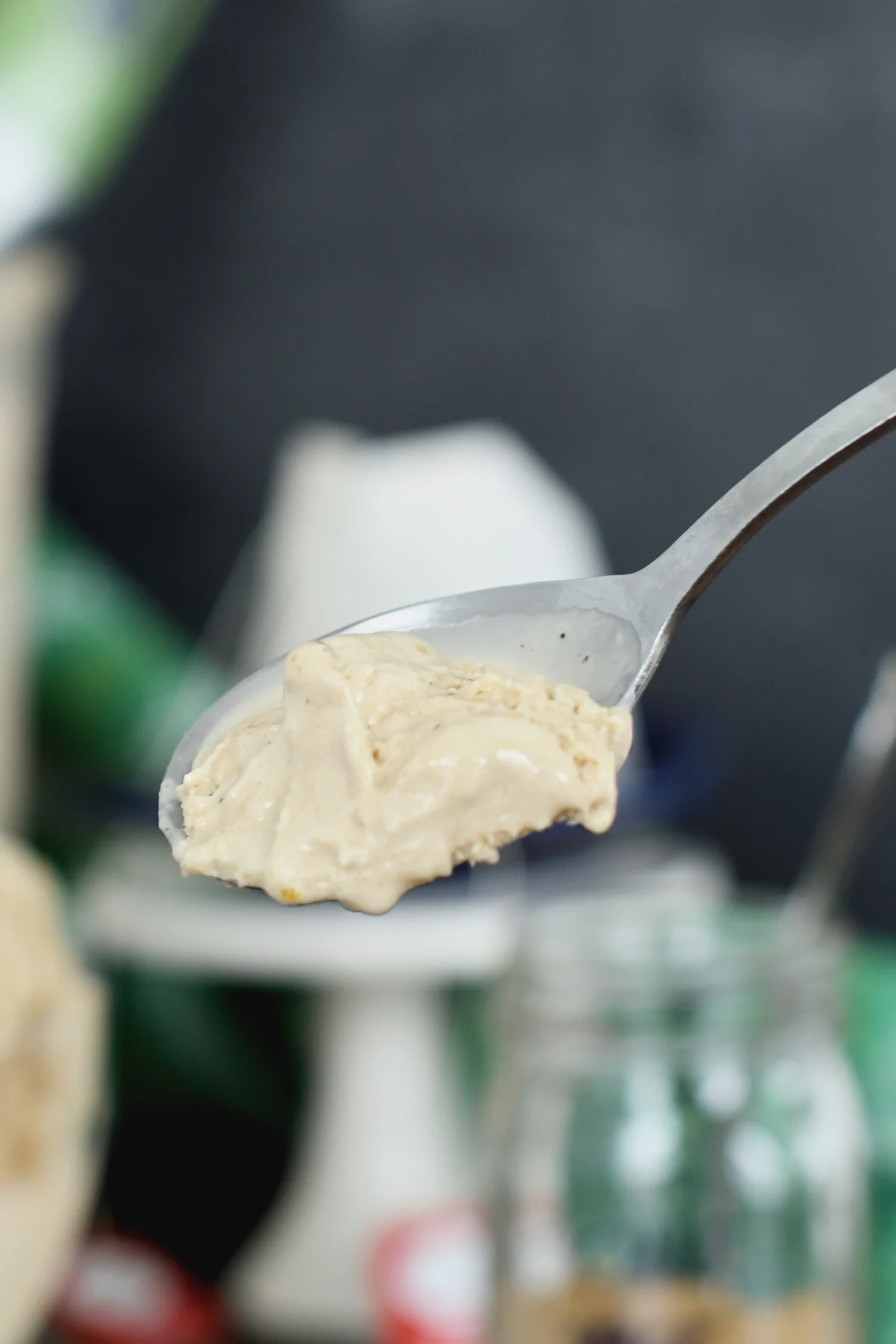 Here are some more unique homemade ice cream recipes: Carrot Cake Ice Cream, Rhubarb Ice Cream, Malted Milk Ice Cream, Blueberry Ice Cream, Lavender Honey Ice Cream, White Chocolate Ice Cream with Chocolate Truffles and Brown Sugar Ice Cream.
If you love this recipe as much as I do, I'd really appreciate a 5-star review.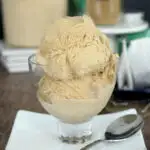 Print Recipe
Chai Tea Ice Cream Recipe
Delicious and creamy homemade ice cream flavored with fragrant chai spice and tea leaves. It's a tasty treat.
Ingredients
12

green cardamom pods

10

black peppercorns

1/2

teaspoon

anise seeds

1/4

teaspoon

ground ginger

1/8

teaspoon

ground cinnamon

12

oz

whole milk

(1 1/2 cups)

12

oz

heavy cream

(1 1/2 cups)

1/4

teaspoon

table salt

3

each

tea bags

(black tea)

6

each

egg yolks

8

oz

granulated sugar

(1 cup)
Instructions
Grind the spices in a spice grinder to a fine powder.

12 green cardamom pods,

10 black peppercorns,

1/2 teaspoon anise seeds,

1/4 teaspoon ground ginger,

1/8 teaspoon ground cinnamon

Combine the milk and cream in a small saucepan. Heat over medium high heat until scalding hot. Add the spices and tea bags to the pot. Cover and set aside for 30 minutes.

12 oz whole milk,

12 oz heavy cream,

3 each tea bags

Meanwhile, whisk together the yolks, sugar and salt in a medium bowl.

6 each egg yolks,

8 oz granulated sugar,

1/4 teaspoon table salt

After 30 minutes remove the tea bags from the milk mixture. Pour the hot milk into the bowl with the yolks and whisk to combine.

Return the entire mixture to the saucepan and heat over medium low heat, stirring constantly. Cook the custard until it thickens enough to coat the back of a spatula or wooden spoon. Do not allow it to come to a full boil. Remove from the heat and strain into a bowl. Cover the bowl and chill until very cold. At least 4-5 hours or over night.

Freeze according to the directions for your ice cream machine.

When the ice cream is ready, scoop it into a container and smooth to an even layer. Lay a piece of plastic wrap directly on the surface of the ice cream, cover tightly and freeze until firm.
Equipment
Freezer Storage Containers
As an Amazon Associate and member of other affiliate programs, I earn from qualifying purchases.
Nutrition
Serving:
0.5
cup
|
Calories:
295
kcal
|
Carbohydrates:
34
g
|
Protein:
3
g
|
Fat:
18
g
|
Saturated Fat:
11
g
|
Polyunsaturated Fat:
1
g
|
Monounsaturated Fat:
5
g
|
Cholesterol:
71
mg
|
Sodium:
108
mg
|
Potassium:
127
mg
|
Fiber:
1
g
|
Sugar:
30
g
|
Vitamin A:
706
IU
|
Vitamin C:
1
mg
|
Calcium:
90
mg
|
Iron:
1
mg