Carrot Cake Ice Cream! Everyone loves carrot cake and everyone loves ice cream. So everyone will love this luscious cream cheese ice cream layered with chunks of edible carrot cake batter.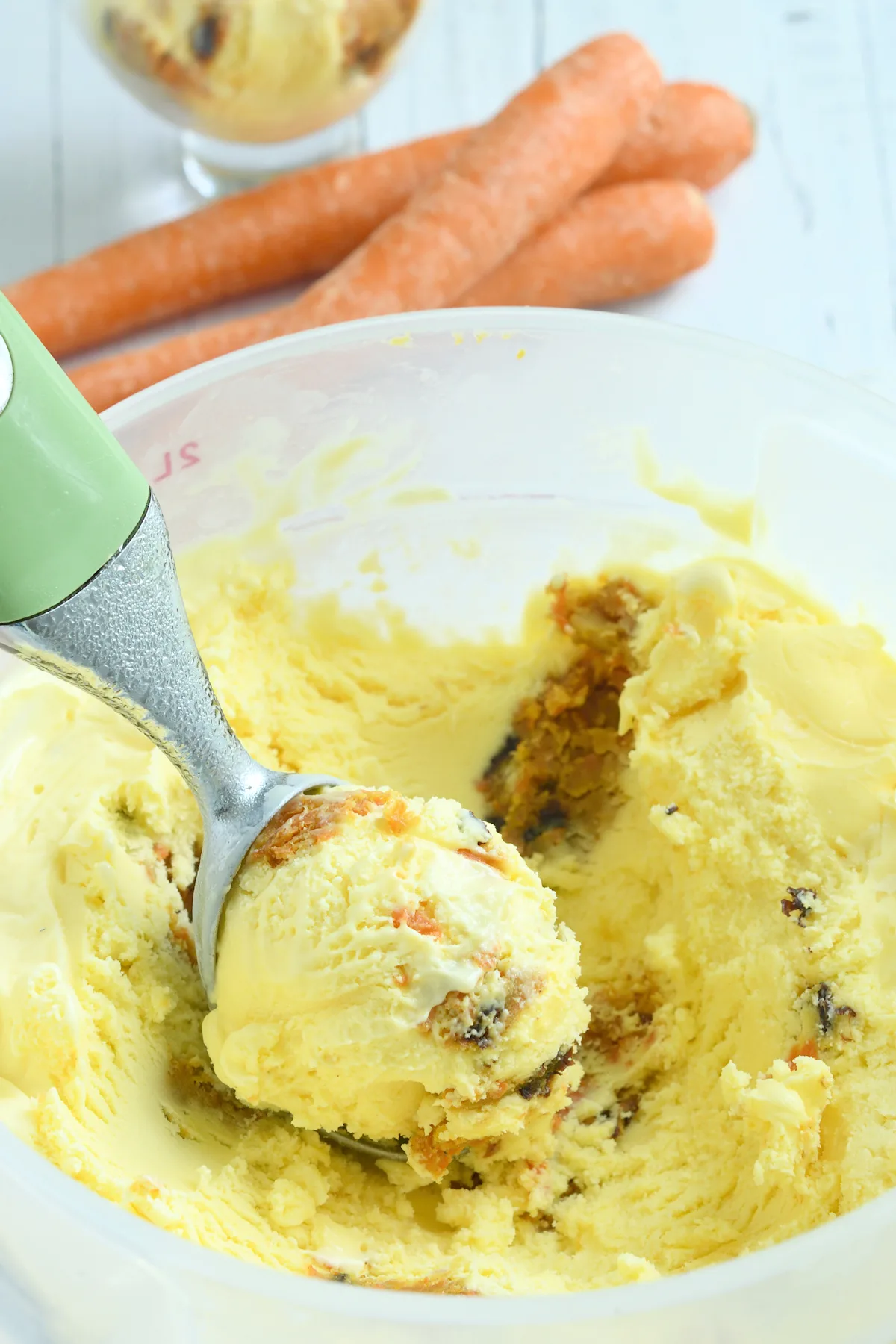 I'll admit it, I'm a person who likes a little carrot cake with my cream cheese frosting. So for this recipe I decided to lead with the cream cheese flavor.
My version of Carrot Cake Ice Cream features a cream cheese frosting ice cream studded with blobs of edible carrot cake batter.
It's the the carrot cake version of cookie dough ice cream and I love it.
Scroll through the process photos to see how to make Carrot Cake Ice Cream: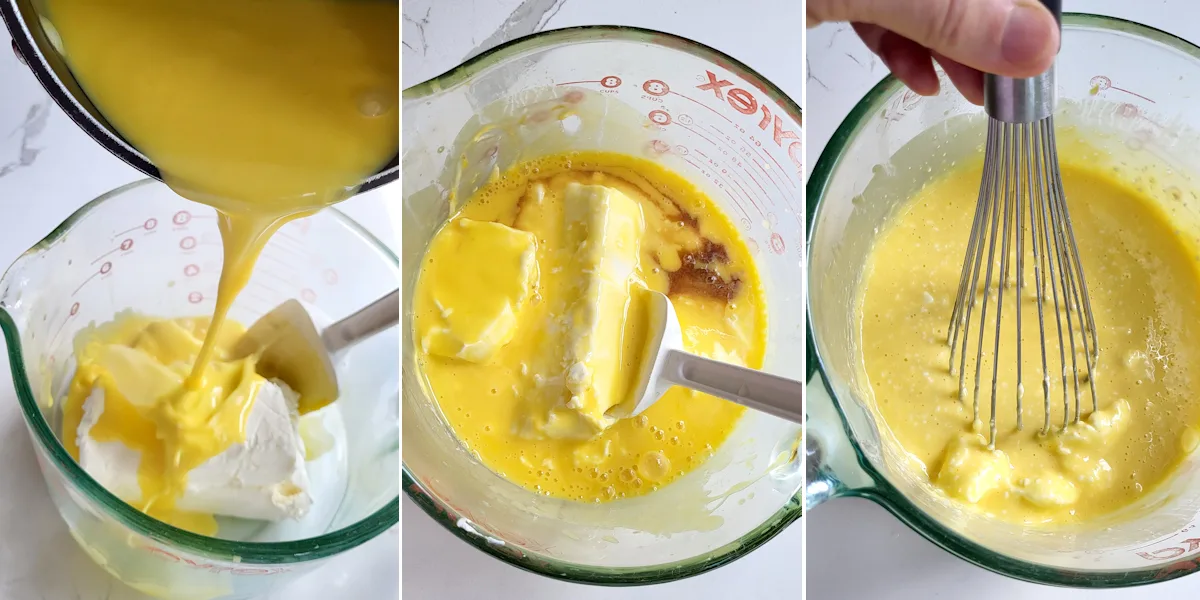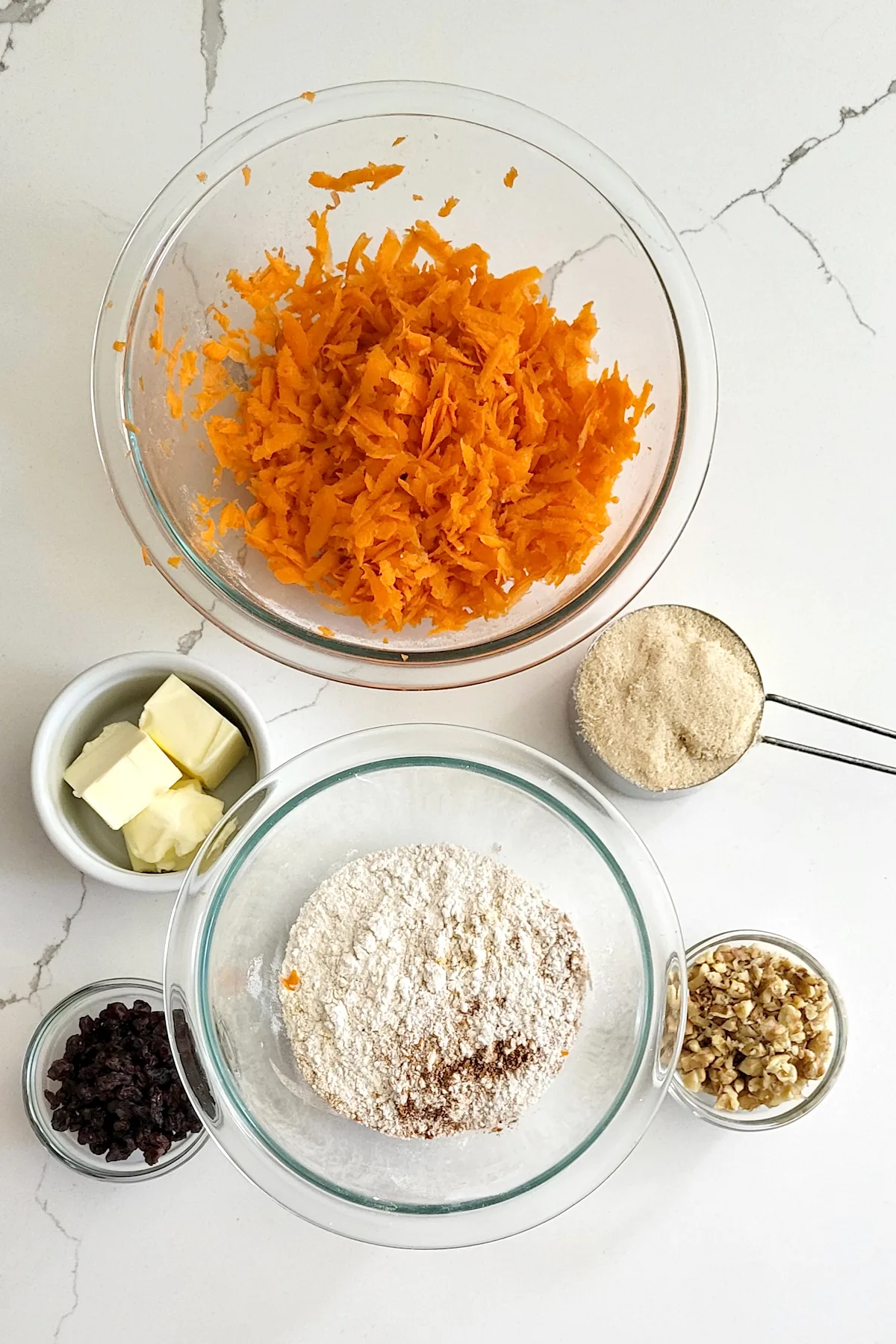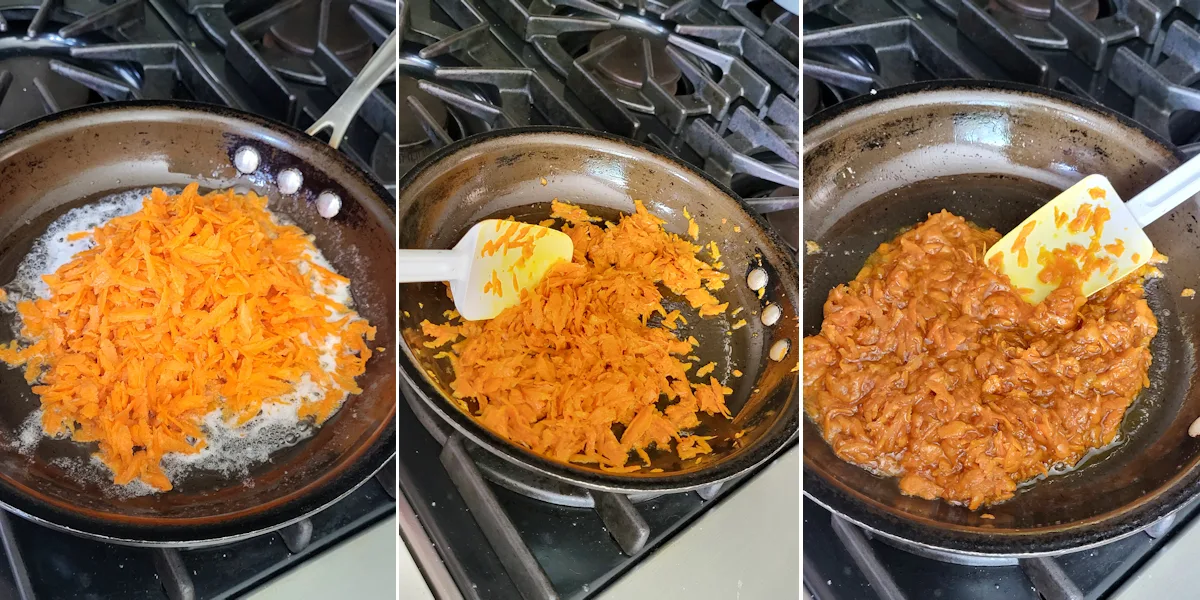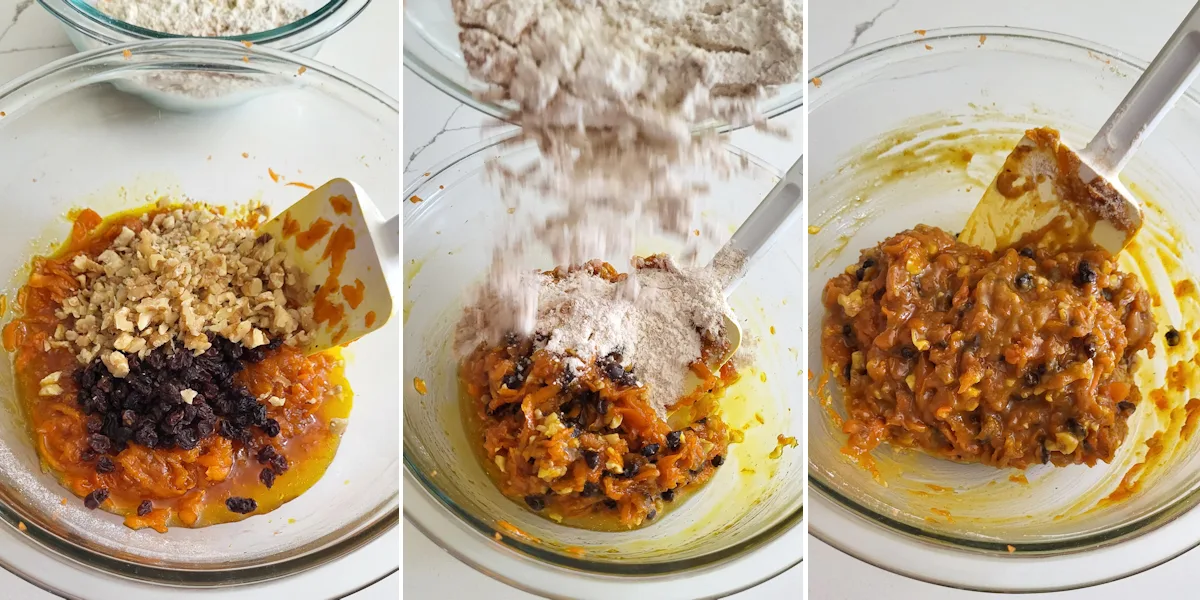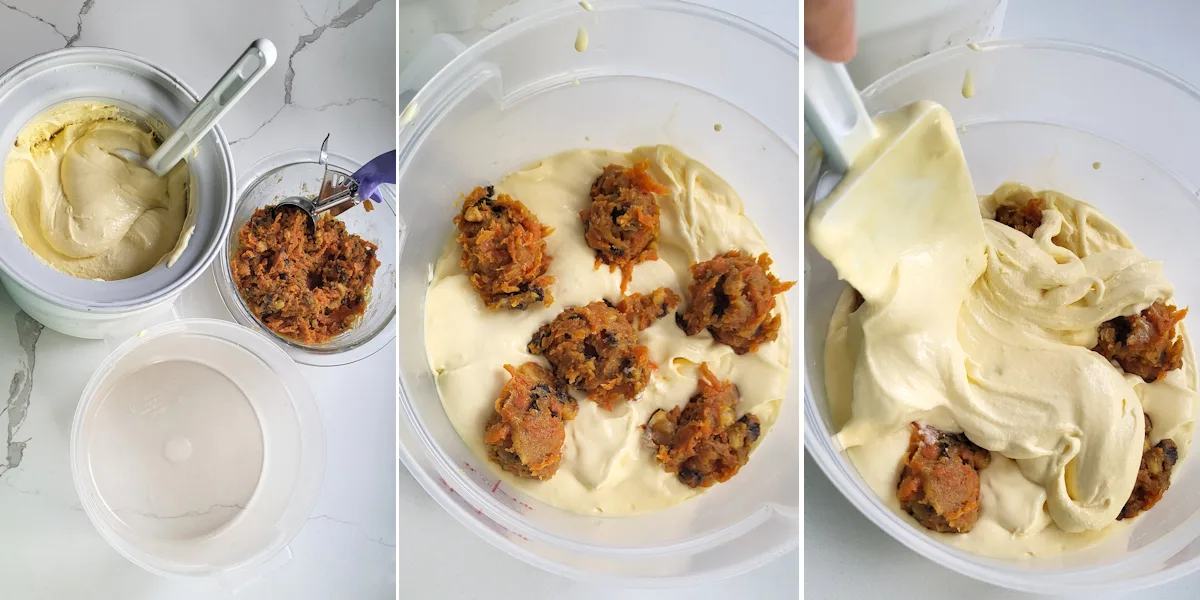 Tips for making Carrot Cake Ice Cream:
The base custard should be very cold before you run it in your ice cream machine. If you start with a colder base the ice cream will freeze faster with smaller crystals for a creamier texture.
Do not skip the step when you microwave the flour for the carrot cake batter. Microwave it long enough to bring it above 165°F. Any bacteria that may have been living in the flour will be killed off at that temperature. This will make the raw carrot cake batter safe to eat.
The carrot cake batter should be made ahead and chilled until firm. Form the batter into cookie balls and layer them into the ice cream.
You can eliminate either the currants or walnuts if you don't like them. You can also use pecans in place of the walnuts.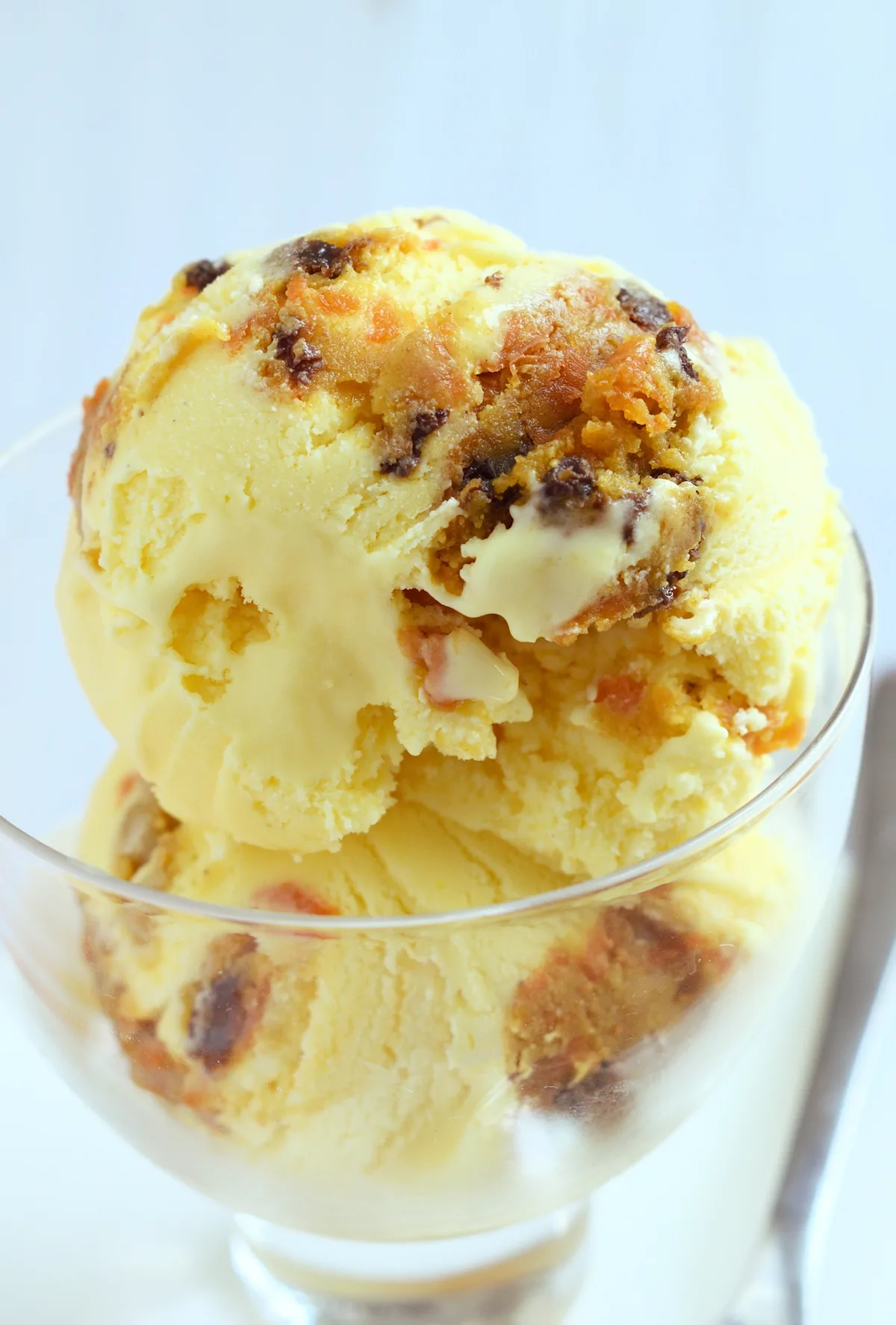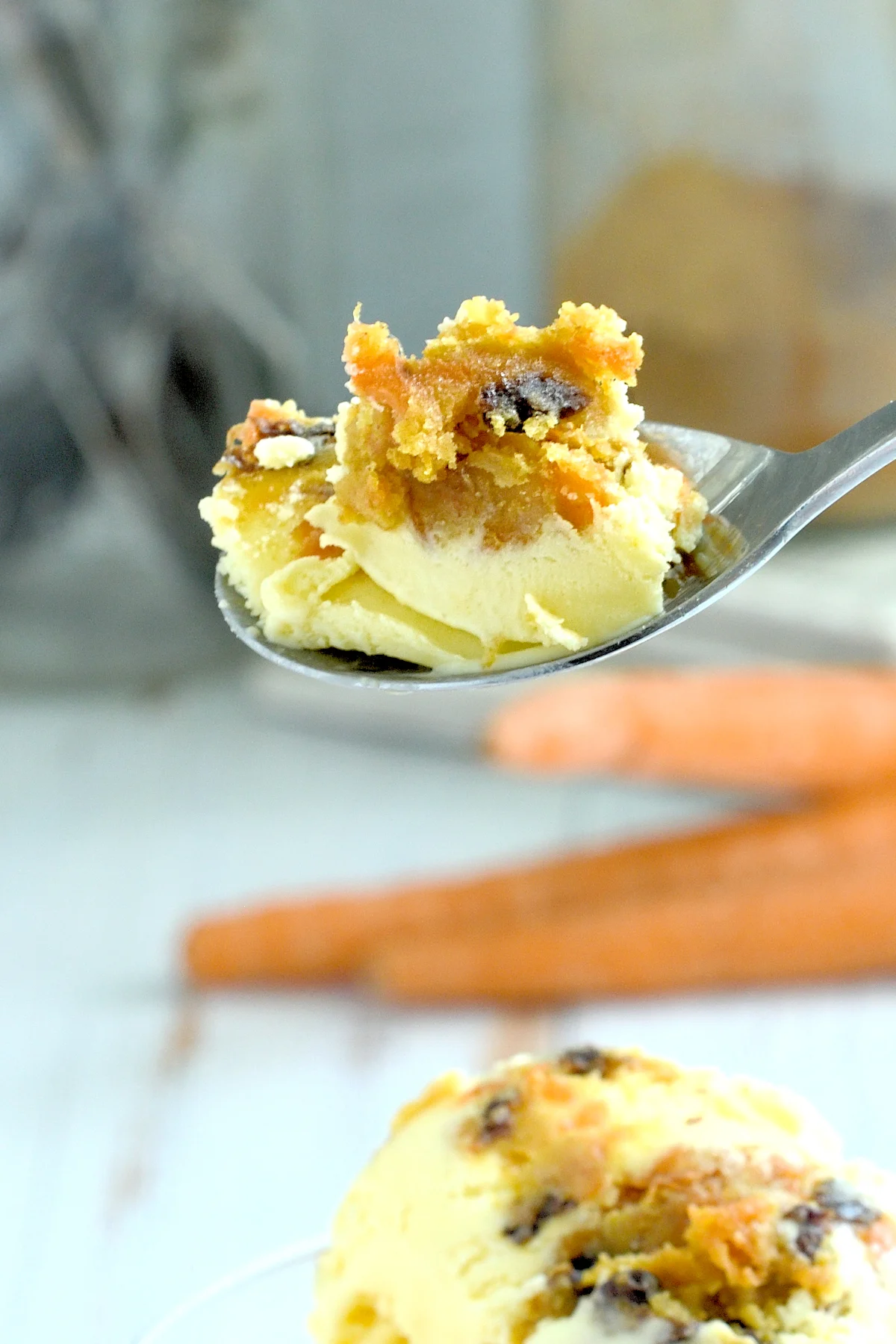 If you love unusual Ice Cream flavors you might also want to try Chai Tea Ice Cream, Blueberry Ice Cream, Bourbon Ice Cream, Black Sesame Ripple Ice Cream, Malted Milk Ice Cream, Rhubarb Ice Cream, Lavender Honey Ice Cream, White Chocolate Ice Cream with Chocolate Truffles and Brown Sugar Ice Cream.
If you love this recipe as much as I do, I'd really appreciate a 5-star review.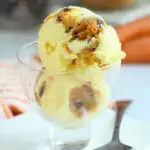 Print Recipe
Carrot Cake Ice Cream Recipe
Everyone loves carrot cake and everyone loves ice cream, so of course everyone will love Carrot Cake Ice Cream
Ingredients
Cream Cheese Ice Cream
8

oz

whole milk

(1 cup)

4

oz

heavy cream

(1/2 cup)

6

oz

granulated sugar

(3/4 cup)

1/2

tsp

lemon zest

5

egg yolks

12

oz

cream cheese

( 1 1/2 cups)

1

teaspoon

vanilla extract

1/2

tsp

lemon juice

1/4

teaspoon

table salt
Carrot Cake Batter
2 1/2

oz

all purpose flour

(1/2 cup)

1/2

teaspoon

cinnamon

1/2

teaspoon

ginger

1/8

teaspoon

nutmeg

2

oz

unsalted butter

6

oz

carrots

(3 medium, shredded)

4

oz

brown sugar

(1/2 cup)

1

oz

currants

(2 tablespoons)

1

oz

walnuts

(1/4 cup, chopped)
Instructions
Ice Cream
Combine the milk, cream, granulated sugar and lemon zest in a small saucepan. Heat the milk mixture over medium high heat until scalding hot.

8 oz whole milk,

4 oz heavy cream,

6 oz granulated sugar,

1/2 tsp lemon zest

While the milk heats up, whisk the yolks in a small bowl.

Once the milk mixture is scalding hot pour it into the bowl with the yolks and whisk to combine. Return the entire mixture to the saucepan and heat over medium low heat, stirring constantly.

Cook the custard until it coats the back of a spatula or wooden spoon. Remove from the heat and strain into a bowl.

Cut the cream cheese into 5 or 6 lumps and toss them into the warm custard. Add the vanilla, lemon juice and salt. Gently whisk until the cream cheese is melted into the base. Cover the bowl and cool until very cold. At least 4-5 hours or over night.

12 oz cream cheese,

1/2 tsp lemon juice,

1/4 teaspoon table salt,

1 teaspoon vanilla extract
Carrot Cake Batter
Place the flour in a microwave-safe bowl. Microwave the flour for 30 seconds. Check the temperature of the flour. It should be at least 165°F. If not, microwave for 10 second increments until the temp is reached. **Do not skip this step. This makes the raw flour safe to eat.

2 1/2 oz all purpose flour

Sift the flour with the cinnamon, ginger and nutmeg into a small bowl and set aside

1/2 teaspoon cinnamon,

1/2 teaspoon ginger,

1/8 teaspoon nutmeg

Melt the butter in a saucepan. Add the carrots and saute over medium heat until the carrots are soft, about 6-7 minutes. Turn off heat. Add the brown sugar and stir until the sugar is melted. Transfer the mixture to a small bowl. Fold in currants and walnuts. Add the flour and mix to combine. Chill until the ice cream is ready.

2 oz unsalted butter,

6 oz carrots,

4 oz brown sugar,

1 oz currants,

1 oz walnuts

Freeze the ice cream according to the directions for your machine. Scoop 1/4 of the ice cream into a freezer container. Use a spoon to scoop 1" balls of the carrot cake batter and scatter them over over the ice cream. Continue to layer the ice cream with carrot cake balls, ending with a layer of ice cream. Place a layer of plastic wrap directly on the surface of the ice cream. Cover tightly and freeze until firm
Equipment
Freezer Storage Containers
As an Amazon Associate and member of other affiliate programs, I earn from qualifying purchases.
Nutrition
Calories:
342
kcal
|
Carbohydrates:
35
g
|
Protein:
5
g
|
Fat:
21
g
|
Saturated Fat:
12
g
|
Polyunsaturated Fat:
2
g
|
Monounsaturated Fat:
6
g
|
Trans Fat:
1
g
|
Cholesterol:
133
mg
|
Sodium:
165
mg
|
Potassium:
179
mg
|
Fiber:
1
g
|
Sugar:
28
g
|
Vitamin A:
3147
IU
|
Vitamin C:
1
mg
|
Calcium:
87
mg
|
Iron:
1
mg