Cajeta may be the most delicious caramel that you've never tasted.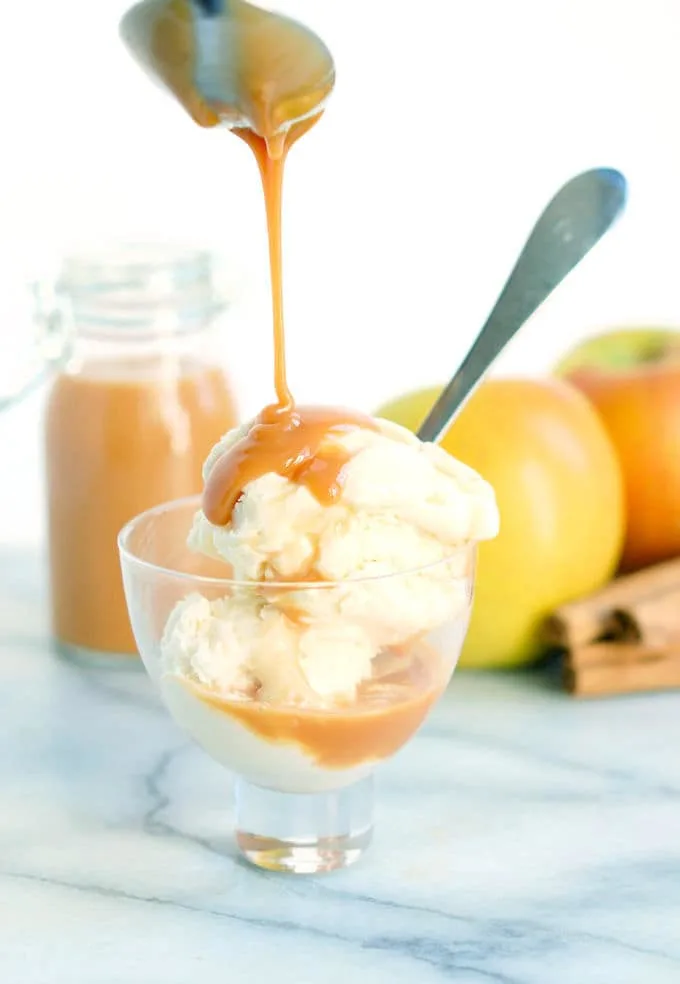 What is Cajeta and how it is different than regular caramel sauce?
Unlike a basic caramel which is made from sugar, cajeta, like it's cousin dulce de leche, is a milk-based caramel.
How to make the best Cajeta Caramel Sauce:
I use a mixture of cow's milk and goat's milk for this confection. The cow's milk brings a nice sweetness and the goat's milk brings a deep and earthly flavor that is absolutely addictive.
You can use all cow or goat milk if you prefer. I think you get the best of both by using a combination of the two.
The recipe includes a little baking soda to reduce the overall acidity (milk is slightly acidic). Acidic foods don't caramelize as well as non-acidic foods, and since caramelization equals flavor, we want to encourage more browning for more flavor.
When the baking soda comes into contact with the acidic milk, carbon dioxide is released. Of course we use this reaction to help baked goods rise. This same reaction in the cajeta will cause the milk to foam up, just like the baking soda volcano you made in grade school.
The foam will eventually subside, so keep a careful eye to avoid sticky boil-overs.
I use the biggest Dutch oven I own so that the milk only fills the pot 1/2 way. This leaves plenty of space for the foaming milk to rise without boiling over.
Once the foam settles it's simply a matter of occasionally stirring the caramel and watching for the desired the color and thickness.
I usually cook it to a nicely browned but still pourable, sauce-like texture. If you leave the cajeta fairly loose you can always put it back on the stove later and cook it down further for a more candy-like consistency.
The total cooking time will vary based on how big of a batch you make, your stove, and the pot you're using.
You can see in the photo that the longer you cook the cajeta, the thicker and darker it becomes.
How do you use Cajeta?
Some of my favorite uses for cajeta are as a sauce for ice cream, as a dip for apples and poured over pound cake.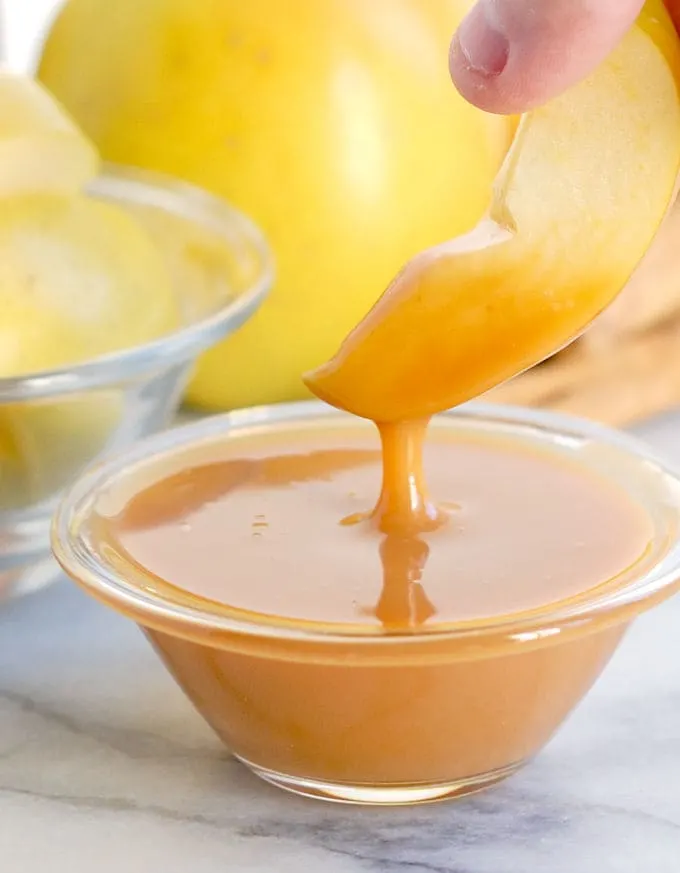 I also mix it into Italian Meringue Buttercream for a yummy cake filling and of course it's perfect drizzled over an apple or pear tart.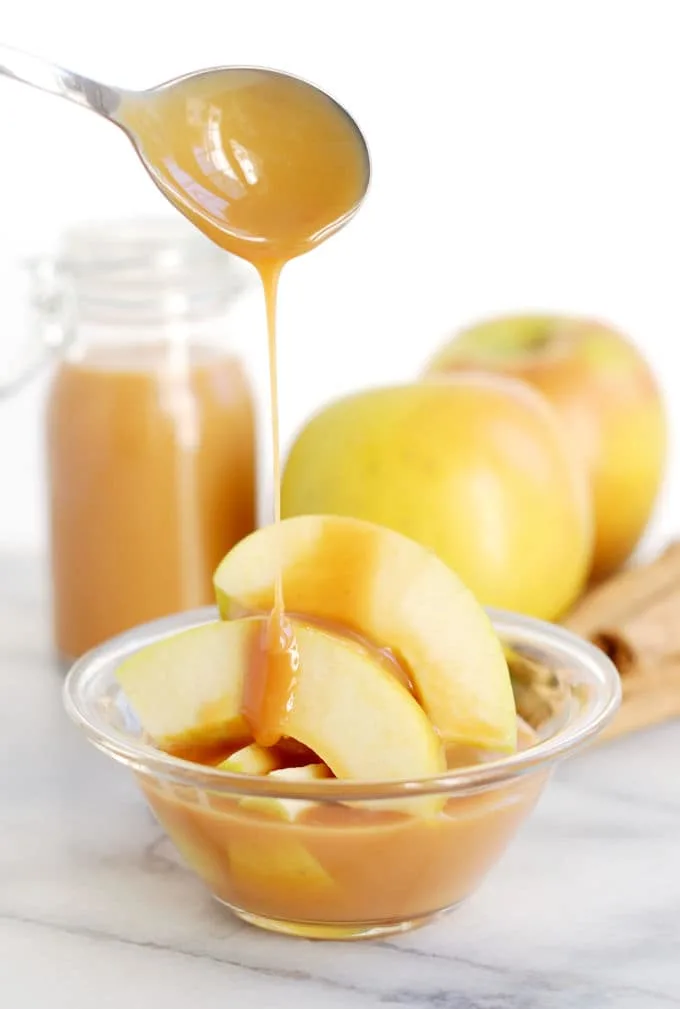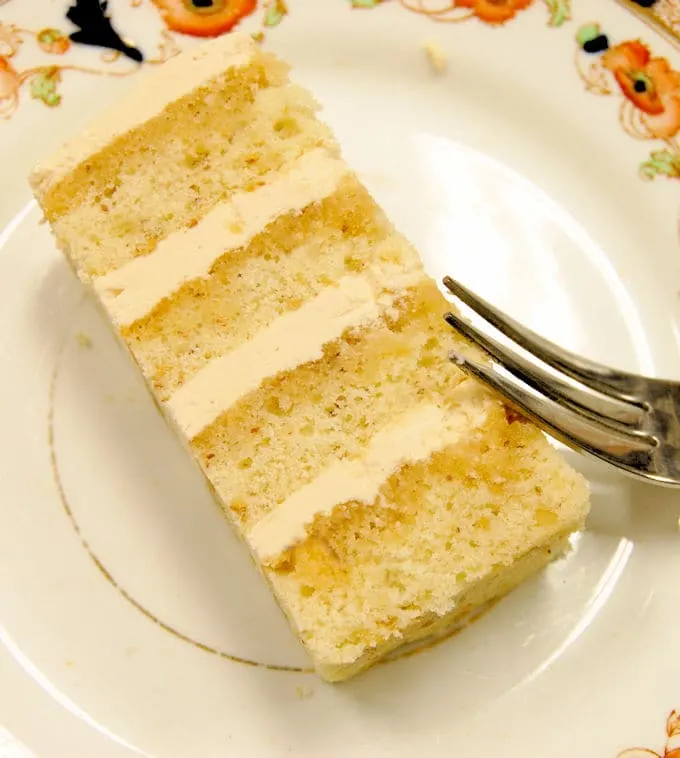 How long will Cajeta keep?
Cajeta will keep for several weeks in the refrigerator but will eventually begin to crystallize.
It will also keep for several months in the freezer.
If you love this recipe as much as I do, I'd really appreciate a 5-star review.
Cajeta
Cook Time:
3 hours
2 seconds
Total Time:
3 hours
5 minutes
2 seconds
Cajeta is a delicious caramel sauce made from cow's milk and goat's milk. It's takes several hours to make, but most of the time is hands-off.
Ingredients
2 cups (16 oz, 480ml) goat milk
1 cup (8 oz, 224g) granulated sugar
1 Cinnamon stick, "true" or Mexican cinnamon is preferred
1/2 teaspoon baking soda
2 cups (16 oz, 480ml) whole cow milk
Instructions
Combine the goat milk, sugar, cinnamon stick and baking soda in a very large, heavy pot like a Dutch oven. Heat over medium high heat.
As soon as the mixture begins to boil it will foam up. Quickly stir with a wooden spoon to reduce the foam. Once the foaming subsides add the cows milk to the mixture.
Continue to heat over medium keeping a close eye to watch for boil over.
Once the mixture is simmering evenly and the foam has subsided, reduce the heat to medium low. Stir occasionally. The cajeta will deepen in color and reduce in volume as it cooks. After about 2 hours you'll need to stir more frequently as the mixture thickens.
You can check the thickness by dropping a spoonful of the cajeta on a chilled plate and placing it in the freezer to chill. Once it's chilled run a finger through the cajeta to check the texture.
Towards the end of cooking the mixture will boil thickly. At this point stir very frequently to avoid burning the bottom.
Cook for about 2-2.5 hours to desired color and thickness. Pour the hot cajeta through a sieve to remove any broken bits of cinnamon. Cool to room temperature and store in the refrigerator until ready to use. The cajeta can be frozen for longer term storage.
Recommended Products
As an Amazon Associate and member of other affiliate programs, I earn from qualifying purchases.