Malted Milk Ice Cream is a deliciously creamy treat with a very special flavor. You will not find this stuff at your local market.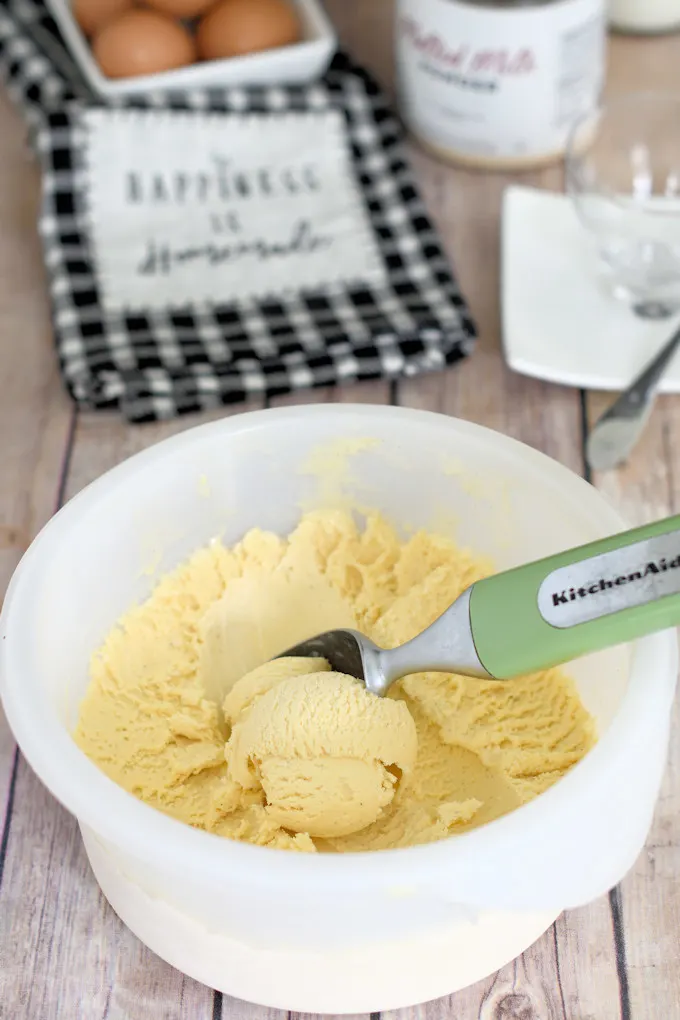 Ice Cream recipes are generally very simple with a fairly short list of ingredients. I mean, basically, it's just frozen cream.
But of course there's plenty of chemistry working behind the scenes in every ice cream recipe. If you're a geek like me and enjoy the science behind a recipe, you should visit this post about making Homemade Ice Cream.
Why bother to make homemade ice cream?
There are plenty of great ice creams available in the market. So why go to the trouble to make your own?
Although there are hundreds of ice cream brands and flavors in my local market, I have never seen a container of Malted Milk Ice Cream on the shelf.
So I make my own ice cream not only because it's fun, but because I can create virtually any flavor I want.
About Malted Milk Powder & Why it's a Great Ice Cream Ingredient:
Malted Milk Powder is made from malted barley, wheat, evaporated milk and a hint of baking soda and salt.
This recipe uses "non diastatic" malted milk powder, which means there are no active enzymes in the powder. It's the stuff used for flavoring milk, milk shakes and baked goods.
"Diastatic" milk powder has active enzymes that break down starch into sugar. Diastatic milk powder is used in bread baking.
The malted barley and wheat in the powder add a slightly cereal/grain flavor to the ice cream.
The baking soda and salt in the malted milk bring an interesting savory quality to the mix.
Now that you've got Malted Milk Powder, what else can you make? How about Malted Milk Cream Pie, Malted Milk Brownies or Malted Milk Blondies.
When you make your own ice cream, the possibilities are endless.
I like to swap in different dairy products to make things interesting. You can use cream cheese to make Cheesecake Ice Cream, Buttermilk Ice Cream has a wonderful tangy flavor and Creme Fraiche Ice Cream is a sophisticated flavor fit for the fanciest dinner party.
You can add cocoa and malted milk powder to make Malted Chocolate Ice Cream, steep fresh mint in the milk mix for the best Chocolate Chip Mint Ice Cream ever, stir in some roasted peaches for an amazing Peach Ice Cream and use freeze dried strawberries for an intensely flavored Strawberry Ice Cream.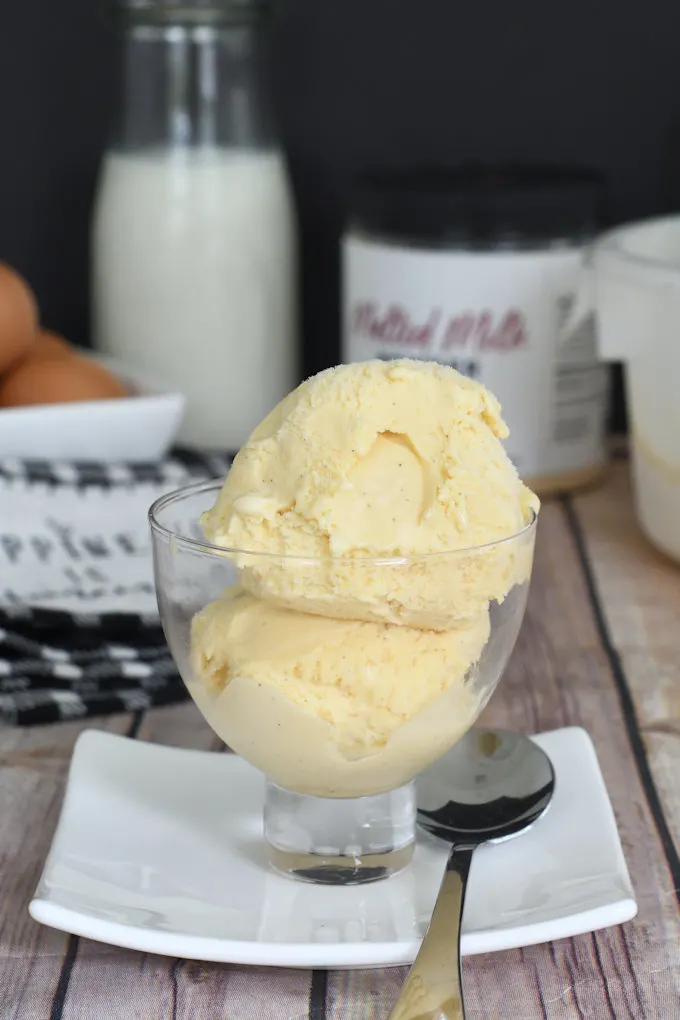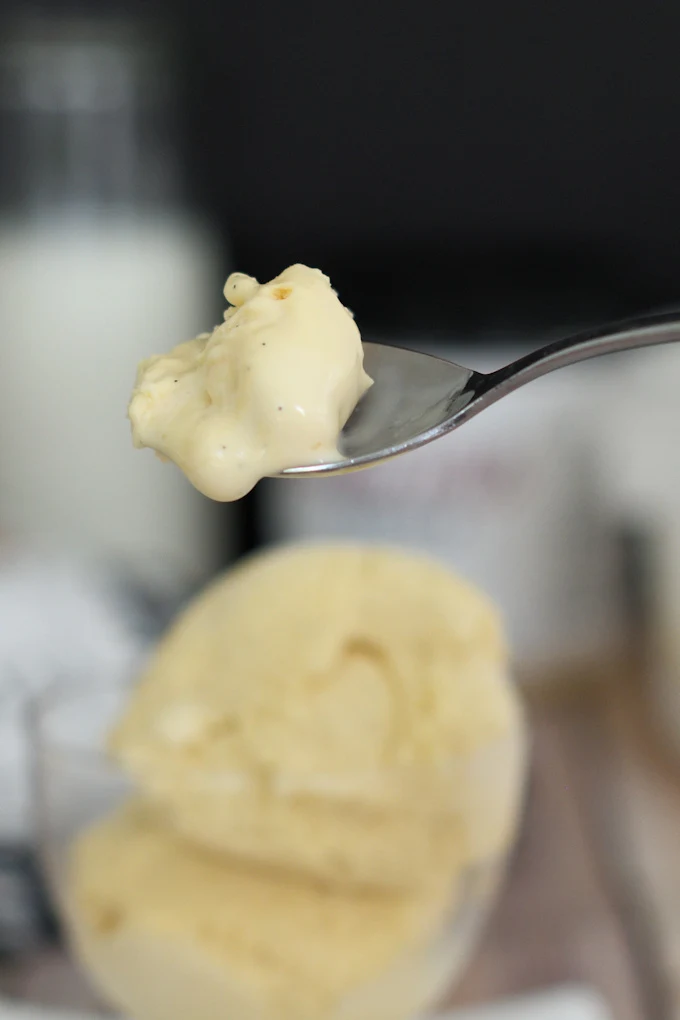 Now that you've made this recipe what should you do with all the extra egg whites? Check out this collection of recipes that use extra whites for some great ideas.
What else can you make with malted milk powder?
More unique homemade ice cream recipes:
If you love this recipe as much as I do, I'd really appreciate a 5-star review.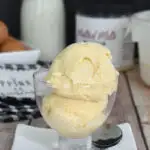 Print Recipe
Malted Milk Ice Cream Recipe
Delicious and creamy homemade ice cream flavored with fragrant vanilla bean and malted milk powder. Rich with egg yolks and it tastes like "cereal milk". It's a real treat.
Ingredients
12

oz

whole milk

(1 ½ cups)

12

oz

heavy cream

(1 ½ cups)

3

oz

non diastatic malted milk powder

(½ cup)

1

vanilla bean

(split)

6

large egg yolks

8

oz

granulated sugar

(1 cup)
Instructions
Combine

12 oz whole milk

,

12 oz heavy cream

,

3 oz non diastatic malted milk powder

and

1 vanilla bean

in a small saucepan. Heat the milk mixture over medium high heat until scalding hot.

While the milk heats up, whisk together

6 large egg yolks

and

8 oz granulated sugar

in a small bowl.

Once the milk mixture is scalding hot, pour it into the bowl with the yolks and whisk to combine

Return the entire mixture to the saucepan and heat over medium low heat, stirring constantly. Cook the custard until it thickens enough to coat the back of a spatula or wooden spoon. Do not allow it to come to a boil. Remove from the heat and strain into a bowl. Scrape the seeds from the pod and stir them into the custard. Return the pod to the custard. Cover the bowl and chill until very cold. At least 4-5 hours or over night.

Before churning the ice cream, discard the pod (or save it to make vanilla sugar). Freeze according to the directions for your ice cream machine.

When the ice cream is ready, scoop it into a container and smooth to an even layer. Lay a piece of plastic wrap directly on the surface of the ice cream, cover tightly and freeze until firm.
Equipment
Freezer Storage Containers
As an Amazon Associate and member of other affiliate programs, I earn from qualifying purchases.
Nutrition
Serving:
1
serving
|
Calories:
323
kcal
|
Carbohydrates:
32
g
|
Protein:
5
g
|
Fat:
20
g
|
Saturated Fat:
12
g
|
Polyunsaturated Fat:
1
g
|
Monounsaturated Fat:
6
g
|
Cholesterol:
199
mg
|
Sodium:
34
mg
|
Potassium:
120
mg
|
Sugar:
32
g
|
Vitamin A:
889
IU
|
Vitamin C:
0.3
mg
|
Calcium:
98
mg
|
Iron:
0.4
mg