Homemade Hot Dogs Buns are super soft with just a hint of sweetness. Start the dough in the afternoon and have fresh hot dog buns ready by the time you fire up the grill for dinner.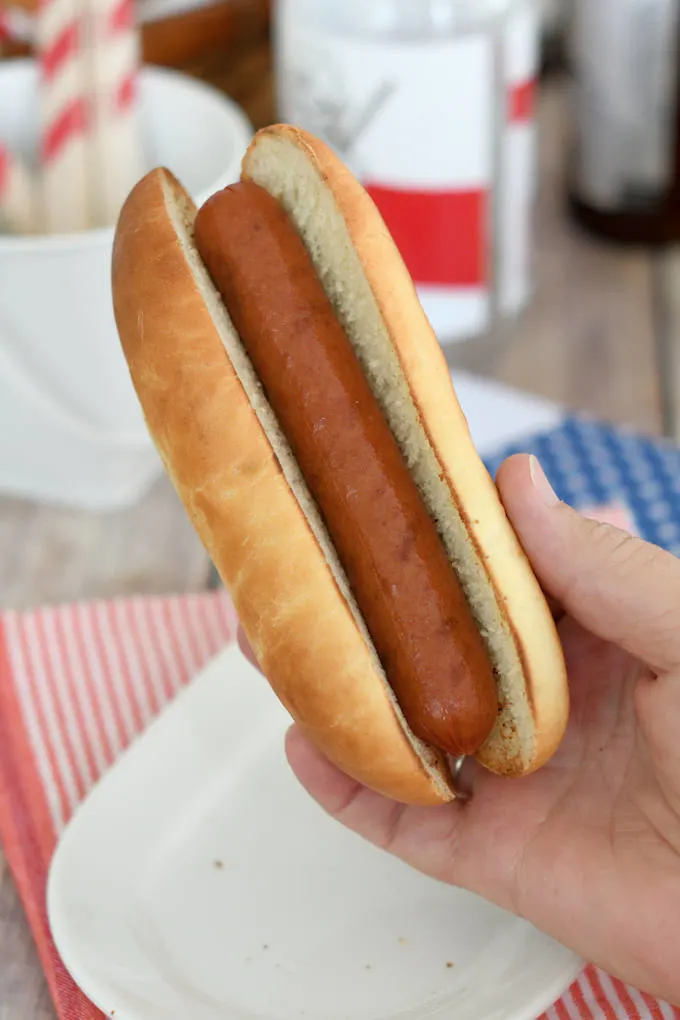 Most of us just buy packaged buns without even thinking about making our own. But I can tell you that this easy recipe will ruin store-bought hot dog buns for you. But don't worry, they're really very easy to make with no deep bread-baking knowledge required.
Scroll through the process photos to see exactly how to make Homemade Hot Dog Buns: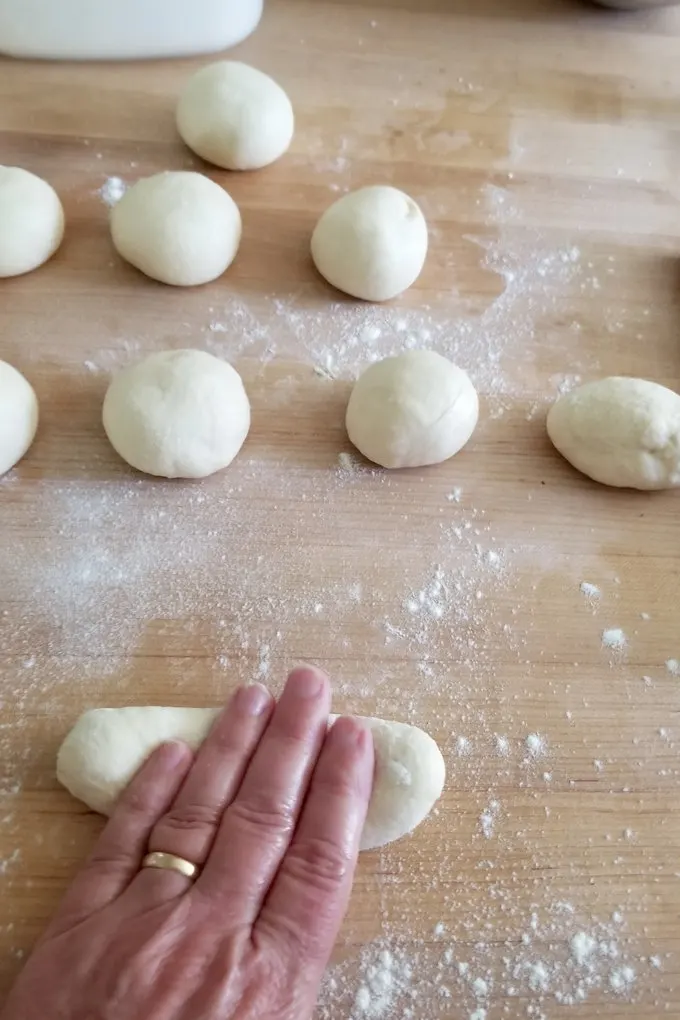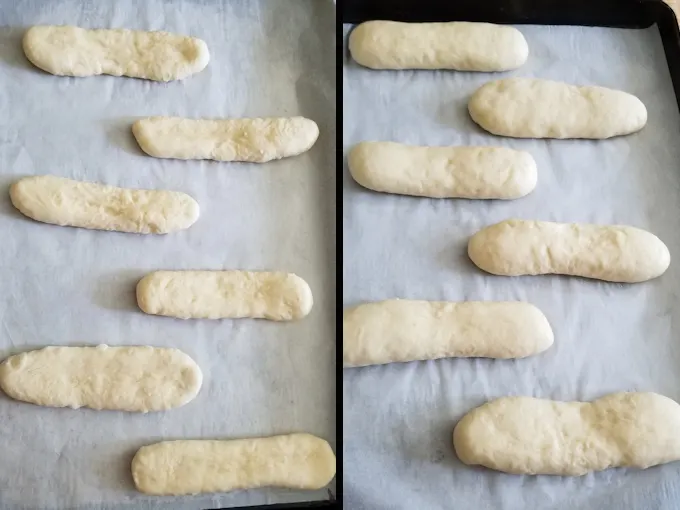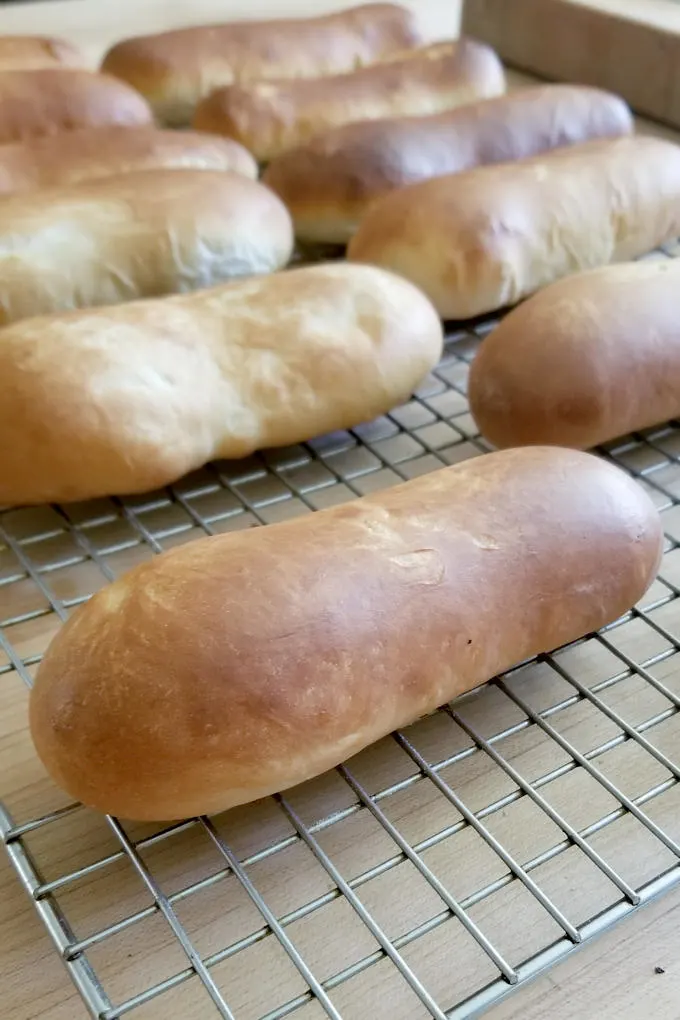 Tips for making great Homemade Hot Dog Buns:
Make the dough in the late morning or early afternoon and set it aside to rise. By the afternoon you'll be ready to shape the buns. An hour or so later they'll be ready to bake. You'll have fresh buns by dinner time.
To work ahead, the dough can be stored in an air tight container in the refrigerator for up to 2 days. You can shape the dough right after it comes out the refrigerator.
To make a nice smooth crust on the bun, roll the dough pieces into a ball first and then into the "cigar" shape. This forms a tight skin on the outside of the dough which helps the buns retain their shape as they rise and bake.
If a piece of dough becomes too elastic to shape, set it aside for 5 minutes to rest and then come back and try again.
The rolls are best the day they are baked. Extra rolls can be frozen for for up to 3 months.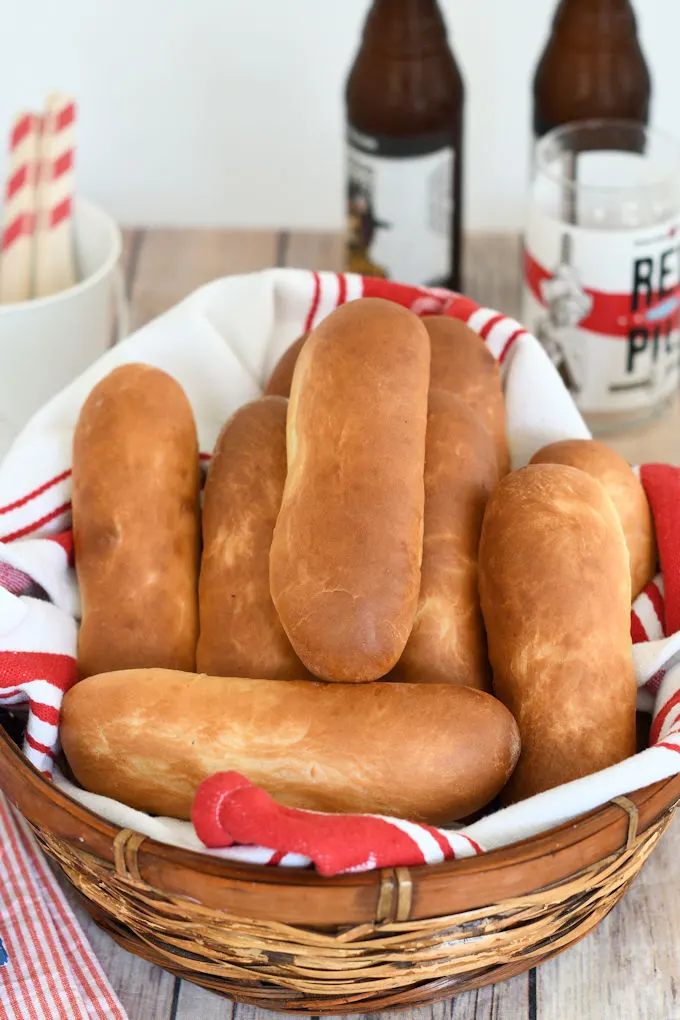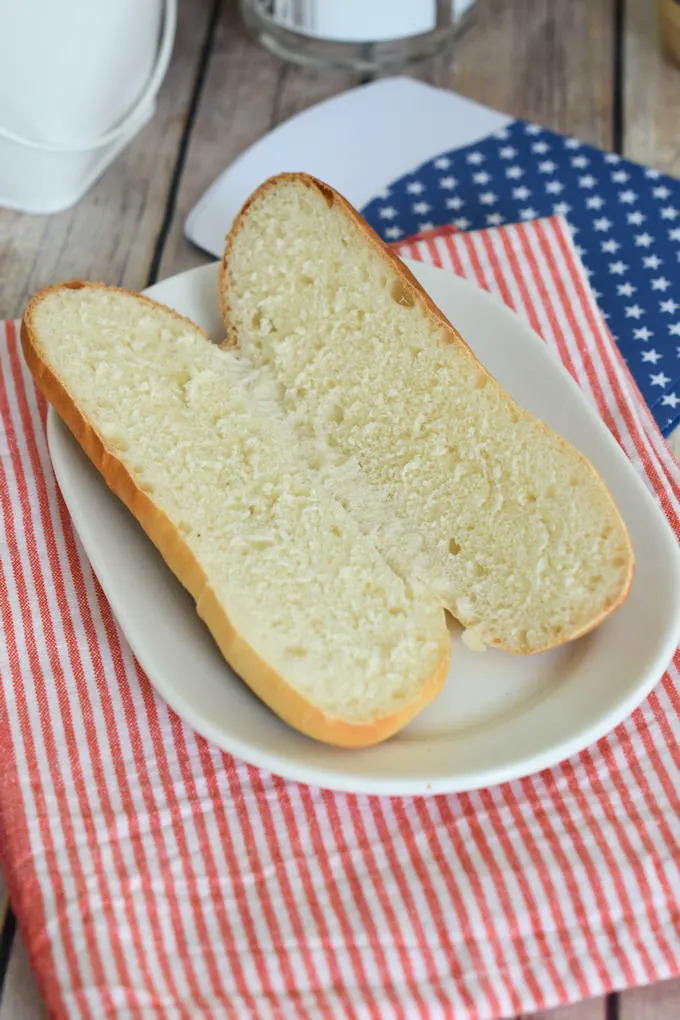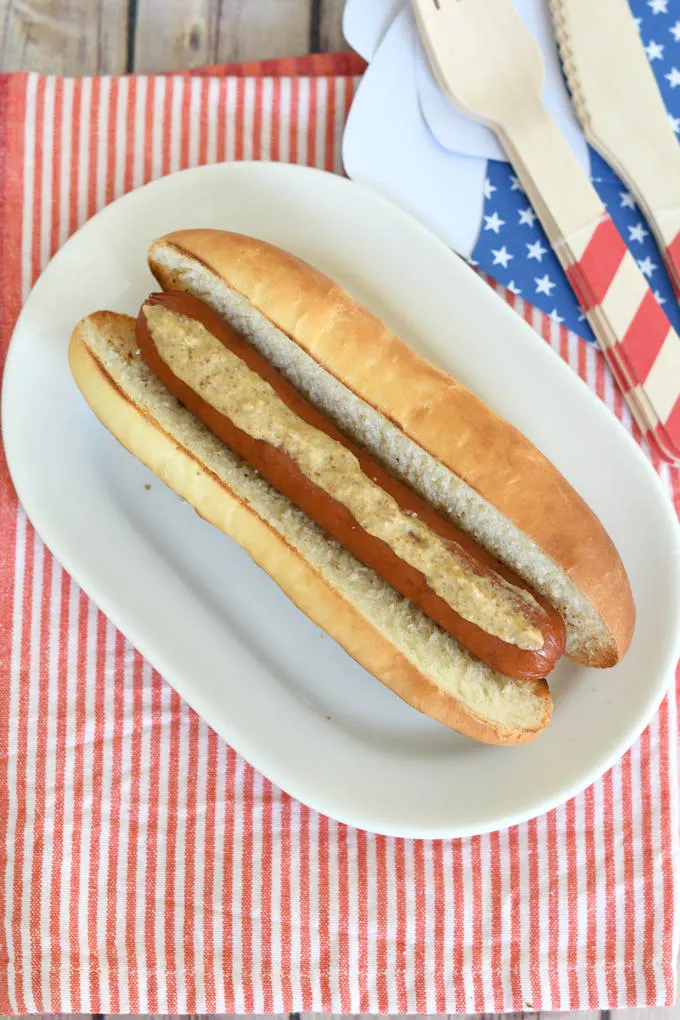 If you want to make your own burger buns, I highly recommend these Milk and Honey Hamburger Buns made with yeast. If you keep a sourdough starter check out this recipe for Sourdough Burger Buns.
If you're looking for a new burger recipe I think you'll love this amazing Chicken Satay Burger with Peanut Sauce.
If you love this recipe as much as I do, I'd really appreciate a 5-star review.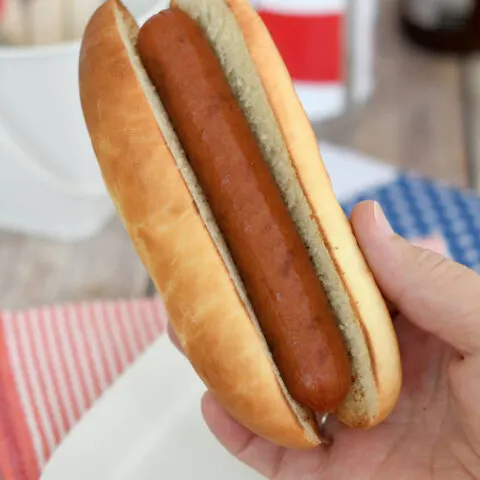 Hot Dog Buns
Total Time:
2 hours
55 minutes
Super soft with just a hint of sweetness, homemade Hot Dog Buns are worth the time. They freeze really well.
Ingredients
1 cup (236 ml) whole milk (100°-110°F, slightly warmer than body temp)
2 tablespoons (1 oz, 28g) unsalted butter, softened to room temp
2 tablespoons granulated sugar
1.5 teaspoon table salt
1 large egg, room temperature
1 packet (2 ¼ teaspoons, 7g) dry yeast
3 cups (15 oz, 420g) bread flour
1/4 cup (2 oz, 60ml) whole milk for brushing buns
Instructions
Combine milk, butter, sugar, salt and egg in a mixer bowl. Sprinkle the yeast over the mixture. Mix on low speed to combine the ingredients.
Add 1 1/2 cups of the bread flour until the batter is very thick. If using a stand mixer, switch to the dough hook. With the mixer running, add the remaining flour. Knead the dough for 5 minutes until it is smooth and elastic. If mixing by hand add the flour using a wooden spoon and/or a plastic bowl scraper and knead on a floured surface.
Turn the dough out onto a lightly floured surface and knead into a smooth ball. Set in a lightly oiled bowl, turning once to coat the surface of the dough. Cover with plastic wrap and set aside to rise until doubled in volume (1 - 1 1/2 hours).
Line two baking sheets with parchment paper or a silicone baking mat.
Turn the dough out onto a lightly floured surface and knead to form a smooth ball. Divide the dough into 12 equal portions. Roll each portion to a tight ball. Starting with the first piece of dough you rolled, roll the dough to form a 6" long cigar shape. Set it on the baking sheet. Continue with the remaining dough, placing 6 rolls onto each baking sheet. Use the palm of your hand to flatten each cigar to about 1/2" thick and 2" wide oval.
Cover the pans and set aside in a warm place to rise until almost doubled in height and it nicely puffed (about 1 hour). Meanwhile, preheat the oven to 400°F.
Brush the tops of the buns with milk. Bake until the buns are golden brown and feel light when lifted off the sheet pan, about 10-13 minutes. Allow to cool completely before slicing.
Notes
The buns freeze very well.
Recommended Products
As an Amazon Associate and member of other affiliate programs, I earn from qualifying purchases.