Luscious White Chocolate Ice Cream with Chocolate Truffles is a chocoholics dream come true. This is not an ice cream flavor you'll find in the supermarket!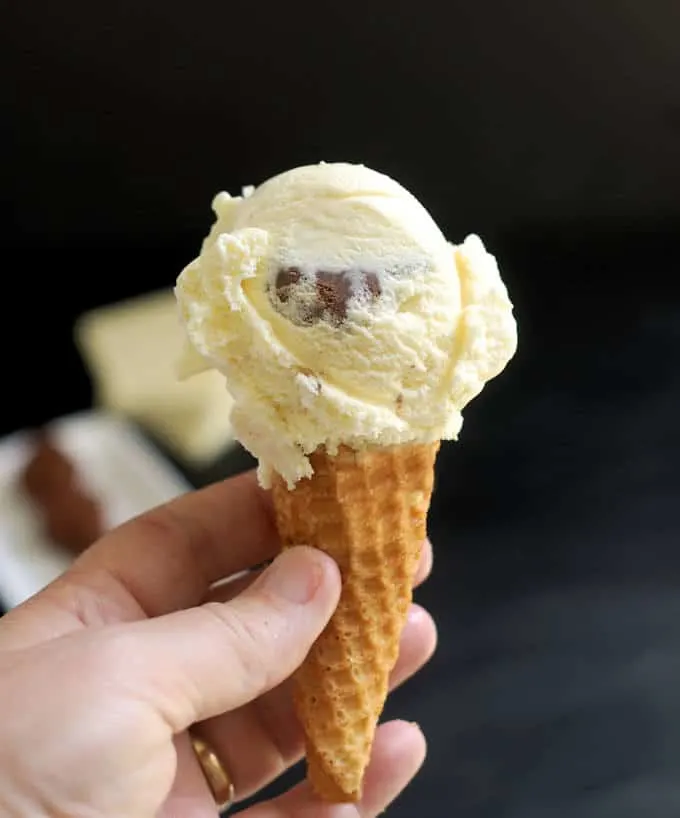 Why make ice cream at home when you can buy great ice cream in any supermarket? Good question.
First of all, for some of us geeks it's just plain fun to make things from scratch. Second, when you make your own ice cream you can create flavors you won't find in the market, like Brown Sugar Ice Cream, Black Sesame Ripple Ice Cream and Lavender Honey Ice Cream.
I first made White Chocolate Ice Cream with Chocolate Truffles waaaaaay back in the late 80's. That's right, back in the olden-days.
When I was in pastry school I did my internship at a high-end Italian restaurant in center city Philadelphia.
The restaurant's dessert menu featured homemade gelato, as any self-respecting Italian restaurant's menu would. In addition to a few standard flavors, each day there was a "special" gelato.
It was always fun when I got the opportunity to create the gelato special for the day. I love to get creative with flavors.
Scroll through the step-by-step process photos to see how to make White Chocolate Ice Cream with Chocolate Truffles:
There isn't really a big story about how I was inspired to create this combination of flavors.
I was in the middle of a professional pastry kitchen surrounded by 11 pound blocks of high quality white chocolate and buckets full of dark chocolate ganache. It doesn't take a genius to know that those two things should be brought together in an ice cream flavor, now does it?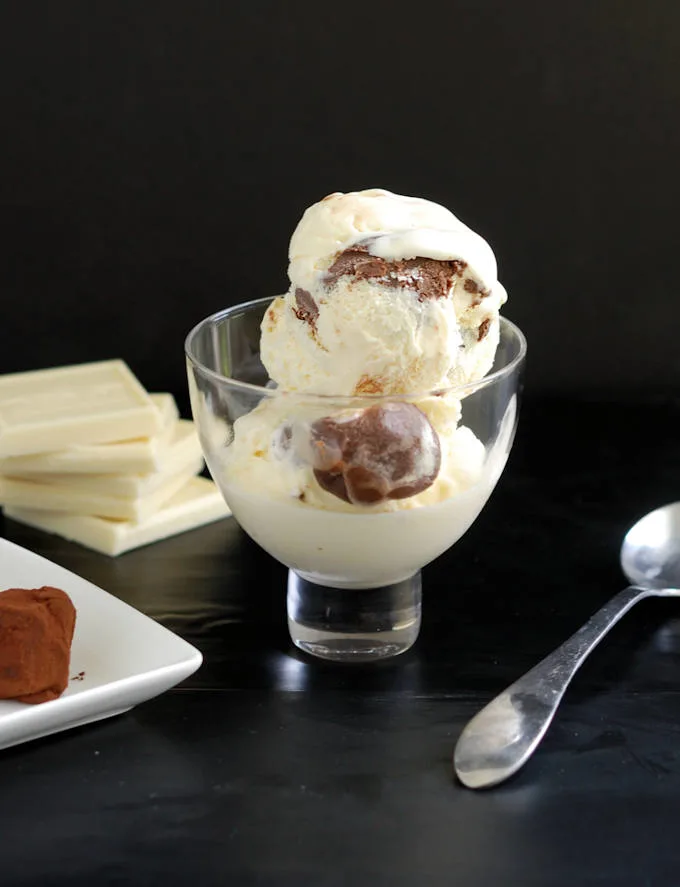 How to make a great tasting White Chocolate Ice Cream:
The main change I made to my basic ice cream recipe was to cut back quite a bit on the sugar.
White chocolate is pretty sweet. I wanted to use enough white chocolate to make the ice cream actually taste like white chocolate, so I had to compensate for the added sugar.
White chocolate is a fairly subtle flavor, but this ice cream has a distinct white chocolate flavor.
The chunks of slightly bitter dark chocolate truffles are a great counter-point to the white chocolate.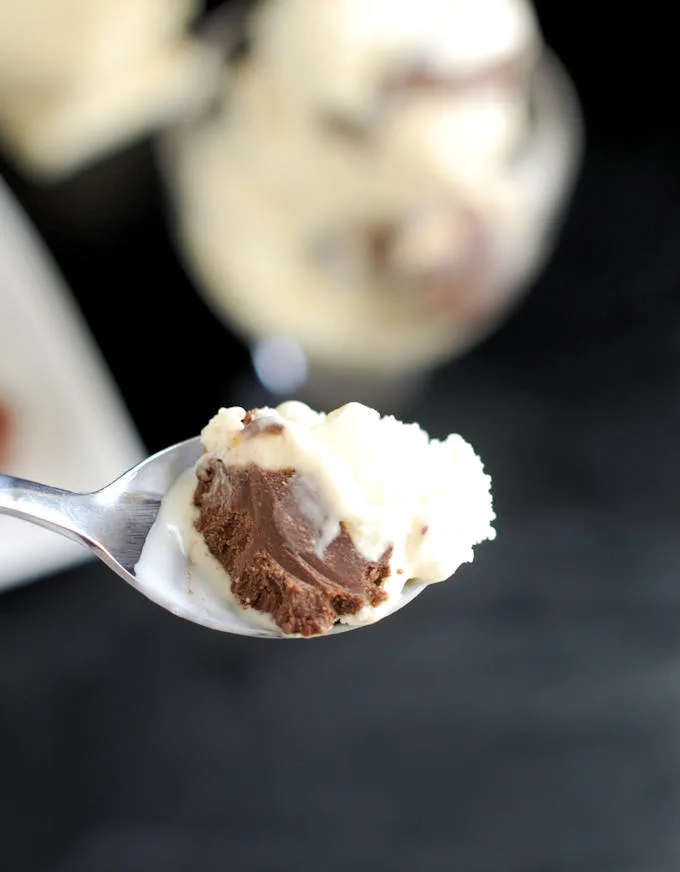 Now that you've made this recipe what should you do with all the extra egg whites? Check out this collection of recipes that use extra whites for some great ideas.
If you love this recipe as much as I do, please consider leaving a 5-star review.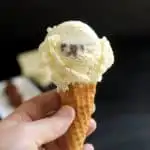 Print Recipe
White Chocolate Chocolate Truffle Ice Cream
Luscious White Chocolate Ice Cream with Chocolate Truffles is a chocoholics dream come true. This is not an ice cream flavor you'll find in the supermarket!
Ingredients
For the Ice Cream
8

oz

White Chocolate

(chopped)

12

oz

whole milk

(1 ½ cups)

12

oz

heavy cream

(1 ½ cups)

5

egg yolks

4

oz

granulated sugar

(½ cup)

⅛

teaspoon

salt

1

tablespoon

vanilla extract
Instructions
Make the Ice Cream
Place

8 oz White Chocolate

into a large, heat-proof bowl and set aside.

Combine

12 oz whole milk

,

12 oz heavy cream

in a small saucepan. Heat the milk mixture over medium high heat until scalding hot.

While the milk heats up, whisk together

5 egg yolks

,

4 oz granulated sugar

,

⅛ teaspoon salt

1 tablespoon vanilla extract

in another bowl.

Once the milk mixture is scalding hot, pour it into the bowl with the yolks and whisk to combine.

Return the entire mixture to the saucepan and heat over medium low heat, stirring constantly. Cook the custard until it thickens enough to coat the back of a spatula or wooden spoon. Do not allow it to come to a full boil. Remove from the heat and strain into the bowl with the white chocolate. Stir until all the white chocolate is melted. Cover the bowl and chill until very cold. At least 4-5 hours or over night.

Freeze according to the directions for your ice cream machine. While the ice cream is churning, make the truffles.
Roll The Truffles
Roll the chilled ganache into 1/2″ balls, line them up on a tray. Place the tray in the freezer until the ice cream is ready.

When the ice cream is finished churning, scoop 1/4 of it into a container and smooth to an even layer. Drop 1/3 of the chocolate truffles over the ice cream. Continue layering the ice cream and truffles, ending with a layer of ice cream. You may not use all the truffles. Any extra truffles can be rolled in cocoa powder and refrigerated to be served as a candy.

Lay a piece of plastic wrap directly on the surface of the ice cream, cover tightly and freeze until firm.
Equipment
Freezer Storage Containers
As an Amazon Associate and member of other affiliate programs, I earn from qualifying purchases.
Nutrition
Serving:
1
serving
|
Calories:
279
kcal
|
Carbohydrates:
23
g
|
Protein:
4
g
|
Fat:
19
g
|
Saturated Fat:
11
g
|
Polyunsaturated Fat:
1
g
|
Monounsaturated Fat:
5
g
|
Cholesterol:
120
mg
|
Sodium:
64
mg
|
Potassium:
134
mg
|
Fiber:
0.04
g
|
Sugar:
23
g
|
Vitamin A:
576
IU
|
Vitamin C:
0.3
mg
|
Calcium:
101
mg
|
Iron:
0.3
mg
You might also like: