Lavender Honey Ice Cream is my new favorite ice cream, and I think it will be your's too! Lavender Honey gives this frozen custard a full-bodied, smooth texture and hauntingly lovely flavor.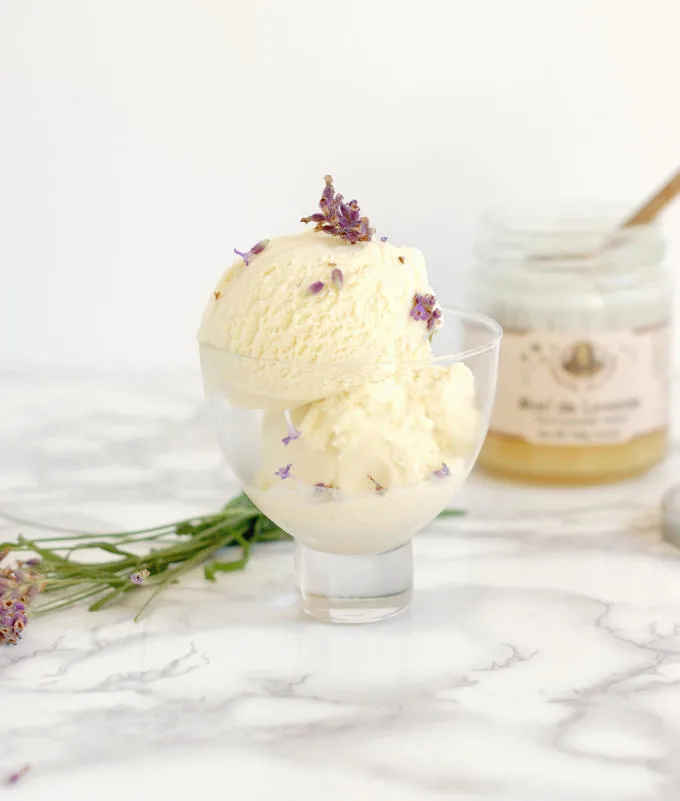 Disclaimer: I have received products from sponsor companies to use in my recipes. All opinions and recipes are mine.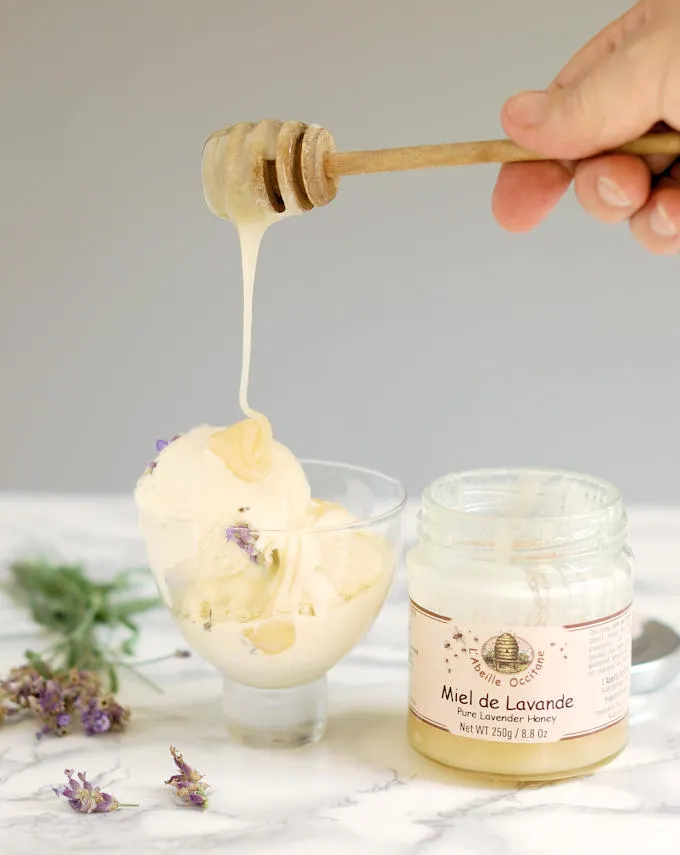 As I've mentioned before, I absolutely love making ice cream at home. There is something magical about turning milk, sugar and eggs into a luscious frozen treat. I love that I can be totally creative with the flavors, and I can make combinations that I'll never find in the frozen food aisle.
Ok, I've got to get this out of the way first. This is not a "no-churn" ice cream recipe. I know, I know, they're all the rage on the internet right now.
I don't mean to be a curmudgeon, but I've read about a million of the "no churn" recipes, and to me they either make something that in no way resembles real ice cream, or you have to go through so many tricks with the mixing and ingredients that I don't see how it's any more convenient than owning a machine that does the job for you.
I'm sorry, but I'm just not ready to drink that Kool-Aid. I mean, you can buy really great ice cream in the store. Why go through the trouble of making your own ice cream but then draw the line at buying one, relatively inexpensive, small appliance?
I will proudly mix my ice cream in a machine without bowing to internet pressure.
But I digress…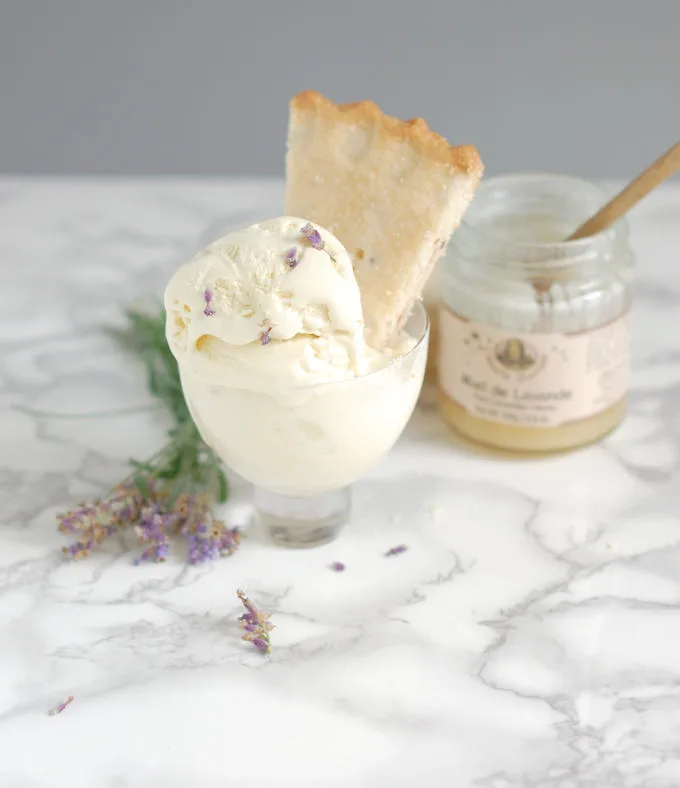 This recipe starts with the same basic recipe I use for most of my ice creams. I replaced some of the sugar with the L'Abeille Occitane Lavender Honey from The French Farm and I steeped lavender blossoms in the milk to highlight the honey's flavor.
I'm very happy with the flavor of this ice cream, but I really can not believe how wonderful the texture is. Sometimes homemade ice cream can become grainy or very hard in the freezer. This ice cream is scoopable right from the freezer and has a rich, full-bodied texture with absolutely no graininess.
I did lots of research and couldn't get a definitive answer as to why honey makes ice cream so smooth. Cooks Illustrated uses corn syrup in their ice cream to improve the texture. I'm not sure if it's the exact same thing happening here, because corn syrup and honey don't have the same chemical makeup.
But this will not be my last time adding honey to ice cream. If anyone can explain the science of honey in ice cream I'd love to hear from you!!
Click through the slider to see how to make Lavender Honey Ice Cream:
[metaslider id=8200]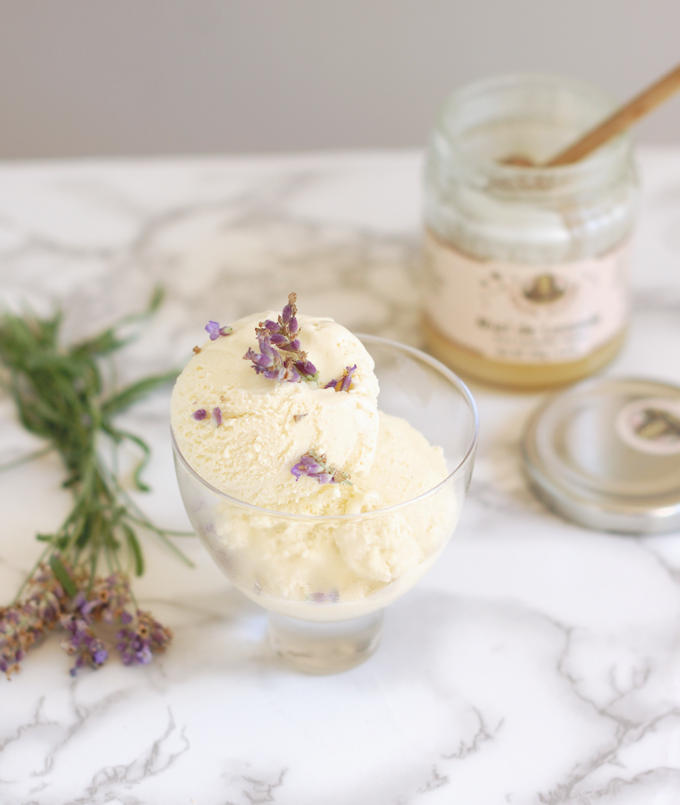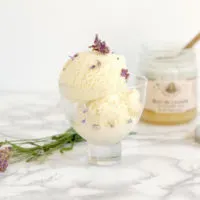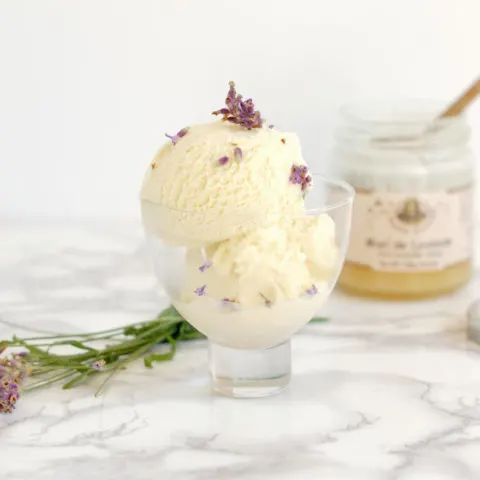 Lavender Honey Ice Cream
Yield: 1 quart

Prep Time: 20 minutes

Churn Time: 20 minutes

Chilling Time: 4 hours

Total Time: 4 hours 40 minutes

Lavender Honey gives this frozen custard a full-bodied, smooth texture and hauntingly lovely flavor.
Ingredients
1 cup (8oz, 240ml) whole milk
2 cups (16 oz, 480ml) heavy cream
1/2 cup (4 oz, 115g) granulated sugar
2 tablespoons dried lavender blossoms
pinch of salt
5 large egg yolks
1/4 cup (3 oz, 80g) lavender honey (see note1)
Instructions
Combine the milk, cream, sugar, lavender and salt in a saucepan. Heat on high to scalding hot, careful it doesn't boil over. Turn off the heat, cover the pot and allow the mix to steep for about 20 minutes. Check the flavor. If you want it stronger allow it to steep a little longer Steep until the flavor is to your liking (see note 2).
Reheat the milk over medium high heat until scalding hot. While the milk mixture is heating, whisk together the yolks and lavender honey. Whisk the scalding hot milk into the yolks. Return the mixture to the pan and reduce the heat to medium low. Cook the custard, stirring constantly, until it thickens enough to coat the back of a spoon or spatula.
Strain the mixture into a bowl, cover with plastic wrap and refrigerate for at least 3-4 hours or overnight. Run the custard in your ice cream machine according to the manufacturer's directions
Pack into a container. Place plastic wrap directly on the surface of the ice cream and cover the container with a lid. Freeze at least 8 hours or overnight.
Notes
You can use plain honey in place of the lavender honey.
When you eat the frozen ice cream the flavor will be a little muted, so you can make the flavor just a bit stronger than perfect. Be careful though, lavender can go from a lovely light flavor to soapy if left too long. It took about 30 minutes for mine to have a flavor I liked.
Recommended Products
As an Amazon Associate and member of other affiliate programs, I earn from qualifying purchases.
You might also like: