Brown Sugar Ice Cream is a delicious and creamy treat with an extra special flavor. The molasses in the brown sugar not only adds wonderful, deep flavor, it also makes the ice cream soft and luscious. This ice cream is nice and scoopable, straight from the freezer.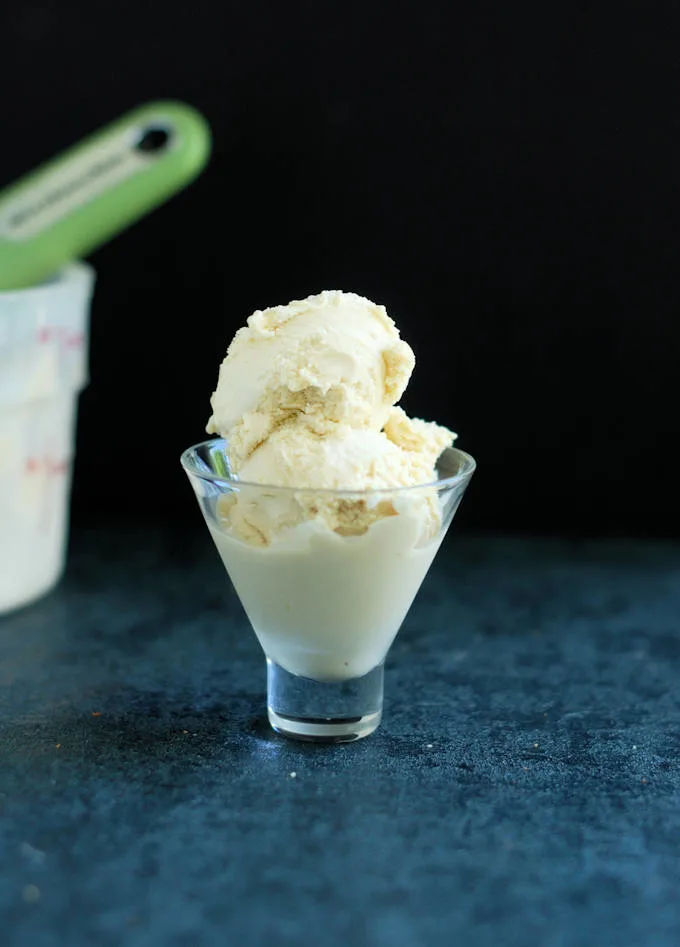 Brown sugar is such a great baking ingredient. First of all, any dish with the words "Brown Sugar" in the title automatically sounds delicious, doesn't it?
So, what's the difference between brown sugar and white granulated sugar? Brown sugar has molasses and white sugar does not. Dark brown sugar has more molasses than light brown sugar. More about the brown sugar later, first let's talk about sugar in ice cream.
Sugar also does all sorts of wonderful things for the texture of ice cream. As the sugar melts into the cream, dissolved sugar molecules interfere with the crystallization of water molecules. This reduces the freezing point of the mix so it won't freeze rock-solid.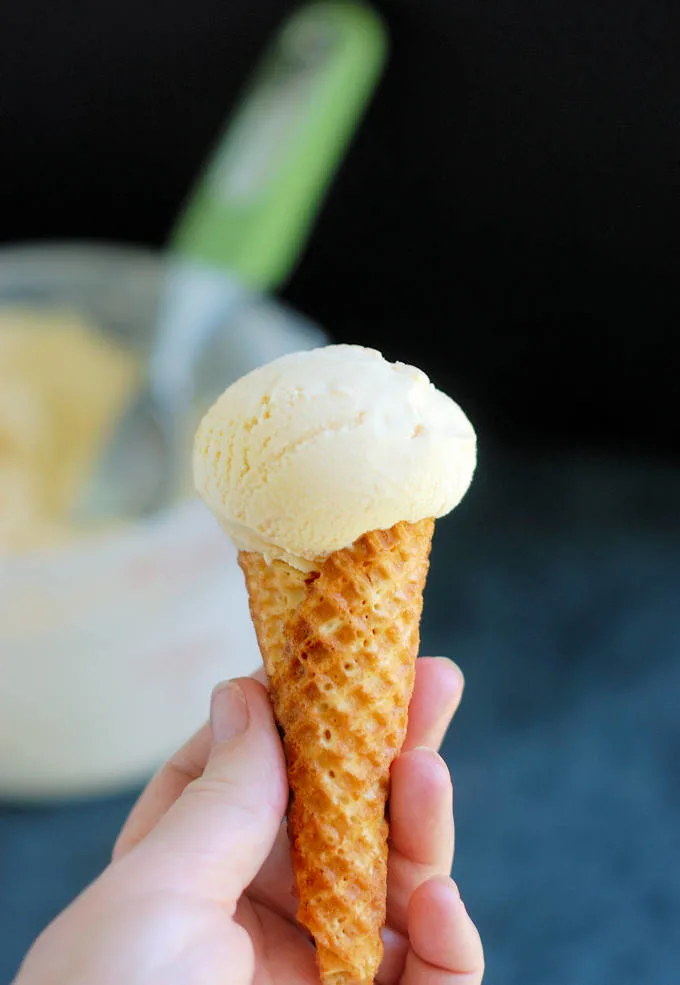 Why Brown Sugar makes ice cream luscious:
When I created my Lavender Honey Ice Cream recipe, I was pleasantly surprised that the honey in the ice cream not only added a great flavor, but the texture of the ice cream was wonderful.
Corn syrup, honey and molasses all have some naturally occurring "invert sugar". Invert sugars lower the freezing point of water further than basic granulated sugar does.
Which means invert sugar will interfere with the formation of ice crystals even more than basic sugar. Fewer ice crystals means a softer ice cream. I discovered this kind of by accident when I made ice cream with honey, and again when I used brown sugar in this recipe.
This Brown Sugar Ice Cream has that same soft and luscious texture as my Lavender Honey Ice Cream, thanks to a little bit of molasses in the brown sugar.
So not only does brown sugar give the ice cream great flavor, it also gives it great texture. And "Brown Sugar Ice Cream" just sounds so tempting, doesn't it?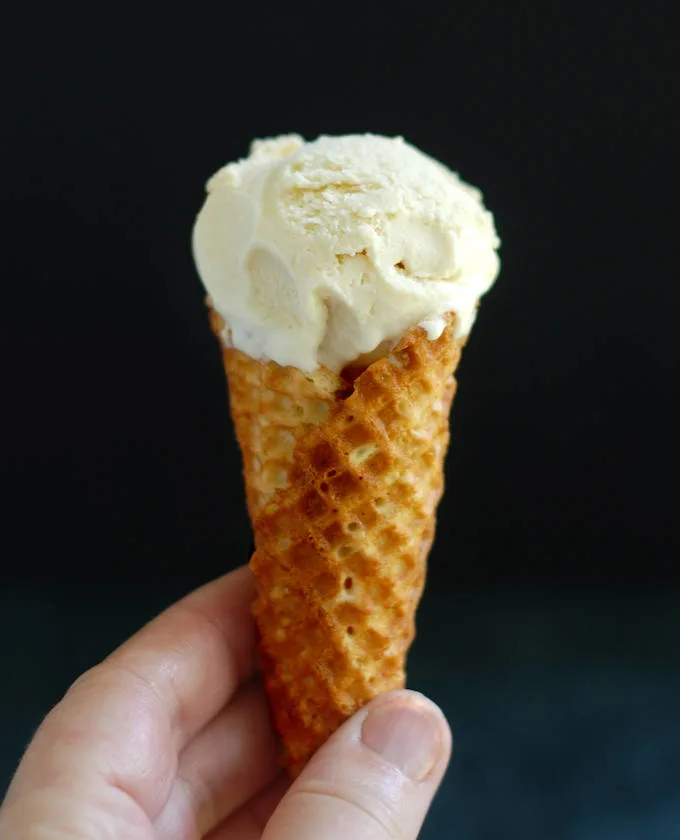 Now that you've made this recipe what should you do with all the extra egg whites? Check out this collection of recipes that use extra whites for some great ideas.
I know you're already wondering…YES! You can make Homemade Cookie Dough Ice Cream.
If you love this recipe as much as I do, please consider leaving a 5-star review.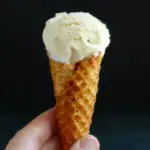 Print Recipe
Brown Sugar Ice Cream
Delicious and creamy ice cream made with brown sugar for an extra special flavor. The molasses in the brown sugar makes the ice cream soft and luscious. The molasses also helps the ice cream stay nice and scoopable texture, straight from the freezer.
Ingredients
12

oz

whole milk

(1 1/2 cups)

12

oz

heavy cream

(1 1/2 cups)

8

oz

brown sugar

(1 cup)

5

egg yolks

1/8

teaspoon

table salt

1

tablespoon

vanilla extract
Instructions
Combine the milk, cream, brown sugar in a small saucepan. Heat the milk mixture over medium high heat until scalding hot.

While the milk heats up, whisk together the yolks, salt and vanilla in a small bowl.

Once the milk mixture is scalding hot, pour it into the bowl with the yolks and whisk to combine

Return the entire mixture to the saucepan and heat over medium low heat, stirring constantly. Cook the custard until it thickens enough to coat the back of a spatula or wooden spoon. Do not allow it to come to a boil. Remove from the heat and strain into a bowl. Cover the bowl and chill until very cold. At least 4-5 hours or over night.

Freeze according to the directions for your ice cream machine.

When the ice cream is ready, scoop it into a container and smooth to an even layer. Lay a piece of plastic wrap directly on the surface of the ice cream, cover tightly and freeze until firm.
As an Amazon Associate and member of other affiliate programs, I earn from qualifying purchases.
Nutrition
Serving:
8
g
|
Calories:
772
kcal
|
Carbohydrates:
34
g
|
Protein:
27
g
|
Fat:
58
g
|
Saturated Fat:
26
g
|
Cholesterol:
1704
mg
|
Sodium:
108
mg
|
Sugar:
29
g
You might also like: