Sourdough Irish Soda bread is an easy and delicious way to use sourdough discard. Homemade soda bread is so much better than what you'll find in the grocery store.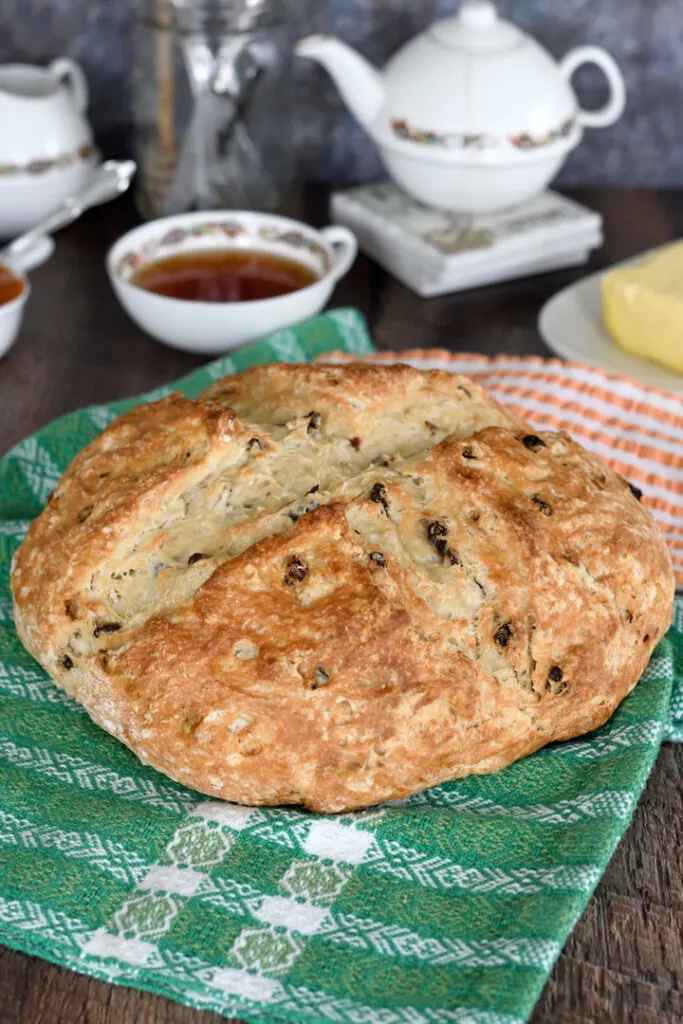 Why is soda bread so easy to make? Because it's a "quick bread". Quick breads are "quick" because they get their lift from a chemical leavener (in this case, baking soda) instead of yeast. As soon as the bread is mixed it's ready to bake.
Even with the addition of sourdough discard to enhance the flavor and texture of the bread, there is no fussy fermentation or proofing the dough. It's still a "quick" bread.
If you don't already have one, I can show you how to make a sourdough starter and how to feed a sourdough starter.
If you don't have a starter, you can make traditional Irish Brown Bread, traditional Irish Soda bread or Oatmeal Apricot Soda Bread.
Scroll through the step by step photos to see how to make Sourdough Irish Soda Bread: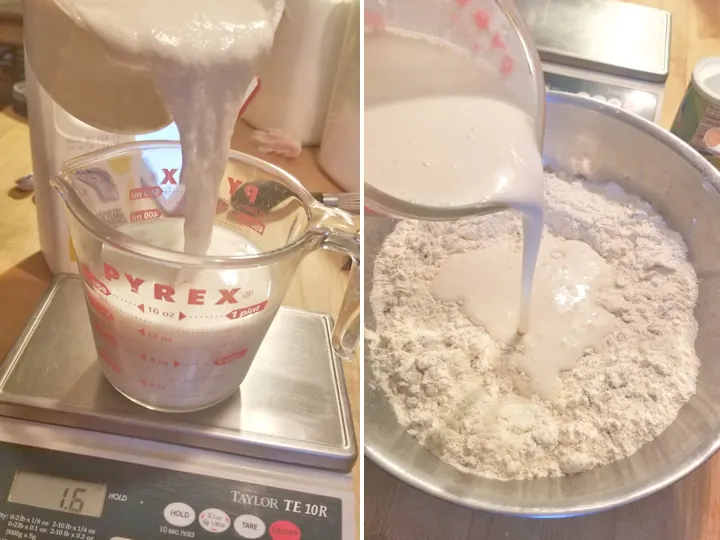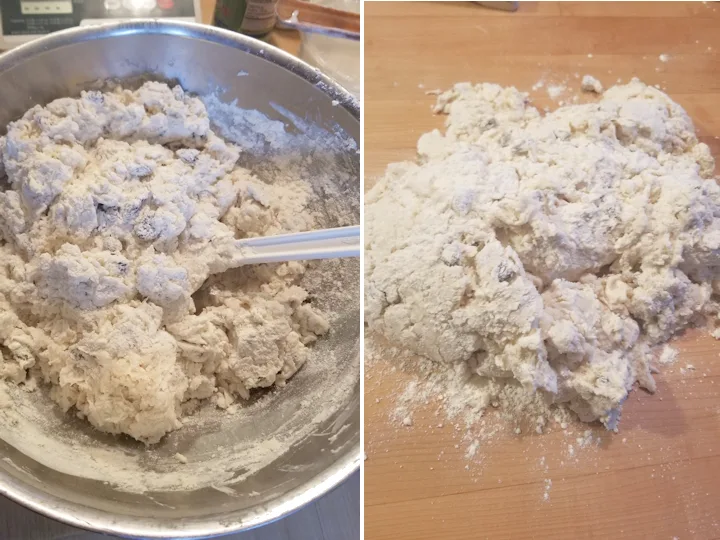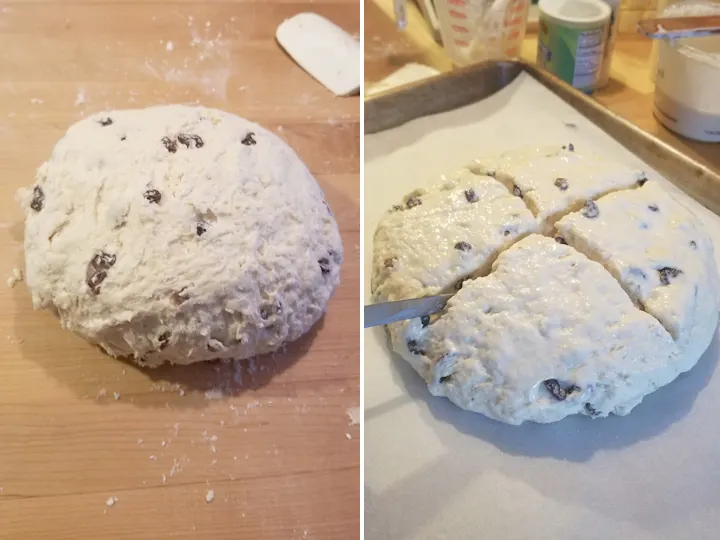 Helpful tips for making Sourdough Irish Soda Bread:
This dough is so easy to make you don't need to use a mixer. Mixing by hand helps ensure that you won't over work and toughen the dough.
The "riper" your sourdough discard, the more tangy flavor you get in the loaf.
You can make a substitute for buttermilk by adding a tablespoon of lemon juice or white vinegar to a cup of whole milk. Let it thicken for 10 minutes before using.
Another substitute is buttermilk powder, which will keep for months in the pantry. Buttermilk does have a special flavor so I think it's worth getting the real thing.
Cutting a deep X in the top of the loaf before it goes in the oven ensures that it will rise evenly without splitting in random places.
If the raisins on the surface of the dough burn in the oven, just pick them off (careful, they're hot) when the bread comes out of the oven.
Sourdough Soda Bread is best the day it's baked. Leftovers can be frozen, then defrosted and reheated.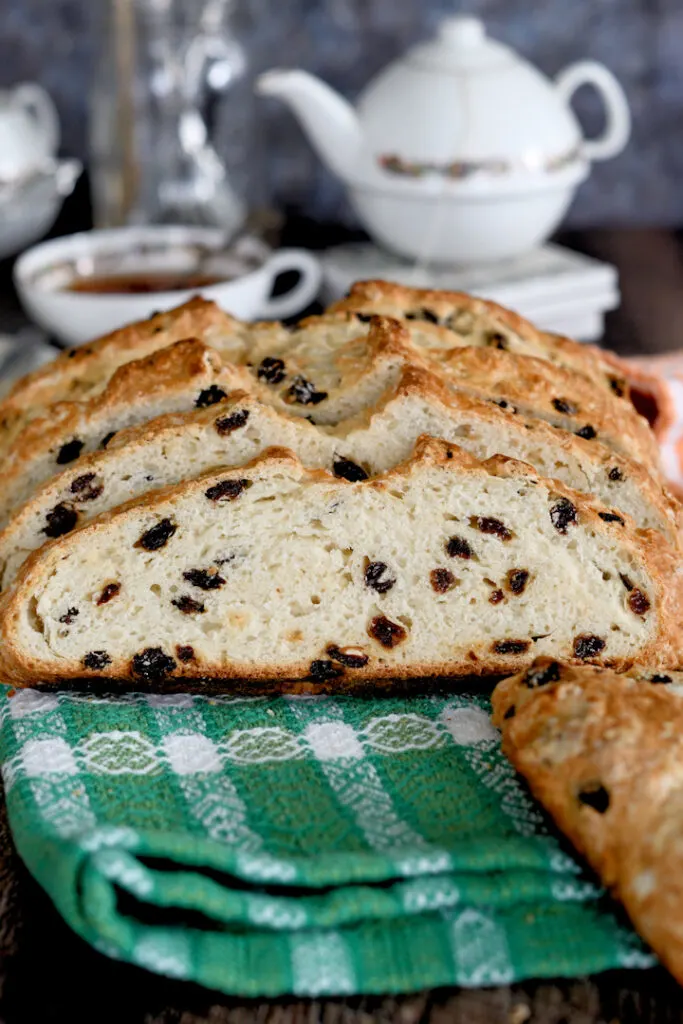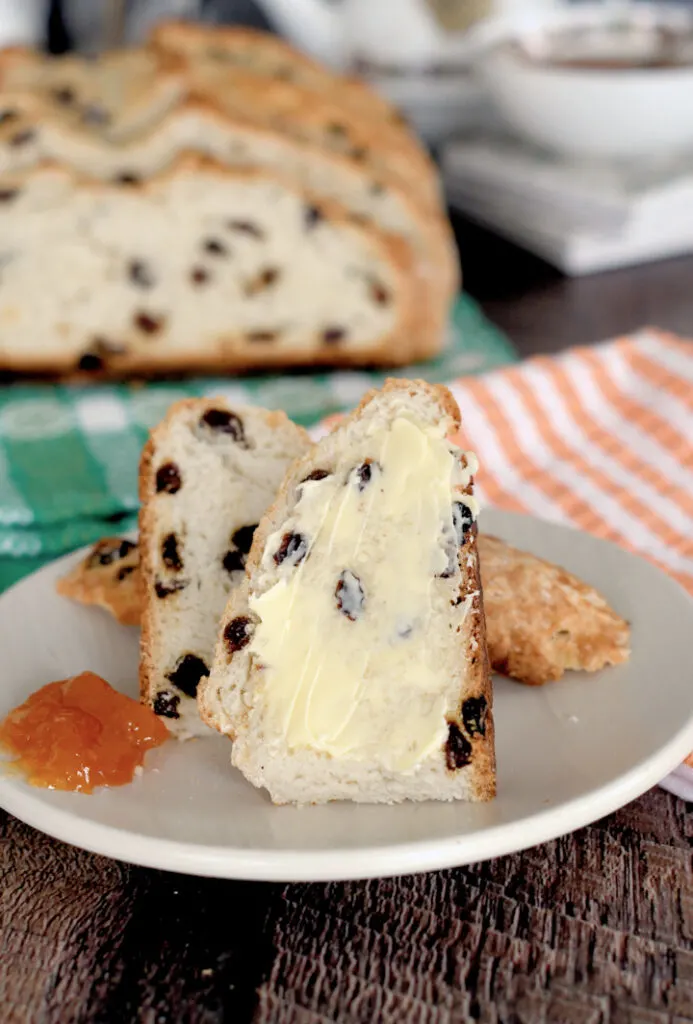 One of my favorite ways to eat day-old sourdough soda bread is to generously butter a slice of bread then toast in on a griddle until it's golden brown. Topped with a little jam, it's heavenly.
Since you've got your starter fed, peruse the entire list of My Best Sourdough Recipes. Have fun!
I know you hate to throw away that sourdough discard. Check out these recipes that use sourdough discard.
If you love this recipe as much as I do, I'd really appreciate a 5-star review.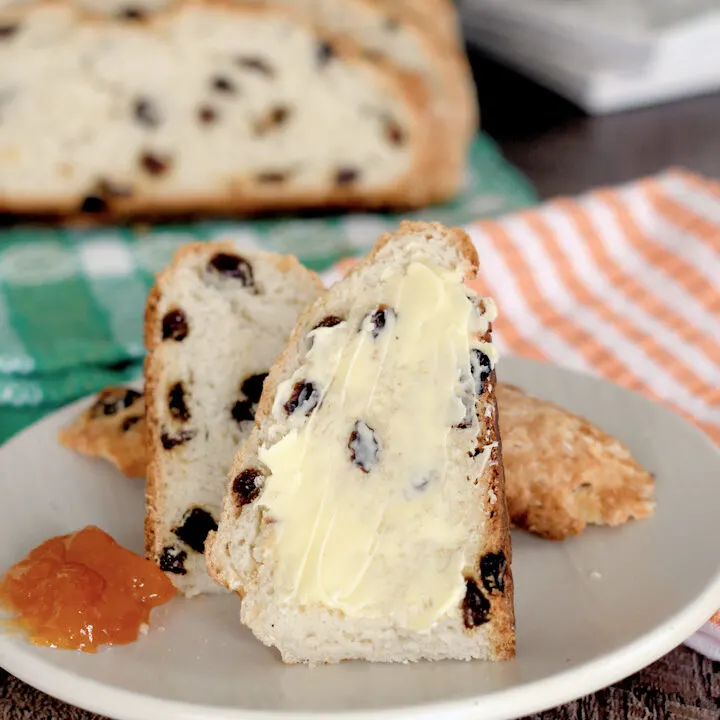 Sourdough Irish Soda Bread
Yield:
1 large loaf or 2 smaller loaves
Sourdough Irish Soda bread is an easy and delicious way to use sourdough discard. Homemade soda bread is so much better than what you'll find in the grocery store.
Ingredients
3 1/2 cups (17.5 oz, 495g) unbleached all purpose flour
2 tablespoons (1 oz, 28g) granulated sugar
1 1/2 teaspoons baking powder
1 teaspoon table salt
1/2 teaspoon baking soda
3 tablespoons (1.5 oz, 45g) butter, softened to room temperature
1 cup (6 oz, 170g) raisins
1 1/2 cups (12 oz, 360ml) buttermilk, plus more for brushing
1 cup (8 oz, 225g) sourdough discard
Instructions
Preheat the oven to 350°F. Line a baking sheet with parchment paper or a silicone baking mat.
In a large bowl, sift or whisk together the flour, sugar, baking powder, salt and baking soda. Use your hands to work the butter into the dry ingredients until there are no pieces larger than the size of a pea. Toss the raisins with the dry ingredients.
In a large measuring cup, combine the buttermilk with the sourdough discard. Add to the dry ingredients all at once and mix until almost combined. The dough may seem dry at this point but it will come together.
Turn the dough onto a floured surface and knead about 15-20 times to form a smooth ball. Place the loaf onto the prepared baking sheet. Use your hands to flatten the ball slightly. Use a sharp knife to cut a 1/2"-3/4" deep X into the top of the loaf. Brush the loaf with buttermilk.
Bake until the middle of the loaf is 200°F, about 45-50 minutes for a large loaf and about 30-35 minutes for small loaves.
Notes
This recipe makes one large or two smaller loaves. If you split the dough into two smaller loaves adjust the baking time accordingly. The recipe can also be halved to make one smaller loaf.
The bread is best the day it's made, but will keep several days at room temperature. It will keep in the freezer for 1-2 months.
Recommended Products
As an Amazon Associate and member of other affiliate programs, I earn from qualifying purchases.