Try Oatmeal Soda Bread with Apricots for a change from the typical raisin soda bread. This healthy and hearty soda bread is made with rolled oats and dried apricots.
I have food obsessions. I guess everyone probably does. There are some foods I just can't get enough of; fruit, dark chocolate, maple syrup, bok choy, to name just a few.
I'm kind of obsessed with oatmeal. It may be the quintessential "boring" food, but I love the stuff. In the fall and winter I eat a big bowl every morning for breakfast. The absolute best cookies I make are oatmeal with maple icing. I often add oats to bread dough because I like what they do for the texture of the bread and I think the oats looks pretty sprinkled on top.
Oatmeal Soda Bread with Apricots for a nice change of pace!
Since I wanted to make a soda bread that was a little different than the usual, I immediately thought of adding oats. I switched out the white sugar for a little honey and used dried apricots instead of raisins. With just a hint of sweetness, this soda bread is particularly good toasted for breakfast.
While the bread is baking the apricot bits on the surface will probably burn. Just use a toothpick or the pointed tip of a knife to pick the burned bits off the loaf after it comes out of the oven.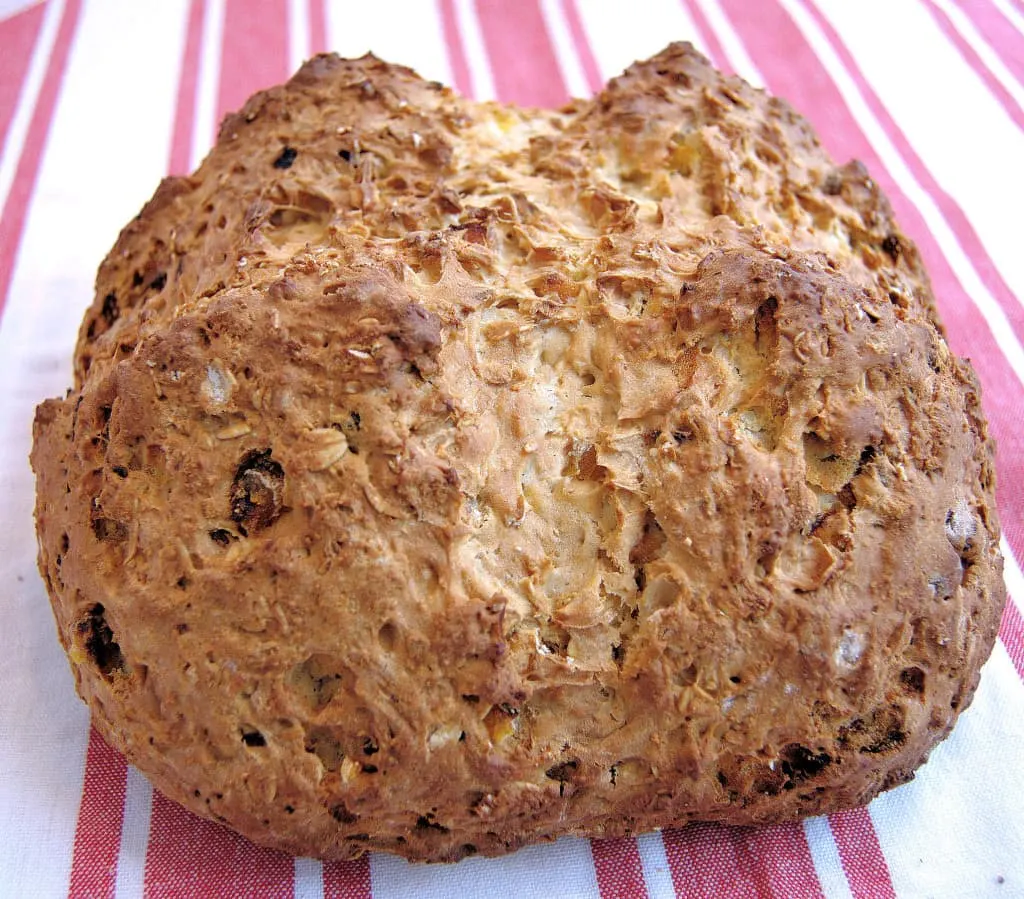 Oatmeal Soda Bread with Apricots is so easy to make. The dough comes together so quickly it should be enjoyed year-round, not only for St. Patrick's day.

Oatmeal Soda Bread with Apricots
Yield: 1 large loaf

Cook Time: 50 minutes

Total Time: 50 minutes

A new take on Irish Soda bread with rolled oats, honey and dried apricot bits.
Ingredients
3 cups (15 oz, 420g) all purpose flour
2 cups (12 oz, 336g) old fashioned rolled oats
1 teaspoon salt
1/2 teaspoon baking soda
1 1/2 teaspoon baking powder
2 tablespoons (1 oz, 28g) unsalted butter
1 1/2 cups (12 oz, 360ml) buttermilk
1 large egg
2 tablespoons honey
20 dried apricot halves - diced into 1/2" bits
Instructions
Preheat oven to 375°F. Line a 1/2 sheet pan with parchment paper or a silicone baking mat.
Combine the all purpose flour, salt, baking soda, baking powder and rolled oats in a large mixing bowl.
Work the butter into the flour with your fingers until there are no large lumps. Toss the apricot bits into the dry ingredients to disperse.
Combine the buttermilk, egg and honey and whisk to combine. Make a well in the middle of the dry ingredients. Pour the milk mixture into the well and mix with a wooden spoon until almost all the dry ingredients are absorbed.
Turn the dough out onto a floured surface and knead about 15-20 times until the dough comes together. Form the dough into a large ball and place it on the prepared sheet pan.
Cut a 1/2-3/4" deep X onto the top of the loaf. Bake about 45-50 minutes. The loaf is done when you tap the bottom of the loaf and it sounds hollow and the surface is golden brown Internal temperature should be about 190°F.