Triple Guinness Bundt Cake is a rich cake made with golden raisins, currants, almonds, and, best of all, Guinness Stout added 3 ways. You know what they say, "Guinness is good for you"!
If a buttery pound cake and a fruitcake had a baby, then bathed that baby in Guinness, it would be this cake!
I got the original recipe for this cake from a lovely Irish woman I worked with at a local catering company. I made a few small changes to her original recipe.
First I turned it into a Bundt cake, rather than a round cake as it was originally. I think the rich batter bakes up better in a Bundt pan.
The original recipe had lemon and orange zest. I added the juice from the fruits as well for some acidity.
Finally, I added a second and third dose of Guinness to the cake. The original recipe soaked the fruit in Guinness. I poured some of soaking liquid over the warm cake, then used the rest to make a glaze.
Triple Guinness Bundt Cake is rich with butter and sugar!
This cake has a fairly high percentage of butter and sugar compared to my other Bundt cakes. Butter and sugar both act to tenderize and moisten a cake.
Between the extra butter and sugar, and the Guinness, this is a really dense (in the best way possible) and rich cake.
Normally I would estimate about 12 servings from a Bundt cake, but you can easily get 18-24 servings from this cake. A thin slice goes a long way.
Click through the step by step process photos of how to make a Triple Guinness Bundt Cake: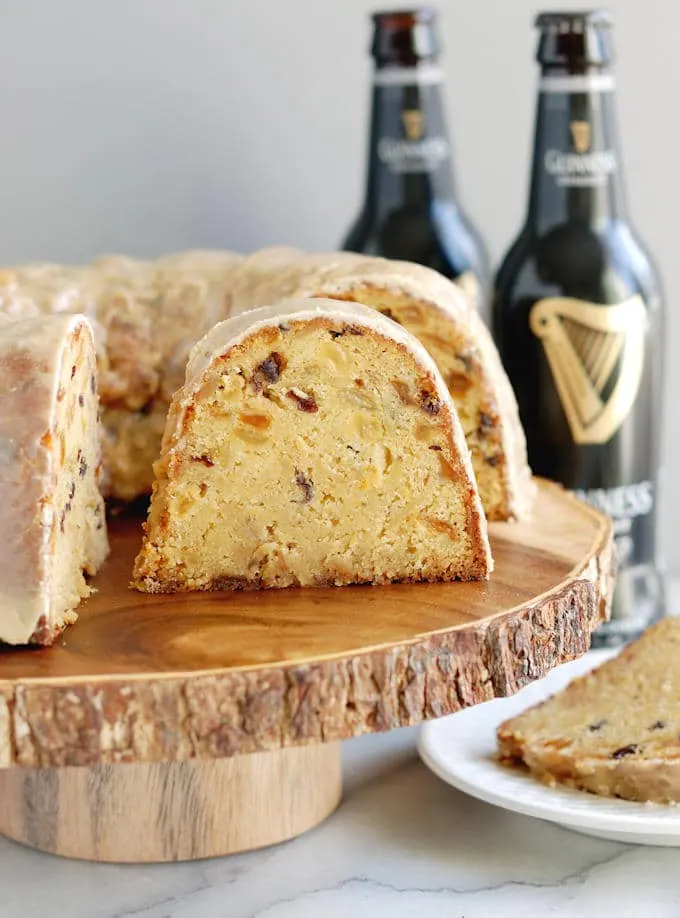 Here are some more wonderful recipes using real Guinness Stoudt: Guinness Fudge Cake, Guinness Buckwheat Bread.
You might also like these other Irish inspired recipes: Honey Kissed Irish Whisky Cake, Baileys Pots de Creme, Baileys Chocolate Macarons, Irish Tea Brack.
If you love this recipe as much as I do, I'd really appreciate a 5-star review.
Triple Guinness Bundt Cake
Cook Time:
1 hour
20 minutes
Total Time:
1 hour
40 minutes
If a buttery bundt cake and a fruit cake had a baby, then bathed that baby in Guinness, it would be this cake!
Ingredients
1.5 cups (8 oz, 224g) golden raisins
1 cup (5 oz, 140g) currants
2 large lemons, zest & juice
1 large orange, zest & juice
1/2 cup (2.25 oz, 70g) sliced almonds
1 cup (8oz, 240ml) Guinness
1/3 cup (3 oz, 90ml) brandy
4 sticks (16 oz, 448g) unsalted butter
2 cups (16 oz, 448g) brown sugar
7 large eggs
2 cups (10 oz, 280g) all purpose flour
1 teaspoon baking powder
1 tsp cinnamon
1/4 tsp salt
1/4 tsp nutmeg
Guinness glaze
2 cups (8 oz, 224g) confectioner's sugar
1/4 cup (2 oz, 60ml) fruit soaking liquid
Instructions
In a mixing bowl, combine the golden raisins, currants, almonds, lemon zest and orange zest. Pour the lemon juice, orange juice Guinness and brandy and over the fruit. Cover the bowl and leave to soak for at least 4 hours or overnight.
Preheat the oven to 350°F. Butter and flour a 12 cup Bundt pan
Drain the fruit and save the liquid (you should have about 1 cup of liquid). Sift together the flour, baking powder, salt and spices and set aside.
In a large mixing bowl, cream butter and sugar until lightened in color and aerated. Scrape the bowl and beater. With the mixer running on low speed, add eggs in two batches. Scrape the bowl and beater.
With the mixer running on low, add the drained fruit and the sifted dry ingredients. Add 1/4 cup of the fruit soaking liquid. Mix just until combined. Spread the batter into the prepared pan.
Bake about 1 1/4 - 1 1/2 hours until a toothpick inserted in the center comes out clean (See note 1)
Make the glaze
Combine the confectioner's sugar and 1/4 cup fruit soaking liquid and stir until smooth with no lumps. Set aside while the cake finishes baking.
Finish the cake
Allow the cake to cool for 10 minutes then flip the cake out onto a cooling rack set over a clean sheet pan. Pour the last 1/2 cup of the soaking liquid over the cake. Let it absorb into the cake for 5 minutes then coat the cake with the confectioner's sugar glaze while the cake is still slightly warm.
You can pour the glaze and let it form drip marks and leave the cake with that look or you can scrape the run-off glaze from the sheet pan and use it to fill in any gaps in the coating for a fully glazed cake.
Cool the cake completely before moving it to a serving plate. The glaze will set as the cake cools
You can serve the cake right away, but it tastes better the day after it's baked.
Notes
1. This is a very rich cake so it will still seem soft when it's baked. Poke a toothpick into the center and if it comes away without any raw batter the cake is ready.
2. Because this is a rich cake it will keep, covered, at room temperature for well over a week (probably it will be good for several weeks)
Recommended Products
As an Amazon Associate and member of other affiliate programs, I earn from qualifying purchases.