Would it be St. Patrick's day without Irish Soda Bread? Not in my house! Put on the kettle and enjoy a slice of this buttermilk-enriched, raisin-filled bread with a hot cup of tea.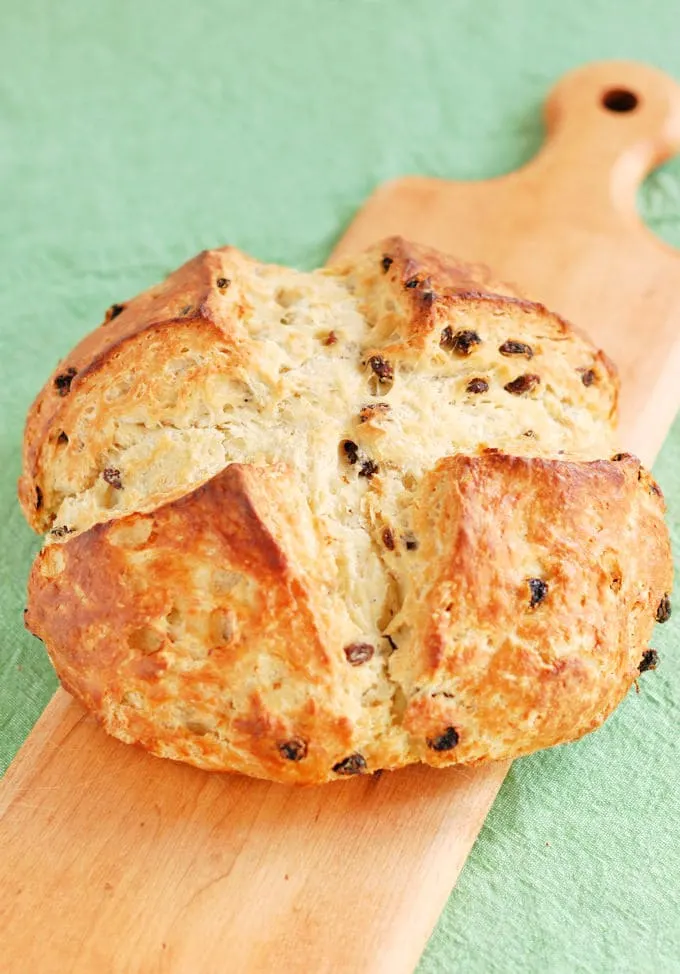 Even if you're a little reluctant to make your own bread, soda bread is so easy you should give it a try–and homemade soda bread is so much better than what you'll find in a typical grocery store. With no yeast or fussy fermentation, no rolling or cutting, soda bread is even easier to make than muffins or biscuits.
This dough is so easy to make I don't even use a mixer. Mixing by hand helps ensure that you won't over work and toughen the dough and it comes together in mere minutes.
You can make a substitute for buttermilk by adding a tablespoon of lemon juice or white vinegar to a cup of whole milk. Let it thicken for 10 minutes before using. Another option for buttermilk is buttermilk powder, which will keep for months in the pantry. Buttermilk does have a special flavor so I think it's worth getting the real thing, if possible.
Oh, and here's a neat trick; if your hands get coated with the sticky dough don't try to wash it off with water, it'll just get stickier and leave a mess in the sink. Dip your hands into the flour bin to coat them. Holding your hands over the trash can, rub them together vigorously and the sticky dough will come off easily.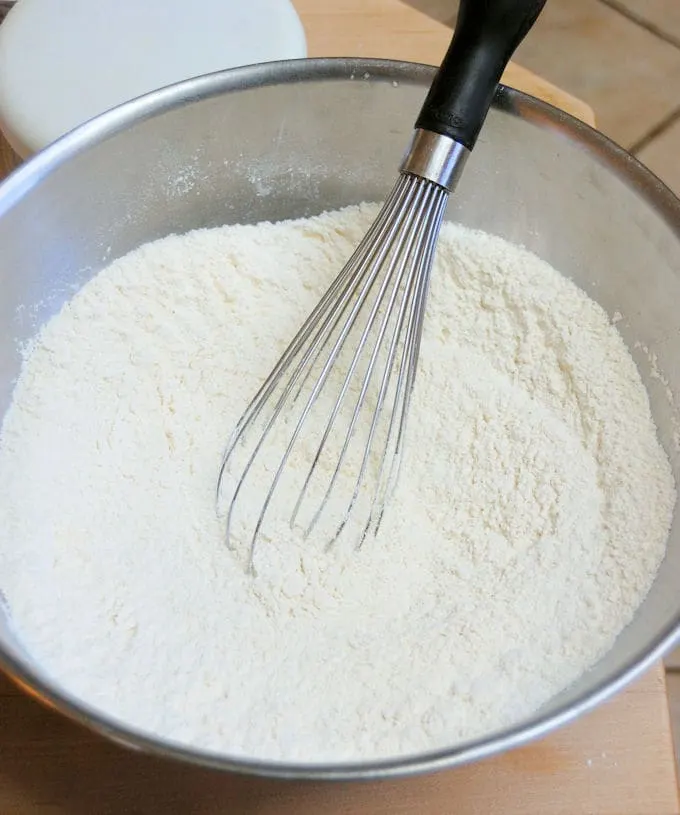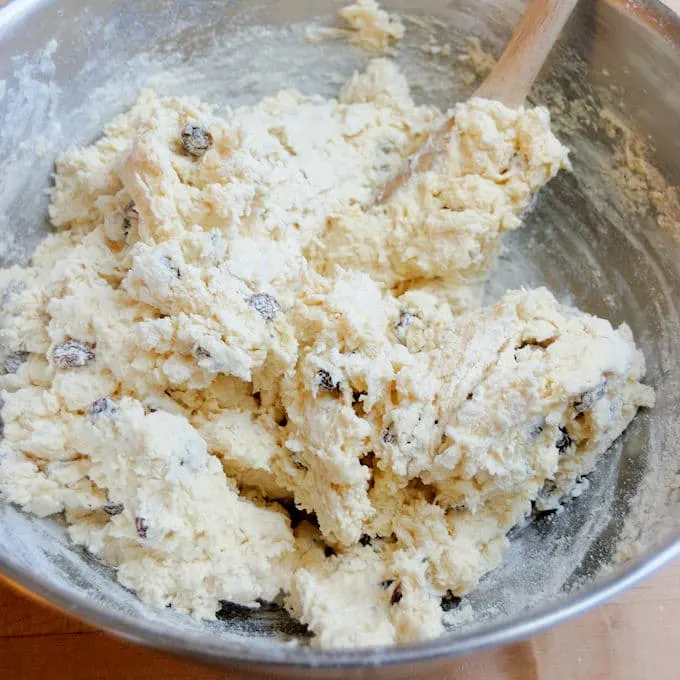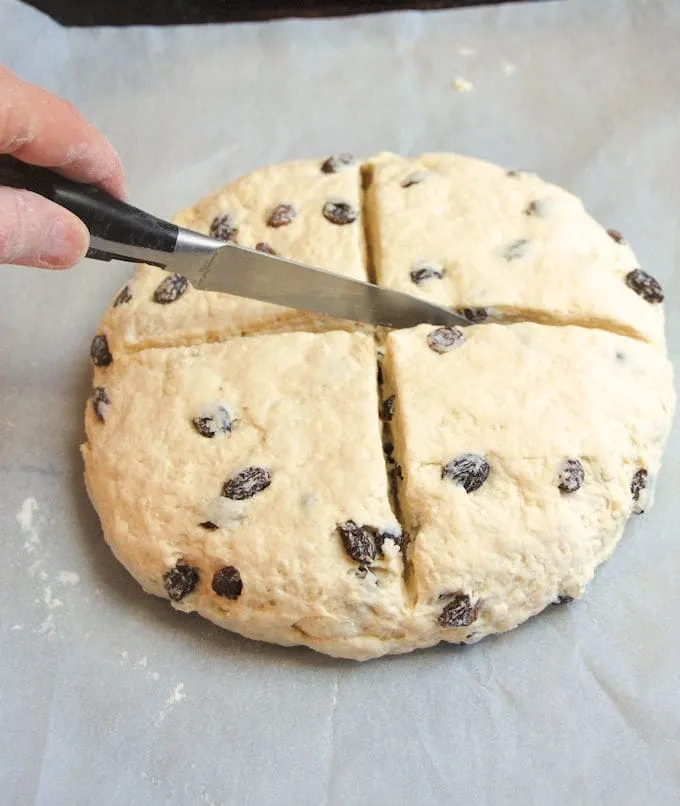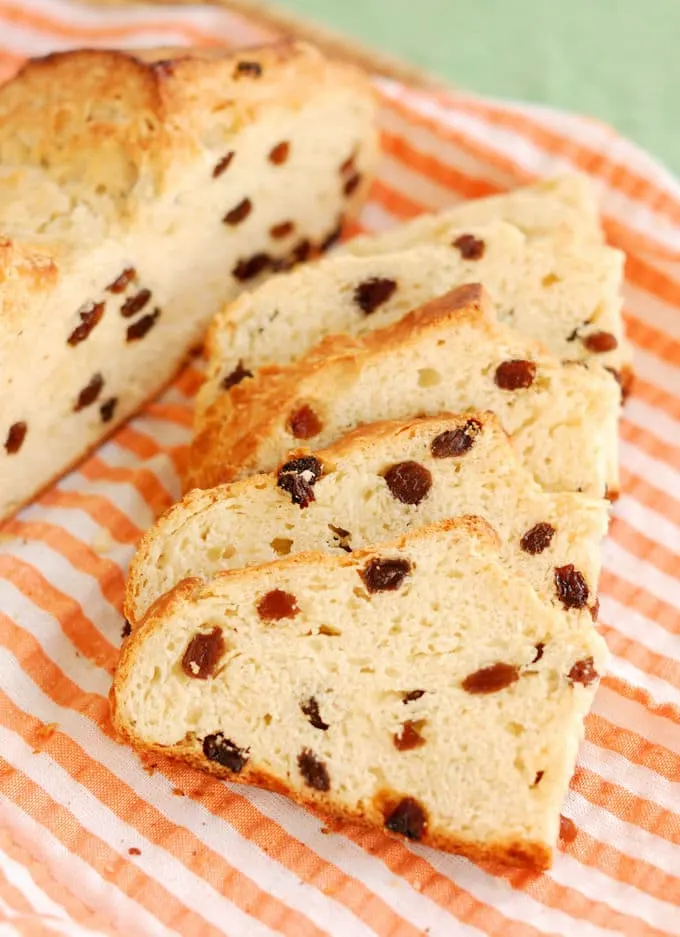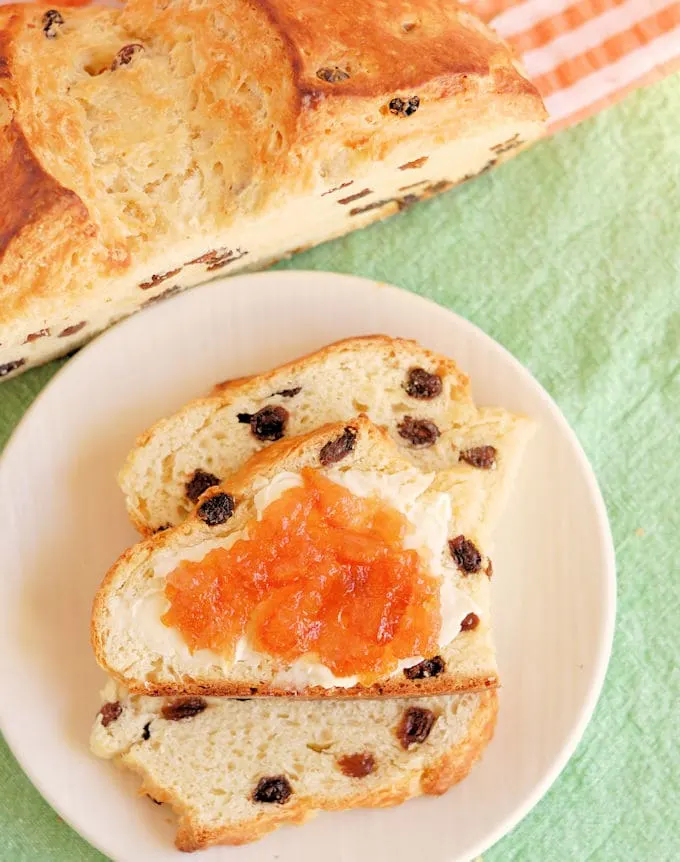 All you need is a little creamery butter and maybe a dollop of Blood Orange Marmalade for the perfect teatime treat.

Irish Soda Bread
Yield: 1 large loaf or 2 smaller loaves

Prep Time: 15 minutes

Cook Time: 45 minutes

Total Time: 1 hour
Ingredients
4 cups (1 lb 4 oz 570g) unbleached all purpose flour
1 teaspoon table salt
2 tablespoons granulated sugar
1/2 teaspoon baking soda
1.5 teaspoon baking powder
3 tablespoons (1.5 oz, 45g) butter, softened to room temperature
1 cup (6 oz,170g) raisins
2 cups (16 oz, 500ml) buttermilk
Instructions
Preheat the oven to 350°F convection or 375°F regular.
Sift or whisk together the flour, salt, sugar, baking soda and baking powder.
Use your hands to work the butter into the dry ingredients until there are no pieces larger than the size of a pea.
Toss the raisins with the dry ingredients.
Add the buttermilk all at once and mix until the dry ingredients are almost incorporated. The dough may seem dry at this point but it will come together.
Turn the dough onto a floured surface and knead about 15-20 times to form a smooth ball.
Place the loaf onto a parchment lined baking sheet.
Use your hands to flatten the ball slightly.
Use a sharp knife to cut a 1/2"-3/4" deep X into the top of the loaf.
Brush the loaf with buttermilk.
Bake until the loaf sounds hollow when tapped on the bottom or the middle of the loaf is about 190°F. Bake about 45 minutes to an hour.
Notes
This recipe makes one large or two smaller loaves. If you split the dough into two smaller loaves adjust the baking time accordingly. The recipe can also be halved to make one smaller loaf.

The bread is best the day it's made, but will keep several days at room temperature. It will keep in the freezer for 1-2 months.