I love Irish Brown Bread even more than the traditional white soda bread with raisins. It's hearty and savory because it's made with whole wheat flour. A smear of butter and some marmalade turns this bread into the perfect breakfast treat.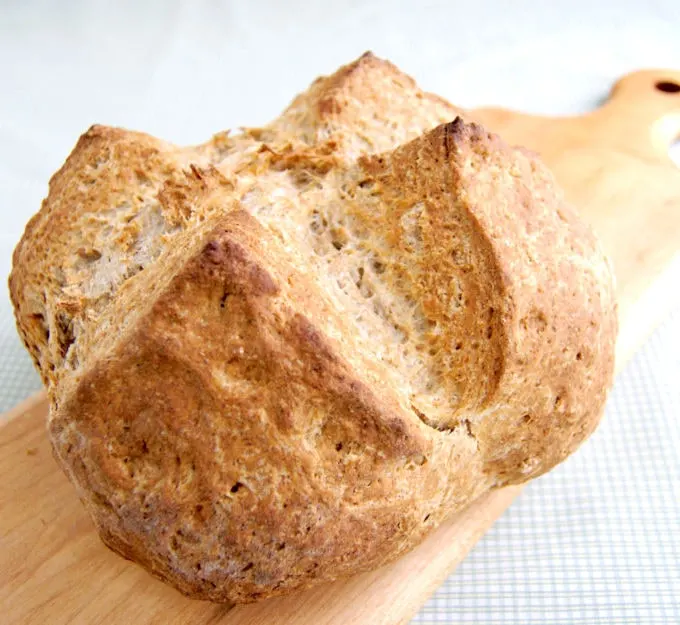 When I was about 19 I visited Ireland with two of my dear friends, both named Joanne. The Joannes and I rented a car and drove across Ireland, staying in Bed & Breakfasts along the way.
All the B&Bs served a traditional Irish breakfast each morning. A traditional breakfast includes eggs, bacon, sausage, black pudding (yum, but don't ask what it's made of) and big basket of Irish Brown Bread.
After a few days I began to skip the full breakfast and feast on brown bread with lots of Irish butter and marmalade. Most importantly, we had many cups of of strong tea to wake us up after another late night at the pub.
I love brown bread for breakfast, but also with corned beef and cabbage for dinner. I love to slather the bread with brown mustard and top it with a slice of corned beef.
I've tried a number of Irish Brown Bread recipes over the years. Some have no eggs or butter, just buttermilk. Some have butter, but no eggs. I like this recipe that has just a little butter and one egg to enrich the dough.
If you keep a sourdough starter, you can make Sourdough Irish Soda Bread or Sourdough Irish Brown Bread with your discard.
Oh, and here's a neat trick; if your hands get coated with the sticky dough don't try to wash it off with water it'll just get stickier and leave a mess in the sink. Dip your hands into the flour bin to coat them. Holding your hands over the trash can, rub them together vigorously and the sticky dough will come off easily.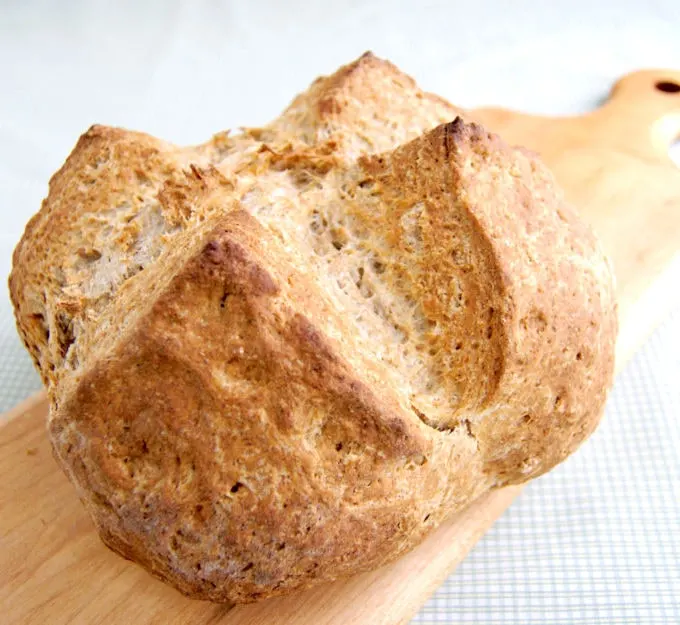 Irish Brown Bread
Total Time:
1 hour
5 minutes
I love Irish Brown Bread even more than the traditional white soda bread with raisins. It's hearty and savory because it's made with whole wheat flour.
Ingredients
2 cups (10oz, 285g) whole wheat flour
1 cup (5oz, 145g) all purpose flour
1 tablespoon (1/2 oz, 14g) granulated sugar
1 teaspoon baking powder
1 teaspoon salt
1/2 teaspoon baking soda
2 tablespoons (1 oz, 30g) unsalted butter at room temp
1 egg
1 1/2 cups (360ml) buttermilk, plus more for brushing
Instructions
Preheat oven to 375°F. Line a 1/2 sheet pan with parchment paper.
In a large bowl, whisk together the whole wheat flour, all purpose flour, sugar, baking powder, salt and baking soda. Add the butter and work in with your fingers until fully incorporated and there are no lumps larger than a pea.
Make a well in the center of the dry ingredients. Combine the egg and buttermilk and pour into the well. Mix gently with a wooden spoon until most of the buttermilk is incorporated. If the dough is very, very dry you can add a little more buttermilk.
Turn onto a floured surface and knead about 15-20 times until combined. Form the dough into a large round ball. Place the dough onto the parchment lined sheet pan and flatten the top a bit.
Using a sharp knife or a single edge razor blade cut a 1/2-3/4" deep X shape across the top of the loaf. Brush the top of the loaf with buttermilk. Bake for 40-50 minutes until it is golden brown.
To check if it's done, turn the loaf over and tap the bottom. It should have a hollow sound. You can also use a probe thermometer to check for an internal temperature of about 190°F.
Notes
I use King Arthur whole wheat flour and unbleached all purpose flour.
Recommended Products
As an Amazon Associate and member of other affiliate programs, I earn from qualifying purchases.
You might also like: