Sourdough Irish Brown Bread is hearty and savory because it's made with whole wheat flour and a cup of sourdough discard. It's easy to make and super tasty.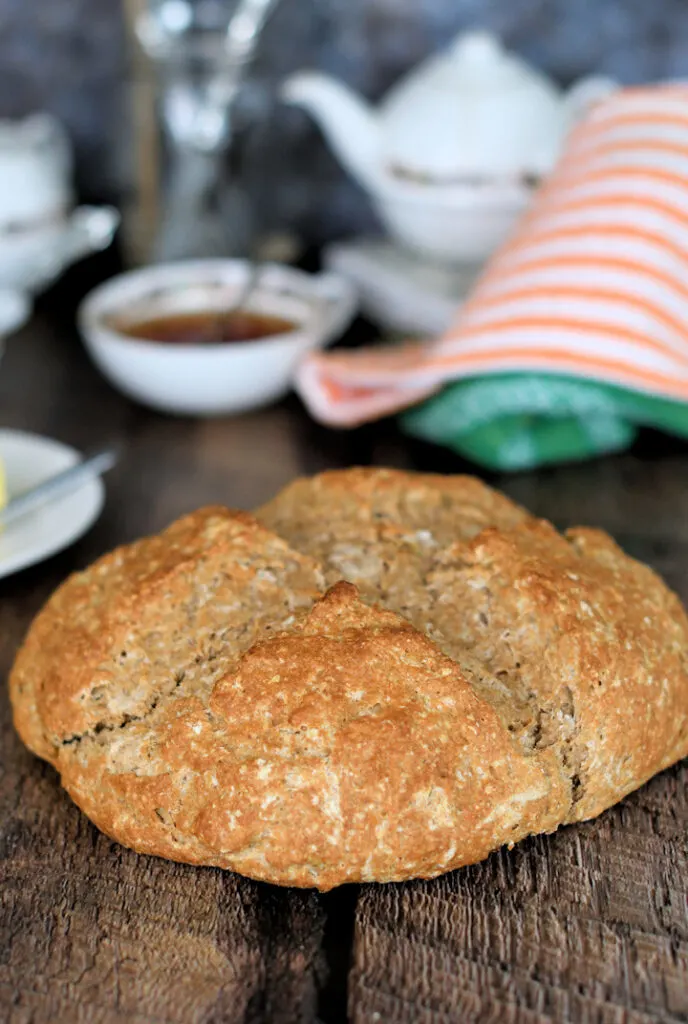 Sourdough Irish Brown Bread is delicious with breakfast, lunch or dinner
I love brown bread for breakfast, but also with corned beef and cabbage for dinner. Slather the bread with brown mustard and top it with a slice of corned beef for a satisfying lunch.
If you don't already have one, I can show you how to make a sourdough starter and how to feed a sourdough starter.
If you don't have a starter, you can make traditional Irish Brown Bread, traditional Irish Soda bread or Oatmeal Apricot Soda Bread.
Scroll through the step by step photos to see how to make Sourdough Irish Brown Bread: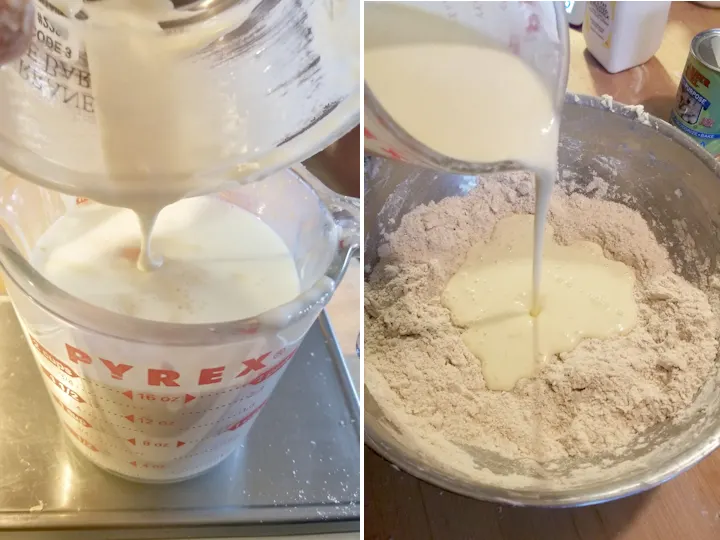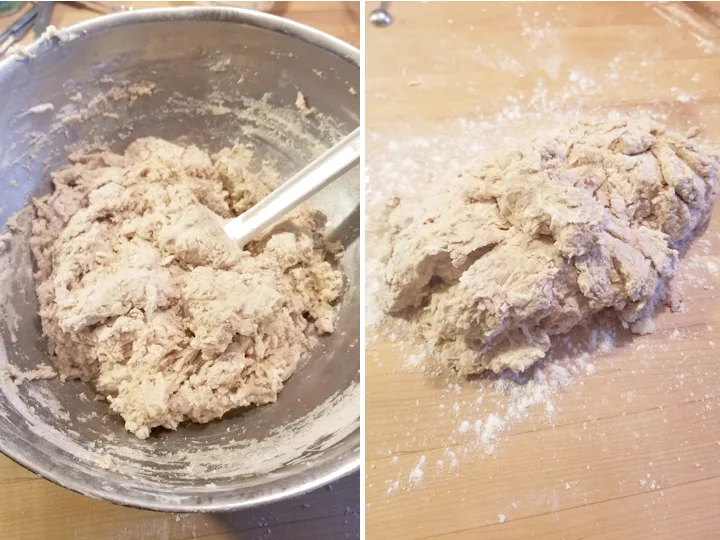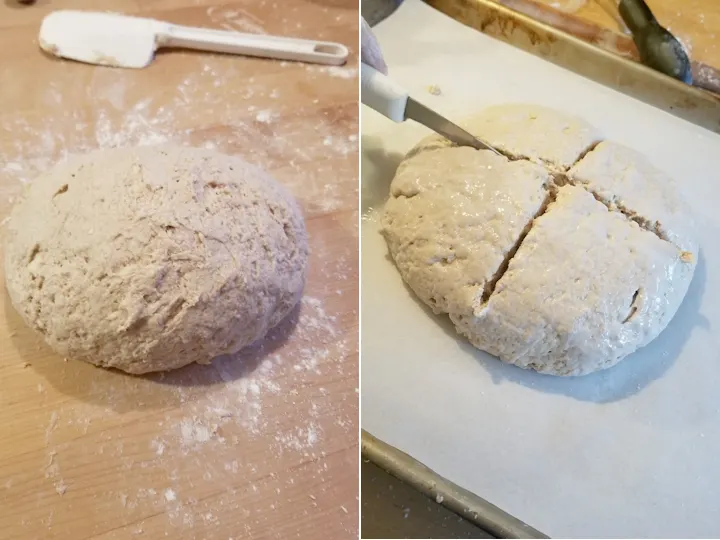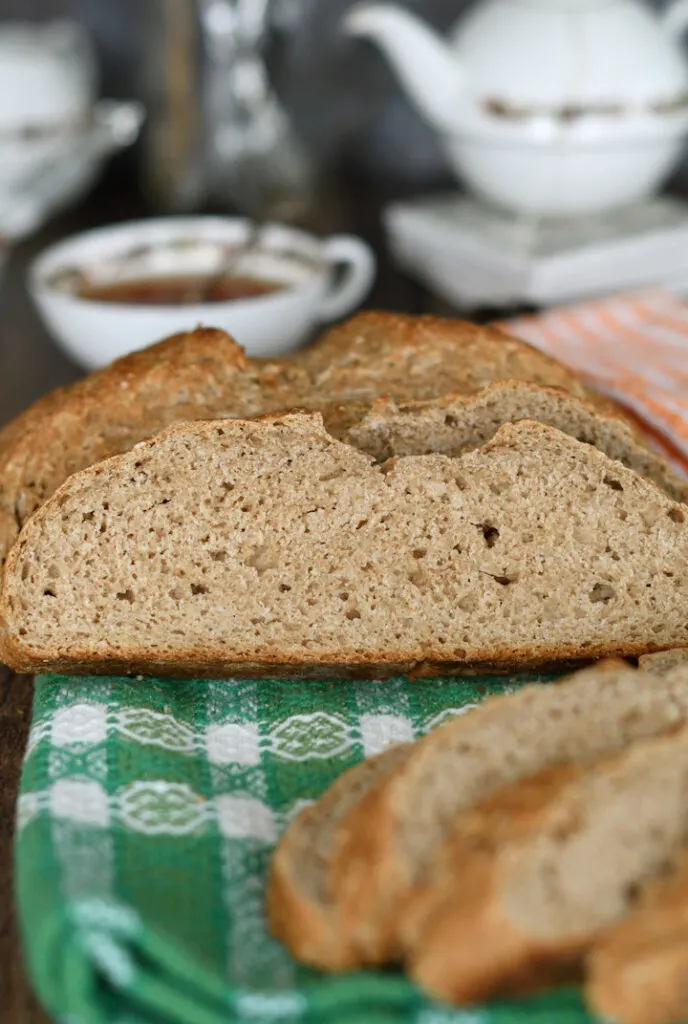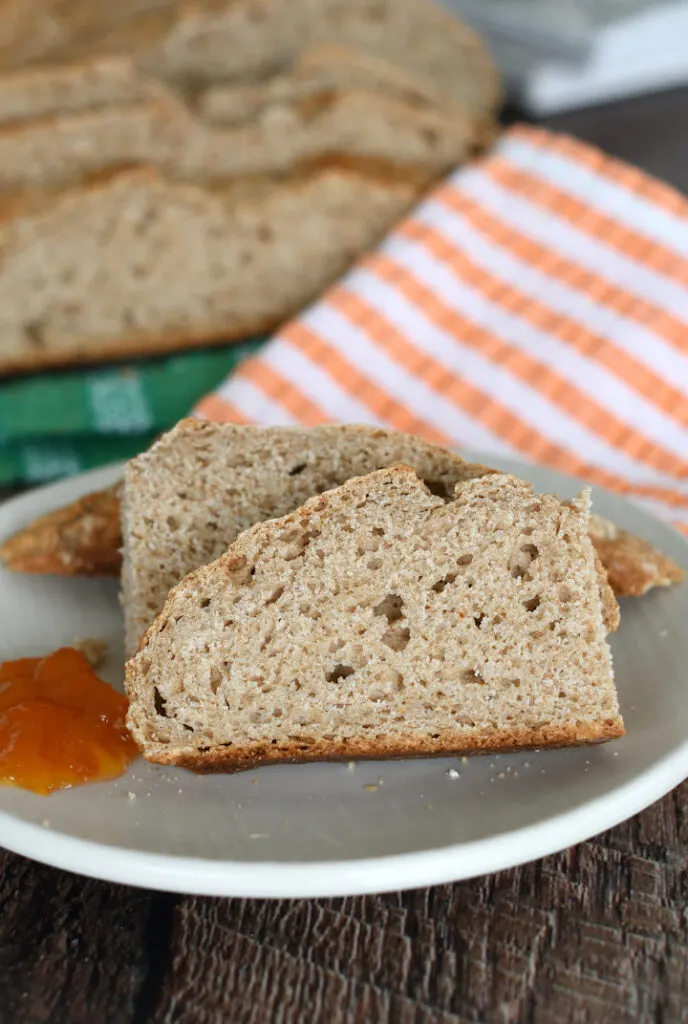 Helpful tips for making Sourdough Irish Brown Bread:
This dough is so easy to make you don't need to use a mixer. Mixing by hand helps ensure that you won't over work and toughen the dough.
The "riper" your sourdough discard, the more tangy flavor you get in the loaf.
You can make a substitute for buttermilk by adding a tablespoon of lemon juice or white vinegar to a cup of whole milk. Let it thicken for 10 minutes before using.
Another is buttermilk powder, which will keep for months in the pantry. Buttermilk does have a special flavor so I think it's worth getting the real thing.
Cutting a deep X in the top of the loaf before it goes in the oven ensures that it will rise evenly without splitting in random places.
Sourdough Brown Bread is best the day it's baked. Leftovers can be frozen, then defrosted and reheated.
I know you hate to throw away that sourdough discard. Check out these recipes that use sourdough discard.
Since you've got your starter fed, peruse the entire list of My Best Sourdough Recipes. Have fun!
If you love this recipe as much as I do, I'd really appreciate a 5-star review.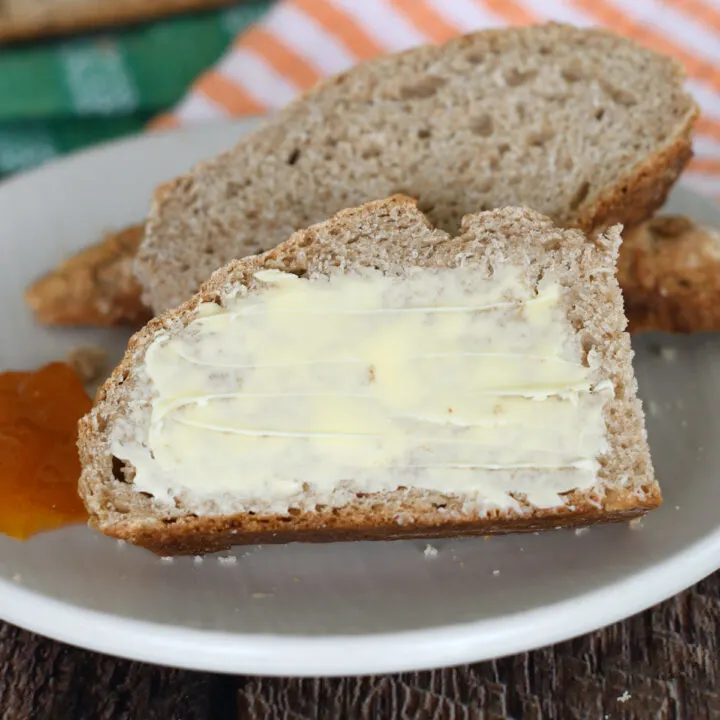 Sourdough Irish Brown Bread
Total Time:
1 hour
5 minutes
Sourdough Irish Brown Bread is hearty and savory because it's made with whole wheat flour and a cup of sourdough discard. It's super easy to make and super tasty.
Ingredients
2 cups (10oz, 285g) whole wheat flour
1/2 cup (2.5oz, 70g) all purpose flour
1 tablespoon (1/2 oz, 14g) granulated sugar
1 teaspoon baking powder
1 teaspoon salt
1/2 teaspoon baking soda
2 tablespoons (1 oz, 30g) unsalted butter at room temperature
1 egg at room temperature
1 cup (8 oz 240 ml) buttermilk, plus more for brushing
1 cup (8 oz 225g) sourdough discard
Instructions
Preheat oven to 375°F. Line a 1/2 sheet pan with parchment paper.
In a large bowl, whisk together the whole wheat flour, all purpose flour, sugar, baking powder, salt and baking soda. Add the butter and work in with your fingers until fully incorporated and there are no lumps larger than a pea.
Make a well in the center of the dry ingredients. Combine the egg, buttermilk and sourdough discard and pour into the well. Mix gently with a wooden spoon until it forms a shaggy dough and most of the buttermilk is incorporated.
Turn onto a floured surface and knead about 15-20 times until combined. Form the dough into a large round ball. Place the dough onto the parchment lined sheet pan and flatten the top a bit.
Using a sharp knife or a single edge razor blade cut a 1/2-3/4" deep X shape across the top of the loaf. Brush the top of the loaf with buttermilk. Bake for 40-50 minutes until it is golden brown and the internal temperature is 200°F.
Notes
I use King Arthur whole wheat flour and unbleached all purpose flour.
Recommended Products
As an Amazon Associate and member of other affiliate programs, I earn from qualifying purchases.