Black Sesame Ice Cream will be right up your alley if you love peanut butter ice cream. I layered creamy vanilla ice cream with a ripple of black sesame paste for an entirely new ice cream flavor.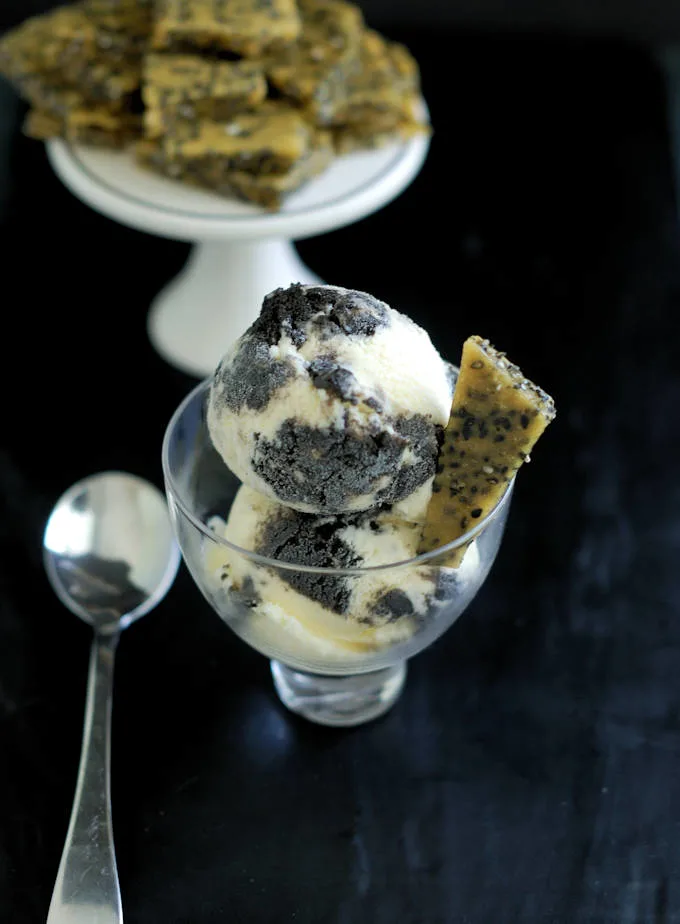 A rediscovered jar of black sesame paste not only led to this Black Sesame Ripple Ice Cream recipe, but also a new recipe for Black Sesame Seed Brittle.
I've heard that Black Sesame Ice Cream is a popular dessert in Japan. Since I've never been to Japan I only know this to be true cause I read it on the internet. If I read it on the internet, it has to be true, right?
Anyway, all the recipes I saw seemed fairly straight forward; take a basic ice cream recipe, add black sesame paste and freeze. So that's what I did. I assumed I'd make the ice cream, take a few photos, and I'd be done. Well, you know why they say to "never assume"…
The first time I made this recipe I just replaced some of the cream in the recipe with black sesame paste. Right away I could see that it wasn't going to be the most appetizing color.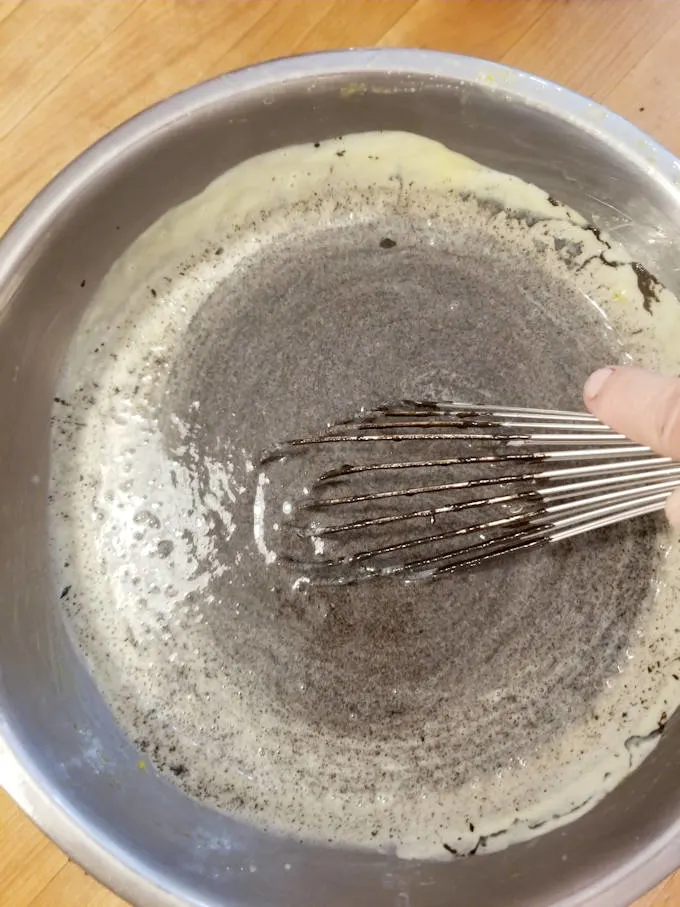 After I ran the ice cream in the machine I still thought the color wasn't great. But I could live with a less than beautiful color if the texture and flavor of the ice cream were really good. The following is a photo I took of the first batch of ice cream.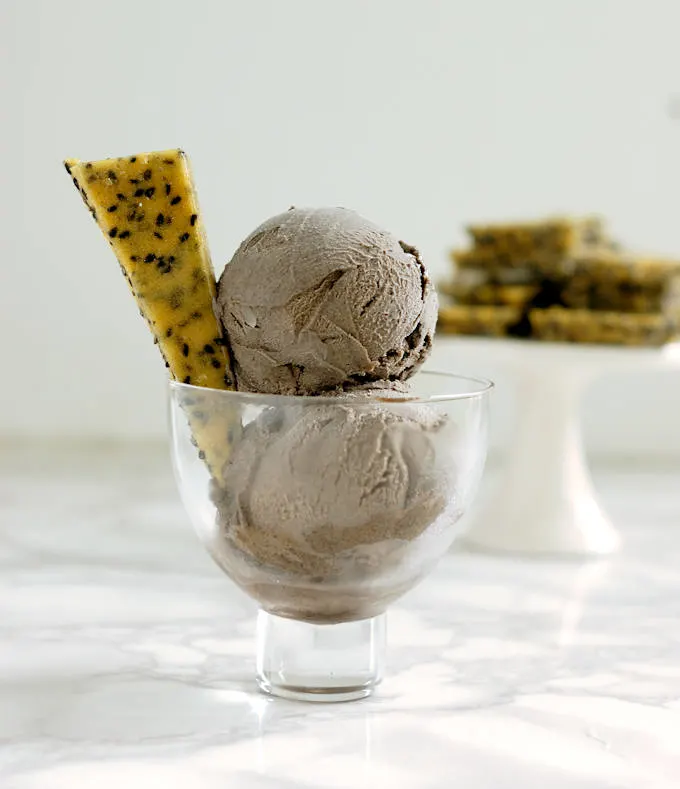 Not only was the color kind of iffy, I wasn't happy with the texture of the ice cream or, really, the flavor.
I found that the sesame paste gave the ice cream a slightly pasty texture. Although I liked the nutty flavor of the black sesame in the ice cream, it was a little one-dimensional.
Scroll through the step by step photos to see how to make Black Sesame Ripple Ice Cream: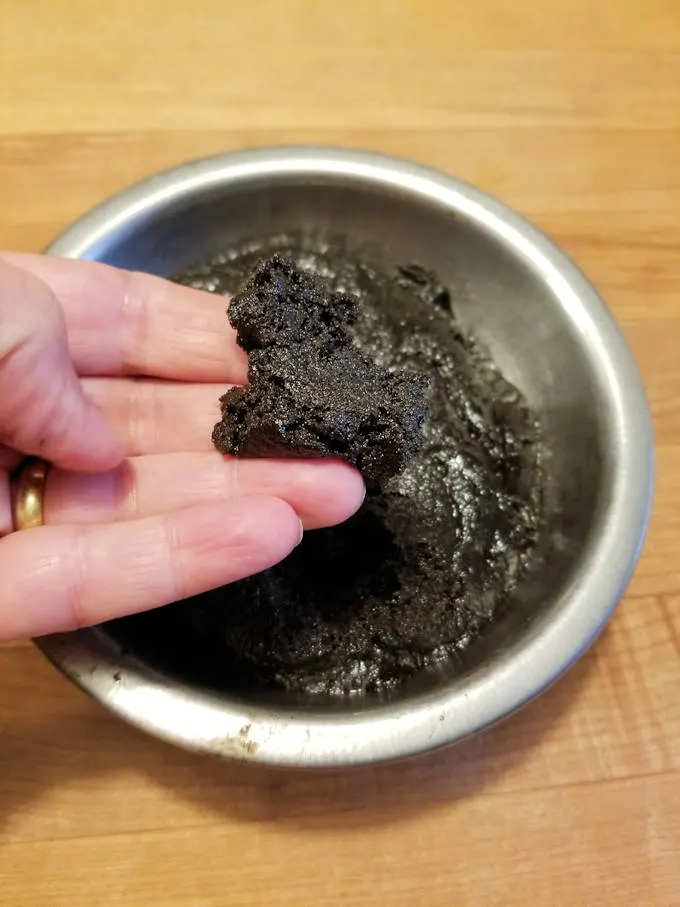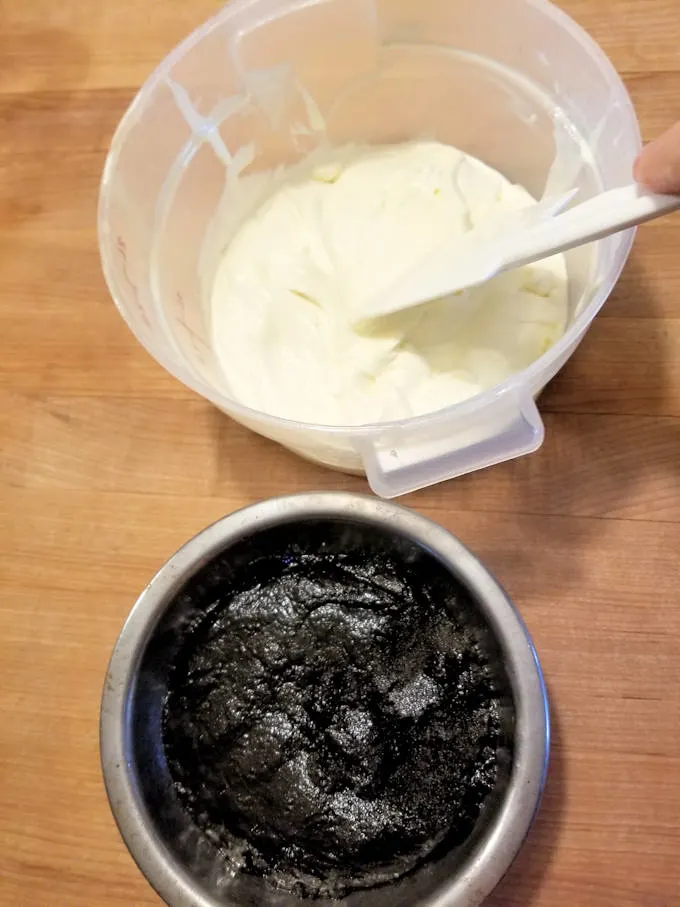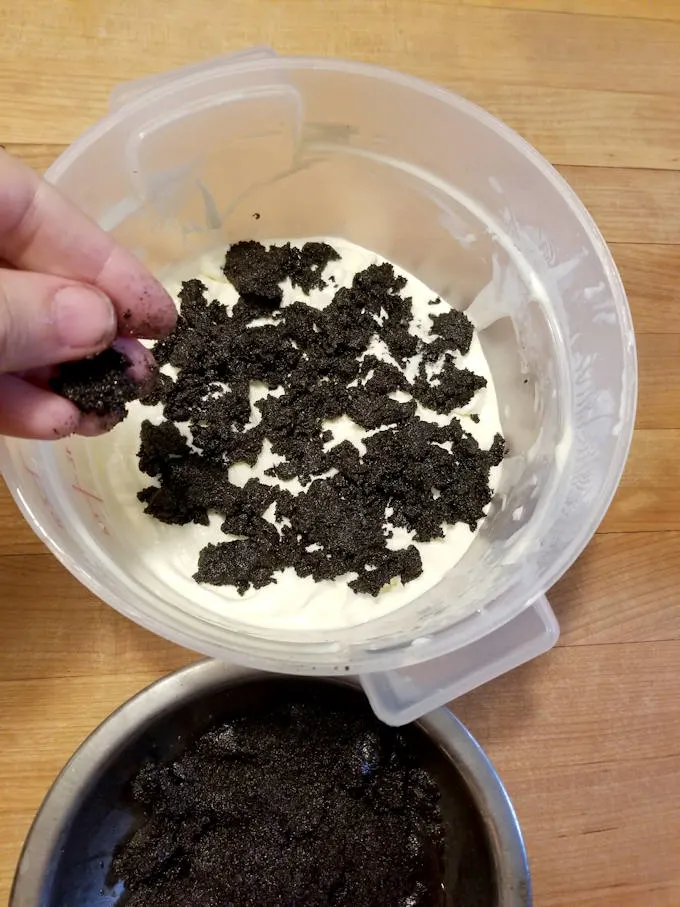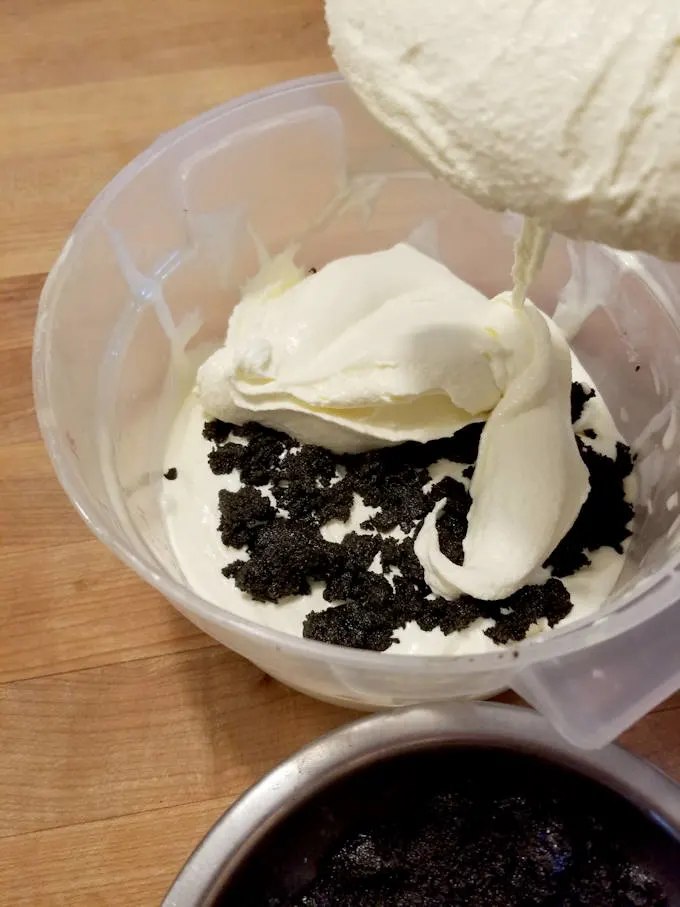 How to "Ripple" Black Sesame Ice Cream and why it's better than regular Black Sesame Ice Cream:
With the peanutty taste in mind I thought about making a "ripple" of sweetened black sesame paste running through vanilla ice cream. You know, like a peanut butter ripple ice cream, but with black sesame paste instead of peanut butter.
So I made a basic vanilla ice cream, and while it was running in the ice cream maker I set out to make a sweet black sesame paste for the ripple.
I planned to stir some powdered sugar into the paste for a smooth texture, but when I opened the pantry and saw the bag of brown sugar I knew those flavors would work well together. I use brown sugar in my peanut butter cookies because brown sugar and peanut butter are yummm.
I added brown sugar to the black sesame paste until I got a sweetness level that I liked. It turned out that equal portions of brown sugar and black sesame paste were perfect.
As soon as the ice cream was finished churning I layered it into a container with the black sesame paste and put it in the freezer overnight.
The "ripple" is a little crunchy. But, honestly, I like the texture contrast with the smooth ice cream and I love the flavor contrast between the sweet, nutty paste and the creamy vanilla ice cream.
In fact, separating out the black sesame from the ice cream emphasized the flavor of the paste even better than flavoring the ice cream itself with the black sesame paste.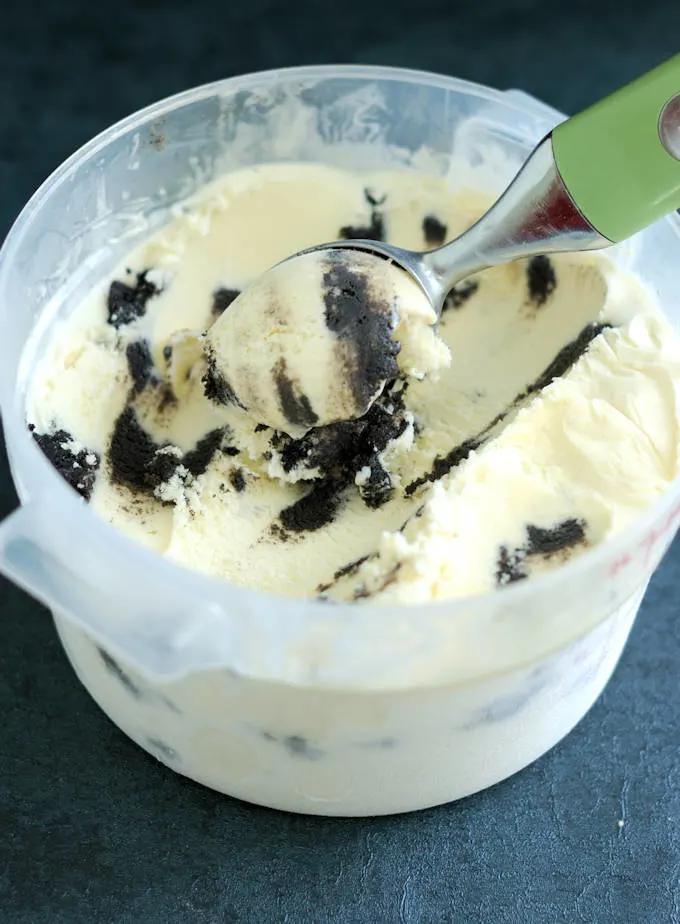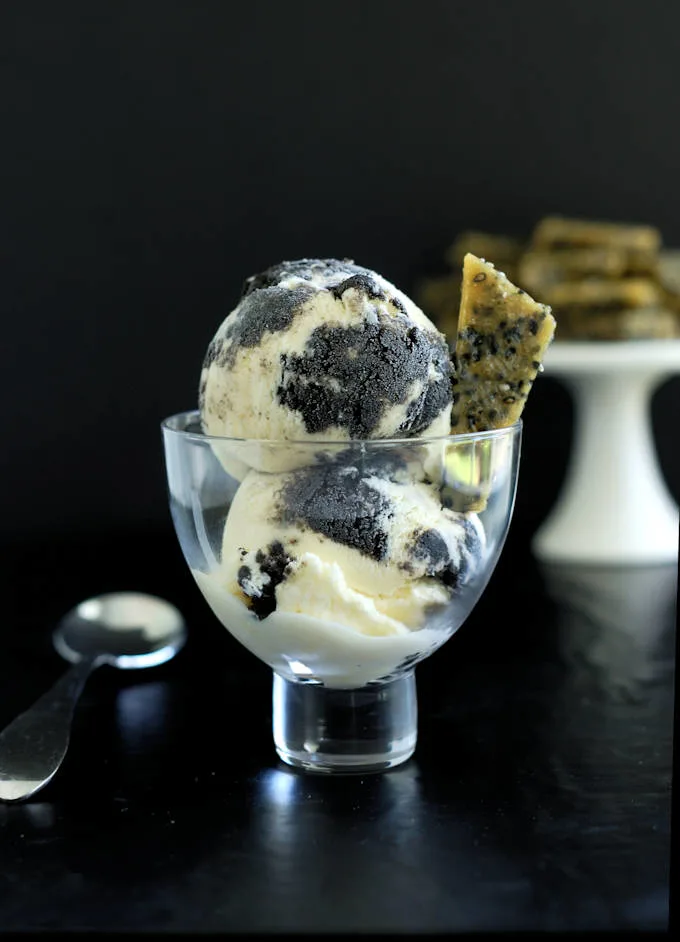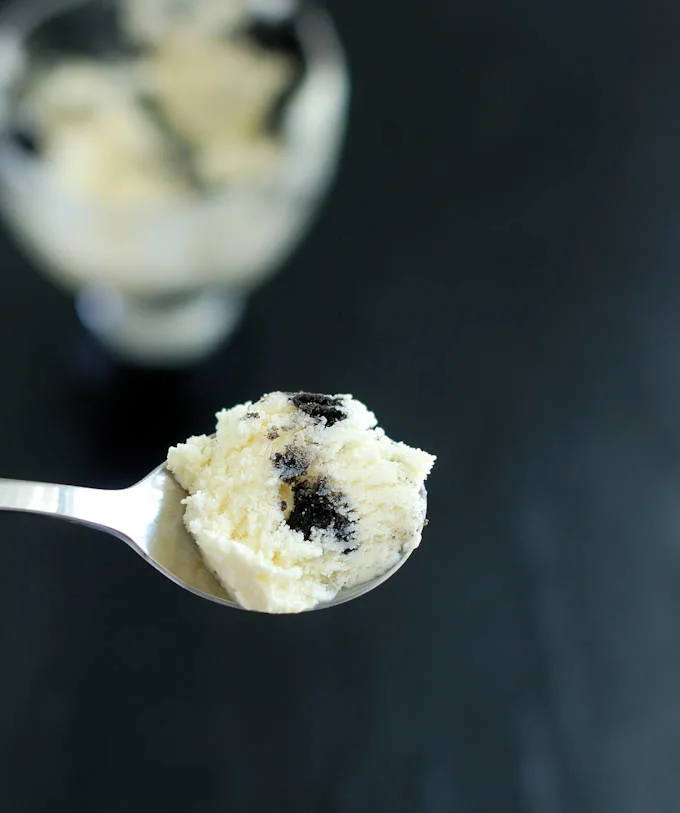 Now that you've made this recipe what should you do with all the extra egg whites? Check out this collection of recipes that use extra whites for some great ideas.
If you love this recipe as much as I do, please leave a 5-star review.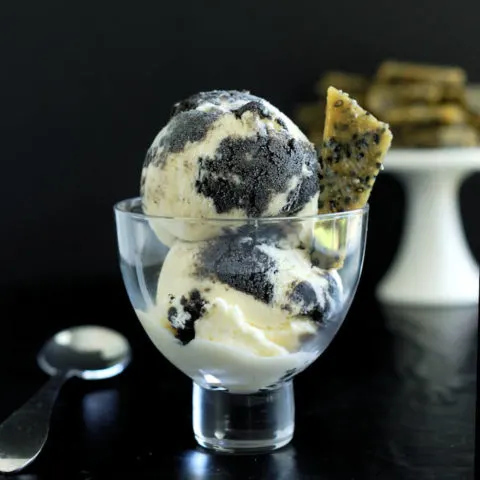 Black Sesame Ripple Ice Cream
Total Time:
8 hours
40 minutes
If you love peanut butter ice cream, you'll love the nutty and complex flavor of this ice cream made with black sesame paste ripple.
Ingredients
1 1/2 cups (12 oz, 360 ml) whole milk
1 1/2 cups (12 oz, 360 ml) heavy cream
1 cup (8oz, 224g) granulated sugar
5 egg yolks
pinch of salt
1 tbsp vanilla extract
1/2 cup (4 oz, 112g) black sesame paste
1/2 cup (4 oz, 112g) brown sugar
Instructions
Combine the milk, cream, 1/2 cup granulated sugar in a small saucepan. Heat the milk mixture over medium high heat until scalding hot.
While the milk heats up, whisk together the yolks, remaining 1/2 cup of sugar, salt and vanilla in a small bowl.
Once the milk mixture is scalding hot, pour it into the bowl with the yolks and whisk to combine
Return the entire mixture to the saucepan and heat over medium low heat, stirring constantly. Cook the custard until it thickens enough to coat the back of a spatula or wooden spoon. Do not allow it to come to a boil. Remove from the heat and strain into a bowl. Cover the bowl and chill until very cold. At least 4-5 hours or over night.
Freeze according to the directions for your ice cream machine. While the custard is churning, combine the black sesame paste and the brown sugar in a small bowl. It will look like wet sand.
When the ice cream is ready, scoop 1/4 of it into a quart container and smooth to an even layer. Take 1/3 of the black sesame mixture and sprinkle it over the layer of ice cream. Continue layering the ice cream and sesame paste, ending with a layer of ice cream. Lay a piece of plastic wrap directly on the surface of the ice cream, cover tightly and freeze until firm.
Recommended Products
As an Amazon Associate and member of other affiliate programs, I earn from qualifying purchases.