I discovered Cherry Pit Ice Cream a few years ago when I was Googling around for cherry recipes. I'd never used cherry pits as an ingredient before but was immediately intrigued because I absolutely love bitter almond flavor.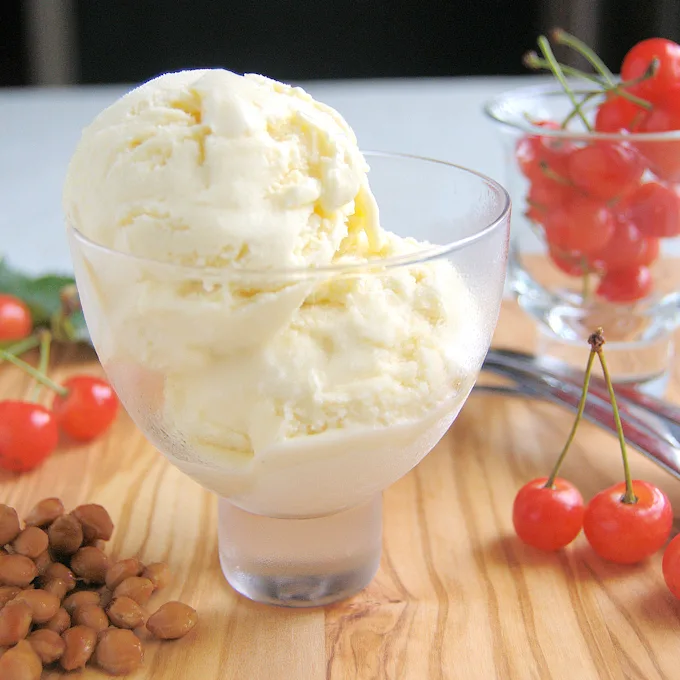 Bitter almond is not the flavor of the typical sweet almond you buy in the grocery store for snacking. The bitter almond is a different nut altogether. The same flavor is found inside peach, cherry and apricot pits. So Cherry Pit Ice Cream does not taste like almond ice cream, it tastes more like marzipan ice cream. I mean, seriously, how is that not tempting?
Yes, cherry pits do contain a molecule that can become a form of cyanide when the seed is crushed. But after reading many, many articles discussing how much cyanide is released and how much you actually ingest I'm pretty comfortable making and eating this dessert.
Read this article and this article for more information. If you Google "are cherry pits safe to eat" you can spend hours reading all about it as I did.
I've made and eaten this recipe several times before and have lived to tell the tale. I've also served it to my family with no worries. We're all fine and I look forward to making it again next year. That being said, I, my husband, and our kids are all healthy, young (well, youngish, in my and my husband's case) adults. You can decide for yourself if you're comfortable cooking with cherry pits.
I used pits from sour cherries which are pretty small, but you could save up pits from any type of cherry; Bing, Ranier or Sour. The pits from sweet cherries are a little larger than those from sour cherries so maybe they're a little easier to crack.
The hardest part of this recipe is cracking the seeds. I tried a food processor and a blender and the seeds just spun around and made a lot of noise. I got the best results putting the seeds in an old kitchen towel, going outside to the stone patio, and bashing the heck out of the seeds with a meat tenderizer.
The flavor is in the inner kernel, but don't bother separating them from the hulls because it will all be strained out anyway.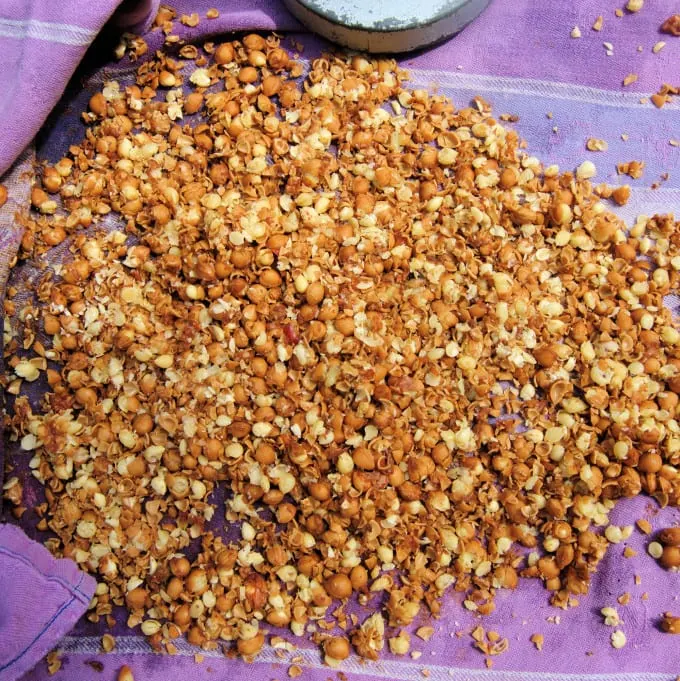 Of course Cherry Pit Ice Cream is the perfect accompaniment for cherry pie. No pie? No problem! It's also great plain or with a dollop of cherry preserves.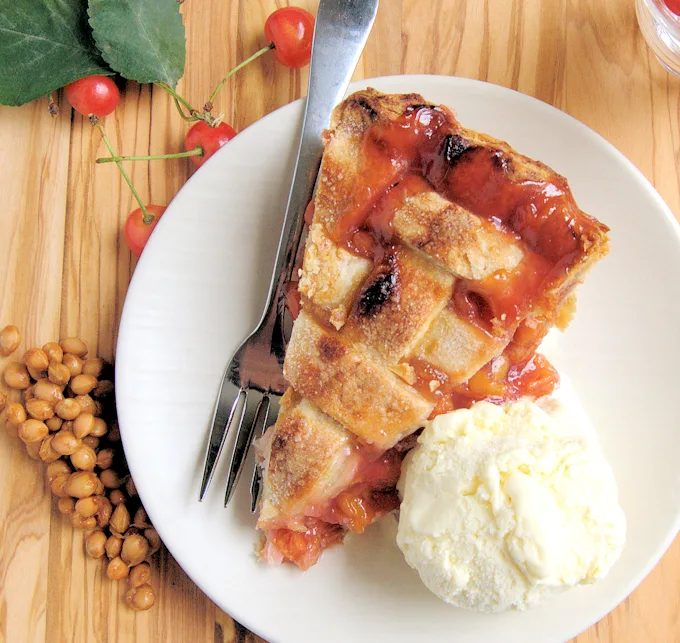 Cherry Pit Ice Cream
Cherry pit ice cream tastes like marzipan!
Ingredients
1 1/4 cups whole milk
2 cups heavy cream
6 oz (3/4 cup) granulated sugar
5 egg yolks
1 cup cherry pits, smashed open
Instructions
Combine the milk and the smashed cherry pits in a small saucepan
Cook on medium high heat until the milk is scalding hot
Turn off the heat and leave the milk to steep, uncovered, for 1 hour
Strain the milk into a glass measuring cup. Some of the milk will be absorbed by the pits. If you don't have a full cup of milk add more to bring it up to 1 cup
Combine the milk, cream and 1/2 the sugar in a saucepan
Heat over medium high heat until scalding hot
While the milk mixture is heating, whisk together the yolks and the remaining sugar
Whisk the scalding hot milk into the yolks
Return the mixture to the pan and reduce the heat to medium low
Cook the custard, stirring constantly, until it coats the back of a spoon or spatula
Strain the mixture into a bowl, cover with plastic wrap and refrigerate for at least 3-4 hours or overnight.
Run the custard in your ice cream machineaccording to the manufacturer's directions
Pack into a container. Place plastic wrap directly on the surface of the ice cream and cover the container with a lid
Freeze at least 8 hours or overnight.