One perfect bite – One recipe of Dark Chocolate Ganache and the truffle-possibilities are endless.
I love chocolate. I don't necessarily love all chocolate desserts. I'm not one of those people who prefer chocolate everything. If I'm going to eat chocolate, I'd rather have a simple square of really great dark chocolate than almost any other chocolate sweet. Why mess with perfection? I think I've come to a point in my life where I don't just want that square of bittersweet chocolate every day, I need it. Hmm, I guess that makes me a chocoholic.
The only other form of chocolate that I find hard to resist is dark chocolate ganache. Ganache has all the pure chocolate flavor of a really great square of bittersweet chocolate with a soft and creamy texture. It's like eating chocolate silk.
At it's most basic, dark chocolate ganache is made with equal parts chocolate and heavy cream. I use Callebaut 60%, which I buy commercially. The "60%" indicates the percentage of cocoa solids in the chocolate. The higher the percentage of cocoa solids, the lower the percentage of sugar in the chocolate. At the supermarket I like Ghiardelli 72% for ganache. I would recommend any high quality chocolate between about 53% and 72% for this recipe.
I don't recommend that you use chocolate chips to make ganache. Although convenient because they're already in small pieces, chocolate chips have added ingredients to help them keep their shape while baking. Using chips will compromise the texture of the ganache, and ganache is all about the texture.
As a staple in the pastry kitchen, ganache is used for glazing and filling cakes and cookies, making candies, as a tart filling and as an ice cream sauce. The possibilities are endless.
As I said, the basic ratio for ganache is equal parts chocolate to cream, but depending on how you want to use the ganache the ratio can vary from twice the amount of chocolate to cream all the way to 2 times the amount of cream to chocolate.
If you want a softer ganache use twice the amount of cream to chocolate. Once the soft ganache has cooled, you can put it on the mixer with the whisk and whip it up for a light and airy cake filling. If you want a firmer ganache that you can roll into truffles or use as a glaze make the ganache with 2 times the amount of chocolate to cream. Experiment with the ratios to get a ganache that you really like.
Other ingredients can be added to the ganache depending on what it is that you're making. In this recipe I've added a bit of butter for flavor and a velvety mouth feel. A hint of rum or another flavoring is the perfect addition when you're making truffles.
This recipe also has a little corn syrup for a glossy sheen. The corn syrup is optional, especially if you're using the ganache for truffles or as a filling. If you plan to glaze a cake or dessert with the ganache, the corn syrup will add a beautiful shine to the finish.
The recipe is straight forward enough; chop the chocolate, heat up the cream and combine the two. A food processor makes quick work of chopping the chocolate. If you don't have a food processor make sure to chop the chocolate so that there are no pieces larger than about 1/2″. You want pieces that are small enough to melt in the hot cream without leaving any lumps.
Once you have the ganache set, chocolate truffles are very easy to make. Use a small scoop to portion out the ganache and then roll the truffles in cocoa, chocolate sprinkles, nuts or whatever strikes your fancy. I used crushed health bars and Demerara cinnamon sugar, as well as the traditional dark cocoa coating.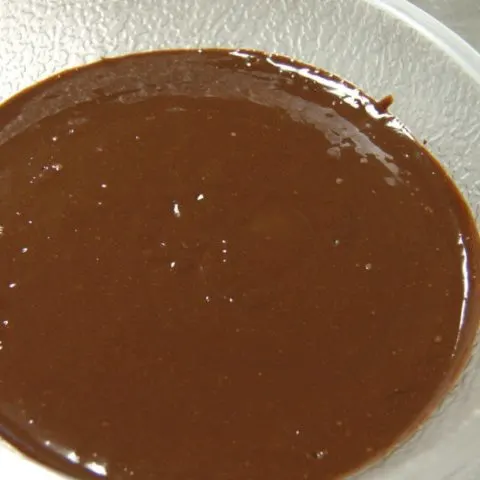 Dark Chocolate Ganache
Silky chocolate ganache can be used to make truffles, fill a cake or tart and glaze any number of pastries.
Ingredients
8 oz (225g) Semisweet or Bittersweet Chocolate
1 cup (8 oz, 235 ml) heavy cream
1/2 oz (1 Tablespoon, 15g) unsalted butter
2 Tablespoons light corn syrup (optional)
Instructions
Chop the chocolate into small pieces, none larger than 1/2" or chop roughly and finish chopping in a food processor. Place the butter in the bowl (or food processor bowl) with the chocolate.
Pour the cream into a microwave safe bowl and heat until just below the boiling point. You want to get the cream as hot as you can without it boiling over. The time will depend on your microwave. Mine takes about 2-3 minutes for a cup of cream
Pour the cream all at once over the chocolate
Do not stir for 1-2 minutes to allow the chocolate to begin melting
Gently stir with a wooden spoon, trying not to incorporate any air, until all the chocolate bits are melted or, if using the food processor, run the processor for 20-30 seconds until the chocolate is melted.
Stir in the corn syrup if using.
Notes
Using the food processor is easy but it will incorporate some air bubbles into the ganache. The finished product won't be quite as glossy.
Store at room temperature 1-2 days, in the refrigerator for a week or freeze for 2-3 months.
Recommended Products
As an Amazon Associate and member of other affiliate programs, I earn from qualifying purchases.