This Chocolate Angel Food Cake is light as a feather and not too sweet. Cocoa adds chocolate-y flavor to this classic recipe. Learn which cocoa to use for the best color and flavor.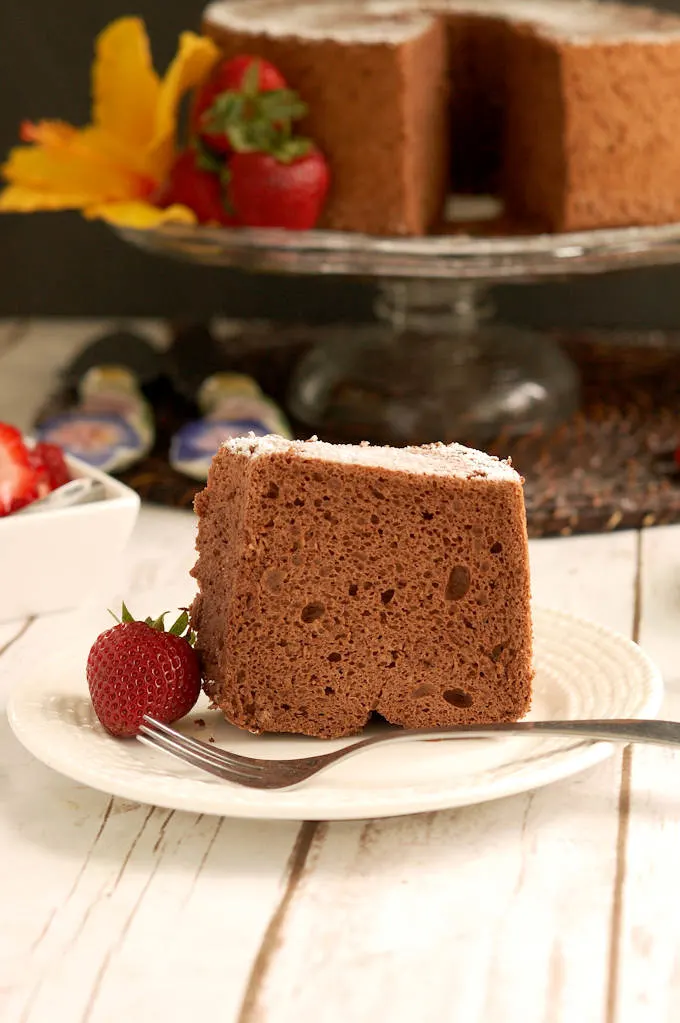 As I discuss in my post about Flour in Cake Batter, you can turn almost any vanilla cake recipe into a chocolate cake recipe by simply replacing a portion of the flour with cocoa powder.
When I decided to create a recipe for Chocolate Angel Food cake, of course I couldn't just add a little cocoa to my basic Angel Food Cake batter and call it a day. To make sure I was creating the best version of the recipe, I needed to run a couple of tests to find out the best technique and cocoa for making the batter. Here's what I found out:
How to use cocoa to make a Chocolate Angel Food Cake:
Well, first things first. How to add the cocoa? For test number 1 I replaced a 1/4 cup of the flour with cocoa. I sifted the cocoa with the flour and mixed the batter as I do for the original Angel Food Cake recipe. The cake looked and tasted pretty good, but I had another trick up my sleeve.
For test number 2 I "bloomed" the cocoa in hot water before adding it to the batter. I was aiming for a deeper chocolate flavor. In a side-by-side tasting my husband and I both thought the answer was a definite "yes", the second cake had a better chocolate flavor. I had just one more tweak to make.
When I added the cocoa mix to the meringue for test 2 I lost a little volume. For test number 3 I increased the flour by 2 tablespoons. This helped the structure a bit and the cake rose beautifully in the oven. I was very happy with the texture and flavor of cake 3.
Even though I knew I had my final recipe, I had one more question I needed to answer. Was I using the best cocoa?
For over 10 years I have been using Cocoa Barry Extra Brute cocoa exclusively. It's an alkalized (dutch processed) cocoa. It has a very deep color and flavor, and a super-fine texture that blends beautifully into a batter.
It was time to try the recipe with a different cocoa powder. For test number 4 I used Hershey's "natural" (non-alkalized) powder, using the same technique of mixing the cocoa with hot water.
Even before the cake went into the oven I was not happy with the results. Where the batter for the other cakes had a deep color, this batter was very pale. The batter made with the Cocoa Barry tasted like melted chocolate ice cream (hey, who doesn't like to taste raw cake batter?). The Hershey's batter had a bland, nondescript, sweet flavor. The same could be said for the baked cake.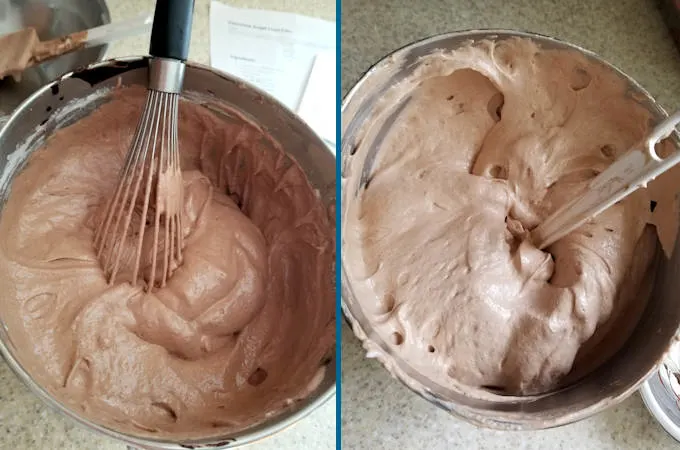 I was happy to discover that my favorite cocoa was absolutely the best option for this cake recipe. Honestly, it's the only one I use. I'm not being paid to promote this product, I truly love it.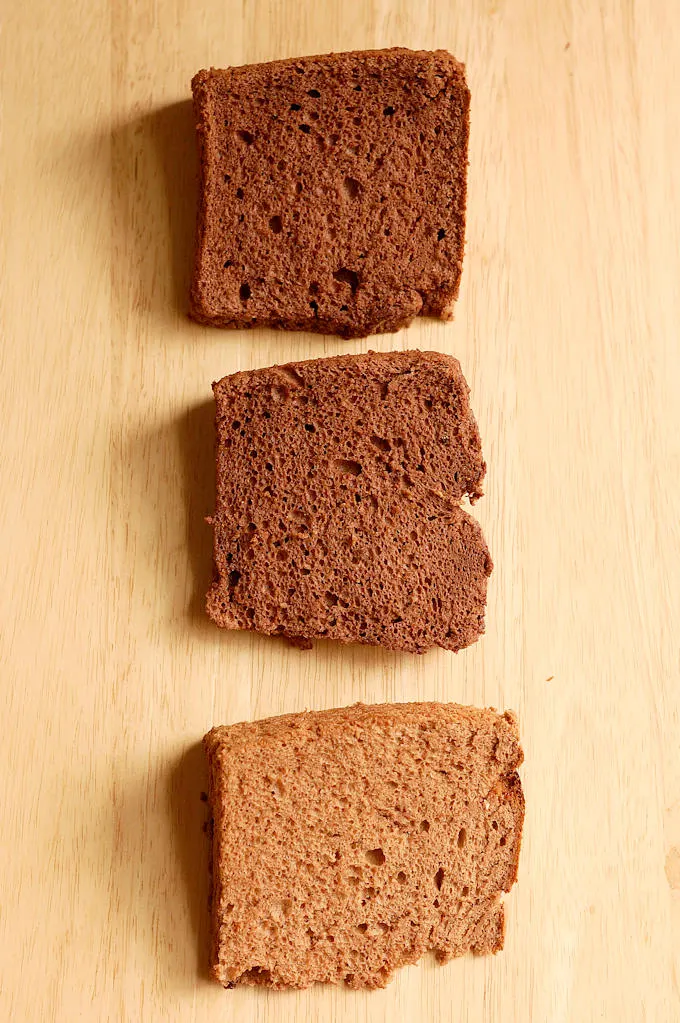 Scroll through the step by step photos to see how to make an Angel Food cake with cocoa powder: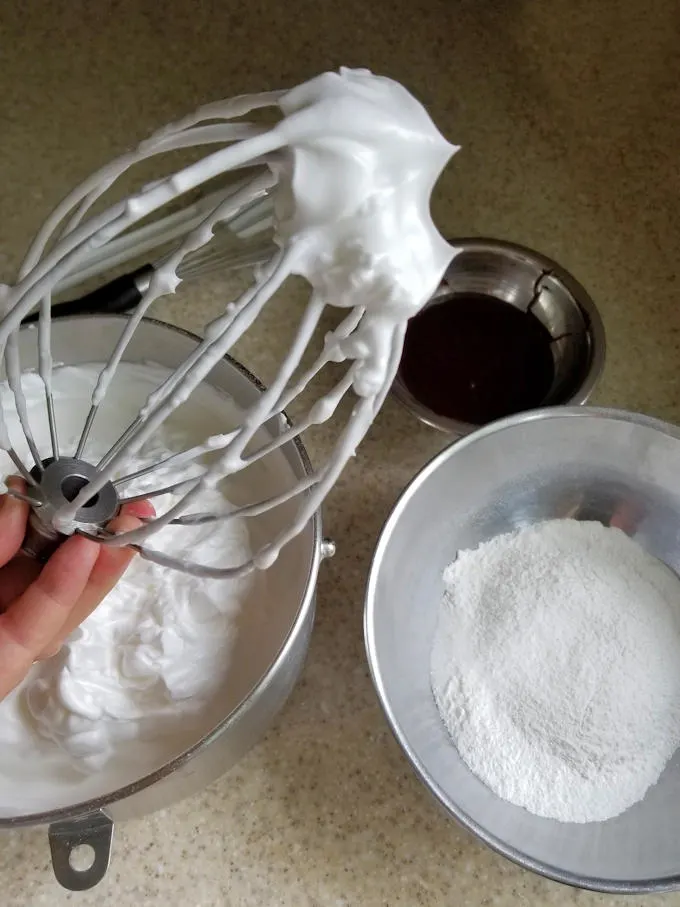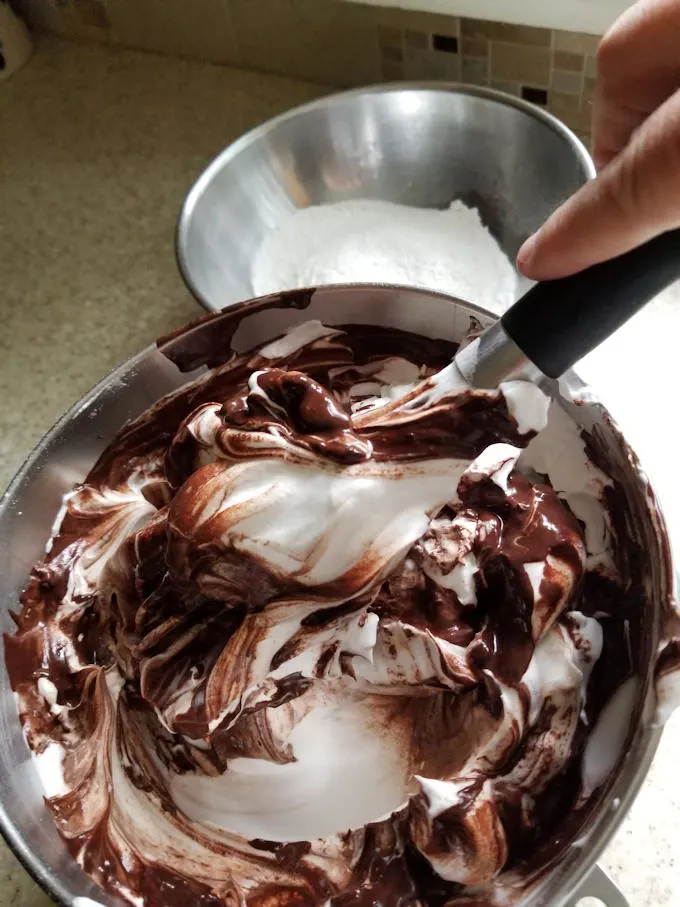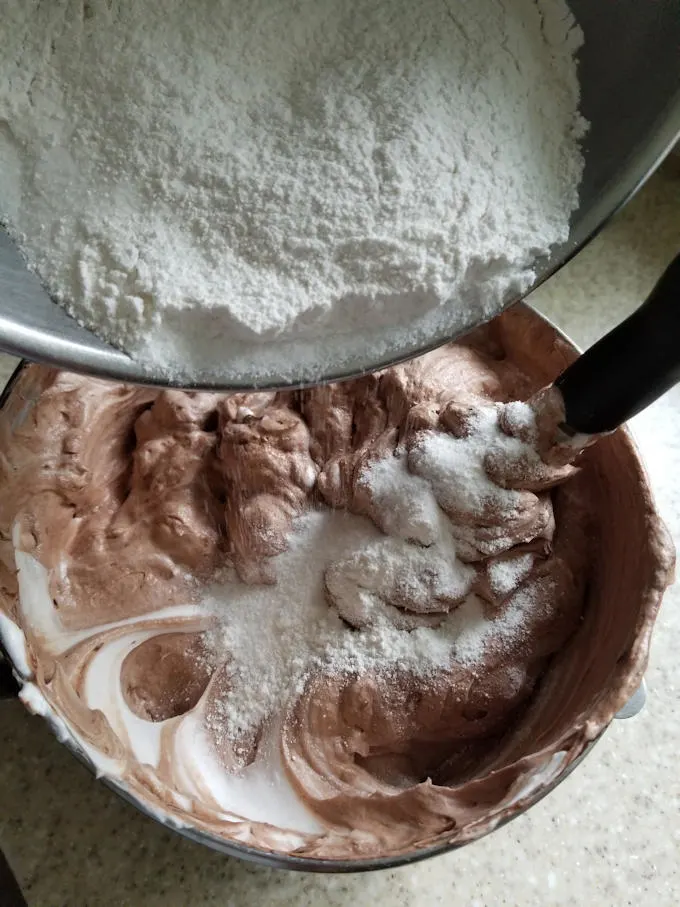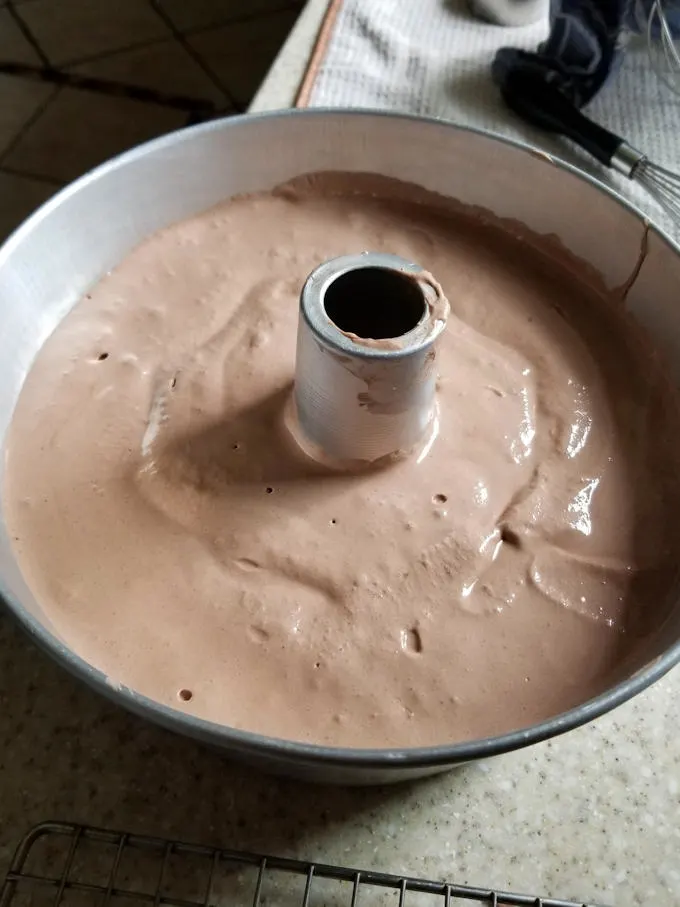 Tips for making a great Chocolate Angel Food Cake:
Use fresh egg whites, not pasteurized. Frozen fresh whites are fine.
Use a clean bowl and whisk, a tiny bit of grease will collapse the egg whites.
Start the whites on medium and increase to medium high after the sugar is added.
Don't add the sugar until the whites reach soft peak, then add slowly.
Use Dutch processed cocoa powder for the best color and flavor.
I like to use a hand whisk to fold the cocoa mix and flour into the meringue. You can switch to a spatula once most of the flour is incorporated.
Use a tube pan so the cake bakes from the middle and sides.
Don't grease the pan and don't use a non-stick pan.
Cool the cake upside down.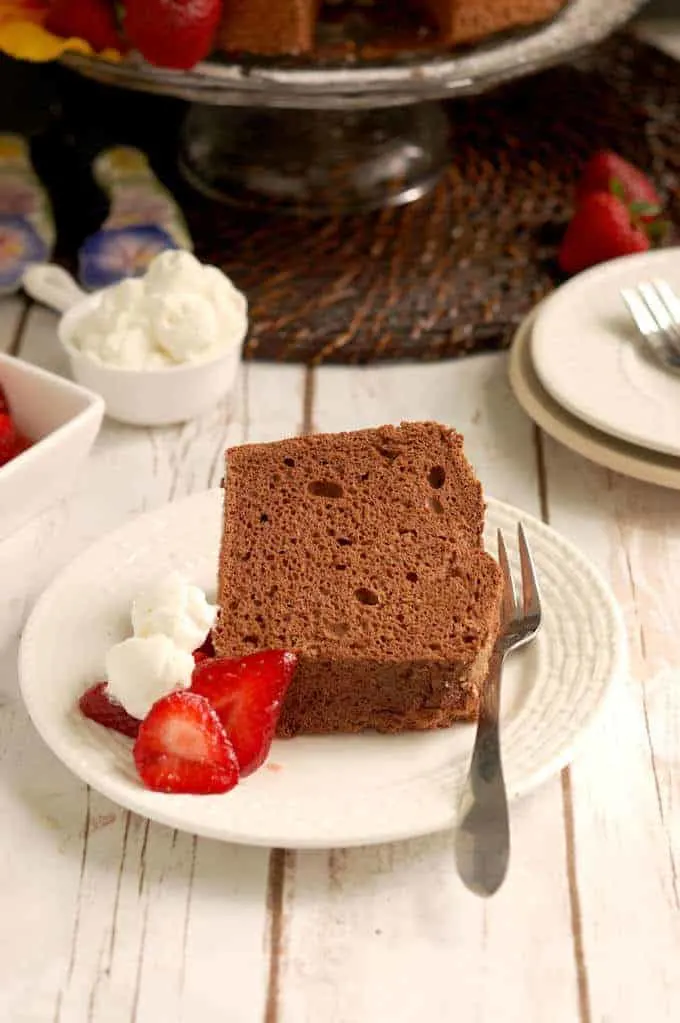 Now that you've made this recipe what should you do with the extra yolks? Check out this collection of recipes that use extra yolks for some great ideas.
If you love this recipe as much as I do, please consider leaving a 5-star review.
You might also like: