Peach Shortcakes are the perfect summer dessert! A true shortcake is not really a cake at all. It's a biscuit topped with fresh fruit and lots of whipped cream. Make these at the height of peach season!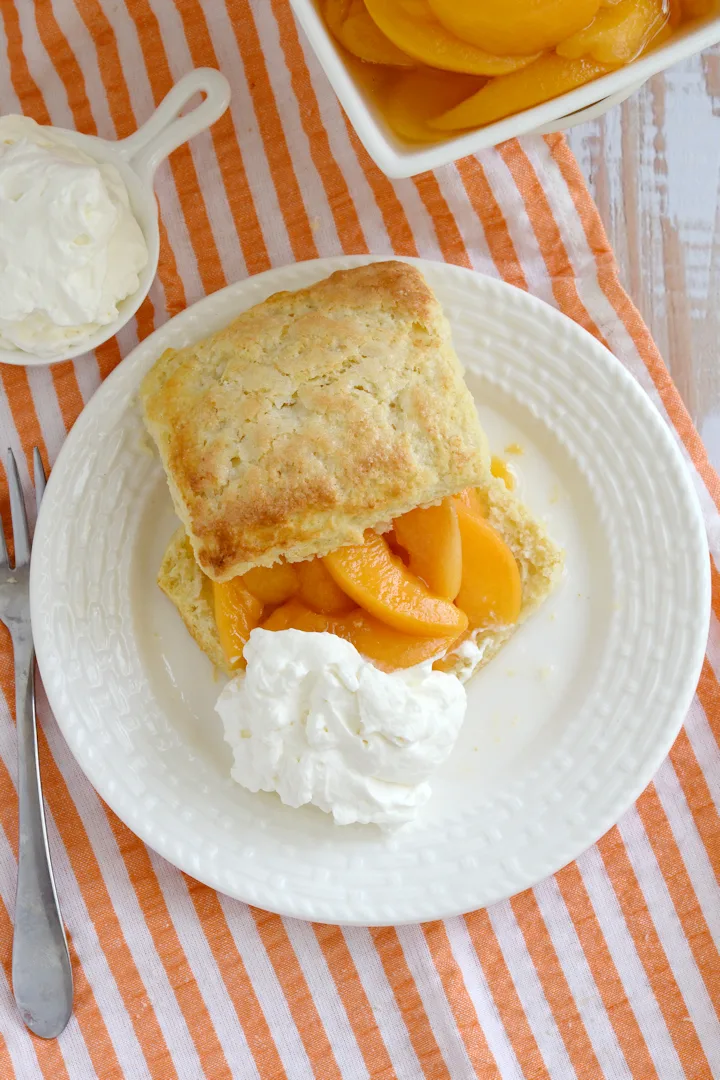 No only is a true shortcake more biscuit than cake but it needs to be the right kind of biscuit. You want a biscuit that will soak up lots of delicious juice from the fresh fruit.
I developed my Shortcake Biscuits to be a little sweeter and a little lighter than my classic flaky Buttermilk Biscuits.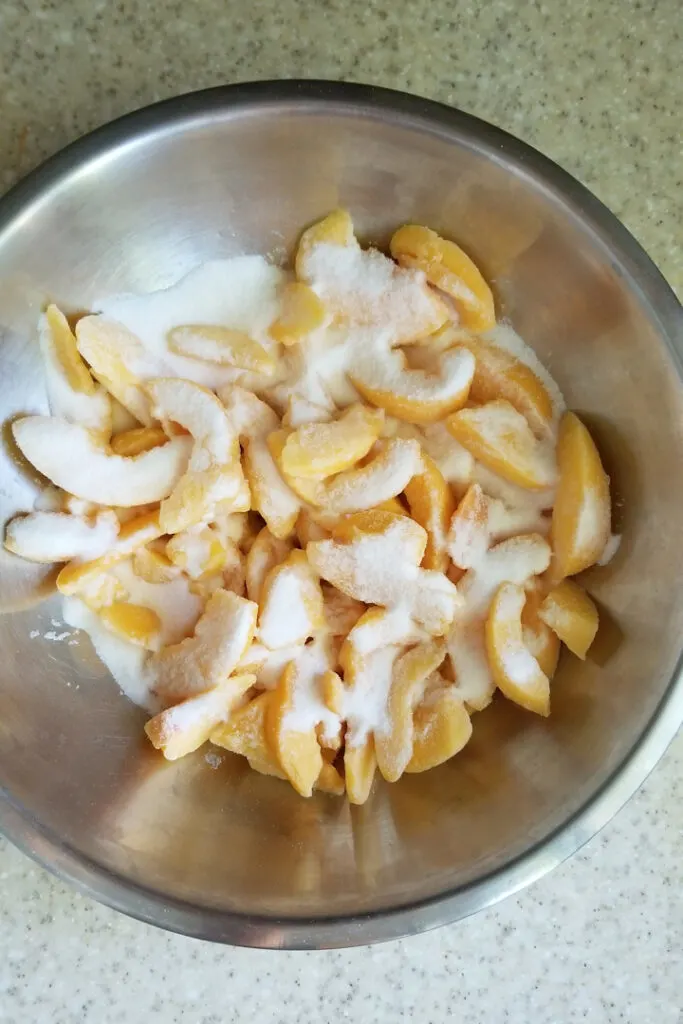 Tips for making great Peach Shortcake:
Use fresh, seasonal peaches for the best flavor. Frozen peaches will work ok. But I think we all know that nothing, I mean nothing, tastes like a fresh summer peach.
Macerate the peaches. "Macerate" just means to toss the fruit with sugar and allow it to sit for a while. The sugar will draw out the juice to create a delicious syrup, and the peaches will draw in some of the sugar. This not only makes the fruit taste better, it keeps it from completely breaking down and turning into peach mush. You can read more about how this works in my Peach Pie post.
My secret ingredient…. drum roll please… a little hit of tequila. Why? Because alcohol enhances other flavors.
If you don't do alcohol use a little almond extract. Almonds and peaches are great flavor partners.
Don't use just any old biscuit recipe, use my shortcake biscuits which are made especially to soak up lots of juice. These biscuits are a little sweeter and more cakey than regular biscuits.
The shortcakes are best the day they're baked. To work ahead you can freeze the shortcakes as soon as they're cooled. Defrost and rewarm in the oven before serving.
Add a splash of vanilla to the whipped cream for a luscious topping.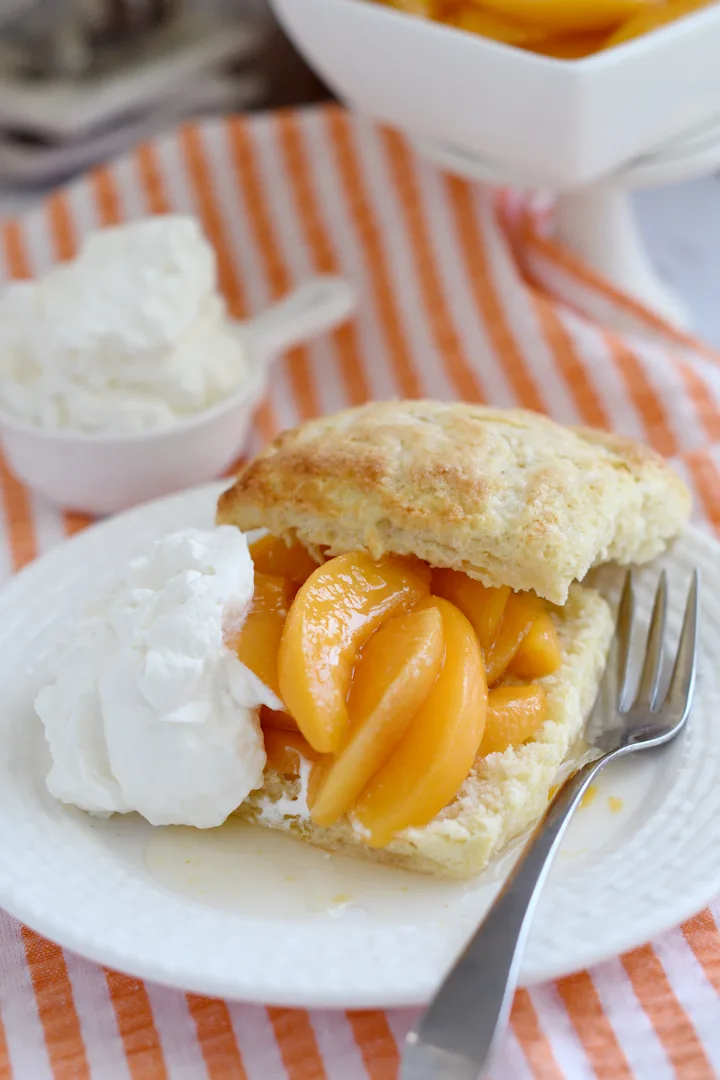 Shortcakes are the perfect party dessert and you can't have too many recipes. Try my Strawberry Shortcakes, Strawberry Rhubarb Shortcakes, and Blueberry & Cherry Shortcakes.
If you love this recipe as much as I do, I'd really appreciate a 5-star review.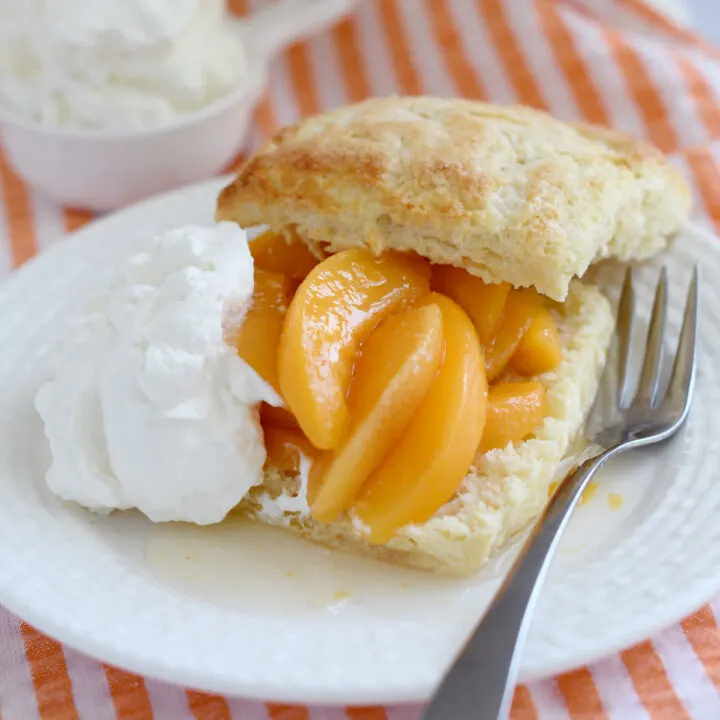 Peach Shortcakes
Macerating Time:
30 minutes
A true shortcake is not a layer cake, it's more of a biscuit topped with fresh fruit and lots of whipped cream. Make these at the height of peach season! It's the perfect summer dessert.
Ingredients
3 pounds (1.34 kg) fresh peaches - peeled, pitted and sliced into 1/8s
Juice of 1 lemon
1 tablespoon tequila, rum or brandy (optional) OR
1 teaspoon almond extract (optional)
1/4 teaspoon table salt
1 cup (8 oz, 224g) granulated sugar, divided
2 cups (1 pint, 473 ml) heavy cream
1 tablespoon vanilla extract
Instructions
In a large bowl, toss the peaches with in 3/4 cup of the granulated sugar, lemon juice, liquor (or almond extract) and salt. Set the peaches aside for 60 minutes to macerate.
Whip the cream with the remaining sugar and vanilla until soft peaks form.
To serve, split open the shortcake biscuits. Top each biscuit with some peaches and juice then top with a dollop of cream.
Recommended Products
As an Amazon Associate and member of other affiliate programs, I earn from qualifying purchases.