What could be better on a warm summer evening than Pulled Pork Tacos with Grilled Peach Salsa? These tacos are bursting with flavor and are really easy to make ahead.
I'm so excited to celebrate one of my all time favorite foods, summer peaches! In my opinion summer peaches are best just eaten as they are in all their juicy glory, but I also love making
peach pie
and other fabulous desserts when peaches are in season. Much as I love a good peach dessert, I wanted to show how well peaches can work in a savory dish. So I created this recipe for Pulled Pork Tacos with Grilled Peach Salsa. I've made this recipe before using pineapple instead of peach. Both taste great, but I do think the sweet tart flavor of a really great peach pairs perfectly with rich and smoky pulled pork. The pork is first slow-cooked in a sauce made with one of my go-to ingredients, Chipotles in Adobo. The smoky flavor of the chiles is just right for the pulled pork and the chipotles have a subtle heat that doesn't overwhelm the flavors in the dish. You can buy Chipotles in Adobo, of course, but did you know you can make them at home? Check out my recipe for making your own
Chipotle Peppers
and for
Chipotles in Adobo
.
Scroll through the step-by-step process photos to see how to make great Pulled Pork Tacos: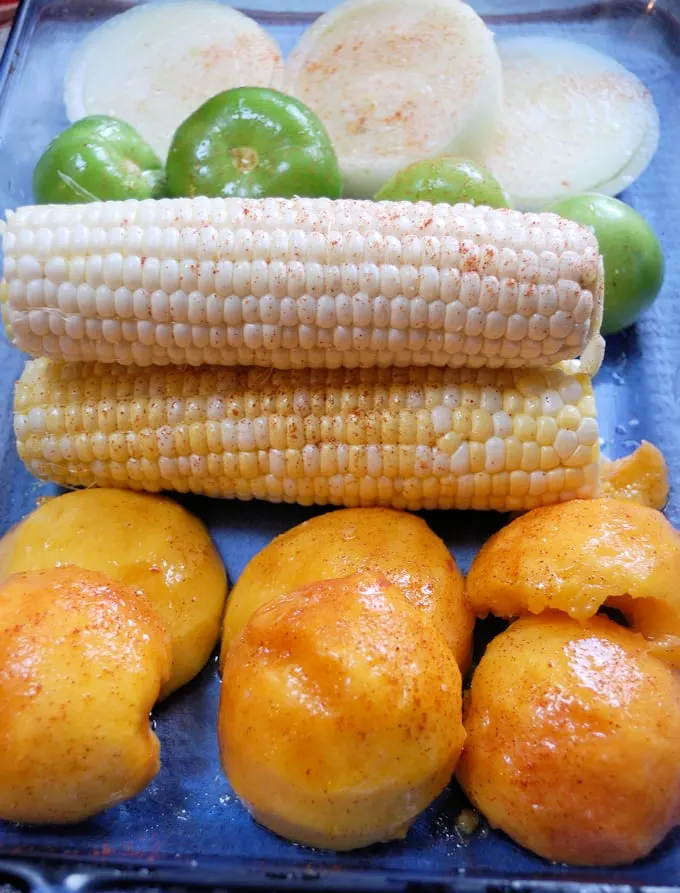 If you've never grilled fruit I can't wait for you to try this Grilled Peach Salsa. Grilling the fruit gets the juices flowing and highlights the sweetness of the fruit. I grill all the vegetables for the salsa. I also add a hint of honey and cumin to the salsa and just a pinch of dried Epazote. Epazote is an herb used in Mexican cuisine for it's slightly tangy flavor. Be careful when you use it, a little goes a long way. You can use dried oregano in place of the Epazote. I make a big bowl of salsa and it does double duty as both a side salad and as a condiment on the tacos.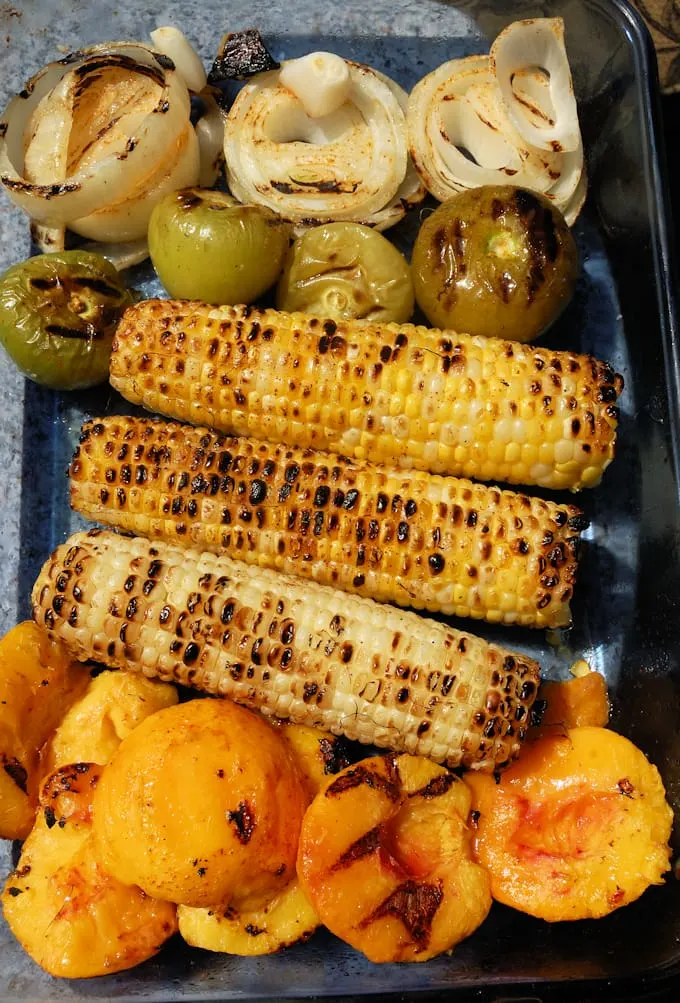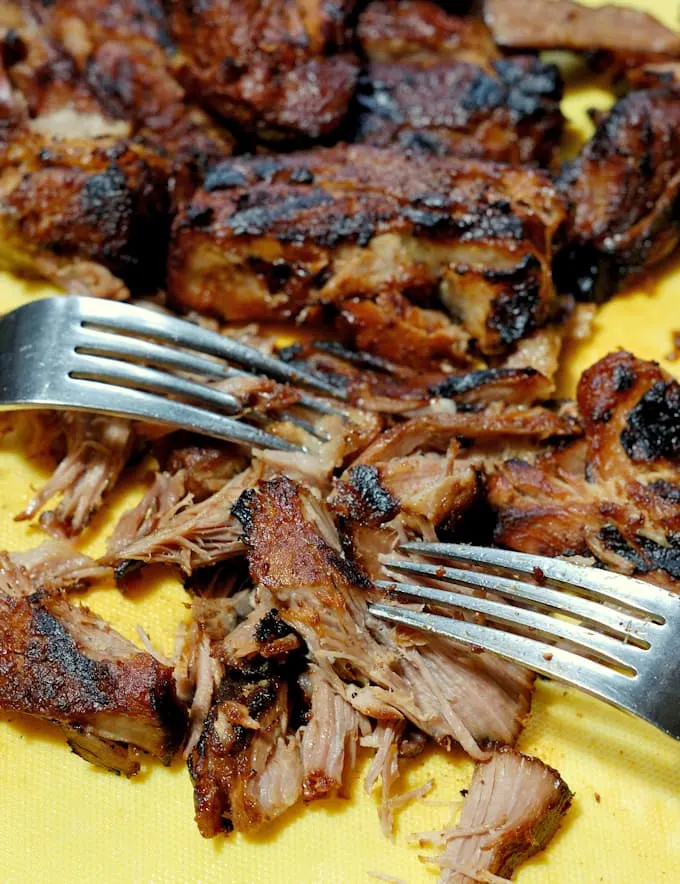 It's very easy to work ahead to make these Pulled Pork Tacos with Grilled Peach Salsa. The pork can be slow roasted the day before and kept in the refrigerator over night. I make my own corn tortillas earlier in the day and reheat them on the grill while the meat is grilling. Of course you can buy packaged tortillas. But if you want to try making your own they're pretty easy to make. You'll need to get a bag of corn masa to make the dough and the only special equipment needed in a tortilla press. The salsa can be made several hours before you're ready to serve or even the day before. The only thing left to do to get dinner on the table is to grill the pork and warm up the tortillas.
If you love this recipe as much as I do, please consider leaving a 5-star review.
Pulled Pork Tacos with Grilled Peach Salsa
Grilling Time:
30 minutes
Slow Cooking Time:
2 hours
What could be better on a warm summer evening than Pulled Pork Tacos with Grilled Peach Salsa? These tacos are bursting with flavor and are really easy to make ahead.
Ingredients
Pork
2# (896g) boneless pork shoulder
1 teaspoon ground cumin
1 teaspoon kosher salt
1 tablespoon honey
1 cup (or a 7 oz can) Chipotles in Adobo
Peach Salsa
3 peaches, peeled, halved and pitted
3 ears of fresh corn
1/2 pound (about 4) tomatillos, papery skin removed and rinsed (see note)
1 large Vidalia onion, peeled and sliced into 1" thick slabs
tablespoons olive oil
Zest and juice of 1 lime
3 cloves garlic, minced
1/2 teaspoon ground Cayenne Pepper, or to taste
1/2 teaspoon cumin
1/2 teaspoon dried Epazote or oregano
1-2 teaspoons honey
Minced cilantro to taste
salt and pepper to taste
16 taco size corn or flour tortillas
Queso Fresco Cheese, crumbled
Instructions
Slow Cook the Pork Shoulder
Cut the pork shoulder into 5 or 6 large chunks. Sprinkle the pork with salt and cumin. Combine the honey and Chipotles in Adobo in an oven proof dish. Add the meat to to the dish, turning once to coat with the sauce.
Cover the dish and bake for 2.5 hours at 300°F. Lift the chunks of meat out of the sauce and set aside on a platter. Pour the sauce into a small bowl or gravy separator and allow the sauce to settle so the fat rises to the top. Skim the fat off the top of the sauce
Puree the sauce with 1/4 cup water and adjust the seasoning to taste. More honey can be added if you like a sweeter sauce.
Make the Peach Salsa
Preheat a gas or charcoal grill. Lightly coat the peaches, corn, tomatillos and onion slices with 2 tablespoons of olive oil then sprinkle with salt and Cayenne pepper.
Grill the peaches and vegetables until lightly charred on all sides. Set aside the vegetables to cool to room temperature.
Cut the corn kernels off the cob, chop the peaches, onions and tomatillos into 1/2" dice. Combine the peaches and vegetables with the lime zest and juice, garlic, cumin, Epazote (or oregano). Add honey remaining olive oil, cilantro and salt and pepper to taste.
Grill the Pork
Brush the chunks of pork on all sides with some of the Chipotle sauce. Grill over a high flame to char the meat on all sides. Shred the meat into large chunks.
Assemble the tacos with meat, sauce, salsa and Queso. Extra salsa can be served as a salad along with the tacos.
Notes
Look for tomatillos that feel heavy and have slightly separated from the papery skin. You can replace tomatillos with tomatoes if you prefer.
Recommended Products
As an Amazon Associate and member of other affiliate programs, I earn from qualifying purchases.
You might also like: