Strawberry Rhubarb Shortcake is a twist on the classic dessert featuring the popular pairing of two early summer fruits. For the purists, there's an all-rhubarb option too.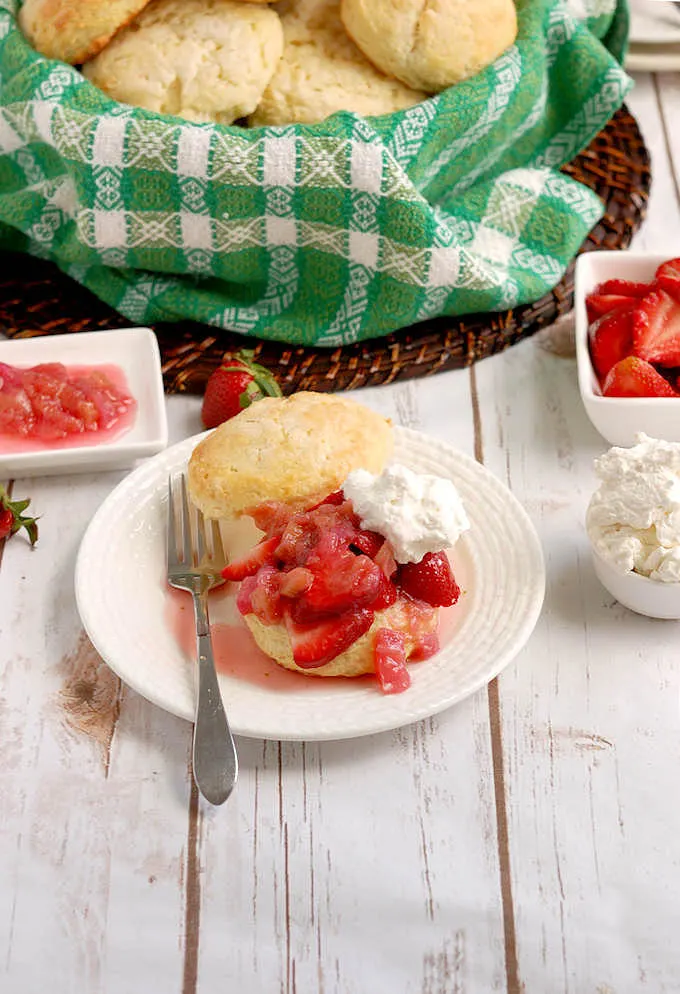 When I say that Strawberry Shortcake is a classic dessert, I'm not kidding. Shortcake recipes were found in English cook books as early as 1588. I can imagine that shortly after folks starting making shortcakes, they starting topping them with strawberries and cream. I mean, why wouldn't they?
Being rhubarb obsessed, I think that adding a little rhubarb to the classic dessert, or even going full-on, pure rhubarb, can only make a good thing better.
Tips for making great Strawberry Rhubarb Shortcake:
For the Strawberry part of the filling, use seasonal berries for the best strawberry flavor.
Macerate the berries. "Macerate" just means to toss the berries in sugar and allow them to sit for a while. The sugar draws out the juice to create a delicious syrup and the berries draw in some of the sugar. This not only makes the berries taste better, it keeps them from completely breaking down and turning into strawberry mush. You can read more about how this works in my Peach Pie post.
Choose rhubarb that is firm and crisp. Bright red rhubarb also makes a beautifully colored filling.
Macerate the rhubarb for the same reason we macerate the berries. By giving the rhubarb a little time to absorb some sugar we prevent it from breaking down completely as it cooks. You'll often see cooked rhubarb that looks like a sauce with no texture at all. This filling has distinct chunks of rhubarb throughout.
Don't use just any old biscuit recipe, use my shortcake biscuits which are made especially to soak up the strawberry juice. These biscuits are a little sweeter and more cakey than regular biscuits.
You can also use Chocolate Shortcakes with Chocolate Chips as the base for this desserts. If you are a true chocoholic, top it off with Chocolate Whipped Cream.
Add a splash of vanilla to the whipped cream for a luscious topping.
Scroll through the step by step photos to see how cook the rhubarb for the topping.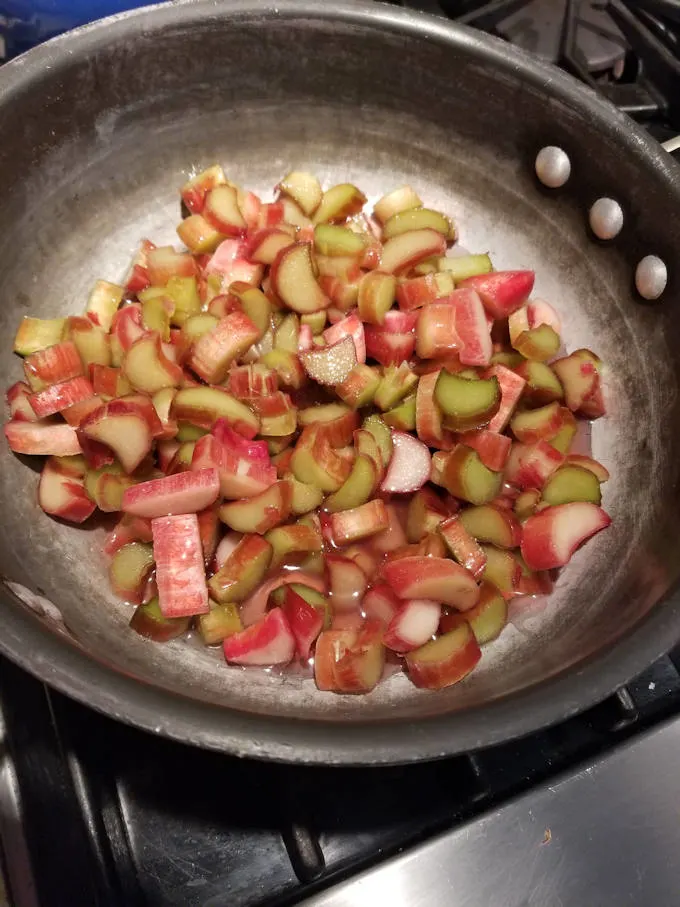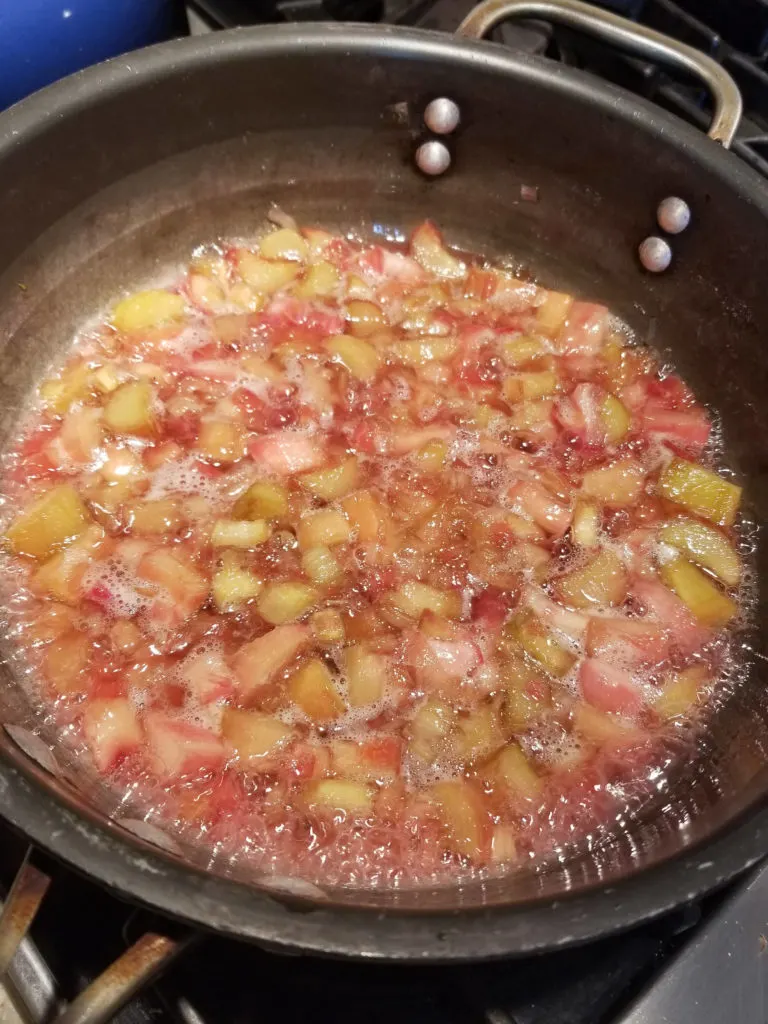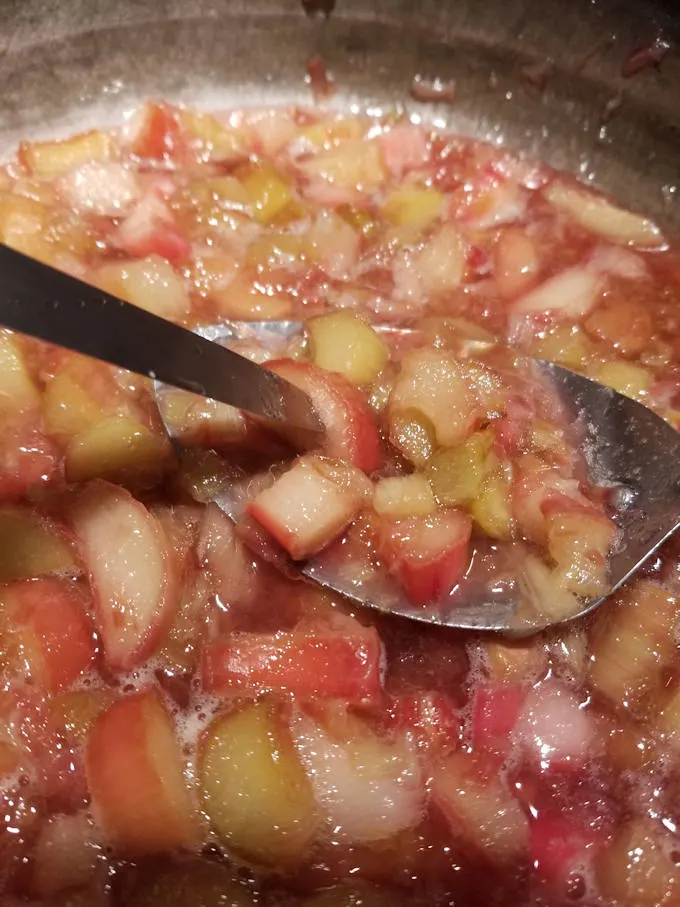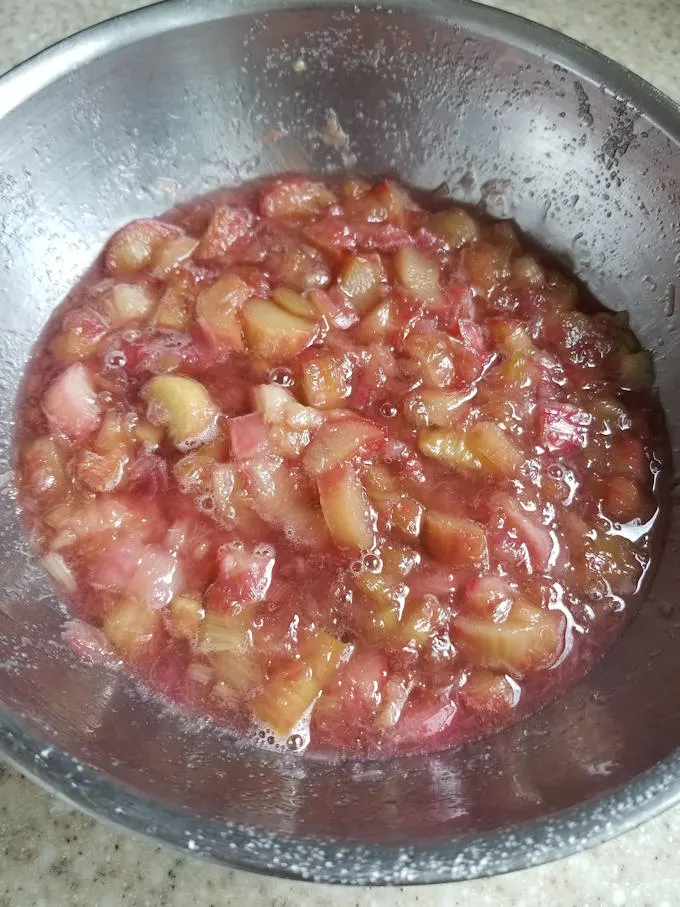 SHORTCAKE IS THE PERFECT MAKE-AHEAD DESSERT.
Though the shortcakes come together quickly and can be made the day you're serving them, you can make them a few days (or weeks) before the party and freeze them. Defrost and reheat in the oven to revive the texture.
The fruit fillings can be made the night before and refrigerated.
The day of the party all you need to do is re-warm the shortcakes and whip some cream.
Set out the biscuits, filling and cream and allow guests to build their own Shortcake.
You can mix the strawberries and rhubarb together, or serve the strawberries and rhubarb in separate serving dishes and allow your guests to mix and match according to their taste.
If you're not hosting a party, make the shortcakes and freeze any leftovers for later.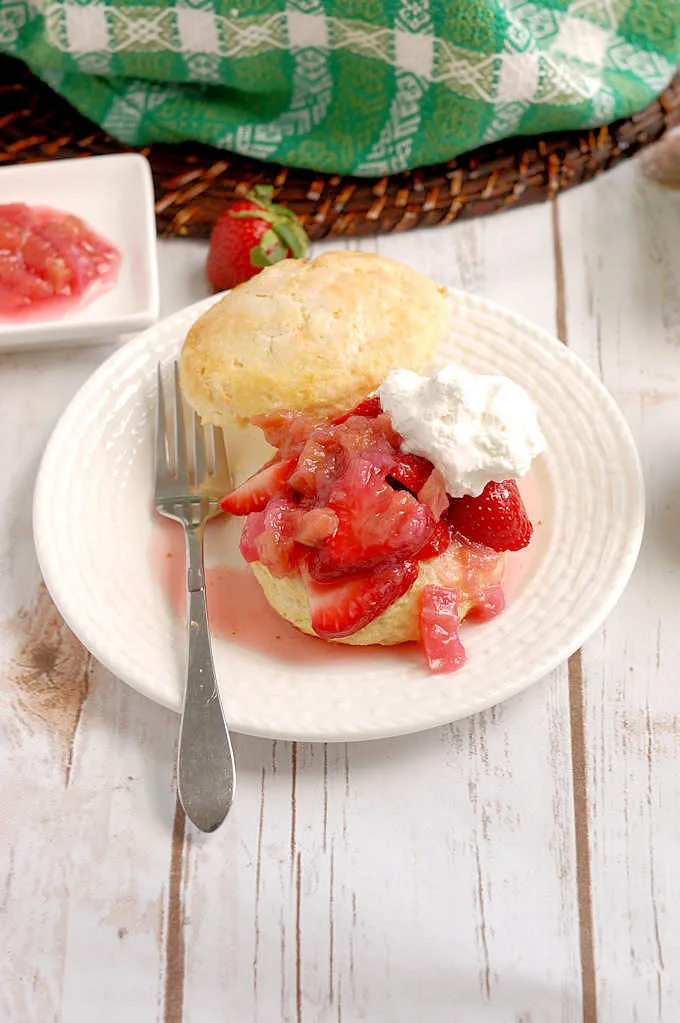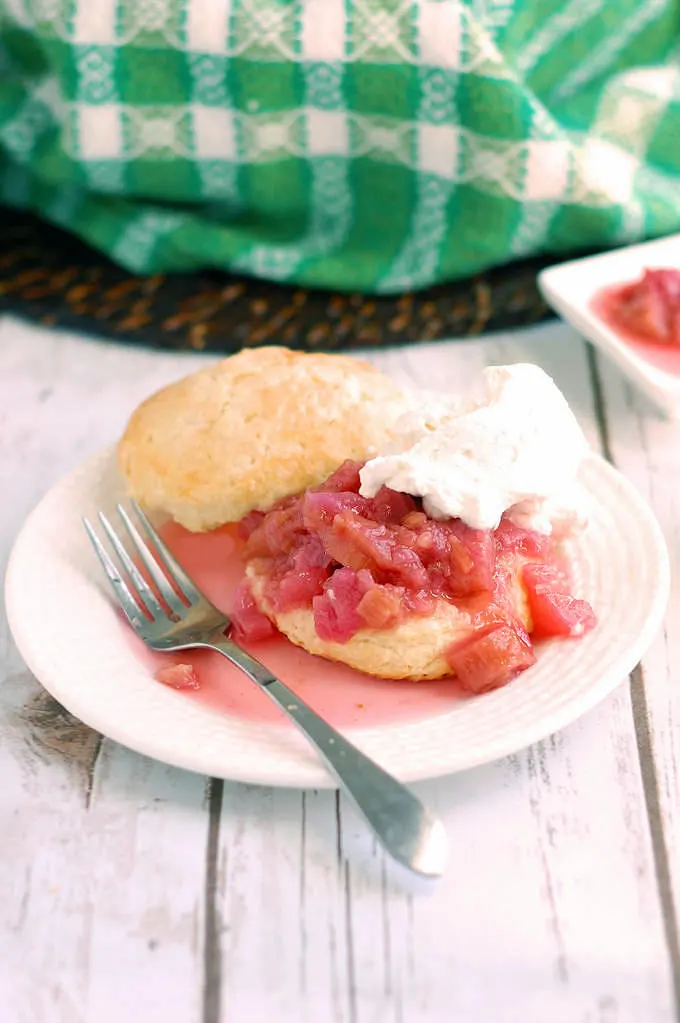 If you love this recipe as much as I do, please consider leaving a 5-star review.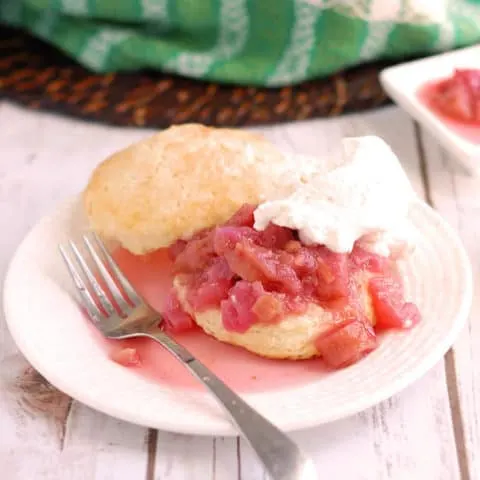 Strawberry Rhubarb Shortcakes
A true shortcake is not a layer cake, it's more of a biscuit topped with luscious fruit and lots of whipped cream. This twist on the standard strawberry shortcake includes the popular pairing of strawberry & rhubarb. You can also go pure rhubarb.
Ingredients
1 pound (16 oz, 448g) rhubarb
1 1/2 cups (12 oz, 336g) granulated sugar, divided
Pinch of salt
16 oz (448g) ripe strawberries, stems removed
2 cups (1 pint, 480 ml) heavy Cream
1 tablespoon vanilla extract
12 Shortcake Biscuits, baked and cooled to room temperature.
Instructions
Slice the rhubarb into 1/2" thick slices and toss with 1 cup of the sugar and a pinch of salt in a large saucepan. Cover the pan and set the rhubarb aside for 1 hour to macerate.
Slice the strawberries and place them in a large bowl, toss in 1/4 cup of the granulated sugar. Set aside.
Cook the rhubarb over medium heat until boiling. Reduce heat and simmer 5-10 minutes until most of the rhubarb is tender and it's beginning to thicken. Set the rhubarb aside to cool to room temperature.
Transfer to rhubarb to the bowl with the strawberries.
Whip the cream with the remaining 1/4 cup of sugar and vanilla until soft peaks form.
To serve, split open the shortcake biscuits. Top each biscuit with some of the fruit and a dollop of cream.
Notes
Note: To make pure rhubarb shortcakes, eliminate the strawberries and use 2 pounds of rhubarb.
Recommended Products
As an Amazon Associate and member of other affiliate programs, I earn from qualifying purchases.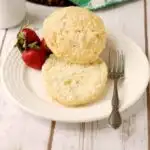 Print Recipe
Shortcake Biscuits
A true shortcake is more biscuit than cake. These are the perfect rich biscuits for making Strawberry Shortcakes, of course. But don't stop there. Use any seasonal fruit to top these delicious true shortcakes.
Ingredients
10

oz

all-purpose flour

(2 cups)

9

oz

cake flour

(2 cups)

1

teaspoon

table salt

2

tablespoons

baking powder

2

oz

granulated sugar

(¼ cup)

8

oz

unsalted butter

(cold, cut into ¼" slices)

2

large eggs

12

oz

buttermilk

Extra buttermilk and sugar for topping
Instructions
Preheat the oven to

375

°F

. Line a ½ sheet pan with parchment paper or a silicone baking mat.

Whisk together

10 oz all-purpose flour

,

9 oz cake flour

,

1 teaspoon table salt

,

2 tablespoons baking powder

,

2 oz granulated sugar

. Toss

8 oz unsalted butter

slices into the flour.

Use your fingers to work the butter into the flour until the pieces are no larger than a pea.

Whisk

2 large eggs

into

12 oz buttermilk

. Pour the buttermilk into flour mixture. Toss the mixture with a spoon or spatula until it begins for form a dough. Turn the dough out onto a well floured surface and lightly knead about 5-10 times to bring the dough together. This is a very wet dough so keep your hands well floured and use a light touch while kneading. You don't want to knock all the air out of the dough.

Use your hands to pat dough to 3/4" thick. Cut rounds with a 3" biscuit cutter. Gently knead together the scraps to cut remaining biscuits. Place the rounds on the sheet pan. For square shortcakes, pat the dough to a 3/4" thick rectangle and cut the dough into 12 squares. Brush with buttermilk and sprinkle with granulated sugar. Bake until golden brown, 12 to 14 minutes (see note).
As an Amazon Associate and member of other affiliate programs, I earn from qualifying purchases.
Notes
The shortcakes are best the day they are baked. To work ahead you can freeze the shortcakes as soon as they are cooled. Defrost and rewarm in the oven before serving.
Nutrition
Serving:
1
biscuit
|
Calories:
346
kcal
|
Carbohydrates:
40
g
|
Protein:
7
g
|
Fat:
18
g
|
Saturated Fat:
11
g
|
Polyunsaturated Fat:
1
g
|
Monounsaturated Fat:
5
g
|
Trans Fat:
1
g
|
Cholesterol:
71
mg
|
Sodium:
449
mg
|
Potassium:
100
mg
|
Fiber:
1
g
|
Sugar:
6
g
|
Vitamin A:
559
IU
|
Calcium:
166
mg
|
Iron:
2
mg
You might also like: