Shortcake Biscuits? Why not shortcake "cakes"? Because, despite the name, a true shortcake is more biscuit than cake. Read on for all the truly fascinating details, or jump straight to the recipe to get the goods.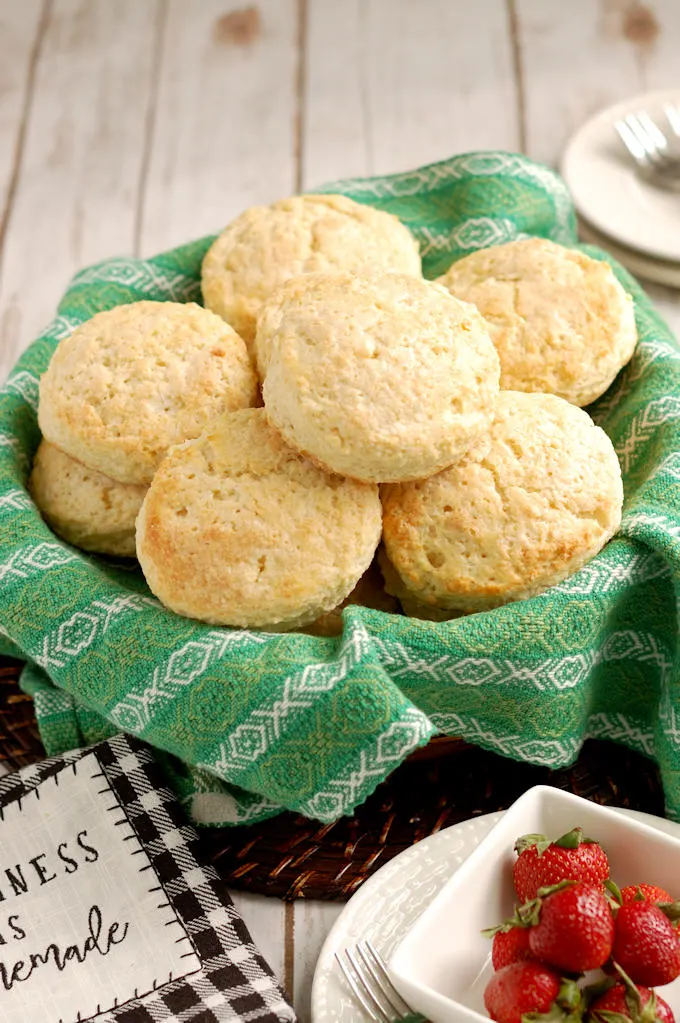 Even though the name "shortcake" implies that this dessert would be cake-based, it's the "short" in the name they tells you that the classic recipe is a biscuit-based dessert.
The "short" refers to a specific type of dough where the fat is cut into the flour to create a pastry that is that is more crumbly than stretchy.
Shortbread cookies and shortcrust pastry are two other "short" doughs. So, in "short" (pun intended), a shortcake is more biscuit than cake.
When making Strawberry Shortcakes I don't want to use my regular Buttermilk Biscuit recipe for the base. Those biscuits are wonderful, but they're more savory than sweet and more flaky than cakey.
For a shortcake dessert I want a biscuit that is a little sweeter and a little lighter. Here's how I adapted my flaky biscuit recipe into a shortcake biscuit recipe.
But wait, before we go any further, for you chocoholics I've created a recipe for Chocolate Shortcakes with Chocolate Chips. You're welcome!
How to make perfect Shortcake biscuits:
I added a little extra sugar to this recipe to sweeten the biscuits a bit.
I used more baking powder for a lighter crumb (to absorb the fruit juices!).
I added 2 eggs to the dough. The eggs give the biscuits a more cakey texture.
I don't fold the dough as I do for my regular biscuits. Flaky layers won't absorb the juice as well as a more open crumb will.
Mistakes I made when making Shortcake Biscuits and how you can avoid them.
Once again, because I was a bit impatient, and maybe I was trying to be too efficient, I didn't follow my own directions. Here's how I screwed it up.
Because I had several desserts to make for a family event and had to get them all photographed before leaving the house, I decided to get a head-start on the shortcake biscuits the night before. I tossed the dry ingredients together, cut up the butter, sprinkled it over the mix, covered the bowl, and left it at room temperature overnight.
I mixed the dough first thing in the morning. Because the butter was softened, it broke down instead of staying in little lumps. The butter completely mixed into, and coated, the flour.
Sooo, the coated flour couldn't absorb the buttermilk & eggs. I could tell right away that the dough was too wet (see the left-hand photos below).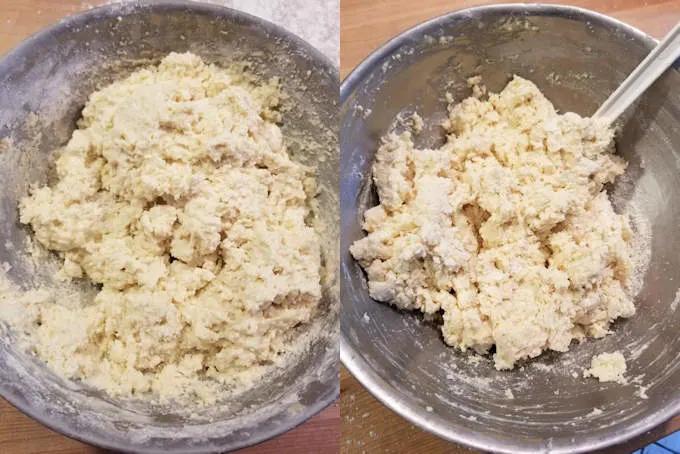 I proceeded to gently pat the dough by hand as I always do. I cut the first round of biscuits and could tell they were much too soft. You can see in the photo below (middle tray) how much those biscuits spread in the oven.
To compensate, I gathered up the scraps and kneaded in some flour. Of course I added too much flour and kneaded too much, so the second round of biscuits were too tight. You can see in the photo (left-side tray) that the biscuits rose up too much. The crumb was too tight.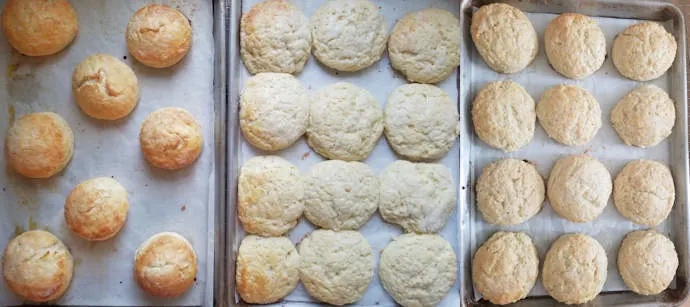 Before posting this recipe I knew I had to make the biscuits properly so you could see what they should look like. A few days later I mixed the dough according to the directions (cold butter, minimal kneading). You can see the biscuits on the right-side tray are just right.
The moral of the story? I can't say it often enough, how you mix a recipe matters as much as the ingredients in the recipe. Also, 30 years of pro-baking doesn't make you immune to screw-ups.
Scroll through the step-by-step photos to see how to make shortcake biscuits from scratch.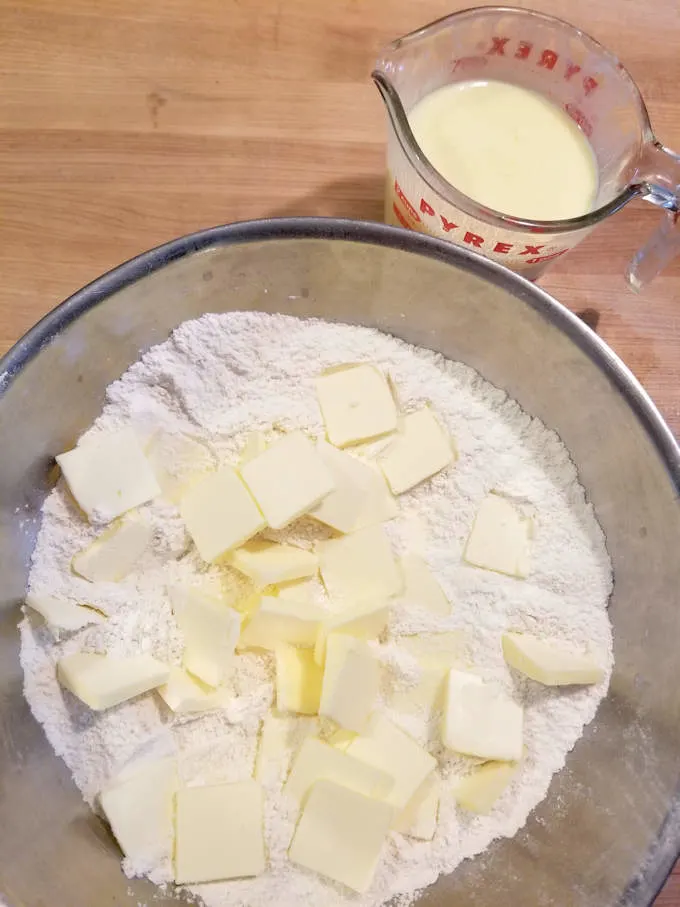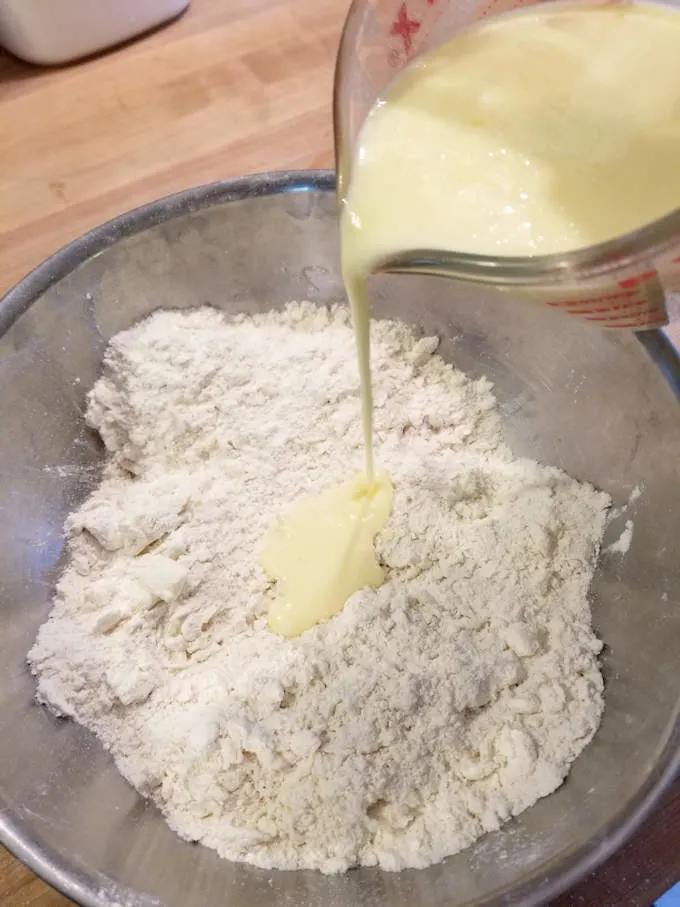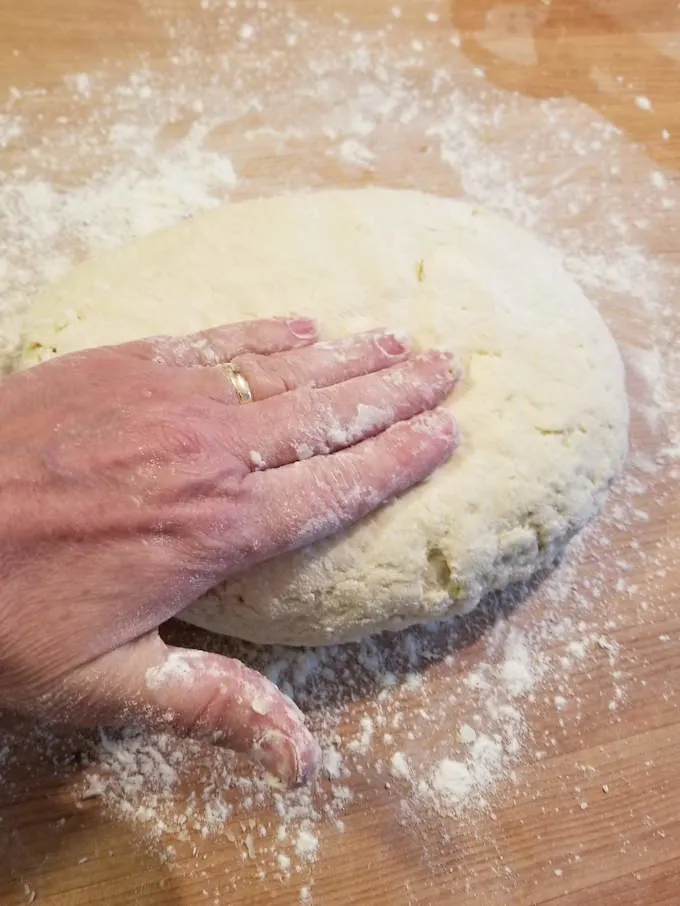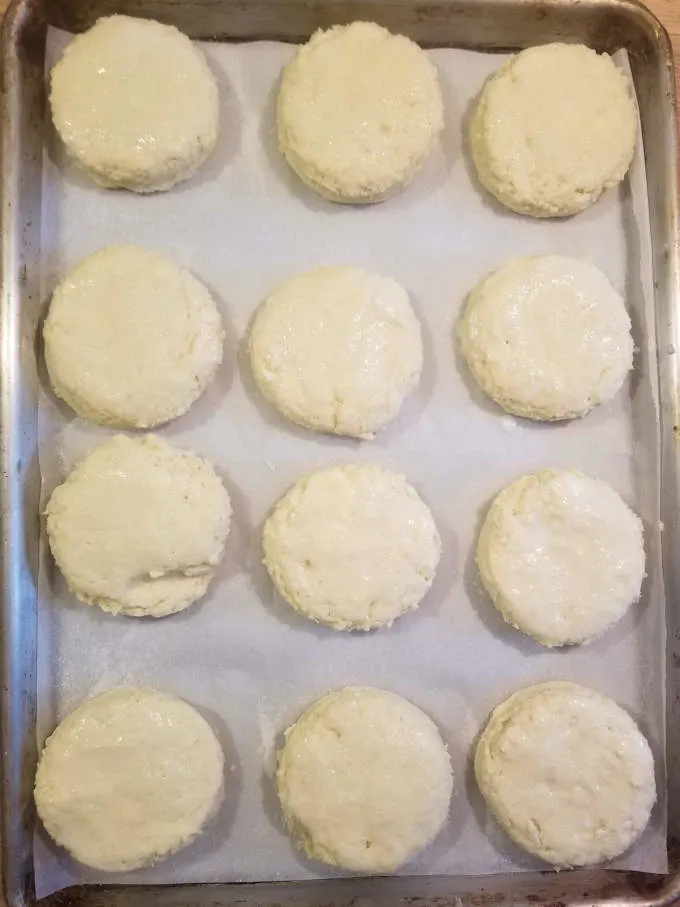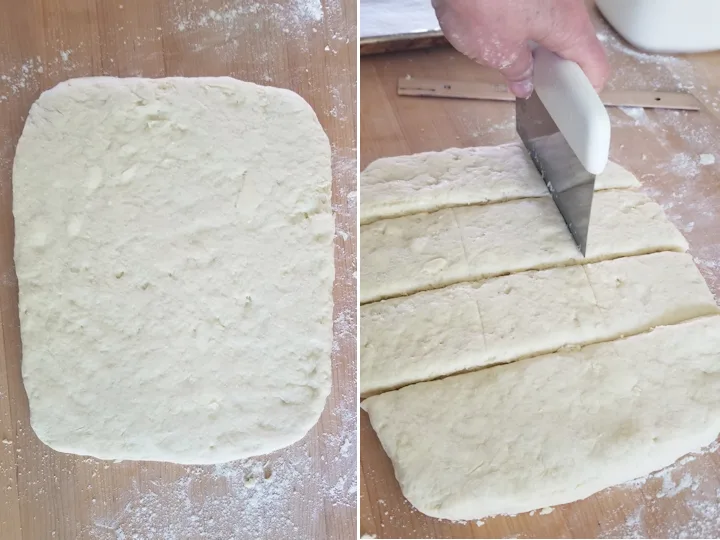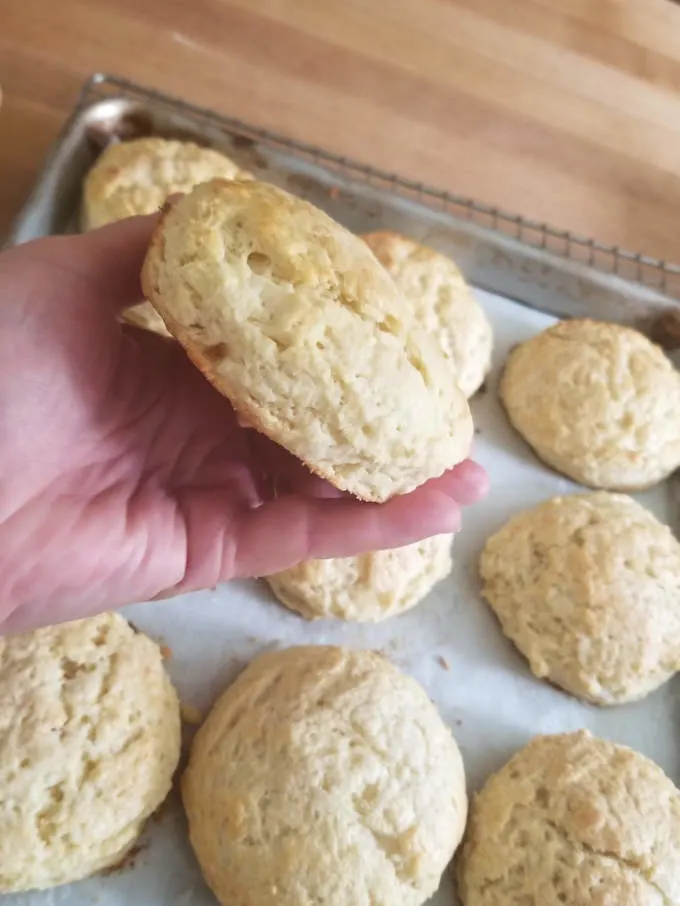 There you have it. Perfectly rich and light biscuits for making Strawberry Shortcakes. But don't stop there. Top them with any seasonal fruit to make a delicious dessert – Peach Shortcakes, Rhubarb Shortcakes, Cherry & Blueberry Shortcakes. Gimme all the shortcakes!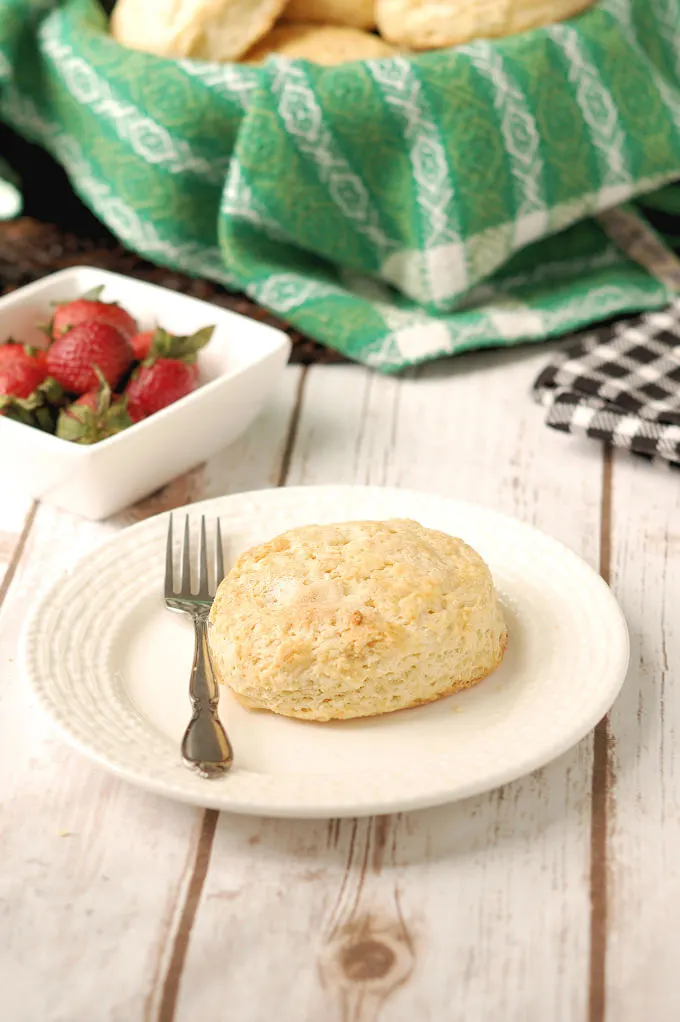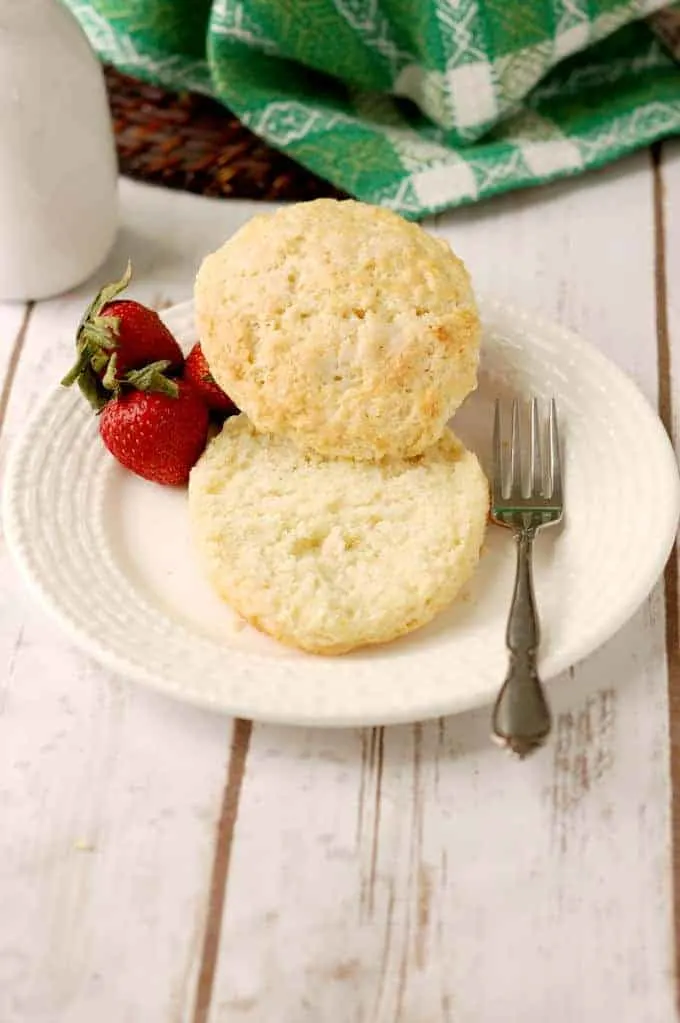 If you love this recipe as much as I do, please consider leaving a 5-star review.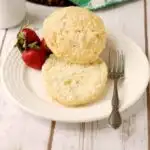 Print Recipe
Shortcake Biscuits
A true shortcake is more biscuit than cake. These are the perfect rich biscuits for making Strawberry Shortcakes, of course. But don't stop there. Use any seasonal fruit to top these delicious true shortcakes.
Ingredients
10

oz

all-purpose flour

(2 cups)

9

oz

cake flour

(2 cups)

1

teaspoon

table salt

2

tablespoons

baking powder

2

oz

granulated sugar

(¼ cup)

8

oz

unsalted butter

(cold, cut into ¼" slices)

2

large eggs

12

oz

buttermilk

Extra buttermilk and sugar for topping
Instructions
Preheat the oven to

375

°F

. Line a ½ sheet pan with parchment paper or a silicone baking mat.

Whisk together

10 oz all-purpose flour

,

9 oz cake flour

,

1 teaspoon table salt

,

2 tablespoons baking powder

,

2 oz granulated sugar

. Toss

8 oz unsalted butter

slices into the flour.

Use your fingers to work the butter into the flour until the pieces are no larger than a pea.

Whisk

2 large eggs

into

12 oz buttermilk

. Pour the buttermilk into flour mixture. Toss the mixture with a spoon or spatula until it begins for form a dough. Turn the dough out onto a well floured surface and lightly knead about 5-10 times to bring the dough together. This is a very wet dough so keep your hands well floured and use a light touch while kneading. You don't want to knock all the air out of the dough.

Use your hands to pat dough to 3/4" thick. Cut rounds with a 3" biscuit cutter. Gently knead together the scraps to cut remaining biscuits. Place the rounds on the sheet pan. For square shortcakes, pat the dough to a 3/4" thick rectangle and cut the dough into 12 squares. Brush with buttermilk and sprinkle with granulated sugar. Bake until golden brown, 12 to 14 minutes (see note).
As an Amazon Associate and member of other affiliate programs, I earn from qualifying purchases.
Notes
The shortcakes are best the day they are baked. To work ahead you can freeze the shortcakes as soon as they are cooled. Defrost and rewarm in the oven before serving.
Nutrition
Serving:
1
biscuit
|
Calories:
346
kcal
|
Carbohydrates:
40
g
|
Protein:
7
g
|
Fat:
18
g
|
Saturated Fat:
11
g
|
Polyunsaturated Fat:
1
g
|
Monounsaturated Fat:
5
g
|
Trans Fat:
1
g
|
Cholesterol:
71
mg
|
Sodium:
449
mg
|
Potassium:
100
mg
|
Fiber:
1
g
|
Sugar:
6
g
|
Vitamin A:
559
IU
|
Calcium:
166
mg
|
Iron:
2
mg