A true Strawberry Shortcake is not a layer cake, it's a biscuit topped with fresh berries and mounds of whipped cream. I put a secret ingredient into the berries for the best shortcake recipe ever! It's the perfect early summer dessert.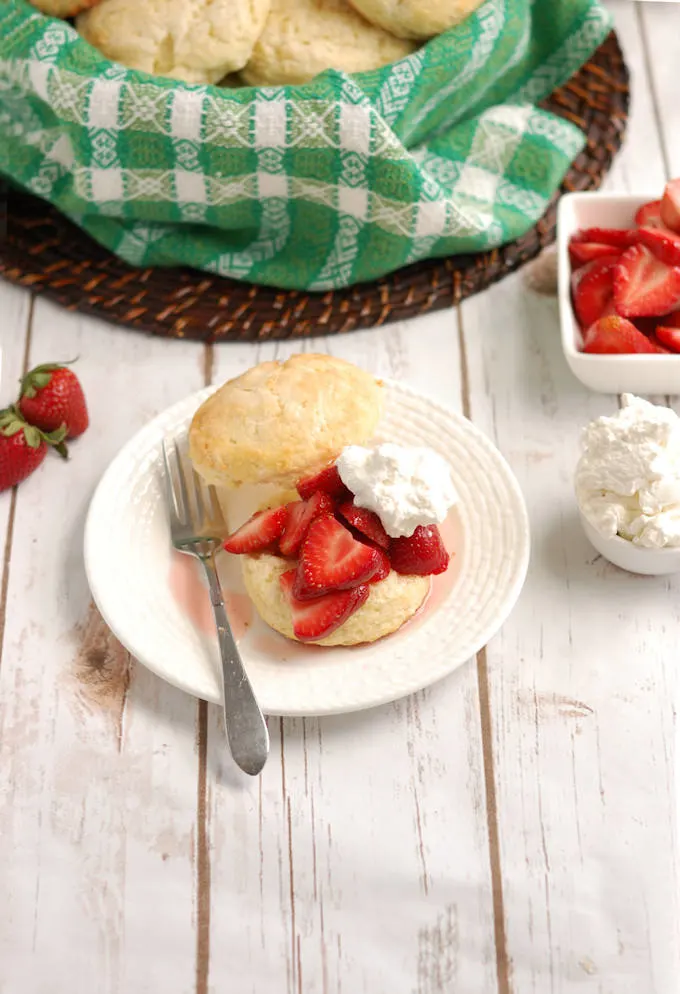 When I say that Strawberry Shortcake is a classic dessert, I'm not kidding. Shortcake recipes were found in English cook books as early as 1588. I can imagine that shortly after folks starting making shortcakes, they starting topping them with strawberries and cream. I mean, why wouldn't they?
So, can there be anything new to say about a dessert that's been around for more than 500 years?
Why this is the best Strawberry Shortcake Recipe
I like to think my Strawberry Shortcake recipe stands out for 3 reasons; the special Shortcake Biscuit recipe, macerating the berries for an hour before serving and the secret ingredient that I add to the berries.
If you're a regular reader you might have guessed that the secret ingredient is liquor. I swear it's not about making a boozy dessert (not that there's anything wrong with a boozy dessert.
Ingredients
Fresh strawberries
Granulated sugar
Grand Marnier or orange juice
Heavy cream
Vanilla extract
Shortcake Biscuits
How to make Strawberry Shortcake
See the recipe card for exact ingredient amounts and instructions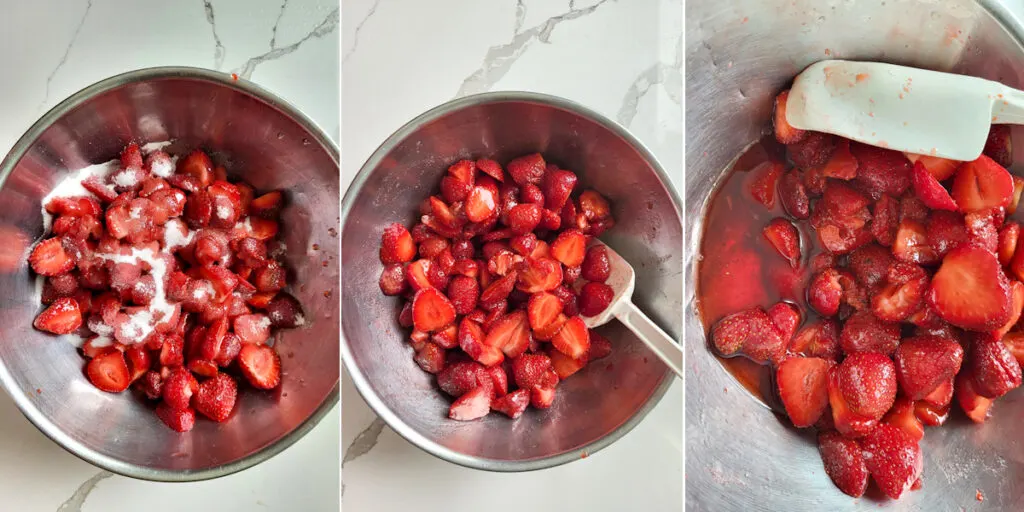 Toss the strawberries with the sugar.
Set the berries aside to "macerate".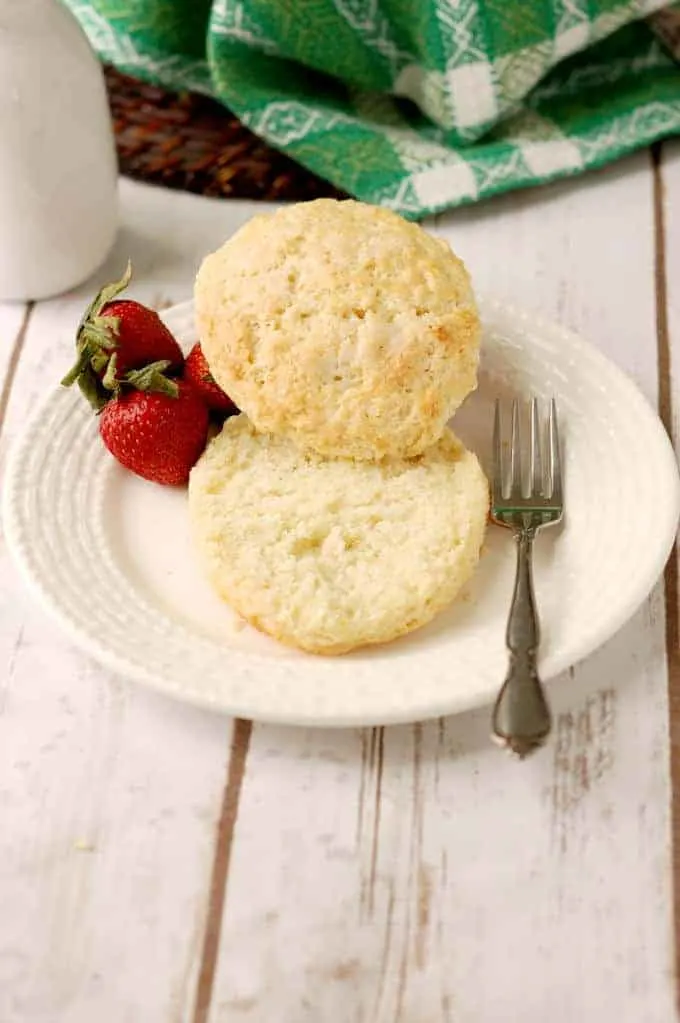 Split each shortcake. Sprinkle some of the juice from the berries and the biscuit and add a generous spoonful of berries.
Top with a dollop of whipped cream.
Pastry Chef Tips for making true Strawberry Shortcake
Use seasonal berries for the best strawberry flavor. Supermarket berries will work ok, but I think we all know that nothing, I mean nothing, tastes like a vine-ripened seasonal strawberry.
Macerate the berries. "Macerate" means to toss the berries in sugar and allow them to sit for a while. The sugar will draw out the juice to create a delicious syrup, and the berries will draw in some of the sugar. This not only makes the berries taste better, it keeps them from completely breaking down and turning into strawberry mush. You can read more about how this works in my Peach Pie post.
My secret ingredient…. drum roll please… a little hit of Grand Marnier. Not only does the hint of orange play well with the berries, the alcohol enhances other flavors. The Grand Marnier makes the strawberries taste more strawberry-y.
If you don't do alcohol use a splash of orange juice or lemon juice. It doesn't work quite the same, but the acidic juice will brighten the flavor of the berries.
Don't use just any old biscuit recipe, use my shortcake biscuits which are made especially to soak up the strawberry juice. These biscuits are a little sweeter and more cakey than regular biscuit.
Strawberry Shortcake is the perfect make-ahead dessert.
Though the shortcakes come together quickly and can be made the day you're serving them, you can make them a few days (or even weeks) before the party and freeze them. Defrost and reheat in the oven to revive the texture.
The strawberries can be prepared a day ahead and refrigerated.
The day of the party all you need to do is re-warm the shortcakes and whip some cream.
Set out the biscuits, berries and cream and allow guests to build their own Shortcake.
If you're not hosting a party, make the shortcakes and freeze any leftovers for later.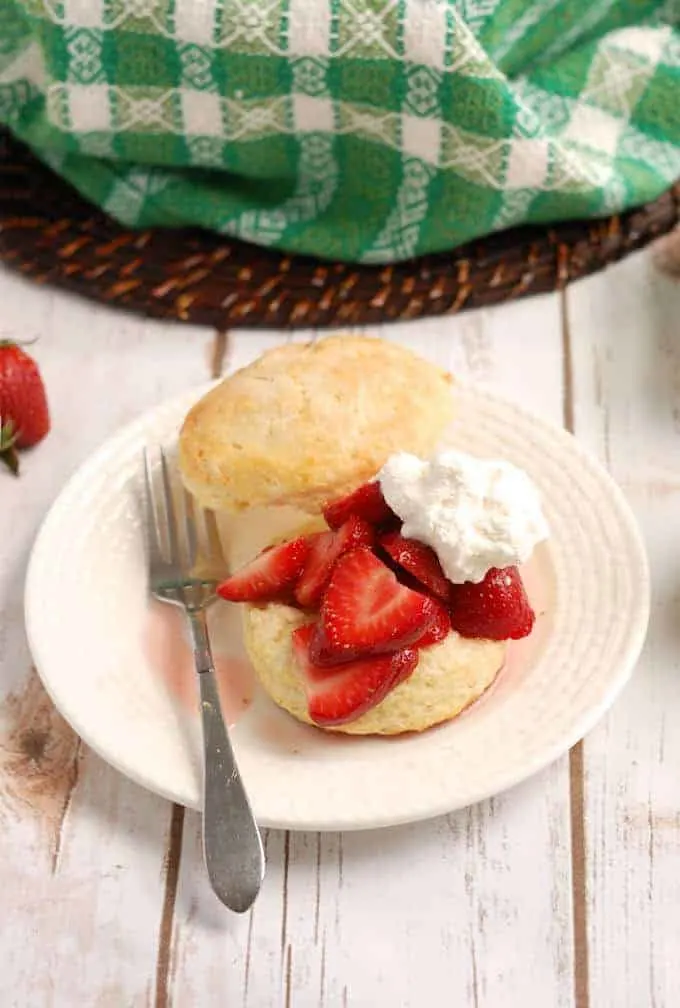 If you're a chocoholic, you can use my special Chocolate Shortcakes with Chocolate Chips and to really chocolify the recipe top the shortcakes with Chocolate Whipped Cream!
While you're enjoying fresh, seasonal berries I highly recommend this easy-to-make and incredibly delicious Fresh Strawberry Pie with Rosé Wine Glaze.
Lighter than air Fresh Strawberry Mousse or wonderful in a pretty dish or as a filling for Chocolate Strawberry Mousse Cake or with this White Cake Recipe.
For an easy but impressive dessert you can use your berries to make Strawberry Panna Cotta.
If you love this recipe as much as I do, please consider leaving a 5-star review.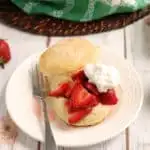 Print Recipe
Strawberry Shortcake Recipe
A true strawberry shortcake is not a layer cake, it's more of a biscuit topped with fresh berries and lots of whipped cream. It's the perfect early summer dessert.
Ingredients
1

quart

ripe strawberries

(stems removed)

6

oz

granulated sugar

(¾ cup, divided)

2

tablespoon

Grand Marnier or orange juice

(optional)

16

oz

heavy cream

(2 cups)

1

tablespoon

vanilla extract

12

each

Shortcake Biscuits

(baked and cooled to room temperature)
Instructions
Slice

1 quart ripe strawberries

and place them in a large bowl, toss in ½ cup of the granulated sugar and

2 tablespoon Grand Marnier or orange juice

. Set the berries aside for at least 30-60 minutes to macerate.

Whip

16 oz heavy cream

with 1/4 cup of sugar and vanilla until soft peaks form.

To serve, split open the shortcake biscuits. Top each biscuit with some berries and juice then top with a dollop of cream.
As an Amazon Associate and member of other affiliate programs, I earn from qualifying purchases.
Nutrition
Serving:
1
each
|
Calories:
215
kcal
|
Carbohydrates:
22
g
|
Protein:
2
g
|
Fat:
14
g
|
Saturated Fat:
9
g
|
Polyunsaturated Fat:
1
g
|
Monounsaturated Fat:
4
g
|
Cholesterol:
43
mg
|
Sodium:
21
mg
|
Potassium:
161
mg
|
Fiber:
2
g
|
Sugar:
19
g
|
Vitamin A:
565
IU
|
Vitamin C:
47
mg
|
Calcium:
38
mg
|
Iron:
0.4
mg