This Peach Crumb Pie is the perfect marriage of gorgeous tree ripened peaches with almond and brown sugar crumb topping.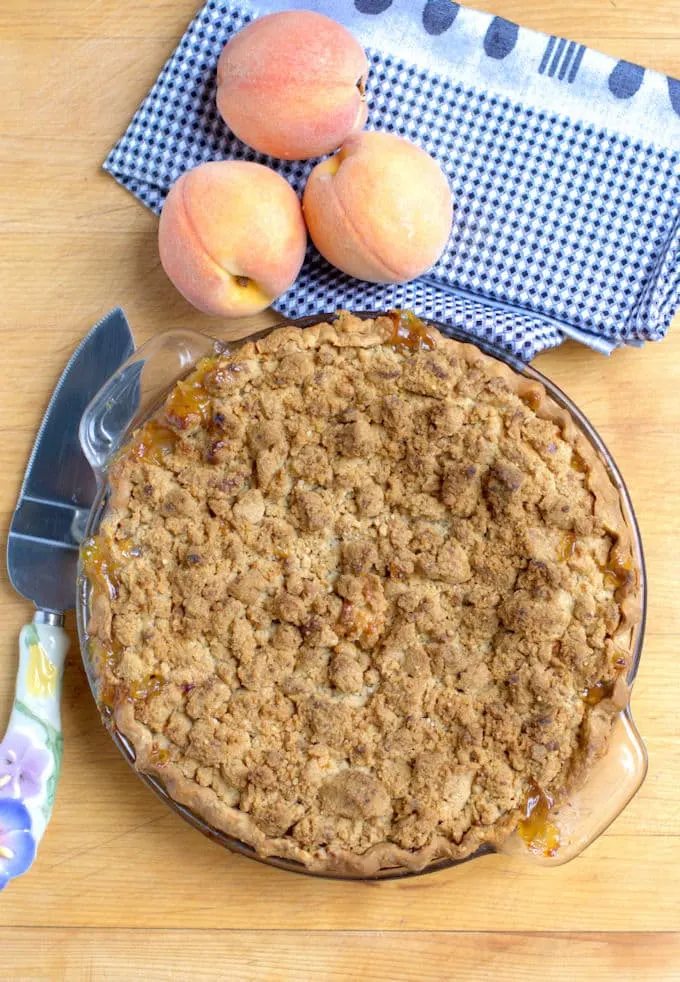 I've talked about my love of all things pie, and I've talked about my fruit obsession. Though I love all fruit and try not to play favorites, there is something very special about a tree-ripened peach.
Like tomatoes, peaches really are only worth eating when they're in season. I eat as many as I can while the gettin' is good. I have to indulge enough to carry me through to next summer!
I mostly prefer them as they are, in all their fuzzy, juicy glory. But hey, why not also bake them into a pie while they're bountiful?
Scroll through the step-by-step photos to see how to make a perfect Peach Crumb Pie with Almond:
How to make a great Peach Pie filling:
To start the filling, toss the peeled and sliced peaches with sugar and allow the fruit to macerate for a couple of hours.
Macerating the fruit is an important step for two reasons; to allow pre-cooking of the starch, and to help the fruit maintain it's shape while baking.
The sugar will draw out excess water from the fruit so we can pre-cook it with the corn starch to ensure that the starch will be fully activated (under cooking the starch could result in a runny pie filling).
When fruits and vegetables are heated (e.g., baked in pie) the cell walls weaken and the water contained in the plant leaks out. The fruit or vegetable looses it's structure and becomes mushy.
When uncooked fruit is tossed with sugar, the sugar is drawn into the fruit and reinforces the cell walls, thus allowing the fruit to maintain it's shape while baking.
No mushy pie filling! It's like magic, except that it's science.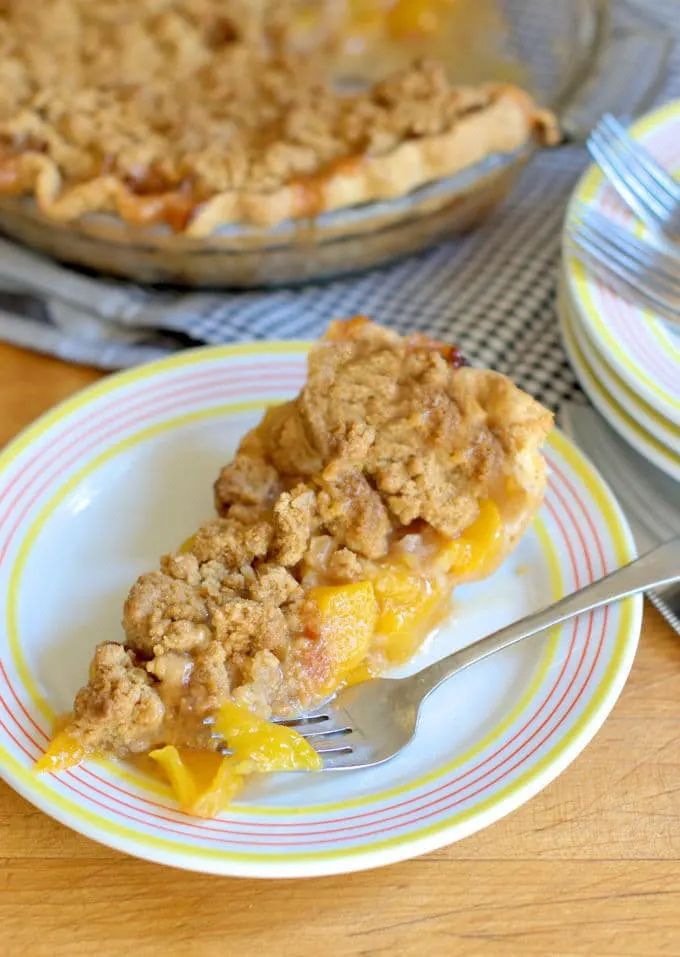 Want a peach recipe that's even easier than pie? Try this easy and delicious Skillet Peach Cobbler.
If you love this recipe as much as I do, I'd really appreciate a 5-star review.
You might also like: