These wonderfully Thick and Chewy Peanut Butter Cookies are loaded with chocolate chips and chunky honey roasted peanuts. Grab a glass of cold milk and enjoy a hearty snack.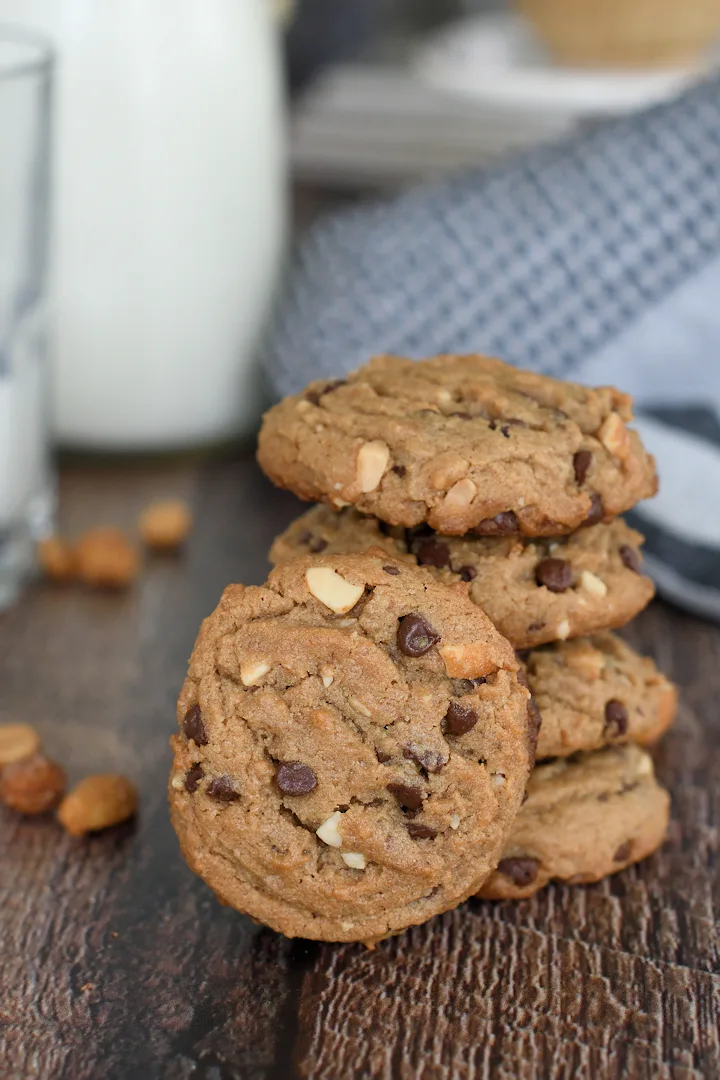 Are you a cookie monster? Me too! Are you a peanut butter monster? (hand raised) Well, your gonna love this recipe.
My starting point was the cookie dough recipe I created for Peanut Butter and Jelly Cookies. I LOVE those sandwich cookies. They're light and crisp and perfect filled with fluffy peanut butter frosting and sweet jelly.
With this recipe I was going for something else. I wanted a substantial cookie with a hearty texture and plenty of chew. Something a cookie monster could really sink their teeth into.
How to make thick and chewy peanut butter cookies: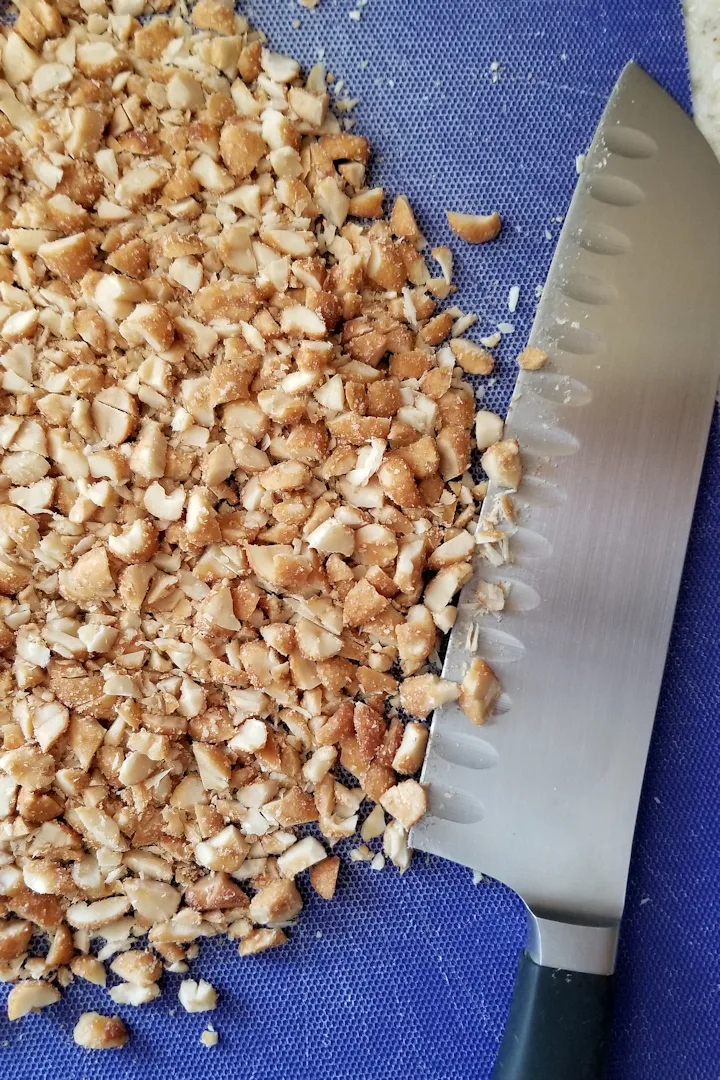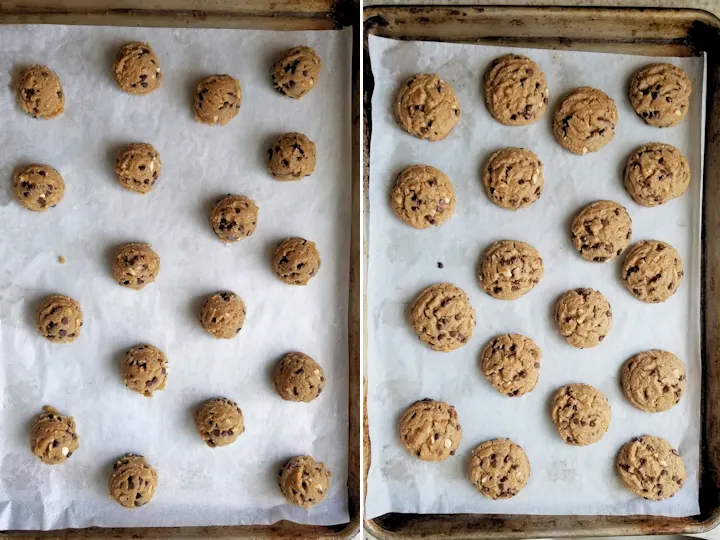 Tips for making thick and chewy peanut butter cookies:
Since I wanted substantial, thick cookies I reduced the amount of butter so the cookies spread less. Butter is almost 20% water. The drier the dough the less the cookies will spread.
Even though I removed some fat from the dough when I reduced the butter, peanut butter has plenty of fat.
Peanut butter also has protein which adds structure to the cookie and absorbs moisture. This added protein keeps the cookie from spreading.
I use proportionally more brown sugar to white sugar than in the original peanut butter cookie recipe. The molasses in the brown sugar is hygroscopic (attracts moisture) keeping the cookies from hardening as they cool. A softer cookie will be nice and chewy.
A little honey compliments the peanut flavor and honey is also hygroscopic.
Since this is a low-moisture dough, you don't need to chill the dough before baking. Preheat the oven while you mix the dough and they can go right into the oven.
Chopped honey roasted peanuts add another layer of peanut flavor plus a hint of sweetness
I prefer to use mini chips for even distribution of chocolate.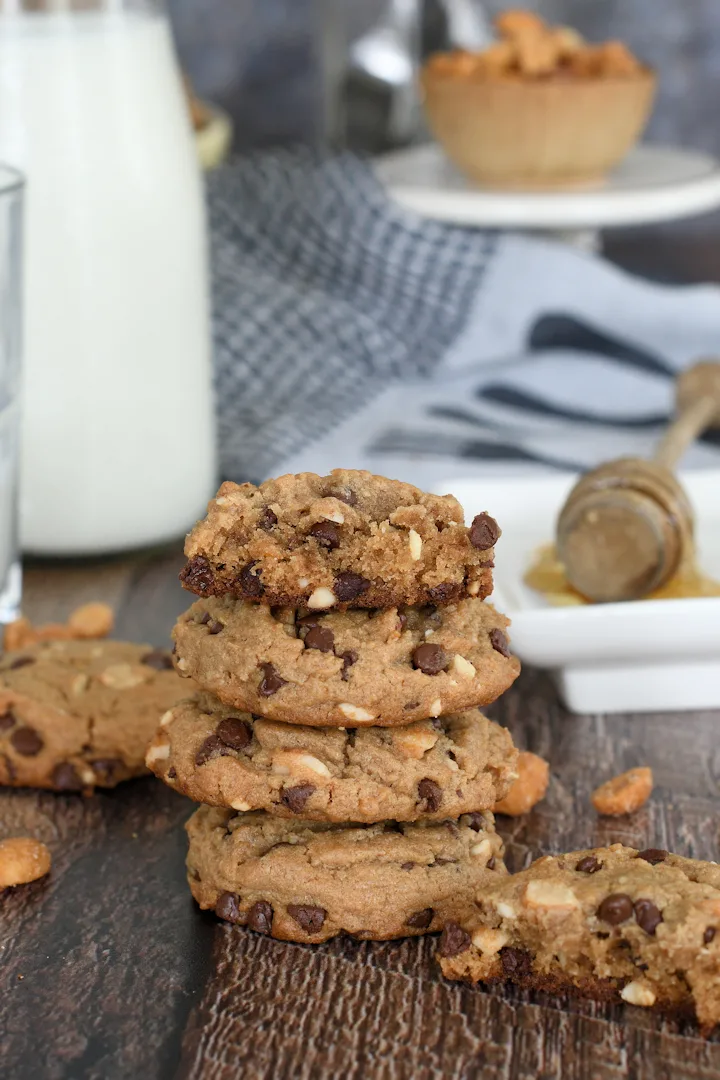 If you love this recipe as much as I do, I'd really appreciate a 5-star review.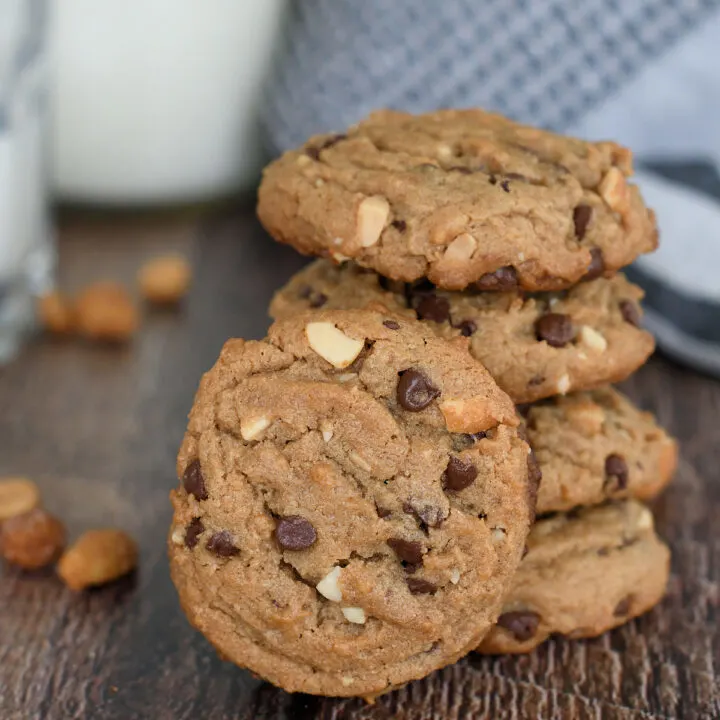 Thick & Chewy Peanut Butter Chocolate Chip Cookies
Perfectly thick and chewy peanut butter cookies loaded with chocolate chips and honey roasted peanuts.
Ingredients
2 cups (10 oz, 280g) all-purpose flour
1/2 teaspoon baking soda
1/2 teaspoon table salt
1 stick (4 oz, 112g) unsalted butter, at room temperature
1 cup (8 oz, 224g) dark brown sugar
1/2 cup (4 oz, 112g) granulated sugar
1/4 cup (3 oz, 85g) honey
1 cup (9 oz, 255g) peanut butter
2 large eggs
2 teaspoons vanilla extract
1 2/3 cup (10oz, 280g) chocolate chips
1 cup (4 oz, 125g) honey-roasted peanuts, chopped
Instructions
Preheat the oven to 350°F . Line 2 half sheet pans with parchment paper or silicone baking mats.
In a bowl, whisk together the flour, baking soda and salt, set aside.
In a mixer bowl, beat the butter with both sugars until light and creamy. Add honey and the peanut butter and mix to combine. Add the eggs and vanilla. Turn off the mixer and scrape the bowl. Add the dry ingredients and turn the mixer to low speed until the flour is partially incorporated. Add the chocolate chips and chopped peanuts. Increase speed to medium and mix just until combined.
Use a #40 scoop (3/4 oz) or tablespoon to scoop the dough into 1.5" balls. Place the cookie balls onto the sheet pan, spacing them 2" apart. At this point some or all of the cookie balls can be frozen to be baked later.
Bake until the edges of the cookies are beginning to brown and the tops are lightly puffed and still soft, about 10 minutes. Cool for 5 minutes before transferring to a cooling rack.
Notes
To work ahead, line the cookie balls onto a sheet pan and freeze until firm. Transfer the cookies balls to a freezer bags and store in the freezer for up to 2 months. To bake, place the frozen cookie balls onto a sheet pan and leave at room temperature while the oven preheats. Bake as directed.
Recommended Products
As an Amazon Associate and member of other affiliate programs, I earn from qualifying purchases.