Homemade Raspberry Curd! I think you'll be surprised how easy it is to make this versatile recipe. For something with such a frankly unappealing name, fruit curds are some of my favorite go-to ingredients for a wide variety of desserts.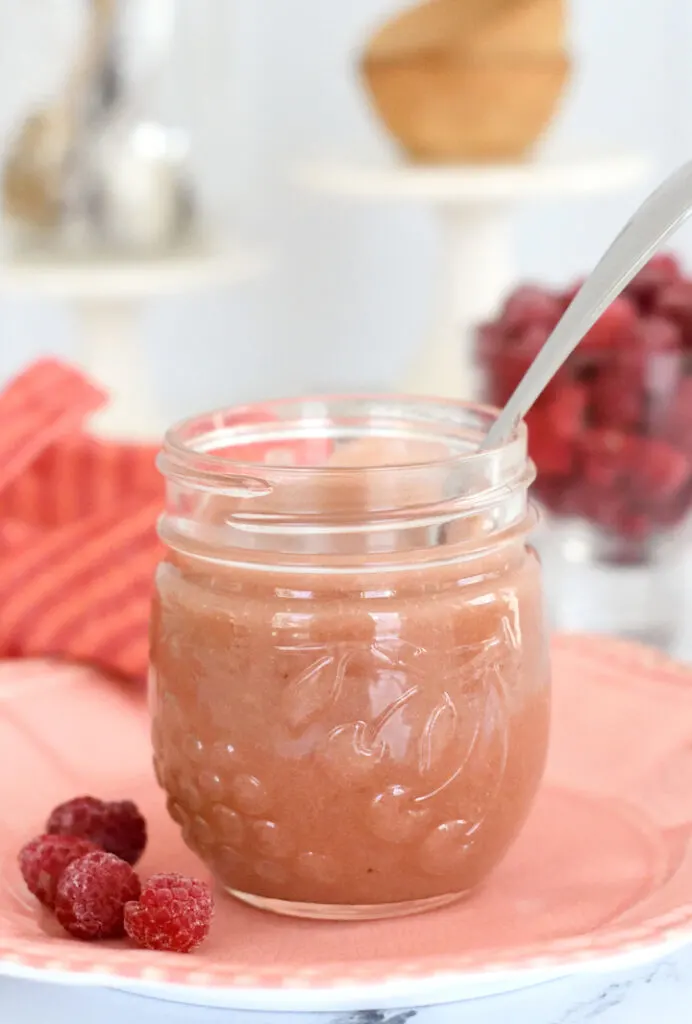 Tips for making Raspberry Curd:
You can use either fresh or frozen raspberries to make Raspberry Curd.
Always combine the sugar with the eggs before adding the raspberry puree. If you add the puree to eggs without the sugar, the acidity in the fruit will "cook" the eggs.
The gelatin is optional. Instructions for blooming gelatin can be found here.
If you're using the curd for a spread or sauce you don't need the gelatin.
Use the gelatin when you don't want the curd to be oozy, for example, in a cake or tart that will be sliced.
It's not necessary to cook the curd in a double boiler. You can cook the curd directly on the stove as long as you keep the heat on medium-low and stir constantly to avoid burning.
When the curd is ready it should coat the spatula or spoon.
The curd will keep for a couple of weeks in the refrigerator and can be frozen for several months.
If you use a bag of frozen raspberries to make this recipe, you'll end up with extra puree. What to do with it?
You can stir it into yogurt for breakfast or drizzle it over Frozen Yogurt, ice cream or Vanilla Mousse. Use the puree to make Raspberry Bellini's or to serve as a sauce with Angel Food Cake, Chiffon Cake, or with fresh berries and Pavolova.
To make raspberry buttercream whip the puree into Italian Meringue Buttercream.
Scroll through the step by step photos to see how to make Raspberry Curd: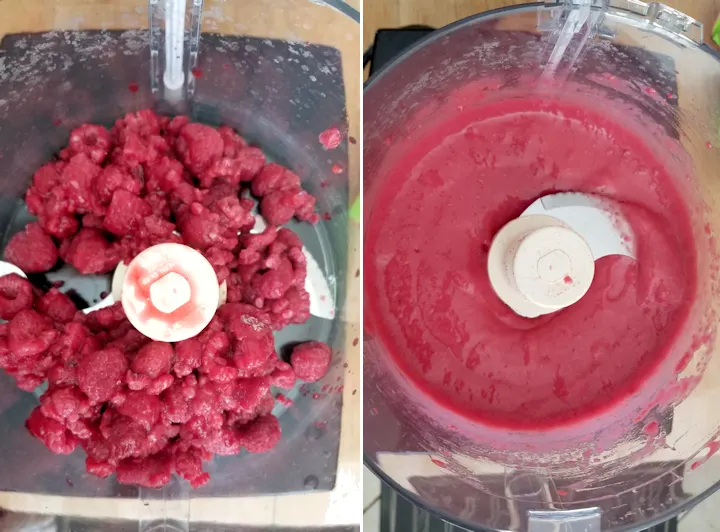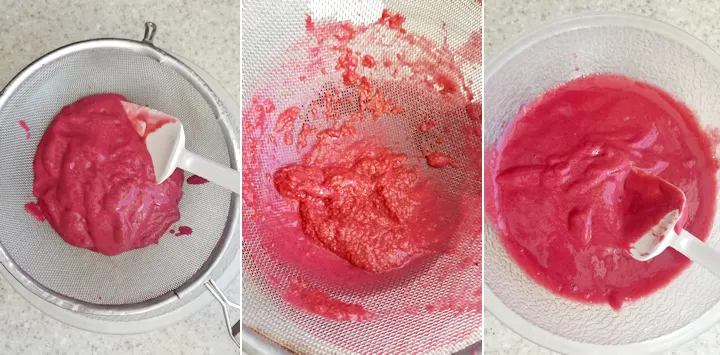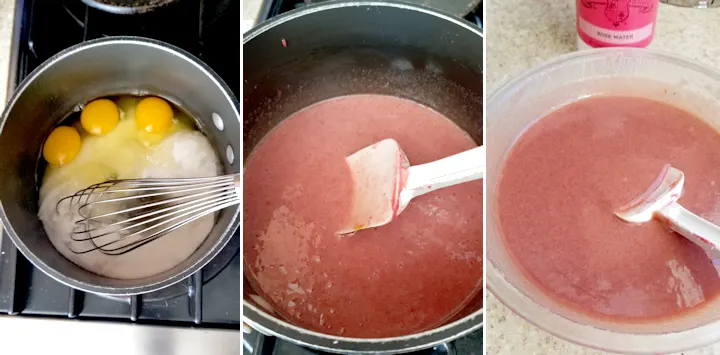 Once you've made this raspberry curd recipe you'll find a million ways to enjoy it.
I add just a hint of rosewater to this curd to use it as a filling for gorgeous and delicious Raspberry Rose Tarts.
For inspiration, here are some of my other favorite ways to use fruit curds: As a topping for scones, in Lime Layered Cheesecake, Lemon Filled Shortbread, Pink Grapefruit Meringue Tart or Pina Colada Pie.
Of course everyone has heard of lemon curd. But curd can be made with mango, passion fruit, and others. If you've got extra egg yolks, try this Yolks Only Lemon Curd.
Last, but certainly not least, all fruit curds (slightly warmed up), make a great topping for Vanilla Ice Cream.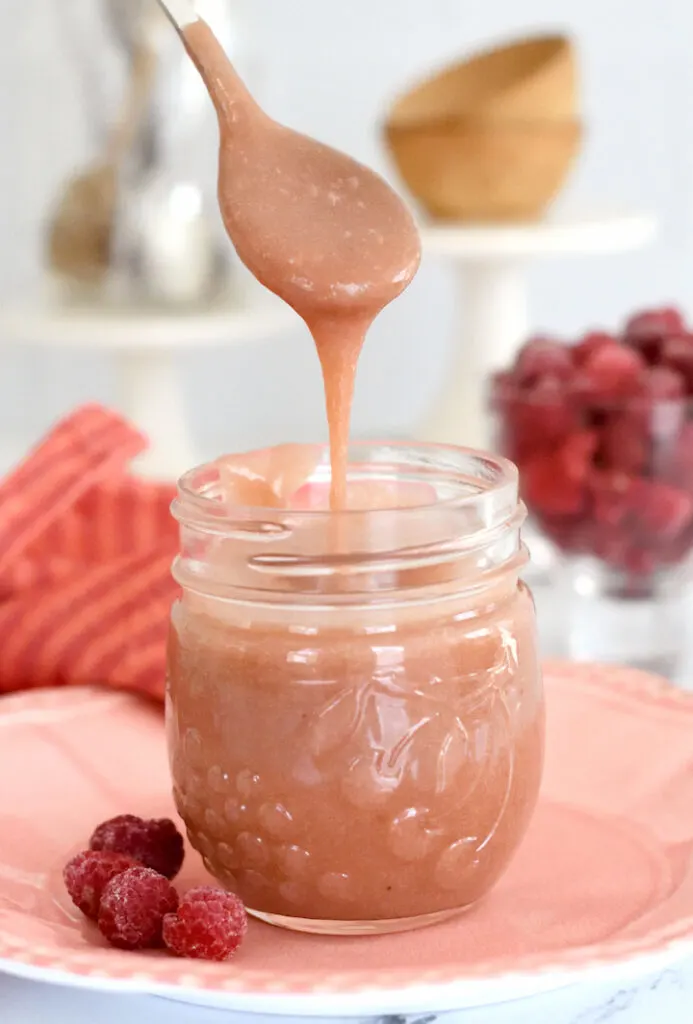 If you love this recipe as much as I do, I'd really appreciate a 5-star review.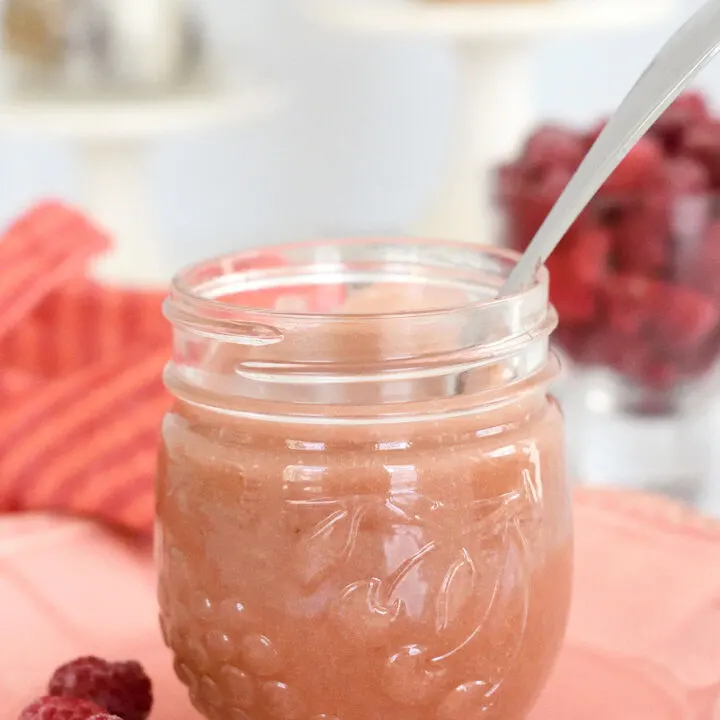 Raspberry Curd
Raspberry Curd is easy to make and so versatile in the kitchen.
Ingredients
12 oz bag (340g) frozen raspberries, defrosted (see note)
1 tablespoon fresh lemon juice
1 1/2 teaspoons gelatin powder (optional, see note)
1 1/4 cups (10oz, 280g) granulated sugar
3 large eggs
1/8 teaspoon salt
6 tablespoons (3 oz, 84g) unsalted butter, cut into 1" chunks
Instructions
Puree the berries in a food processor or blender. Run the puree through a sieve or the fruit strainer attachment of your mixer to remove the seeds. You should end up with about 1 1/4 cups of seedless puree. Measure out 1/2 cup of the puree for the curd and reserve the rest for another use. Stir the lemon juice into the 1/2 cup of puree.
If you're using the gelatin, bloom in 2 tablespoons cold water in a medium size bowl. Set aside.
Thoroughly whisk together the sugar and eggs in a medium saucepan. Add the 1/2 cup raspberry puree and salt to the pan.
Place the butter on top of the bloomed gelatin or in a clean bowl if you're not using the gelatin. Put a fine mesh sieve over the bowl and keep it near the stove.
Heat the egg/raspberry mixture over medium-low heat, stirring constantly. You must be sure to keep stirring across the entire bottom and corners of the pot so the custard does not have a chance to stick. The mixture will start out opaque with a fine white foam over the surface. As it heats up the curd will thicken and the foam will disappear.
Cook until the curd is just beginning to boil. Don't allow it to come to a full boil, just 1 or 2 bubbles and you're ready.
Immediately remove from the heat and pour through the sieve over the butter and (optional) gelatin.
Stir until the butter and gelatin are melted and thoroughly incorporated. Cover the bowl with plastic wrap and cool a bit before putting in the refrigerator.
Use as needed in your favorite recipes or as a spread.
Notes
Fresh raspberries can be used if you prefer.
Use the optional gelatin if you are using the raspberry curd as a cake or tart filling.
Recommended Products
As an Amazon Associate and member of other affiliate programs, I earn from qualifying purchases.