Homemade Frozen Yogurt flavored with honey and vanilla bean is a sweet, tangy and creamy treat that is absolutely simple to make. Does it matter which type of yogurt you use? Yep!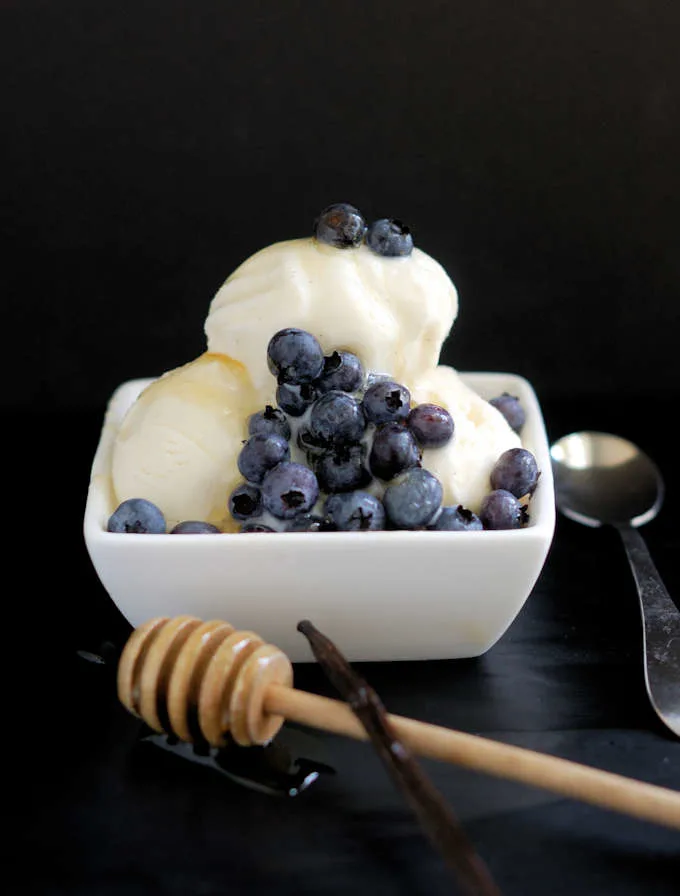 Today we're going to talk about frozen yogurt. If you're a fan of the tangy, creamy flavor of a good yogurt, this treat will be right up your alley.
I enjoy a bowl of yogurt for breakfast every morning. I love thick and creamy Greek yogurt with a little fresh fruit and a crumble of chunky granola. Since we always have plenty of Greek yogurt on hand, I was ready to go right ahead using my favorite yogurt to create a yummy frozen treat.
I did a little research as I was preparing the recipe and came across an article in Cooks Illustrated which explained why they don't like to use Greek yogurt when making frozen yogurt.
Much as I love and trust Cooks Illustrated, I wanted to see for myself if it really made a difference which type of yogurt I used. I figured if there was just a slight texture difference between the two, I could recommend using either type of yogurt.
Which type yogurt makes the best Homemade Frozen Yogurt?
To answer that question I mixed two batches of yogurt, one using a quart 5% fat Greek yogurt and the other with a quart of whole-milk Dannon yogurt.
Of course Cooks Illustrated was right. I was disappointed to find that the frozen Greek Yogurt was crumbly and dry. The best quality of a good Greek yogurt, it's thick and creamy texture, was not only masked, but actually worked against it when frozen.
There wasn't just a slight difference between the two batches, it was like night and day. I can say with full confidence that you shouldn't use Greek yogurt for this recipe.
One problem with regular yogurt (at least regular here in the US) is that it is much more watery than Greek yogurt.
You need a balance of fat and water to make a good frozen ice cream or yogurt. You need enough fat for a creamy texture (that's why I use whole-milk yogurt) and some water to freeze into ice crystals. But too much water means too much ice and a gritty texture.
An easy solution is to remove some of the water from the yogurt. A couple of hours draining in the refrigerator removed a cup of water from a quart of yogurt.
Scroll through the step-by-step process photos to see how to make Homemade Frozen Yogurt:
Now on to the flavor. I know that "frozen yogurt" might conjure up images of a healthy and diet-friendly treat. Yogurt has loads of health benefits and it's why I enjoy it plain, with no sugar or honey, every morning for breakfast. A little bit of chopped fresh fruit is all I need to lightly sweeten my breakfast.
It would be nice if we could make an edible frozen yogurt with no added sugar. But unless you want to gnaw on a solid ice block, some sugar is needed to soften the texture. If you need or want to avoid all added sugars, then I would recommend that you enjoy your yogurt chilled, but not frozen.
In my How To Make Ice Cream post I explain how sugar lowers the freezing point of water to keep ice cream from freezing into a solid block. I also explain how honey (and other "invert" sugars) have specific qualities that soften a frozen treat even more than regular sugar does.
So I settled on using half honey and half sugar. I love honey, but it has a strong flavor. Using half honey and half sugar takes advantage of the qualities of both sweeteners.
I used vanilla bean as the final flavoring because it has a more complex and full flavor than vanilla extract. Also, the little black flecks look lovely in the white frozen yogurt.
I love this Frozen Yogurt with Honey and Vanilla Bean. Admittedly, it's not quite as creamy and luscious as a frozen custard. But the special yogurty-tangy taste is a real treat. It's especially good with a tumble of fresh berries.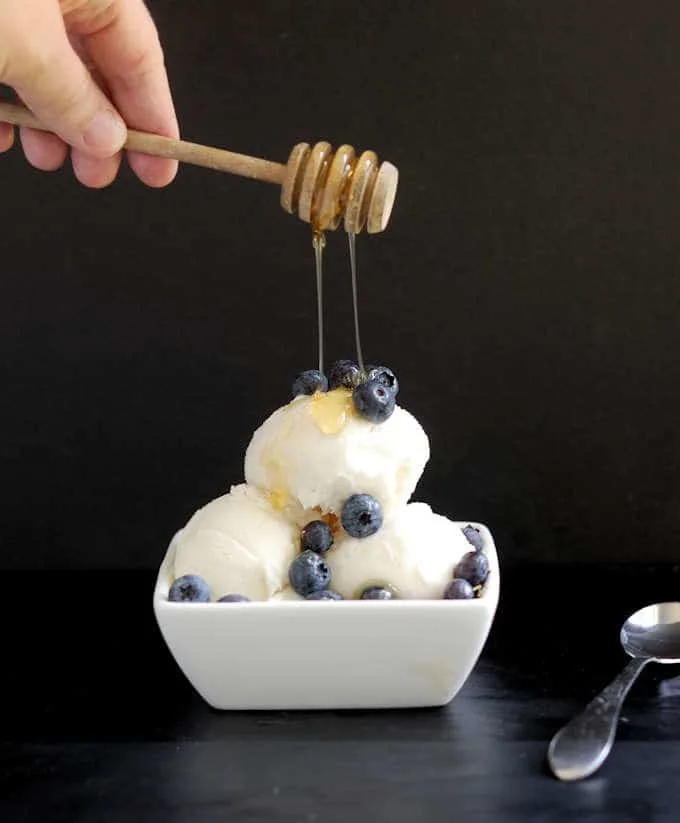 If you love this recipe as much as I do, please consider leaving a 5-star review.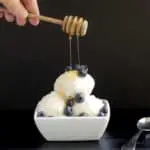 Print Recipe
Frozen Yogurt with Honey & Vanilla Beans
Homemade Frozen Yogurt flavored with honey and vanilla bean is a sweet, tangy and creamy treat that is absolutely simple to make.
Ingredients
1

quart

plain whole-milk yogurt

(not Greek yogurt)

4

oz

sugar

(½ cup)

3

oz

honey

(¼ cup)

½

Vanilla Bean

(split & seeds removed)
Instructions
Place a sieve over a bowl and line the sieve with two layers of cheesecloth. Pour

1 quart plain whole-milk yogurt

into the cheesecloth and fold the edges over the yogurt to cover. Set the yogurt in the refrigerator for 3-4 hours until a cup of liquid has drained from the yogurt.

Discard the liquid and put the yogurt into the bowl. Stir in

4 oz sugar

,

3 oz honey

and vanilla bean seeds. Let the mixture sit for 15-20 minutes in the refrigerator until all the sugar has dissolved.

Run the mixture in your ice cream machine according to the manufacturer's instructions.

Transfer the frozen yogurt to a plastic container and lay a piece of plastic wrap directly on the surface of the yogurt. Cover the container and freeze at least 6-8 hours until solid. (see note)
Equipment
Freezer Storage Containers
As an Amazon Associate and member of other affiliate programs, I earn from qualifying purchases.
Notes
Because of the honey this yogurt will not freeze rock-hard. It will be scoop-able right out of the freezer.
Nutrition
Serving:
1
serving
|
Calories:
159
kcal
|
Carbohydrates:
28
g
|
Protein:
4
g
|
Fat:
4
g
|
Saturated Fat:
2
g
|
Polyunsaturated Fat:
0.1
g
|
Monounsaturated Fat:
1
g
|
Cholesterol:
15
mg
|
Sodium:
55
mg
|
Potassium:
189
mg
|
Fiber:
0.02
g
|
Sugar:
28
g
|
Vitamin A:
117
IU
|
Vitamin C:
1
mg
|
Calcium:
144
mg
|
Iron:
0.1
mg
You might also like: