♩ ♪ ♫ ♬ If you like Piña Coladas…..You'll love Piña Colada Pie!!! A toasted coconut-graham cracker crust is filled with a layer of pineapple/rum curd, a layer of coconut/rum cream and topped with a mound of rum-spiked whipped cream and, finally, a sprinkle of toasted coconut. Alcohol not your thing? Ok. Make it a "Virgin" Colada Pie by leaving out the rum.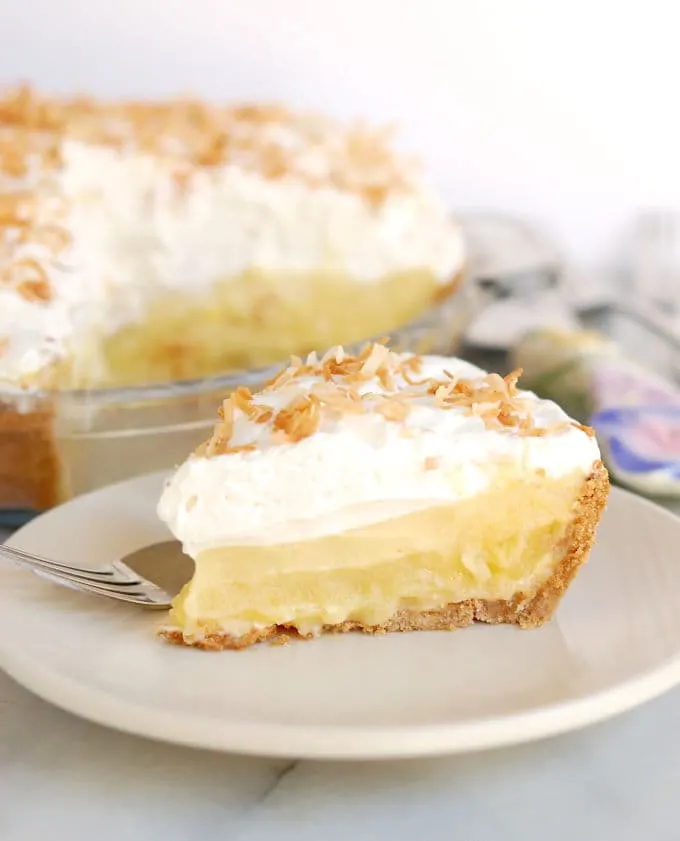 As you might have guessed if your a frequent reader of my blog, I love a good strong cocktail or a glass of wine. But sweet and creamy drinks are not really my thing. I'd much rather eat a slice of Piña Colada Pie than drink an actual Piña Colada.
If you do love those creamy drinks, I can't imagine you won't love this pie.
Remember, you don't have to be a drinker to enjoy this dessert. If you don't do alcohol, just make a "Virgin" Colada Pie.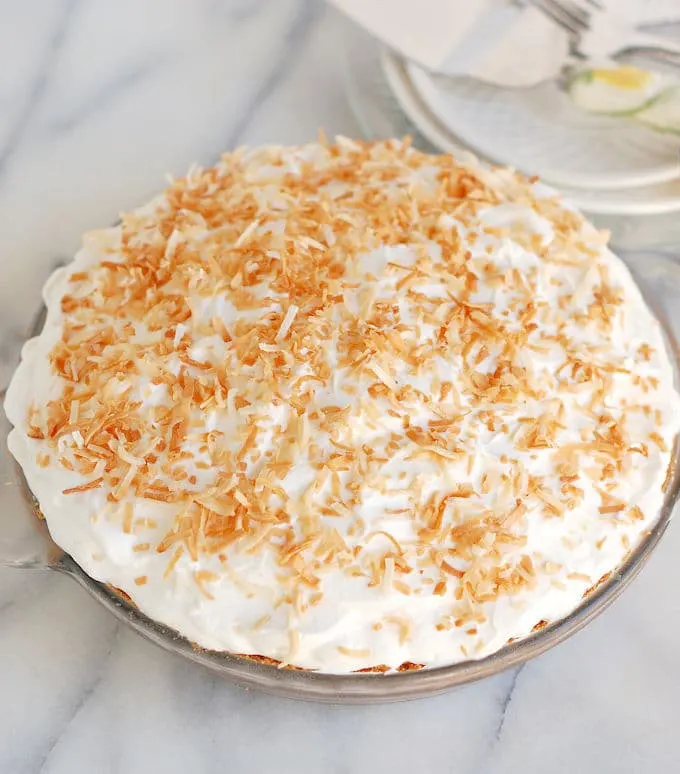 Tips for making Pina Colada Pie:
To create a "Virgin" colada pie use water instead of rum to bloom the gelatin and skip the rum in the coconut pastry cream or whipped cream.

The pie shell can be baked and lined with white chocolate a few days ahead.

To be sure that the curd will set, use canned pineapple rings not fresh-cut pineapple.

The pineapple curd can be refrigerated for several days before assembling the cake.

The pastry cream should be made the same day it goes into the pie shell.

The assembled pie can be kept covered in the refrigerator for 1 day before topping with cream and serving.
Ok baking geeks, I got some baking science for ya!!
(Not into the science? Feel free to scroll right to the how-to video or recipe.)
From a baking geek's perspective, the most interesting thing about this recipe is the pineapple curd. Fruit curds are one of my go-to dessert ingredients. I love the bright flavor and luscious texture of a good fruit curd.
Generally, when I include a fruit curd filling within another recipe I'll just post a link to my basic curd recipe. That recipe is very versatile and can be made with almost any fruit juice. No special explanation is needed.
When I use curd as a tart or cake filling I like to add a little gelatin to help the filling keep it's shape when sliced. But pineapple poses a problem for any recipe that contains gelatin.
Hey, what is gelatin anyway, and how does it work?
Gelatin is an animal by-product made up of proteins. When gelatin is mixed into a hot liquid (like pineapple juice) the molecules are free to move around. A warm gelatin solution is a free-flowing liquid. As the solution cools down and the molecules move more slowly, the proteins form links. The protein links trap the water in the solution. The cooled gelatin solution is no longer free-flowing. The liquid has become a solid gel.
Fresh pineapple (and papaya, melon, and kiwi) contains a chemical called bromelain. Bromelain contains protein-digesting enzymes. If you add fresh pineapple to a recipe with gelatin, those enzymes will continuously break down the proteins in the gelatin, preventing them from linking-up to form the gel.
When pineapple is heated the enzymes are deactivated, so they no longer prevent the gelatin from setting up. The point of my long-winded gelatin explanation? For any recipe that includes gelatin, you must use canned (or cooked) pineapple instead of fresh. Ok, back to the recipe at hand…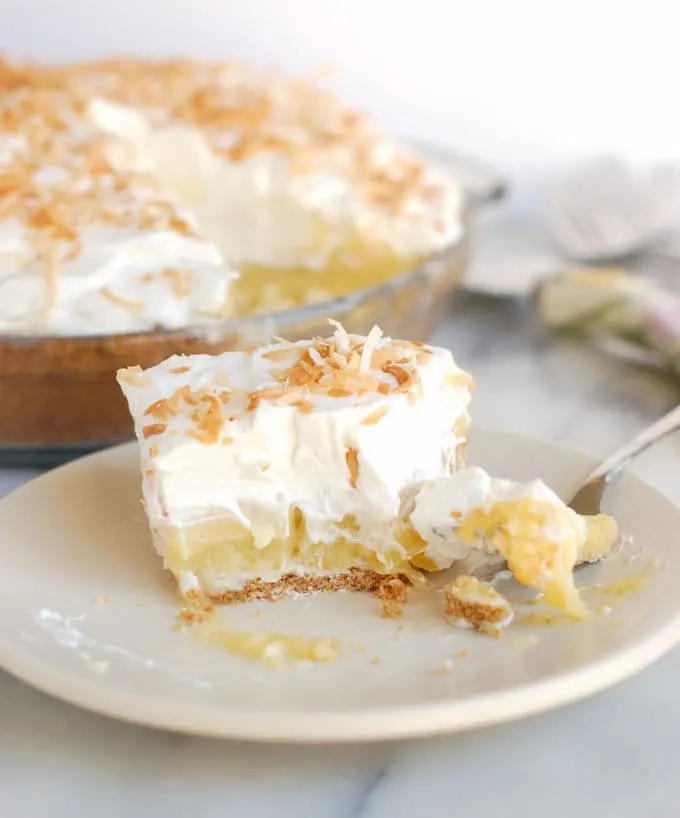 Watch the recipe video to see how to put together a Piña Colada Pie:
Video Music: "Island Fever" from Partners in Rhyme.
If you love this recipe as much as I do, please consider leaving a 5-star review.
You might also like: