♩ ♪ ♫ ♬ If you like Piña Coladas…..You'll love Piña Colada Pie!!! A toasted coconut-graham cracker crust is filled with a layer of pineapple/rum curd, a layer of coconut/rum cream and topped with a mound of rum-spiked whipped cream and, finally, a sprinkle of toasted coconut. Alcohol not your thing? Ok, make it a "Virgin" Colada Pie by leaving out the rum.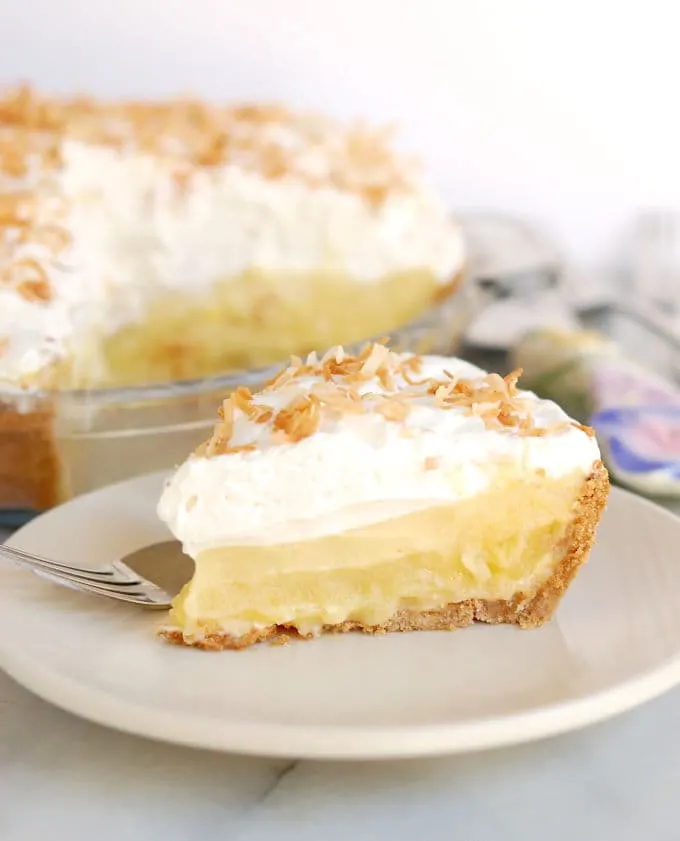 As you might have guessed by now, I love a good strong cocktail or a glass of wine. But sweet and creamy drinks are not really my thing. I'd much rather eat a slice of Piña Colada Pie than drink an actual Piña Colada.
If you do love those creamy drinks, I can't imagine you won't love this pie.
Remember, you don't have to be a drinker to enjoy this dessert. If you don't do alcohol, just follow the instructions in the "notes" section of the recipe to make a "Virgin" Colada Pie.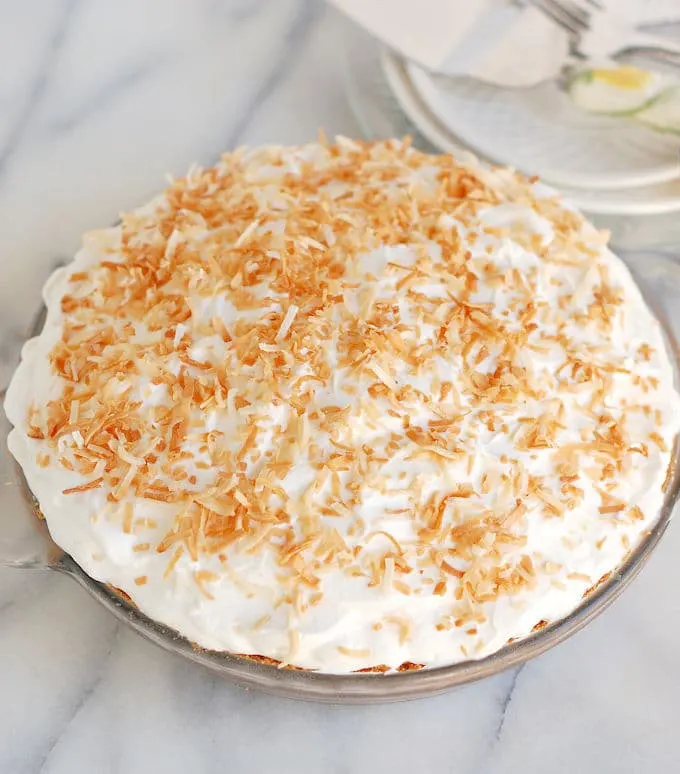 Ok baking geeks, I got some science for ya!!
(Not into the science? Feel free to jump right to the how-to video or recipe.)
From a baking geek's perspective, the most interesting thing about this recipe is the pineapple curd. Fruit curds are one of my go-to dessert ingredients. I love the bright flavor and luscious texture of a good fruit curd.
Generally, when I include a fruit curd filling within another recipe I'll just post a link to my basic curd recipe. That recipe is very versatile and can be made with almost any fruit juice. No special explanation is needed. When I use curd as a tart or cake filling I like to add a little gelatin to help the filling keep it's shape when sliced. But pineapple poses a problem for any recipe that contains gelatin.
Hey, what is gelatin anyway, and how does it work?
Gelatin is an animal by-product made up of proteins. When gelatin is mixed into a hot liquid (pineapple curd) the molecules are free to move around. A warm gelatin solution is a free-flowing liquid. As the solution cools down and the molecules move more slowly, the proteins form links. The protein links trap the water in the solution. The cooled gelatin solution is no longer free-flowing. The liquid has become a solid gel.
Fresh pineapple (and papaya, melon, and kiwi) contains a chemical called bromelain. Bromelain contains protein-digesting enzymes. If you add fresh pineapple to a recipe with gelatin, those enzymes will continuously break down the proteins in the gelatin, preventing them from linking-up to form the gel.
When pineapple is heated the enzymes are deactivated, so they no longer prevent the gelatin from setting up. The point of my long-winded gelatin explanation? For any recipe that includes gelatin, you must use canned (or cooked) pineapple instead of fresh. Ok, back to the recipe at hand…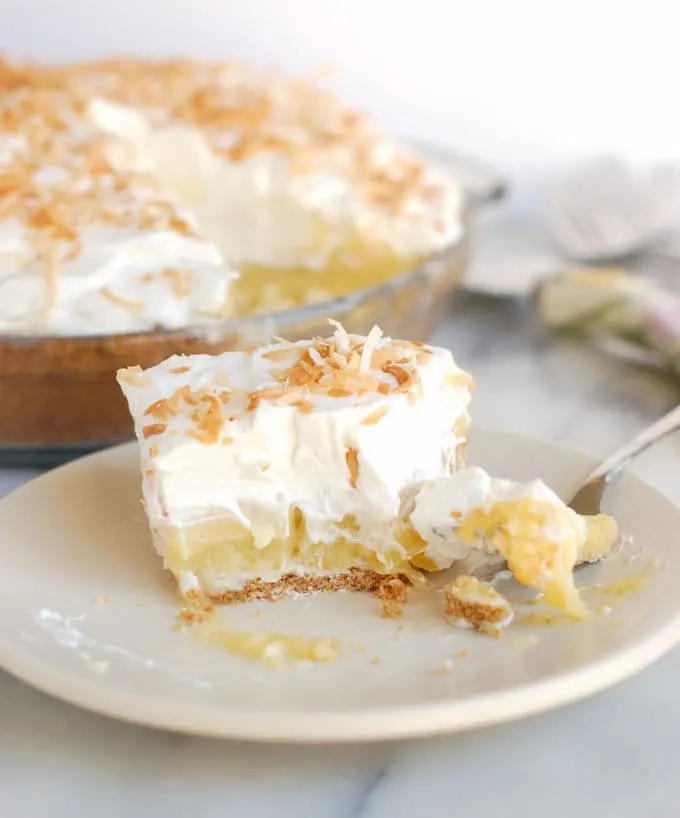 Watch the recipe video to see how to put together a Piña Colada Pie:
Video Music: "Island Fever" from Partners in Rhyme.
So, go ahead and treat yourself! Indulge in a slice of tropical heaven.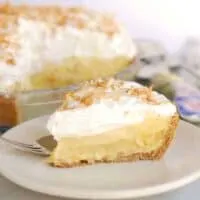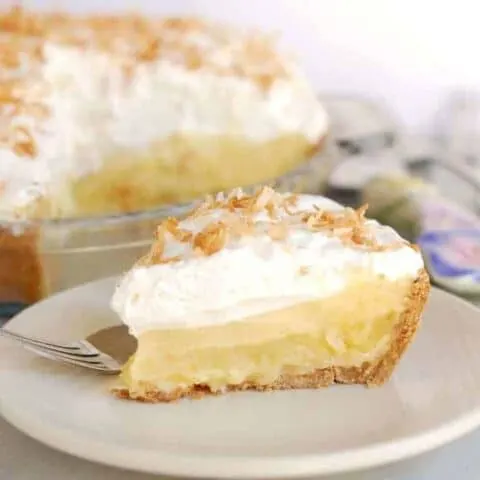 Piña Colada Pie (or Virgin Colada Pie)
Total Time:
5 hours
30 minutes
Toasted coconut-graham cracker crust is filled with a layer of pineapple/rum curd, a layer of coconut/rum cream and topped with a mound of rum-spiked whipped cream and, finally, a sprinkle of toasted coconut.
Ingredients
Pineapple Curd
10 oz (1 1/4 cups, 285g) granulated sugar
3 eggs
4 oz (1/2 cup, 125ml) canned pineapple juice (do not use fresh juice! See note)
Pinch of salt
2 teaspoons lemon juice
2 tablespoons dark rum
1 1/2 teaspoons gelatin powder
3 oz (3/4 stick, 85g) unsalted butter
Graham Cracker Coconut Crust
3 oz (6 tablespoons, 85g) butter, melted
1 1/4 cup graham cracker crumbs (about 10 crackers, 5 oz, 140g)
1/2 cup (1.5 oz, 45g) toasted coconut, ground in a food processor
1/4 cup (2 oz, 56g) granulated sugar
Coconut Rum Pastry Cream
1 cup (8 oz, 235 ml) Coconut milk
1/2 cup (4 oz, 118 ml) whole milk
1/2 cup plus 2 tablespoons (5 oz, 140g) granulated sugar
1/2 vanilla bean
pinch of salt
2 eggs
2 yolks
3 tablespoons corn starch
3 tablespoons (1.5 oz, 42g) butter
2 tablespoons rum
Assembly
4 oz ( white chocolate, chopped fine
5 canned pineapple slices (do not use fresh pineapple, see note)
2 cups heavy cream
1/4 cup (1 oz, 28g) confectioner's sugar
1 tablespoon dark rum
1 teaspoon vanilla extract
1/2 cup toasted coconut and 1/2 cup untoasted coconut
Instructions
Make the Pineapple Curd
Bloom the gelatin in 2 tablespoons rum in a medium size bowl. Place the butter on top of the bloomed gelatin. Put a fine mesh sieve over the bowl and keep it near the stove.
Thoroughly combine the eggs and sugar in a medium saucepan. Add the pineapple juice, lemon juice and salt. Heat the egg/juice mixture over medium low heat, stirring constantly. You must be sure to keep stirring across the entire bottom and corners of the pot so the custard does not have a chance to stick. The mixture will start out opaque with a fine white foam over the surface. As it heats up the curd will thicken, become more translucent and the foam will disappear. Cook until the curd coats the back of a wooden spoon and it JUST BEGINS to boil. Don't allow it to come to a full rolling boil.
Immediately remove from the heat and pour through the sieve over the butter and gelatin. Stir until the butter and gelatin are melted and thoroughly incorporated. Cover the bowl with plastic wrap and refrigerate at least 4-6 hours.
Coconut-Graham Cracker Crust
Preheat the oven to 325°F convection or 350°F regular.
Toast 1 cup sweetened coconut until golden brown, stir to avoid burning in spots. Set aside 1/2 cup of toasted coconut for decorating and grind the other 1/2 cup to crumbs for the crust.'
Combine graham cracker and toasted coconut crumbs with the sugar. Sprinkled melted butter over the crumbs and toss to combine. Press the crumbs into the bottom and sides of a deep dish pie plate.
Bake until golden brown, about 10 minutes. While the crust is still warm sprinkle the chopped white chocolate into the bottom of the pie shell. Allow the chocolate to melt and then carefully spread it across the bottom and sides of the pie shell. Allow the shell to cool completely until the white chocolate is set.
Coconut Rum Pastry Cream
Combine coconut milk and whole milk with half of the sugar, the salt, and the vanilla bean. Heat over medium high until scalding hot.
While the milk heats up, combine the eggs, yolks, remaining sugar and corn starch and whisk until smooth. When the milk is scalding hot pour it into the egg mixture and whisk to combine. Return to the pot and cook over medium low heat until it comes to a boil. Remove from the heat and strain into a bowl. Add the butter and rum to the hot custard and whisk to combine. Cover with plastic wrap and let it cool at room temperature until tepid.
Assembly
Cut the pineapple slices in half and arrange them in the bottom of the white chocolate lined pie shell. Spread the pineapple curd over the pineapple slices. Sprinkle the 1/2 cup untoasted coconut over the curd. Spread the coconut pastry cream over the curd. Cover with plastic wrap and refrigerate at least 3 hours or overnight to set the filling.
Whip the cream with the confectioner's sugar, rum and vanilla. Spread the cream onto the chilled filling. Sprinkle with remaining toasted coconut to garnish. Chill until ready to serve.
Notes
To create a "Virgin" colada pie use water instead of rum to bloom the gelatin and don't use the rum in the coconut pastry cream or whipped cream.
There is an enzyme in fresh pineapple that breaks down the protein in gelatin, so gelatin won't set. Cooking the pineapple, as it is when canned, deactivates that enzyme allowing the gelatin to set.
To work ahead: The pie shell can be baked and lined with white chocolate a few days ahead. The pineapple curd can be refrigerated for several days before assembling the cake. The pastry cream should be made the same day it goes into the pie shell. The assembled pie can be kept covered in the refrigerator for 1 day before finishing and serving.