Lime Layered Cheesecake is the perfect slice of creamy, tangy dessert heaven. This is a true layer cake made with cheesecake layers instead of regular cake layers.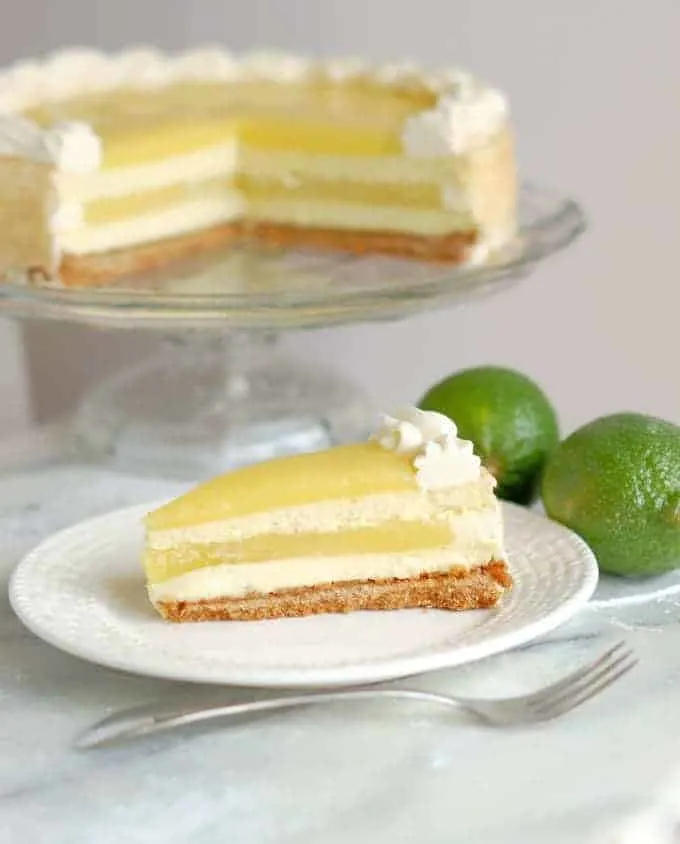 As I've confessed before, despite the fact that I ran a successful custom cake business for 10 years, and I know exactly how to create the best cake recipes, cake is probably my least favorite dessert.
It's not that I don't think cake tastes good, I do, especially a good scratch-baked cake. I enjoy a slice of Bundt or pound cake with a cup of tea. But I will always choose a pie, tart, custard or cheesecake before a slice of layer cake.
Over the decade that I baked cakes for a living, I went out of my way to include non-traditional fillings and layers to make my cakes less cake-like. I put a giant cookie at the bottom of my Chocolate Chip Cookie Cake to make it better. Some of my other popular flavors had mousses, brownies, curds and cheesecake between the layers.
How I invented Layered Cheesecake:
One of my personal favorite flavors from my cake business was the "Key Lime Cake". That cake was made with layers of vanilla cake, lime cheesecake, graham cracker crunch and lime curd. With this Lime Cheesecake recipe I've taken that concept one step further and eliminated the "cake" all together.
I love the contrast of tangy lime curd with creamy cheesecake. By adding a graham cracker crust to one of the layers we also have a nice crunchy element as well.
Is Layered Cheesecake really tricky to make?
Nope! It's surprisingly easy to make as long as you follow the directions. This is one of those times when an idea I had in my head actually works exactly as I imagined. Believe me, that's not always the case.
Tips for making a Lime Layered Cheesecake:
Don't skip the step where you line the pans with parchment rounds. This makes getting the frozen cheesecake layer out of the pan much, much easier.
The cheesecake should be baked all the way through to the center. Because these layers are much thinner than a regular cheesecake they won't continue to bake after coming out of the oven.
You'll need to work with the layers while they're frozen so you can build the cake without smooshing the layers.
The lime curd is made with just enough gelatin so it will hold it's shape when the cake is cut. When you pour soft lime curd between the frozen cheesecake layers it will set quite quickly and adhere to the cheesecake layers for a seamlessly layered cake.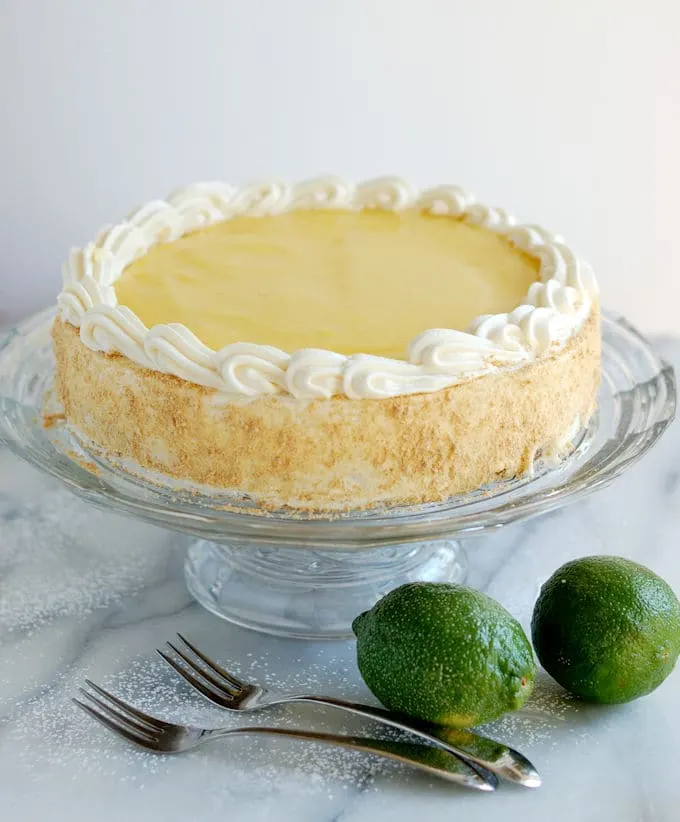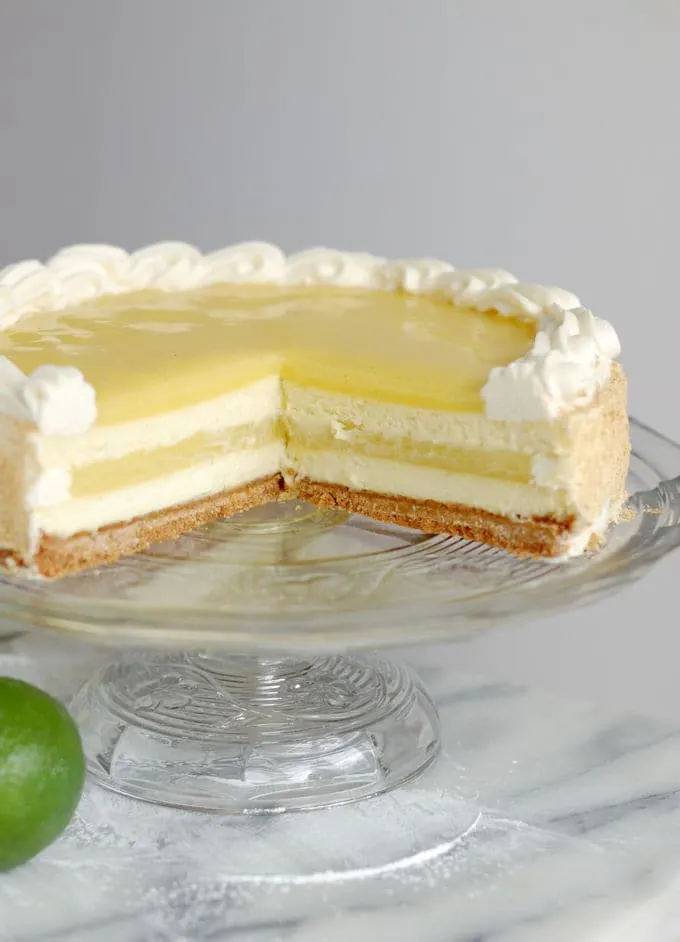 Just when you thought cheesecake couldn't get any better, it does.
If you want to make another cheesecake that breaks all the cheesecake rules check out this recipe for San Sebastian Cheesecake.
Watch the recipe video to see how-to put together this stunning Lime Layered Cheesecake:
If you love this recipe, please consider giving it 5 stars.
You might also like: