Vanilla Chiffon Cake is made with whipped eggs and oil. Oil makes the chiffon cake moist and tender, and whipped eggs make it super-light. This recipe can be baked as a layer cake or in a tube pan.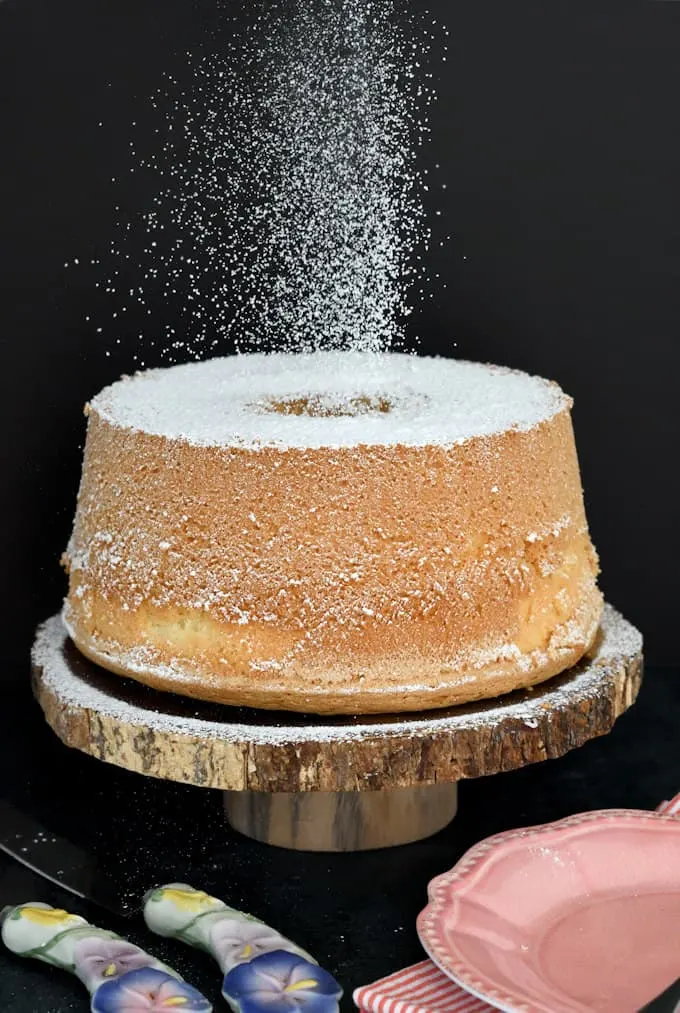 I think "chiffon" is a great word. Not only is it a pretty sounding word, it also conjures up images of softness, airiness and luxury, like the namesake fabric.
Those are all lovely traits for a cake, no? Who doesn't want a cake that is soft, airy and luxurious?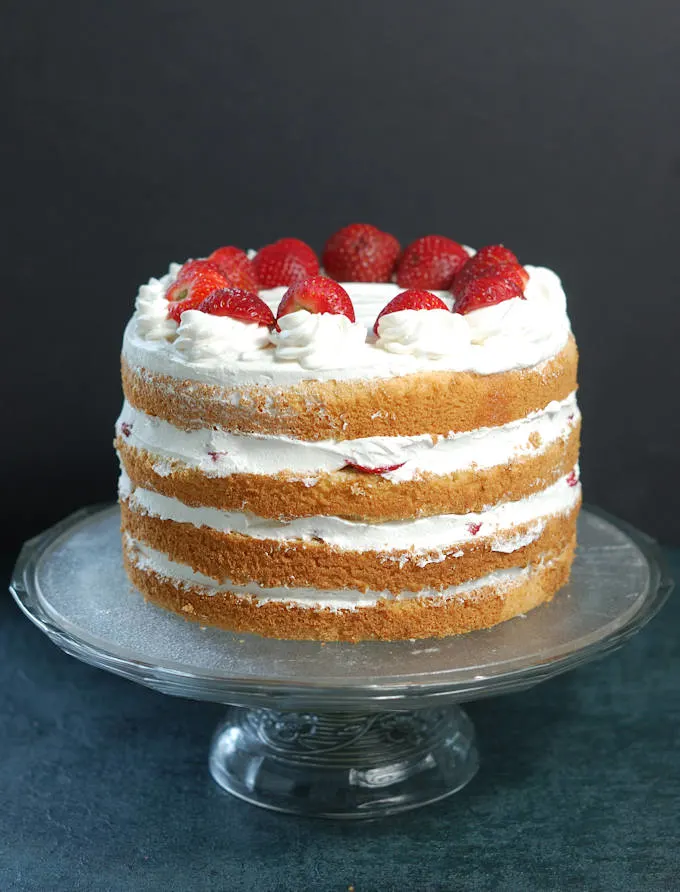 What is Chiffon Cake?
What makes chiffon cake unique is the fact that it's sort-of a cross between a rich buttery cake and an airy sponge cake. It's got the best of both worlds.
The lightness comes from first whipping up the yolks with the other ingredients and then folding in whipped egg whites. There's also a generous dose of baking powder in the batter to help expand all those air bubbles.
When baked in an ungreased tube pan, this cake puffs up super-high and is light as a cloud.
The cake is made with oil and water in the batter, which help create the soft crumb in the cake. The oil not only adds moisture to the cake, but the oil coats the flour which prevents gluten formation. So this cake is very, very tender.
Oil stays liquid when chilled, so a chiffon cake will stay soft, even when refrigerated.
That means this is the perfect base for cakes that require refrigeration. One of my favorite ways to use vanilla chiffon cake is to make a spectacular cream-filled Strawberry Tall Cake. You could also fill this cake with light and airy Fresh Strawberry Mousse.
Watch the recipe video to see exactly how to make Vanilla Chiffon Cake: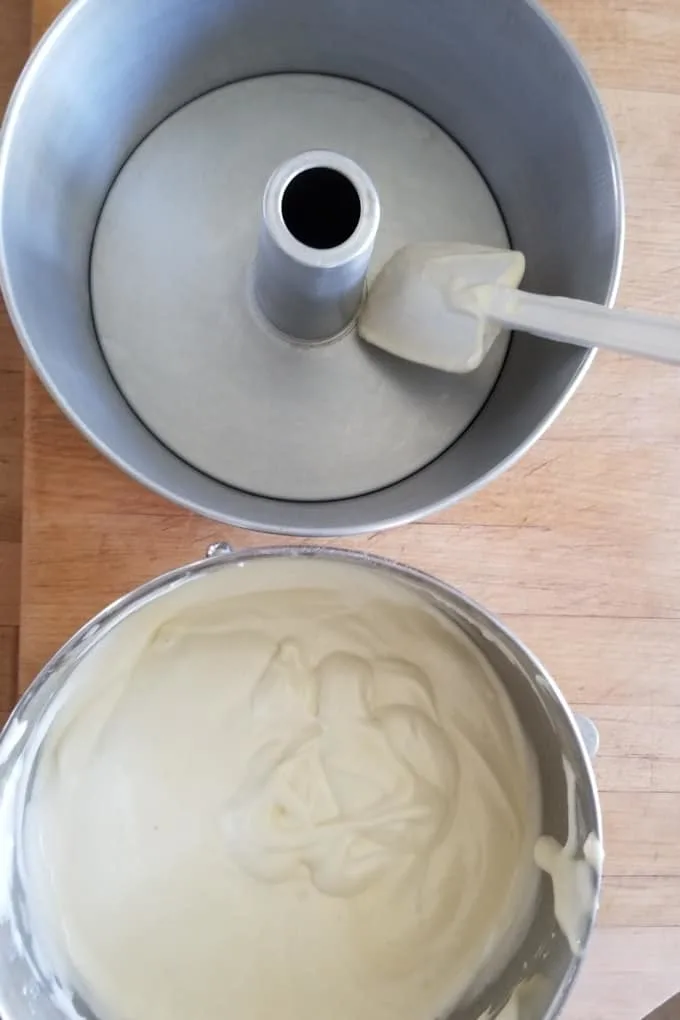 FAQs about Vanilla Chiffon Cake:
What type of baking pan should I use for vanilla chiffon cake?
Chiffon cakes are traditionally baked in an angel food cake pan. The batter can also be baked in two 8″ or 9″ round pans to make a layer cake. This recipe can also be baked into a dozen cupcakes (use cupcake liners).
How do I cool the chiffon cake?
If the cake is baked in a tube pan, treat it like an angel food cake and cool it upside down. Cool layer cakes in the pans.
Why did my Chiffon Cake collapse?
If you baked the cake in a tube pan and greased the pan the cake can sink. If you took the cake out of the pan before it was completely cooled, or if you didn't cool it upside down, the cake could sink. If you overwhip the eggs your cake won't rise as high as it could.
How long does Vanilla Chiffon Cake stay fresh?
A chiffon cake will stay fresh at room temperature (if it doesn't have a filling) for 3-4 days.
How do I store Chiffon Cake?
A cake without filling can be stored at room temperature for 3-4 days. If the cake has a perishable filling, it should be refrigerated.
Cake Chiffon Cake be refrigerated?
Yes, because it's made with oil instead of butter, chiffon cake will be soft even if refrigerated.
Can Chiffon Cake be frozen?
Yes, wrap the cake in two layers of plastic wrap and freeze for up to 3 months. You can also freeze individually wrapped slices. Defrost in the wrapping at room temperature.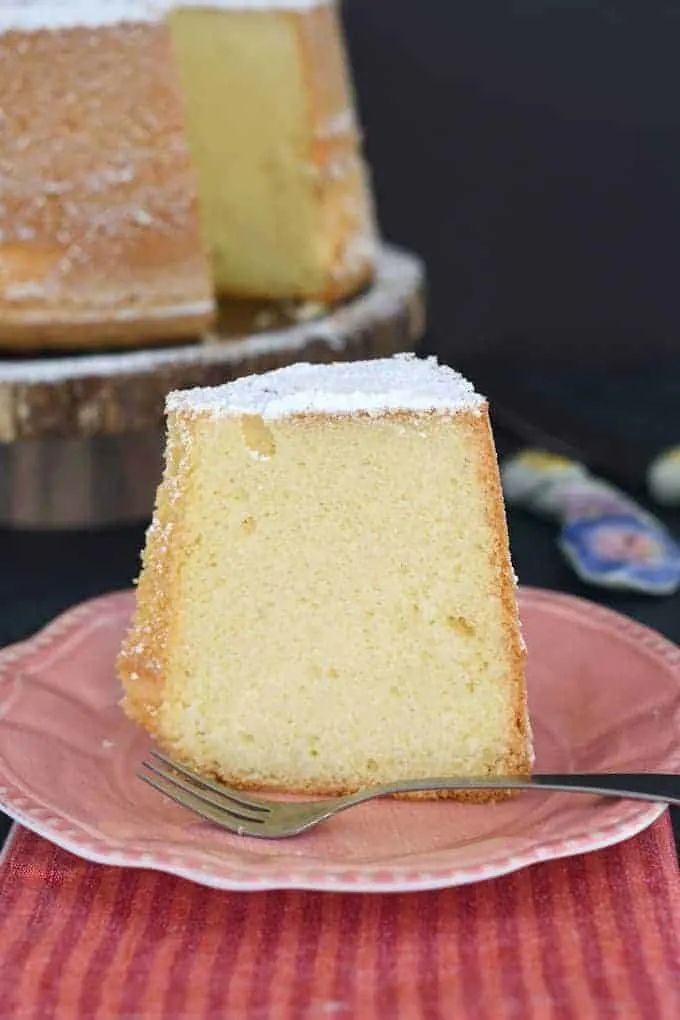 You also should try my Lemon Chiffon cake and Chocolate Chiffon cake recipes.
I have so many cake recipe for you to try. Vanilla Buttermilk Cake, White Cake, Vanilla Butter Cake, Chocolate Butter Cake, Old Fashioned Chocolate Cake, Genoise sponge cake, Angel Food Cake and Chocolate Genoise.
If you love this recipe as much as I do, I'd really appreciate a 5-star review.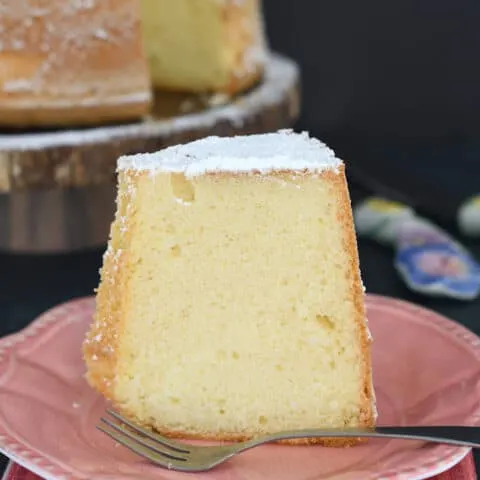 Vanilla Chiffon Cake
Chiffon cakes are made with whipped eggs and oil. Oil makes the chiffon cake moist, and whipped eggs make it light. This recipe can be baked as a layer cake or in a tube pan.
Ingredients
½ cup (3.5 oz, 105g) vegetable oil
6 large eggs, separated
¾ cup (6 oz, 180 ml) water
1 tablespoon vanilla extract
2 ¼ cups (10 oz, 280 g) cake flour
1 ½ cups (12 oz, 336g) granulated sugar, divided
1 tablespoon baking powder
1/2 teaspoon salt
Instructions
Preheat the oven to 325°F. For a traditional chiffon cake, use an ungreased 10" tube pan. If you want to make a layer cake line two 8" cake pans with parchment paper or butter and flour the bottom of the pans only.
Combine the oil, egg yolks, water and vanilla in a mixer bowl. Mix on medium speed until well combined.
Sift the flour with 1 cup of the sugar, the baking powder and salt. With the mixer on low, add the dry ingredients to yolk mixture. Whip on high speed for 1 minute, then set aside
Whip the egg whites on medium speed to soft peak. Gradually add the remaining ½ cup sugar, increase the speed to medium high and whip to full peak. Fold the whites into the yolk mixture in three increments.
If making a layer cake, divide the batter between the two pans. If you're using a tube pan, pour all the batter into the pan. Bake until the middle of the cake springs back with lightly pressed, 30-35 minutes for the layers or about 50-60 minutes for the tube pan.
Cool the cake completely in the pan.
Recommended Products
As an Amazon Associate and member of other affiliate programs, I earn from qualifying purchases.