Italian Meringue Buttercream (IMBC) is my favorite cake frosting. This is the exact recipe I used for 10 years in my wedding cake business.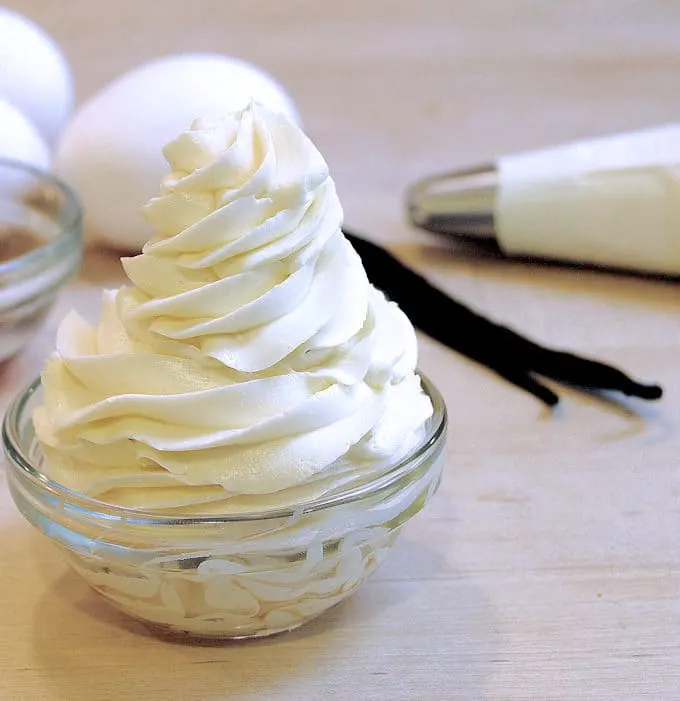 Meringue buttercream has the perfect balance of rich flavor from the butter, and lightness from the meringue. It's not overly sweet and it can be flavored with an endless variety of add-ins. It's strong enough to pipe buttercream roses and stays soft at room temperature so it melts in your mouth.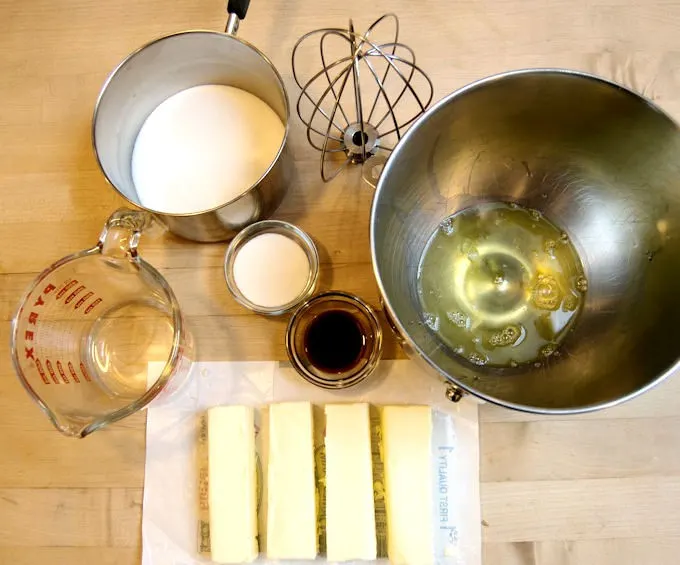 Proper temperature is important for a silky smooth Italian Meringue Buttercream
This is a fairly standard Italian Meringue Buttercream recipe except for the temperature of the sugar syrup. I've seen a lot of recipes that have you boil the syrup well into the firm ball stage (248°F), but I find this makes a buttercream with a texture that is too tight and marshmallow-y.
I like to boil the syrup to the softball stage (235°-240°F) for a slightly softer buttercream, and I think it whips up a little lighter. Also, don't forget that even when you take the pan of syrup off the heat the temperature will continue to rise.
Waiting until 248° might mean your syrup is over 250° by the time you begin pouring it into the egg whites.
What's the difference between soft ball and firm ball syrup? It's the amount of water in the syrup. The higher the temperature of the syrup, the less water there is relative to sugar. So using a soft ball syrup means there's a little more water in the buttercream.
But Italian Meringue Buttercream can take quite a bit of liquid without breaking down. I often add rum, limoncello and other liquid flavoring to the buttercream with no adverse effect on the texture.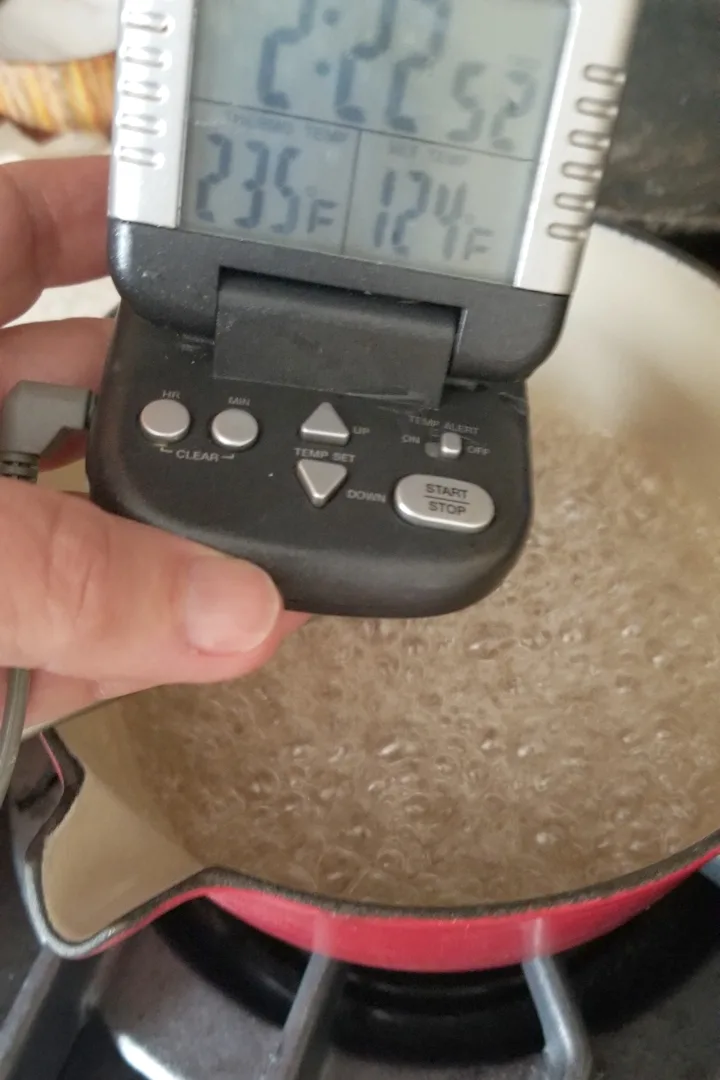 The scariest moment for those who've never made a meringue based buttercream is when the butter goes in. The whole thing kind of breaks down and then comes back together.
It might sound scary and complicated, but it's really not. There's a lot of leeway with the temperatures and the buttercream will almost always come together.
How to fix Italian Meringue Buttercream
If you're working in a warm kitchen and your buttercream is just a little too soft you can refrigerate it briefly and then re-whip it until it's light and fluffy.
If your buttercream is just a little too cold (my kitchen is fairly cool in the winter and I often have this problem) you can warm the bowl and then whip it until it's light and fluffy.
I use a propane torch to warm up the buttercream, which is fun, but you can use a bowl of warm water as shown in the photo below.
If you do have a propane torch and want to use it, here's what you do; with the mixer running, wave the torch back and forth across the outside surface of the bowl to warm the buttercream. Keep it moving at all times to avoid burning the buttercream. You'll see the edges melt a bit and then mix in. This works fast, so be careful.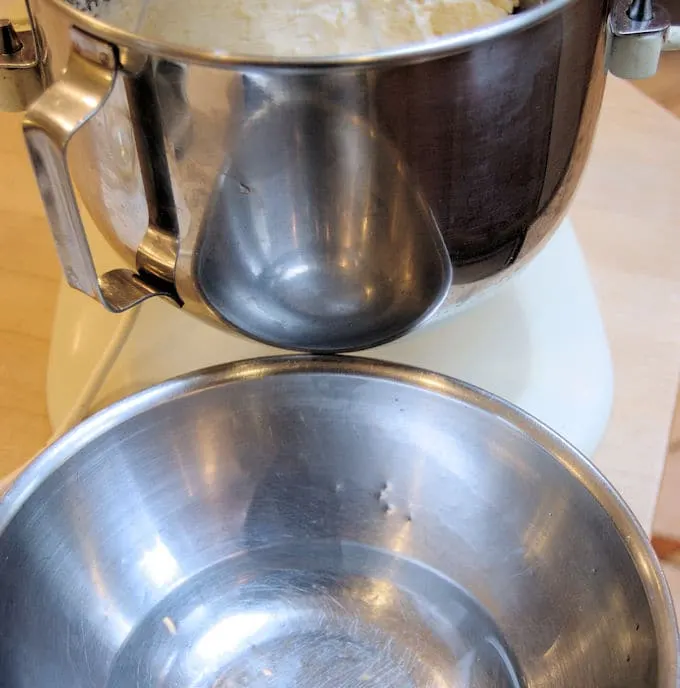 Tips for making perfect Italian Meringue Buttercream:
I've only come across two unfixable problems with this buttercream. If the meringue and/or the butter are way too warm when they're combined the buttercream will break down and can't be rescued.
Don't worry if it looks just a little curdled, that's OK. But if the buttercream becomes soupy and grainy the meringue has broken down and the buttercream can't be fixed.
If the butter is too cold when it's added to the cooled meringue you'll end up with lumps of butter that can't be whipped out. Make sure the butter is soft and pliable, but not at all greasy or melted. The best temperature for the butter is about 70°F.
Any extra buttercream can be double-wrapped in plastic (so it doesn't pick up any off flavors) and frozen for a few weeks. Bring it back to room temperature and then re-whip.
The only limit to the flavors you can make with this buttercream is your imagination. You can add melted chocolate, lemon curd and/or lemon extract, orange zest, raspberry puree, instant coffee, whatever you can think of to create your favorite buttercream flavor.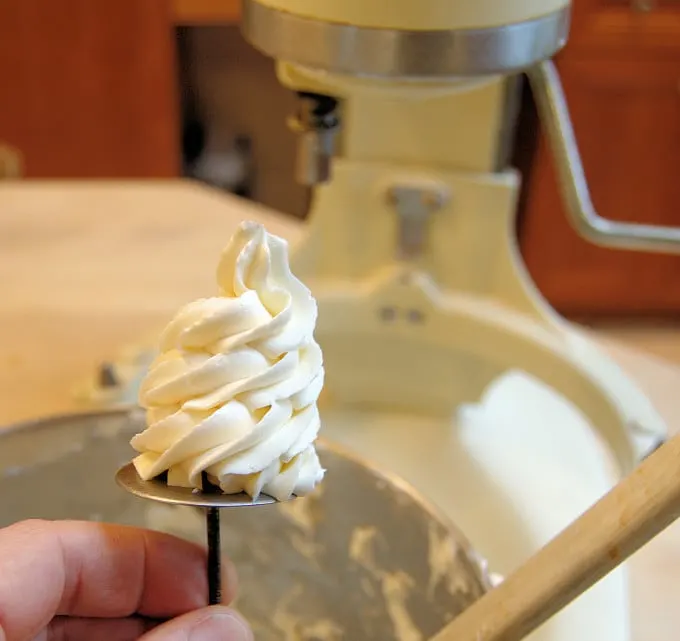 As I said, this is my favorite buttercream. But I also love Swiss Meringue Buttercream, which is very similar to IMBC except that you warm the sugar and eggs over a water bath rather than making a sugar syrup.
If you want a buttercream that is just as light and airy as a meringue buttercream, but with a slightly richer flavor and color, try making classic French Buttercream. It's made with egg yolks instead of egg whites.
Watch the recipe video to see how-to make Italian Meringue Buttercream from start to finish.
---
Now that you've made this recipe what should you do with the extra yolks? Check out this collection of recipes that use extra yolks for some great ideas.
If you love this recipe as much as I do, please consider leaving a 5-star review.
Italian Meringue Buttercream
Light, fluffy and not too sweet, Italian Meringue Buttercream is a dream to work with. It takes on almost any flavor and is strong enough to pipe roses and other decorations.
Ingredients
1/4 cup (60 ml) water
1 cup (8 oz, 226g) granulated sugar, divided
5 large (6 oz, 170g) egg whites, at room temperature (see note 1)
Pinch of salt
1 pound unsalted butter (453g) room temperature, cut into 16 pieces
1 tablespoon real vanilla extract
Other flavorings to taste
Instructions
Combine the water with 3/4 cup granulated sugar in a small saucepan. Cook the sugar syrup on medium high heat, stirring until the sugar is melted. Once the syrup begins to boil do not stir the syrup. Allow it to cook to 235°-240°F (soft ball stage).
While the syrup is boiling, whip the whites on medium high speed. When the whites are at soft peak reduce the mixer to medium low and slowly add the remaining 1/4 cup of sugar and a pinch of salt. Increase the speed to medium high and whip to full peak.
As soon as the syrup is at the correct temperature, remove the pan from the heat. With the mixer running on medium low, pour the hot syrup in a steady stream between the edge of the bowl and the whisk. Increase the speed to medium high and continue whisking until the whites are cooled to about 80°F.
When the whites have cooled, with the mixer running on medium, add the butter one piece at a time. Add the vanilla and increase the speed to medium high and whip until the buttercream comes together.
Store at room temperature until ready to use.
Notes
Note 1: I always use fresh egg whites. If you use pasteurized egg whites from a carton make sure the package says they can be used for meringue. Some markets sell pasteurized eggs still in the shell, those can also be used for this recipe.
If the buttercream becomes "spongy" while standing re-whisk to correct the texture. The buttercream can be refrigerated 3-4 days or frozen for several weeks.
Return to room temperature and re-whisk before using.
Recommended Products
As an Amazon Associate and member of other affiliate programs, I earn from qualifying purchases.