The only thing better than a perfectly buttery shortbread cookie is a wedge of Shortbread filled with Lemon Curd.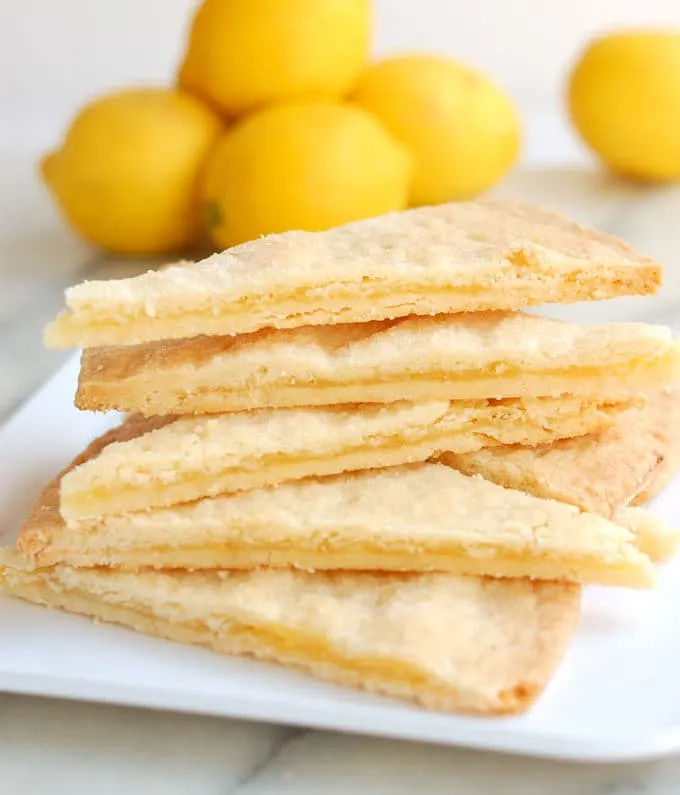 I love shortbread and I have a great go-to recipe that I've used for years and years. The recipe is super-simple; just unsalted butter, sugar, a pinch of salt and flour. I don't even add vanilla to my basic shortbread because I think good shortbread should taste like butter.
As I've mentioned before, I was the baker for a British Tea Shop (here in the US) for a number of years. At the tea shop I was introduced to shortbread filled with lemon curd and shortbread filled with jam. Two rounds of dough are filled with curd or jam, baked, and then cut into wedges. I don't know if this is a typical British tea-time treat or just something the shop owner's mom created (maybe one of the British bloggers can tell me). But it was love at first bite for me.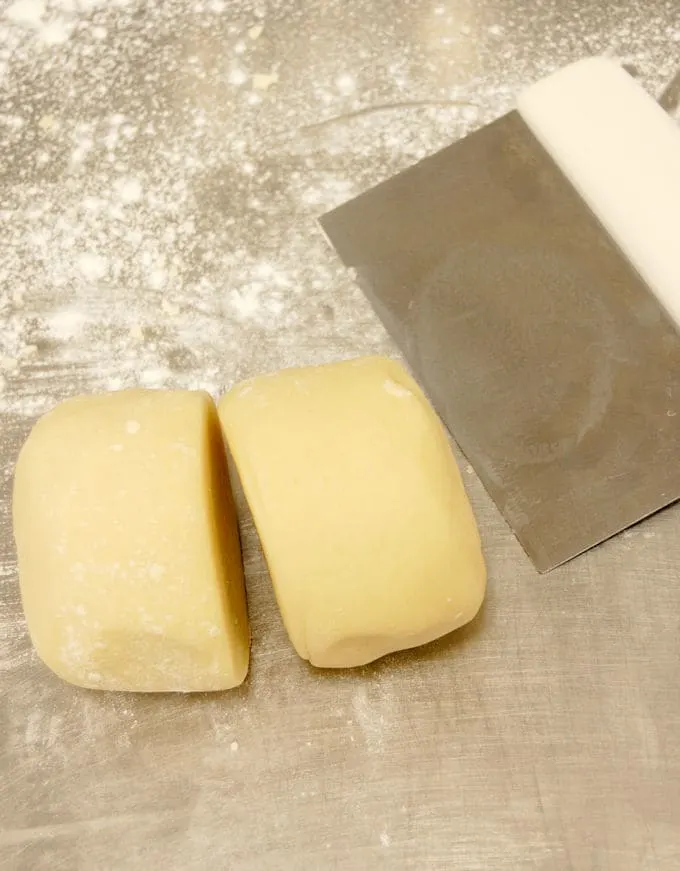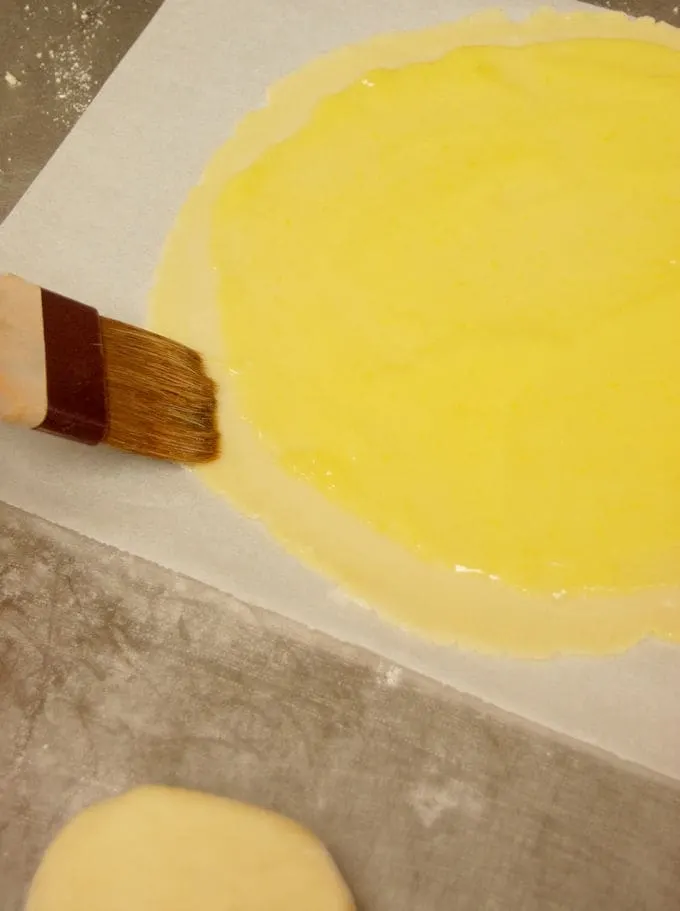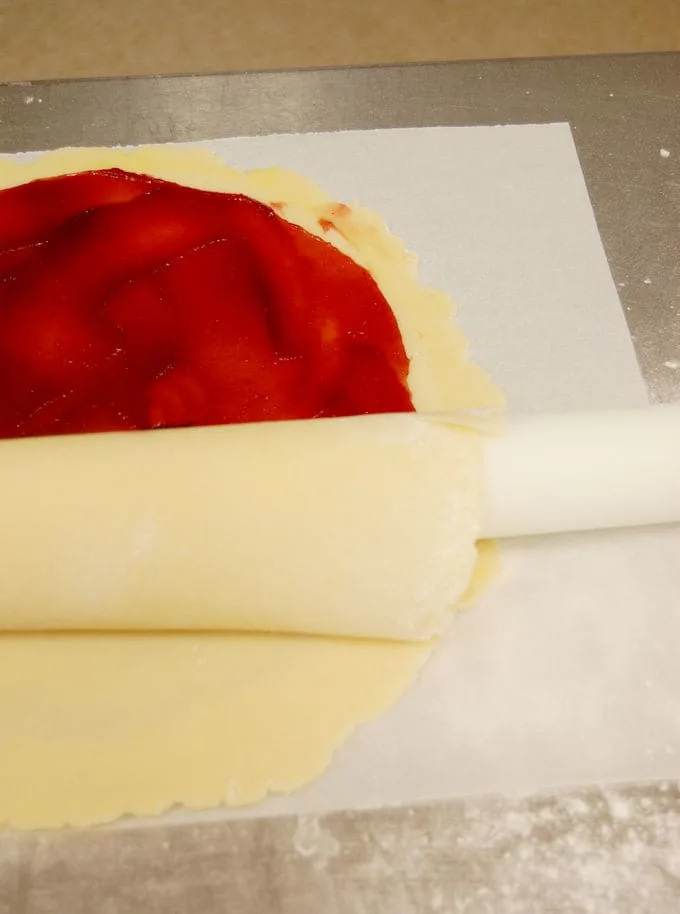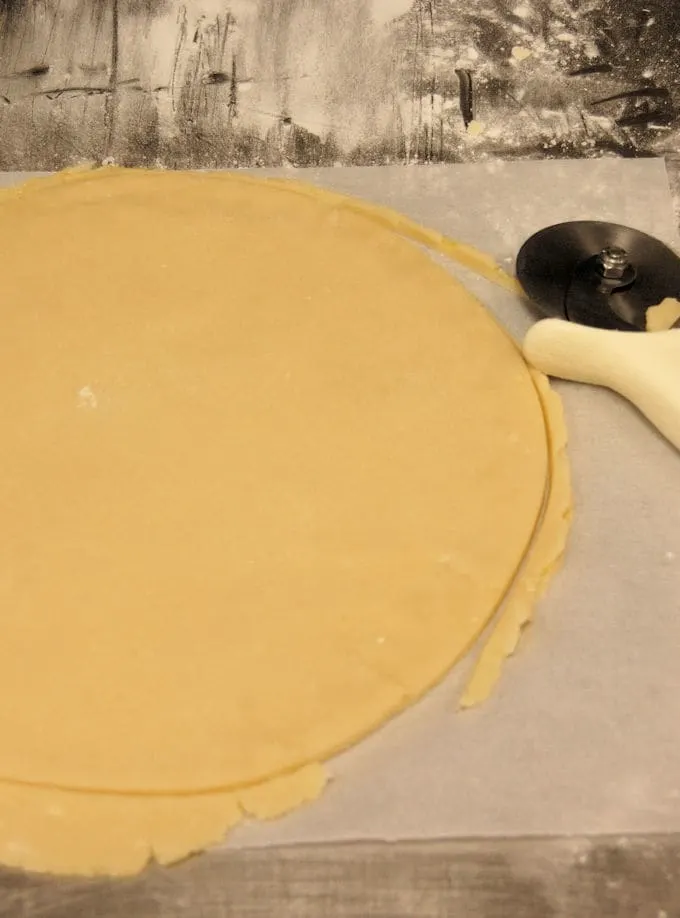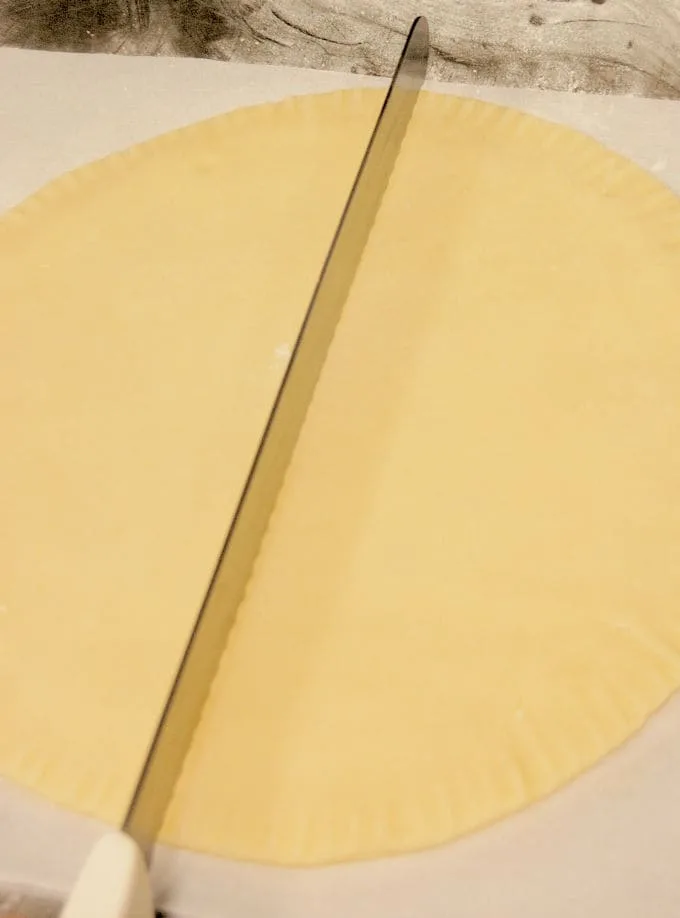 For a while I made the shortbread for the tea shop using the owner's recipe, which had eggs and other ingredients that masked the buttery taste. I eventually switched the dough to my own favorite recipe, but continued with her method of filling the shortbread rounds with lemon curd or jam.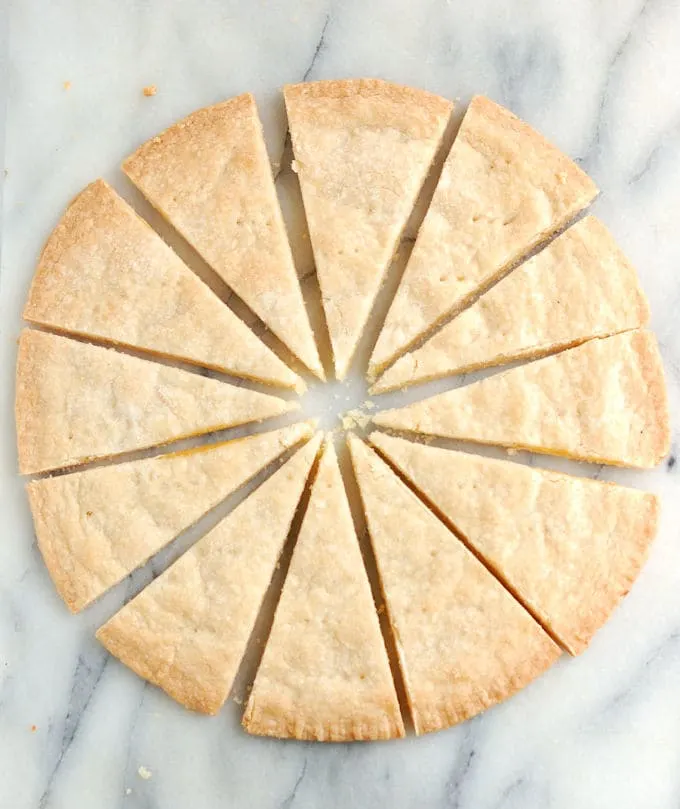 Take this shortbread recipe and use you imagination for the filling. Most often I make Shortbread filled with lemon curd or jam, but I've tried using a thick cajeta (not successful-it leaked) and frangipane (very successful!). I used the same shortbread base for my Peppermint Bark Shortbread and Creme Brulee Shortbread for holiday gift boxes. It's a very versatile recipe that's definitely worth keeping in your collection.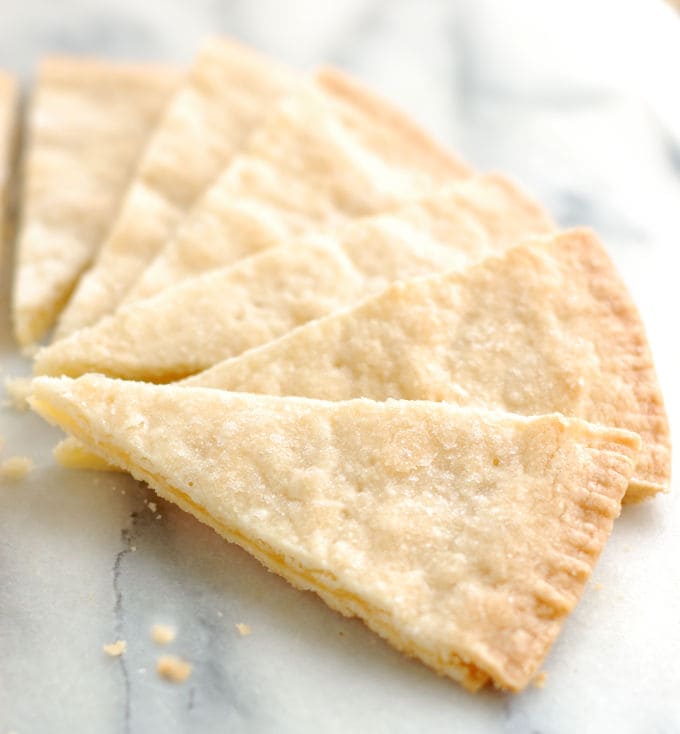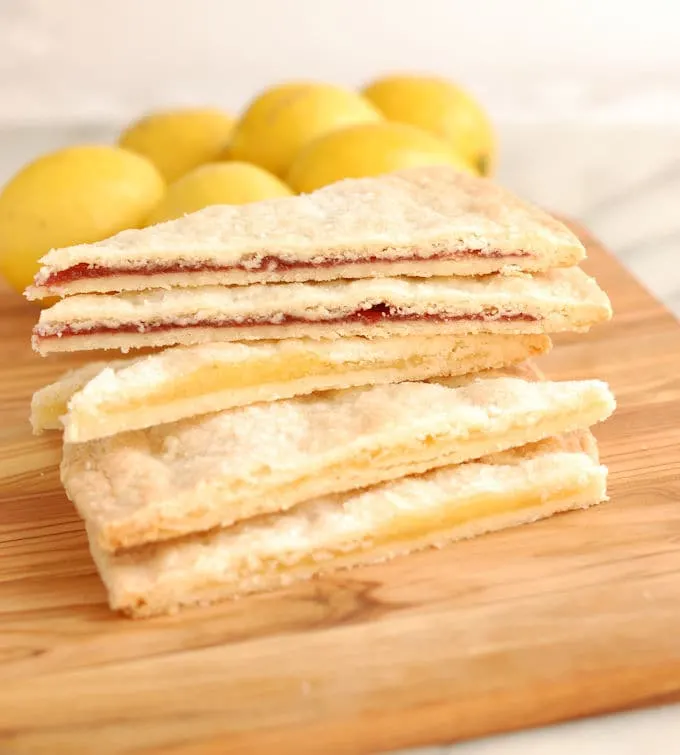 Shortbread Filled with Lemon Curd
The only thing better than a perfectly buttery shortbread cookie is a wedge of Shortbread filled with Lemon Curd.
Ingredients
Dough
2 sticks (8 oz, 224g) unsalted butter, room temperature
1/2 cup (4 oz, 120 g) granulated sugar
1/4 teaspoon salt
2 1/4 cups (10 oz, 280g) cake flour
Assembly
1/2 cup (5 oz 135g) Lemon curd or raspberry preserves
1 large egg for egg wash
1 tablespoon granulated sugar for finish
Instructions
Make the Dough
Combine the butter, sugar and salt in a mixer bowl and mix until softened and combined, do not aerate. Add the flour and mix just until a dough is formed. Split the dough into 2 equal portions
(At this stage the dough can be wrapped and refrigerated or frozen for later use).
Assemble the shortbread
Preheat the Oven to 350°F. Place a 1/2 sheet of parchment paper off to the side on the work surface. On another area of the work surface roll one disc of dough into a 12" round (1/8" thick). Transfer to the rolled dough to the parchment sheet.
Spread the curd over the the dough round, leaving a 1/2" border around the edge. Brush the border with egg wash. Roll the other dough to a 12" round. Roll the 2nd dough round onto the rolling pin and unroll onto the curd covered bottom layer. Use a paring knife or pizza cutter to trim the ragged edges of the shortbread round.
Use a fork to crimp and glue together the edges. Prick the shortbread all over with the fork to create steam vents. (At this stage the round can frozen for later use).
Use a long serrated knife to lightly score the shortbread into 12 wedges, being careful not to cut through the top layer. Sprinkle the shortbread round with 1 tablespoon granulated sugar. Bake until the dough is lightly golden and baked through, about 20 minutes.
Allow to cool to room temperature and cut along score lines.
Notes
The shortbread will keep at room temperature for up to a week.
You might also like: