The perfect fudgy brownie with a crackly top is made even better with a dash of sourdough discard. Can a brownie be both fudgy and airy at the same time? Yep!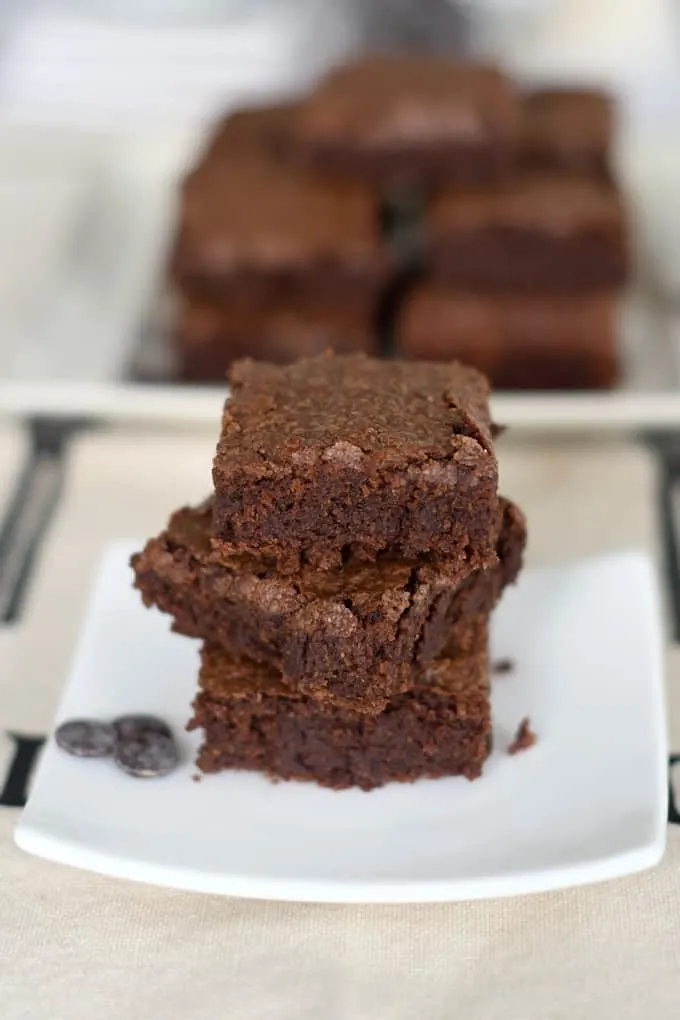 A brownie can be both fudgy and airy if you add a cup of sourdough discard to the batter. These brownies are nice and rich, but with a surprisingly light crumb thanks to a little lift from the natural yeast in the sourdough starter.
But wait, there's more…
The discard also enhances the flavor of the brownie. There's a slight background tang that somehow makes the chocolate flavor even more chocolatey. It's so, so good.
If you don't have one, check out my post to learn How to Make a Sourdough Starter. Then check out my system to Feed and Maintain Sourdough Starter.
If you're still craving chocolate but want something a little lighter than a brownie, you can make Sourdough Chocolate Cake too.
Scroll through the step by step photos to see how to make fudgy Sourdough Brownies: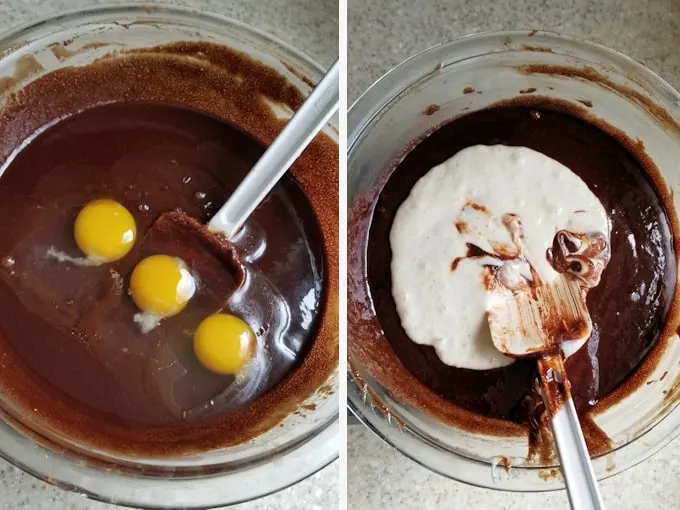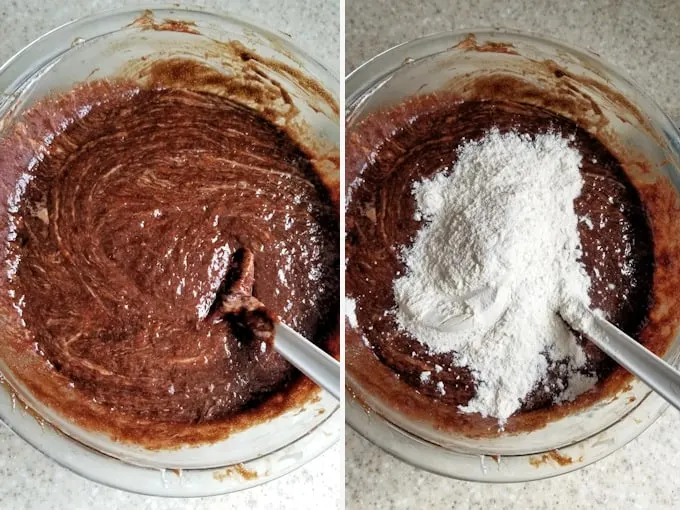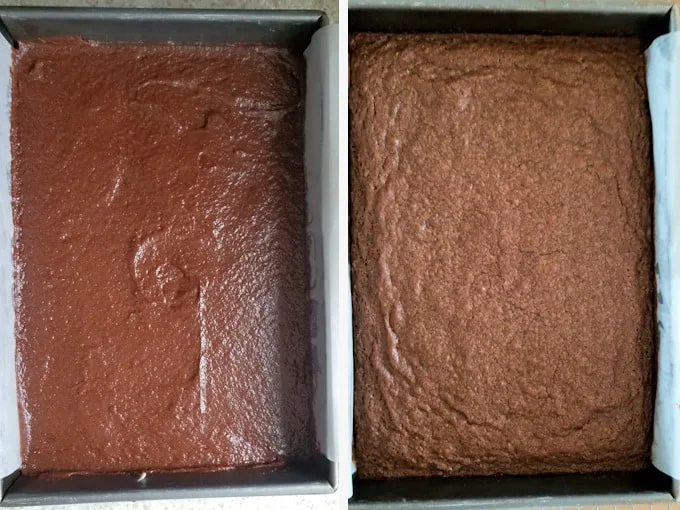 Tips for making and storing Sourdough Brownies:
The recipe can be halved and baked in an 8″ or 9″ square pan.
Unfed sourdough starter will add a tangy flavor to the batter. I got great results with a starter that had been in the refrigerator, unfed, for about a week.
Butter the pan and line with parchment paper. This not only prevents sticking, it makes it much easier to lift the brownies out of the pan.
Stirring the batter vigorously after adding the eggs will incorporate air into the batter. This will help form a crust on the top of the brownies. If you prefer a soft top on your brownies, you can skip that step.
Cool the brownies in the pan then use the parchment to transfer them to a cutting board.
To appreciate the subtle tangy flavor, I prefer to serve these spectacular brownies without any frosting
The Brownies will keep at room temperature for several days.
Leftover brownies can be frozen. Layer them with parchment paper or plastic wrap to prevent them from sticking together. They're delicious straight from the freezer or defrosted.
You might like these other fabulous brownie recipes: Classic Fudgy Brownies, Habanero Brownies, Chocolate Cherry Brownies, Malted Milk Brownies, Roasted Beet Brownies, and White Chocolate Raspberry Brownies.
You might also like these recipes for the brownies' cousin, Butterscotch Ripple Blondies and Malted Milk Blondies
I know you hate to throw away that sourdough discard. Check out these recipes that use sourdough discard.
Since you've got your starter fed, peruse the entire list of My Best Sourdough Recipes. Have fun!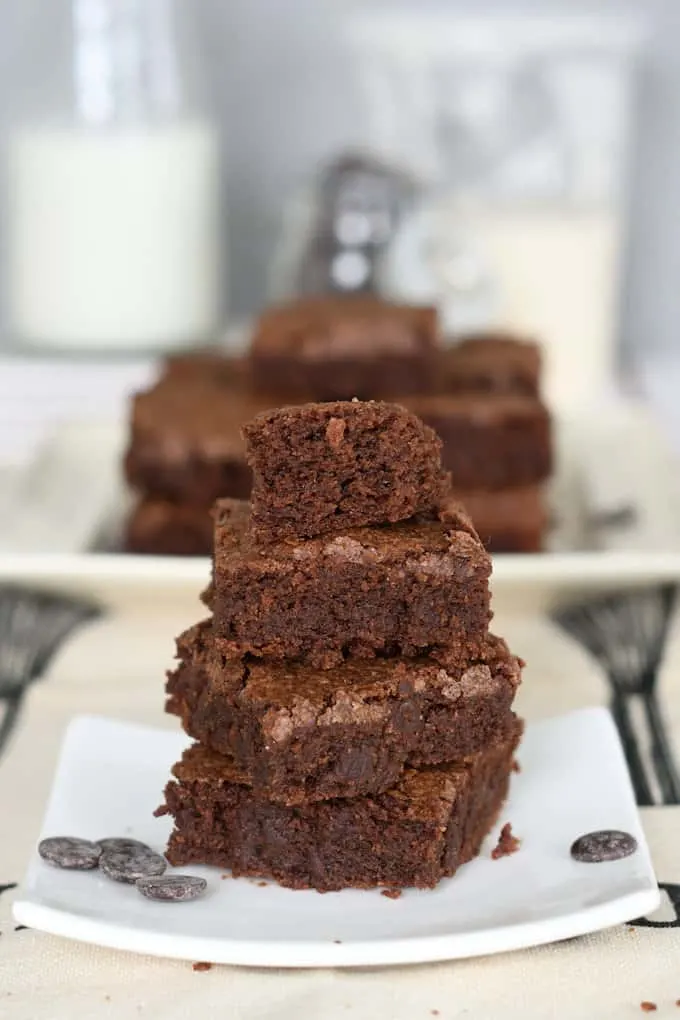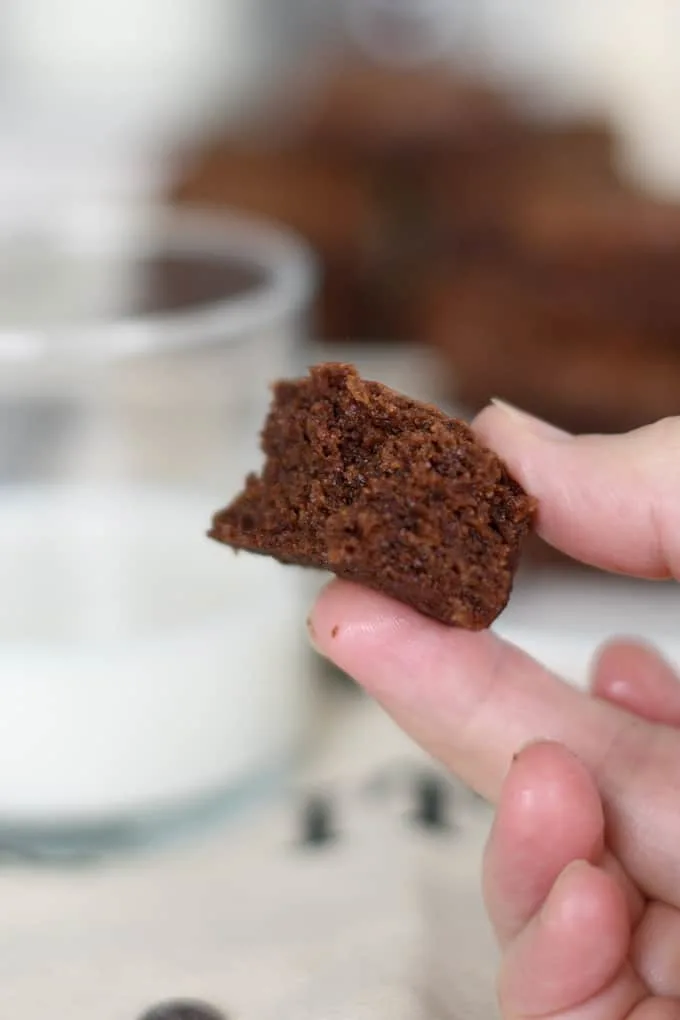 You might also want to try Sourdough Shortbread or Sourdough Chocolate Chip Cookies made with sourdough powder.
If you love this recipe as much as I do, I'd really appreciate a 5-star review.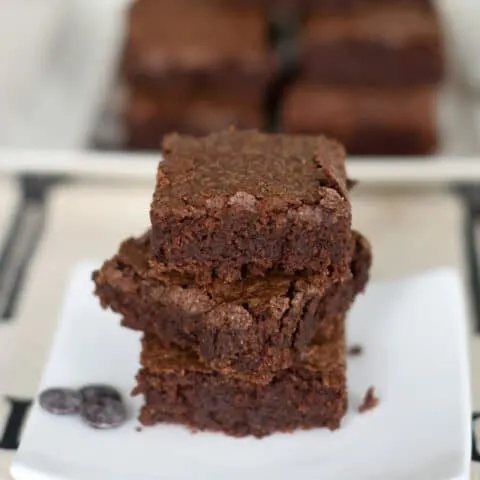 Fudgy Sourdough Brownies
The perfect fudgy brownie with a crusty top is made even better with a cup of sourdough discard.
Ingredients
9 ounces bittersweet chocolate (252g) chopped
2 sticks (8 ounces, 224g) unsalted butter, cut into 1" chunks
1 cup (8 oz, 224g) granulated sugar
1/2 cup (4 oz, 112g) brown sugar
1/2 teaspoon salt
1 tablespoon vanilla extract
3 large eggs
1 cup (8 oz, 224g) sourdough discard (100% hydration)
1/2 cup (2.5 oz, 70g) all purpose flour
Instructions
Preheat the oven to 350°F. Butter a 13"x9" inch baking pan. Line the pan in one direction with parchment paper.
Combine the chopped chocolate and the butter in a microwave safe bowl. Microwave for 1 minute, stir to combine. Microwave in 30 second increments (stirring between) until all the chocolate is melted.
Add the brown sugar, granulated sugar, salt and vanilla, stir to combine. Add the eggs, stir until combined then stir vigorously for 30 seconds.
Fold in the sourdough discard. Add the flour and stir just until combined. Spread the batter evenly into the prepared pan.
Bake until the brownies puff up a bit and a toothpick inserted in the center comes out with a few moist crumbs (30 minutes).
Cool in the pan to room temperature then refrigerate until the brownies are firm. Use the parchment paper to lift the brownies out of the pan onto a cutting board.
Cut into 24 or 32 portions.