Sourdough Starter Powder! Introducing a whole new way to store and use sourdough starter or sourdough discard. Dry it, then grind it to a powder.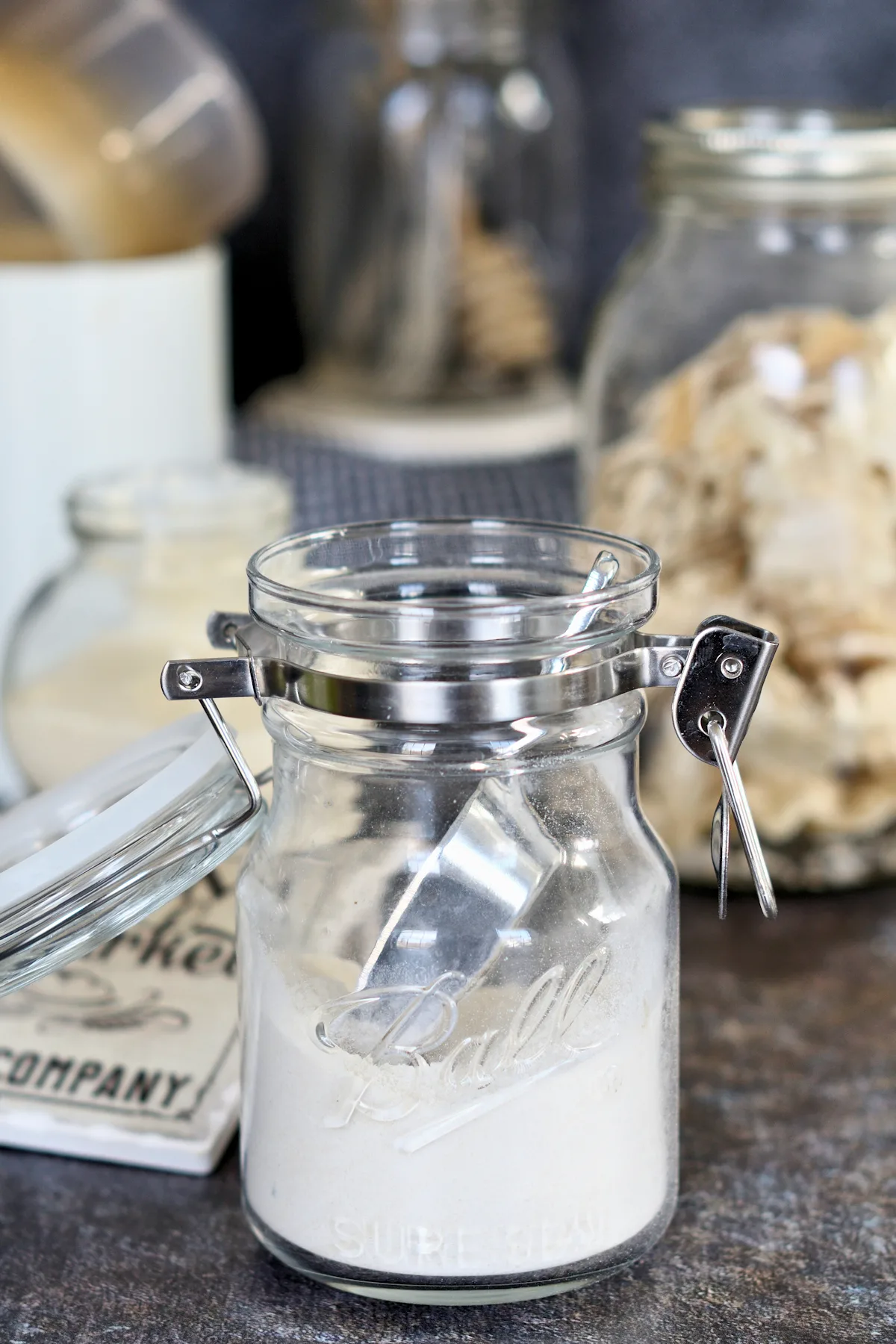 So you've jumped on the sourdough bandwagon, YAY! It's so much fun, isn't it?
But there are times when real life interferes and you may not be able to bake your favorite sourdough bread recipe for quite a while. Or maybe you want to share your starter with a friend who lives far away. Or maybe you just really hate to discard that discard.
The solution is an incredibly easy-to-do process for drying your starter. Once the starter is completely dried, your hard-won wild yeast goes dormant. The dried starter chips can then be stored indefinitely. But wait, there's more….
Turn your dried sourdough discard into a powder!
After you dry your sourdough starter, you can grind it into a powder. Why pulverize dried sourdough? First of all, it takes up less storage space and powdered starter will rehydrate a little more quickly. But there's an even better reason for grinding sourdough starter.
You can add sourdough powder directly to a recipe for a big flavor boost without adding any extra water to the recipe. This opens up a whole new world of sourdough recipes.
I've developed many recipes that use sourdough discard. Wet sourdough discard is pretty easy to incorporate into a recipe. Sourdough discard can replace a portion of the flour and water in almost any recipe. The water in the original recipe could be in the form of actual water, or the water can come from milk, buttermilk, egg whites, etc.
But what can we do when there is no or very little water in the original recipe? I had to ask myself that question when I was trying to create a recipe for Sourdough Shortbread.
Shortbread dough couldn't be simpler with just 4 ingredients; butter, sugar, flour and salt. The only trace of water in that recipe comes from the butter, and flour needs water to develop gluten.
The "short" in shortbread refers to the fact that without much water the dough cannot develop long gluten strands. Less developed gluten means your cookie will have a tender and crumbly texture.
When I tried adding sourdough discard to my shortbread dough the cookies were chewy and not at all crumbly. The discard added too much water to the dough. The water developed the gluten, yada, yada, yada, tough cookies.
LIGHTBULB: I had to figure out how to add sourdough discard to a recipe without adding any water. It took quite a few trials but I finally did it. I made a sourdough powder that could be added directly to the dough.
Tips for using Sourdough Powder directly in a recipe:
I tried grinding the sourdough chips in a food processor and the powder was not fine enough. You need to use spice grinder to get a fine, flour-like powder.
After grinding, sift the powder though a very fine sieve. Then grind the rough bits again and sift. Continue until all the starter is finely ground. The texture should be no coarser than cornmeal or the final product will be gritty.
Drying a slightly active starter makes a lighter chip because it will bubble a bit as it dries. Lighter chips grind more easily. But you can definitely make sourdough powder from a very ripe discard. Just keep grinding and sifting.
Store the sourdough powder in a tightly covered container away from any moisture.
The powder should keep at room temperature indefinitely.
You might also want to try these Sourdough Chocolate Chip Cookies made with sourdough powder.
If you find this information helpful, I'd really appreciate a 5-star review.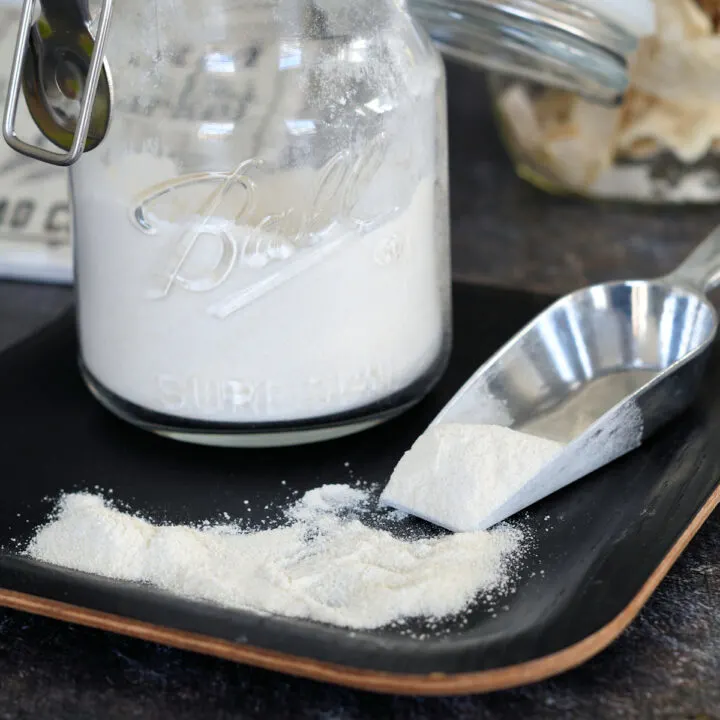 How to make Sourdough Starter Powder
Introducing a whole new way to store and use sourdough starter or sourdough discard. After you dry your sourdough starter, you can grind it into a powder and add it directly to a recipe for a flavor boost or rehydrate it to use in any sourdough recipe.
Materials
Tools
scale
spice grinder
sieve
Instructions
Weigh out 4 oz of dried sourdough starter chips and place them in the spice grinder. If you can't fit all the chips in at once you can grind them in batches.
Grind the chips to a powder. Sift the powder through a fine sieve to remove any large bits.
Grind the sifted bits with any remaining chips until you have 4 oz of fine powder. The powder should be no coarser than semolina flour or cornmeal if you want to use it directly in a recipe. If you will be rehydrating the powder to use as a starter a coarser grind is fine.
Store the sourdough powder in a jar or plastic container with a tight fitting lid to keep out moisture.
Recommended Products
As an Amazon Associate and member of other affiliate programs, I earn from qualifying purchases.