Habanero Brownies are rich with chocolate and butter and spiced with a whole habanero pepper. The ganache on top makes these fudgy brownies even better!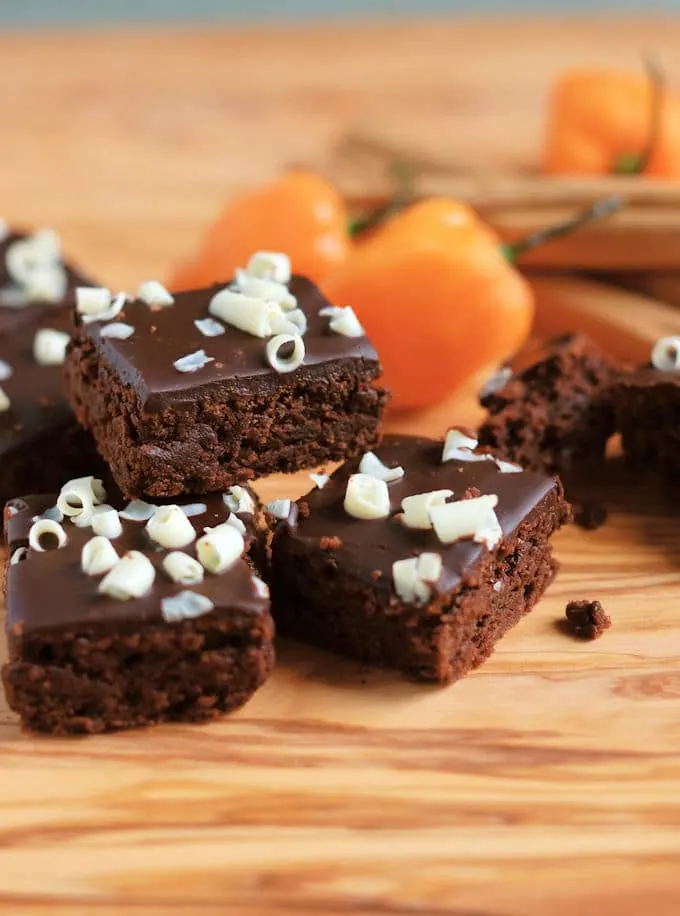 This recipe was inspired by a bottle of wine I bought while on a wine tasting tour in New Mexico.
We'd had a great day and tasted some nice wines, but by the 5th winery our palates were pretty overwhelmed.
The last wine poured was a red wine made with chocolate and chiles. Well, that woke our palates up! What could be more New Mexican? So we bought a bottle for fun.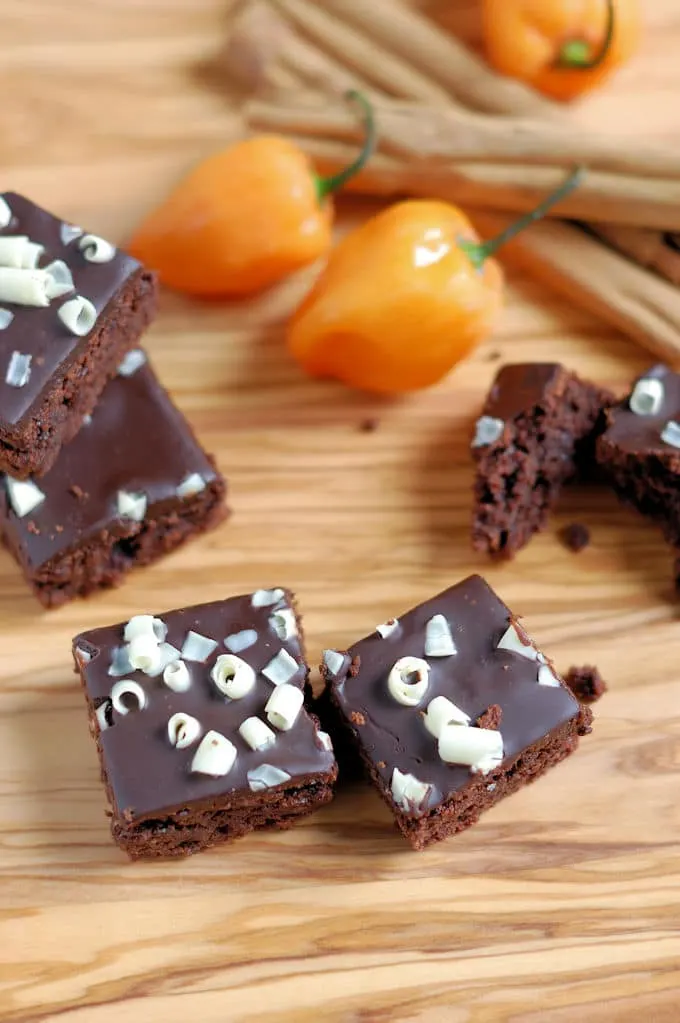 We were invited to dinner at a friend's house and I decided to bring along the chocolate-chile wine to share. I wanted to make a dessert to go with it and that's how this recipe came to be.
The Heat Level of Habaneros can vary…Make Your Habenero Brownies as hot as you like!
I love Habanero peppers. Yes, they can be quite hot, but they have a lovely, fruity flavor once you get passed the heat.
I used a whole pepper because the one I had was not super hot. Because the heat level can vary from pepper to pepper, I suggest (unless you're a real chile-head) you add a little at a time until you get the heat level you like. The butter, flour and sugar in the brownie does tame the heat a little.
A full tablespoon of cinnamon compliments both the chocolate and the chile in these Habanero Brownies. I used Ceylon, or true, cinnamon, which may also be labeled as "Mexican" cinnamon. Regular cinnamon (cassia) will also work if you can't find Ceylon cinnamon.
This is my new favorite brownie!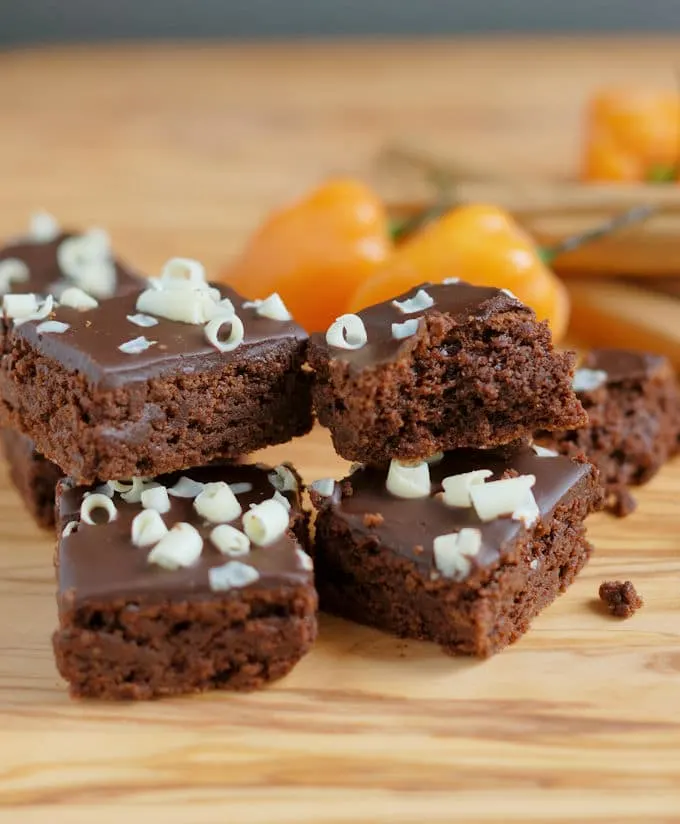 You might like these other fabulous brownie recipes: Classic Fudgy Brownies, Sourdough Brownies, Chocolate Cherry Brownies, Malted Milk Brownies, Roasted Beet Brownies, and White Chocolate Raspberry Brownies.
You might also like these recipes for the brownies' cousin, Butterscotch Ripple Blondies and Malted Milk Blondies
If you love this recipe as much as I do, please consider leaving a 5-star review.
Habanero Brownies
Yield:
32 small or 24 large brownies
Fudgy, rich chocolate brownies with a kick of habanero heat! Easy to make and the perfect Cinco de Mayo recipe or any day recipe.
Ingredients
1 1/4 cups (5 oz, 140g) cake flour
1/2 teaspoon salt
3/4 teaspoon baking powder
1 tablespoon ground cinnamon (preferably Mexican or "true" cinnamon)
9 oz (252g) semi-sweet chocolate, chopped
1 1/2 sticks (6 ounces, 168g) unsalted butter, cut into 1" chunks
1 1/2 cups (12 oz, 336g) granulated sugar
1 Habanero pepper, seeds and ribs removed, minced
1 tablespoon vanilla extract
4 large eggs
Instructions
Preheat the oven to 350°F. Butter a 13x9 inch baking pan and line the pan with parchment paper.
In a small bowl, add the flour, salt, baking powder and cinnamon. Whisk to combine the ingredients and set aside
Place the chopped chocolate and the butter in a microwave safe bowl. Microwave for 1 minute, stir to combine. Microwave in 30 second increments (stirring between) until all the chocolate is melted. Stir the sugar, Habanero and vanilla into the chocolate mixture. Add the eggs, two at a time and stir until combined. Add the flour mixture and stir just until combined. Spread the batter evenly into the prepared pan.
Bake until the brownies puff up a bit and a toothpick inserted in the center comes out with a few moist crumbs (about 25-30 minutes). Cool in the pan to room temperature. Spread the ganache evenly over the brownies. Refrigerate until the ganache is set and the brownies are firm.
Use the parchment paper to lift the brownies out of the pan onto a cutting board
Cut into 32 or 24 squares (for clean edges wipe the knife with a damp cloth between cuts). The brownies keep for several days at room temperature.
Recommended Products
As an Amazon Associate and member of other affiliate programs, I earn from qualifying purchases.