Fudgy dark chocolate brownies are made extra moist with the addition of roasted beets. These Beet Brownies are also flavored with a hint of orange and spice.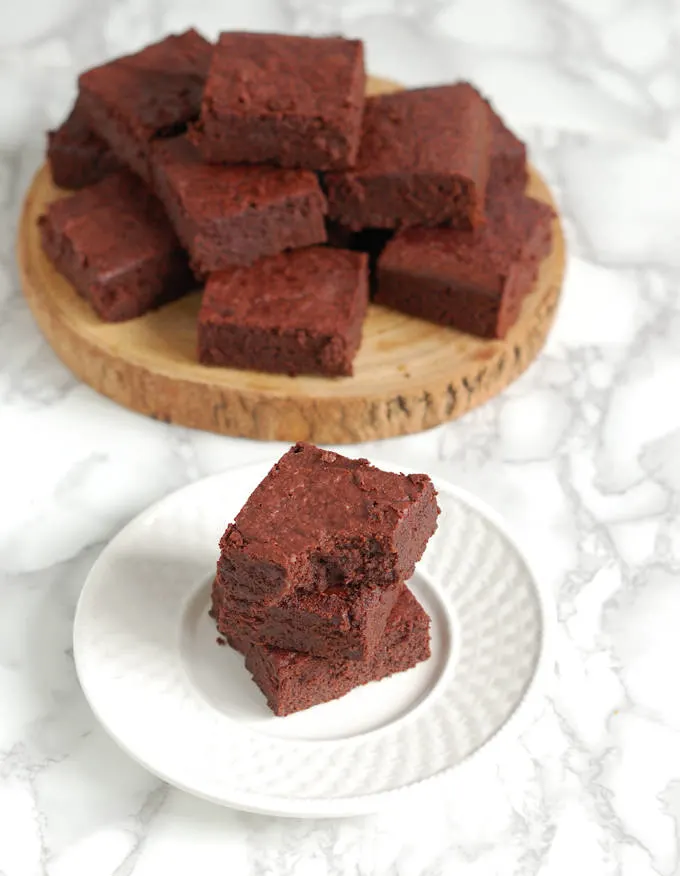 Well, the beets are piling up in my refrigerator again. We always get so many beets in our farm share that the two of us can't eat them fast enough in salads, etc.
Luckily, beets do keep very well in the crisper drawer of our "extra" refrigerator in the basement. Once they start to spill out of the crisper drawers I know it's time to start baking with them.
The great thing about baking with beets is that they add lots of moisture and a special, earthy/sweet flavor to a recipe. Red beets pair really well with dark chocolate, orange and spice. I used that flavor profile in my Chocolate Beet Cake recipe.
Much as I love that cake I didn't want to make it again because the blob must be fed.  No, that's not a typo. In our house "the blog" has become "the blob". It's kind of a funny story…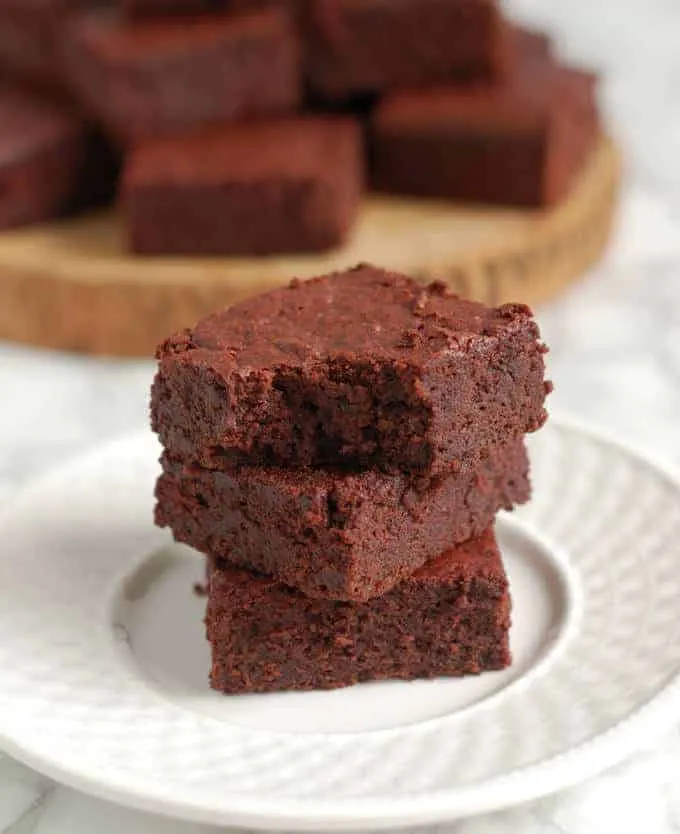 I first want to state that my mom is super smart and really very adroit with technology for someone in the 80+ age range. So believe me, I'm not at all making fun of her with this story.
When I first started blogging my mom would often ask me "How's the blob going?". At first we thought it was kind of funny and cute that she called "the blog", "the blob".
But, honestly, it can sometimes feel like the blog is taking over our entire life ("Don't eat that until it's photographed"… "Oh no, it's cloudy and I need to photograph those cookies!"…"Sorry I brought an already-sliced cake to your party-I needed a photo for the blob"…etc).
So we just started calling the blog, "the blob". You know, like in the movie where the blob consumes everything in it's path?? I'm sure any other bloggers reading this can relate. Anyway, I digress….
So rather than remake something I've already posted, it was time to create a new beet recipe to feed the blob.
Chocolate Brownies are a natural way to use up beets. Again, because the flavors go so well together, plus a brownie really can't be too moist.
As I did with my Chocolate Beet Cake recipe and my Golden Beet Orange Cake, I roasted the beets to get concentrated beet flavor. Roasting is the only way I prepare beets. It's hands off and it's much less messy than boiling beets.
Other than roasting the beets, this is a pretty straight forward brownie recipe.
Enjoy!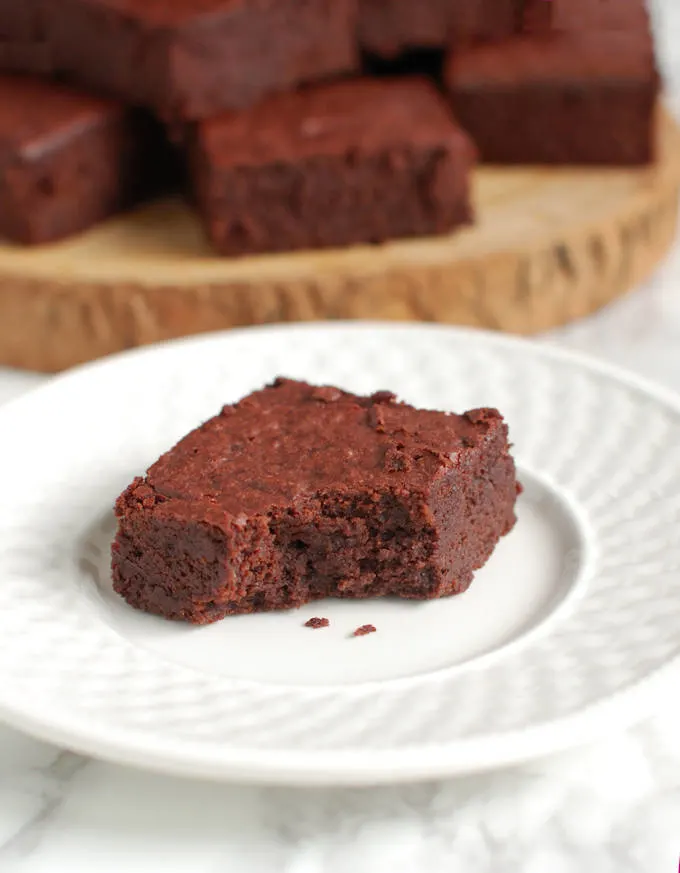 Watch the recipe video to see how easy it is to make Beet Brownies.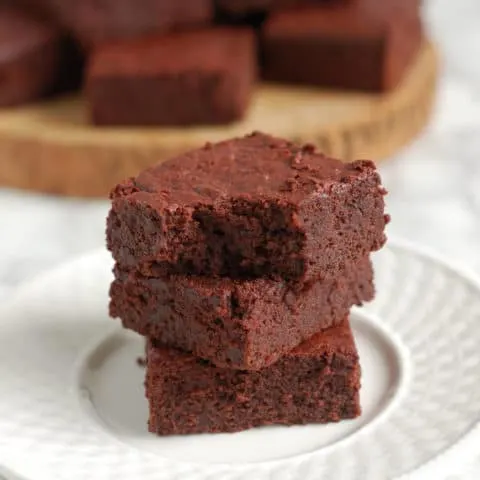 Beet Brownies with Orange & Spice
Fudgy brownies with a surprise ingredient; beets! Orange and warm spices round out the flavor.
Ingredients
8 oz (about 3-4 medium, 230g) beets, roasted and peeled (see note)
Zest of 1 orange
1 cup (5 oz, 145g) all purpose flour
1.5 teaspoons cinnamon
1.5 teaspoons ginger
1/2 teaspoon nutmeg
1/4 teaspoon ground cloves
1/2 teaspoon salt
10 ounces (280g) bittersweet chocolate, chopped
10 ounces (2.5 sticks, 280g) unsalted butter, cut into 1" chunks
1 1/2 cups (12 oz, 340g) light brown sugar, packed
4 large eggs, lightly whisked together
1 tablespoon vanilla extract
Instructions


Preheat the oven to 350°F. Butter a 13x9 inch baking pan. Line the pan. lengthwise, with either parchment paper or foil. If using foil, butter the foil.
Puree the roasted beets with the orange zest until smooth, set aside. Sift together the flour, salt and spices, set aside.
Combine the chopped chocolate and the butter in a microwave safe bowl. Microwave in 30 second increments (stirring between) until all the chocolate is melted. Whisk the eggs into the chocolate mixture until completely combined. Whisk in the brown sugar. Whisk in the beet puree and vanilla. Add the flour mixture and stir until combined.
Spread the batter evenly into the prepared pan. Bake until a toothpick inserted in the center comes out with a few fudgey crumbs (about 25-30 minutes).
Cool in the pan to room temperature or refrigerate for several hours to firm up. Use the parchment paper to lift the brownies out of the pan onto a cutting board. Cut into 24 squares (for clean edges wipe the knife with a damp cloth between cuts).
Notes
To roast beets wrap clean beets in foil and roast at 350F until tender, about an hour depending on the size of the beets. Let the beets cool then peel. The beets can be roasted several days ahead of time and refrigerated until ready to use.