If you love butterscotch and you love blondies, you know you'll definitely love Butterscotch Ripple Blondies. Rich, buttery blondie bars filled with pockets of real, home made butterscotch. This is the bar cookie of your dreams!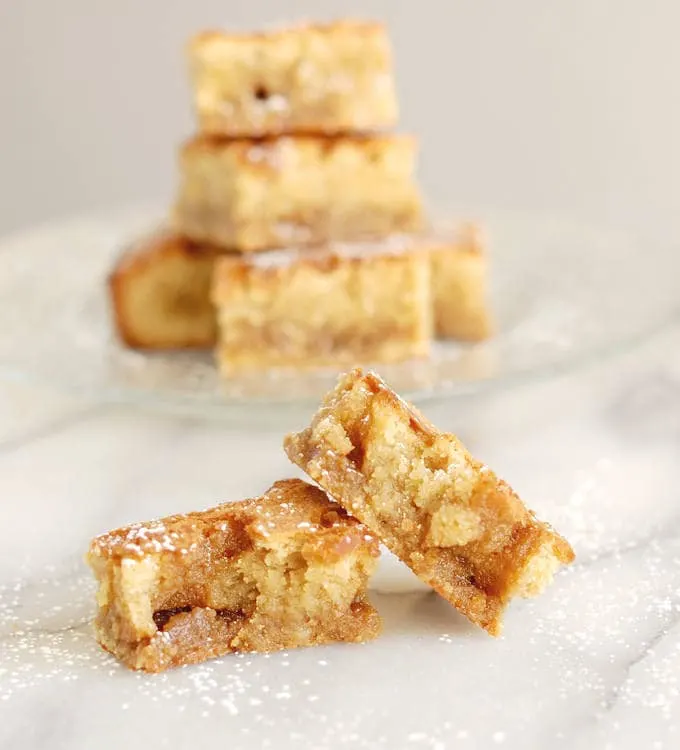 I'm still on my Butterscotch binge! After making several batches of my super-delicious Butterscotch Sauce, I set out to see what else I could make with butterscotch. The first thing that came to mind was to create a blondie recipe.
All about Butterscotch Blondies:
Blondies are brownies made without chocolate. Since they're made with butter and brown sugar, blondies already have a great butterscotch flavor.
You'll find lots of blondie recipes that include butterscotch chips, but I wanted to gild the lily and create a ripple of gooey butterscotch sauce running through the cookies.
The steps to creating a great Butterscotch Ripple Blondie:
For my first attempt I simply used my Butterscotch Sauce according the recipe (find it at the end of the post) and drizzled it between layers of blondie batter. While those Butterscotch Ripple Blondies tasted amazing, the sauce kind-of baked into the bars and didn't leave a distinct layer, or ripple, of butterscotch sauce.
So I made another batch of butterscotch. This time I eliminated the butterscotch schnapps so there was less liquid in the mix. Otherwise, I made the recipe exactly as it is written. After cooling and chilling, this new butterscotch was thick enough to scoop into little balls, kind of like butterscotch truffles (mmmm…butterscotch truffles! Note to self for a future post).
I dotted the entire pan of batter with the balls of butterscotch. I also baked at a slightly higher temperature so that the outside of the brownies would set faster and contain any melted butterscotch.
That did the trick. Now the blondie recipe has distinct pools of butterscotch scattered through out the cookies.
Click through the process photos to see how I got the "ripple" in the Blondies: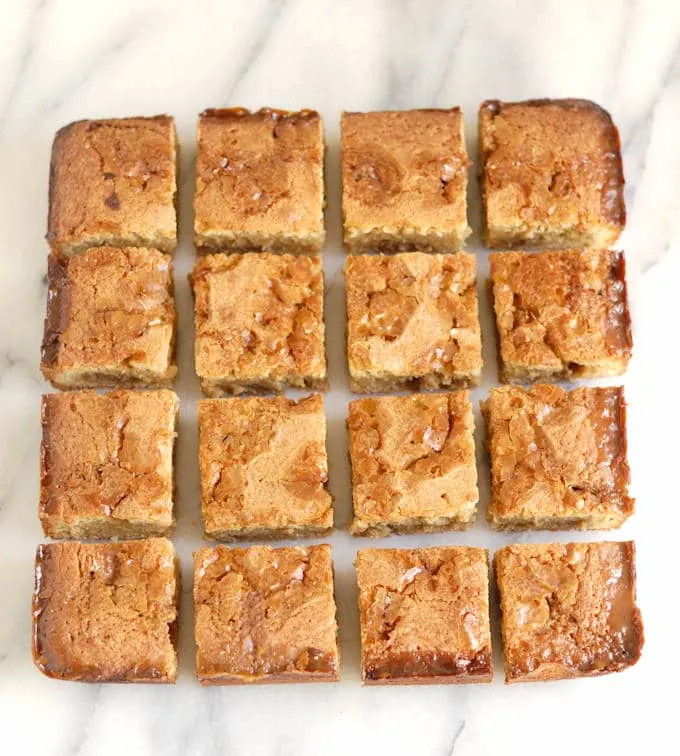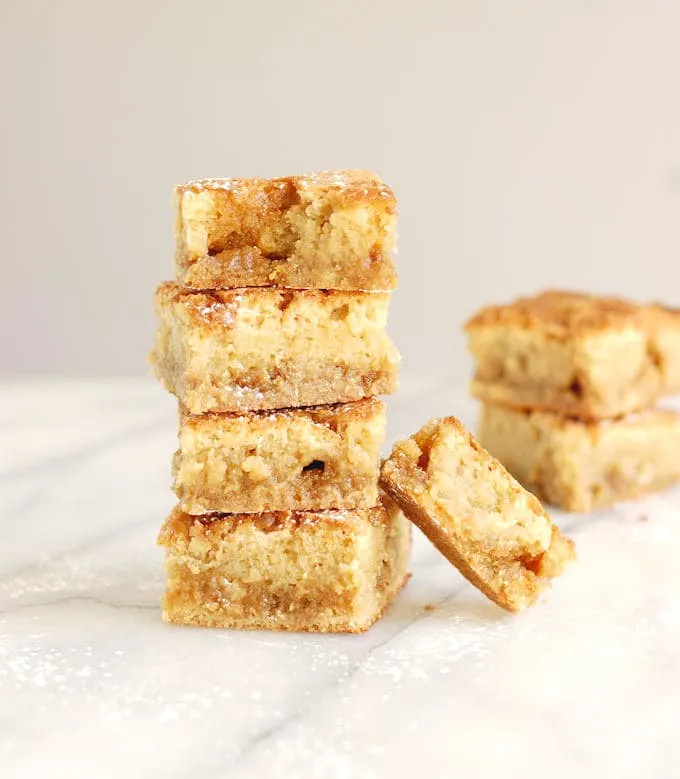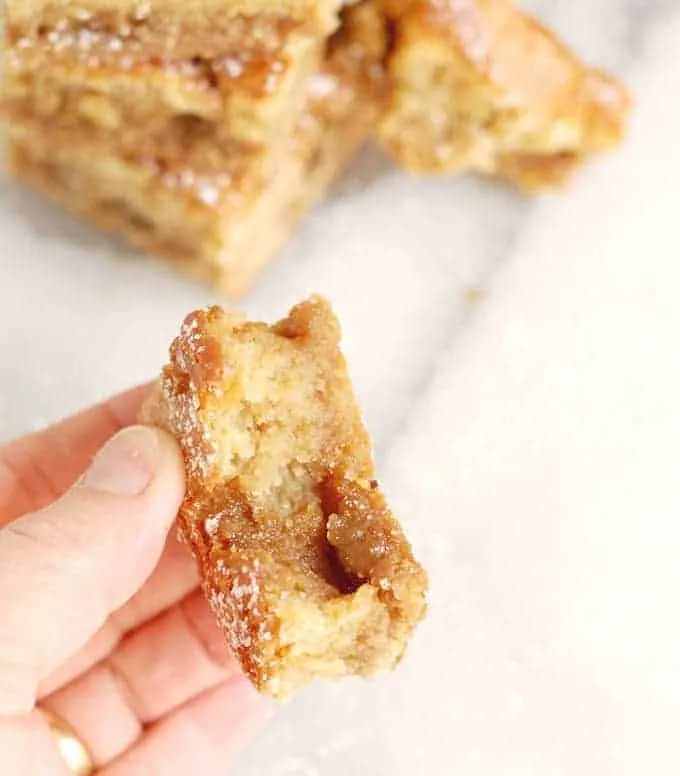 Watch the recipe video to see How To Make Butterscotch Ripple Blondies.
You might also like Malted Milk Blondies.
You might like these fabulous brownie recipes: Classic Fudgy Brownies, Sourdough Brownies, Habanero Brownies, Chocolate Cherry Brownies, Malted Milk Brownies, Roasted Beet Brownies, and White Chocolate Raspberry Brownies.
If you love this recipe as much as I do, I'd really appreciate a 5-star review.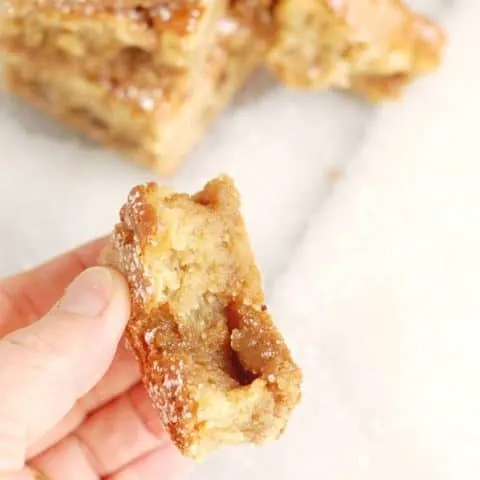 Butterscotch Ripple Blondies
Butterscotch blondies filled with pools of real butterscotch sauce.
Ingredients
1 cup extra thick Butterscotch Sauce (see note)
1 1/2 sticks (6 oz, 168g) unsalted butter, melted
3/4 cups (6 oz, 168g) granulated sugar
1 cup (8 oz, 224g) light brown sugar
3 eggs
1 tablespoon vanilla extract
1 1/2 cups (7 1/2 oz, 210g) all purpose flour
1/2 teaspoon table salt
Instructions
Preheat the oven to 375°F. Butter a 9" square baking pan and line with parchment paper. You can just butter the pan but the parchment makes it much easier to remove the blondies from the pan.
In a large bowl, combine the melted butter with granulated and brown sugar. Add the eggs and vanilla. Add the flour and salt. Spread the batter into the pan.
Use a small melon baller or spoon to scoop balls of butterscotch. Dot the top of the batter with the butterscotch balls, setting them about 1" apart. Bake until the center springs back when lightly pressed, about 40 minutes.
Cool to room temperature before removing from the pan and cutting into 16 squares.
Notes
Note: Make the Butterscotch sauce according to the recipe with the following change; eliminate the 1/4 cup of schnapps so the total liquid is only the 1/2 cup of cream. Chill the butterscotch in the refrigerator until firm.
Recommended Products
As an Amazon Associate and member of other affiliate programs, I earn from qualifying purchases.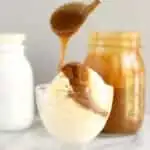 Print Recipe
Butterscotch Sauce
Silky smooth & buttery, Butterscotch Sauce has a special and specific flavor with notes of molasses, butter, vanilla and salt.
Ingredients
2

oz

unsalted butter

8

oz

dark brown sugar

(1 cup)

4

oz

heavy cream

(1/2 cup)

2

oz

butterscotch schnapps

(1/4 cup (see note))

2

teaspoons

real vanilla extract

1/2

teaspoon

kosher salt

(not table salt (seen note))
Instructions
Melt butter over medium low heat. (see note). Add the brown sugar and stir until the sugar looks like wet sand. Cook on medium low, stirring occasionally, for about 5 minutes. The mixture will begin to liquify.

8 oz dark brown sugar,

2 oz unsalted butter

Whisk in the cream, then whisk in the schnapps. BE CAREFUL, the mixture will bubble up and steam when the liquids are added, Keep your face away from the pot.

4 oz heavy cream,

2 oz butterscotch schnapps

Cook over low heat for for about 10 minutes, whisking occasionally until the butterscotch becomes more viscous, very smooth and silky. Remove the pot from the heat and whisk in the vanilla and salt.

2 teaspoons real vanilla extract,

1/2 teaspoon kosher salt

Pour into a heat proof container to cool. I like to use canning jars to store the butterscotch sauce.
As an Amazon Associate and member of other affiliate programs, I earn from qualifying purchases.
Notes
You can use another liquor like bourbon or rum, or you can use more cream to keep it alcohol-free.
If you use table salt use 1/4 teaspoon
The main thing that can go wrong with this recipe is if you cook it too hot or too fast. Be patient and let it cook over medium-low heat for the times listed in the recipe. If you cook it too hot, bits of the sugar will caramelize and separate from the butter. You'll end up with a gritty texture.
Nutrition
Serving:
12
g
|
Calories:
207
kcal
|
Carbohydrates:
28
g
|
Protein:
0.5
g
|
Fat:
11
g
|
Saturated Fat:
7
g
|
Polyunsaturated Fat:
0.4
g
|
Monounsaturated Fat:
3
g
|
Trans Fat:
0.2
g
|
Cholesterol:
31
mg
|
Sodium:
158
mg
|
Potassium:
53
mg
|
Sugar:
28
g
|
Vitamin A:
385
IU
|
Vitamin C:
0.1
mg
|
Calcium:
35
mg
|
Iron:
0.2
mg