Use up all that zucchini you've got in the fridge to make Chocolate Orange Zucchini Bread. It's so good you won't even notice the healthy veggies in the mix. It's super-moist, super-chocolatey and, with a hint of orange, super-tasty. This quick-bread is, well, super!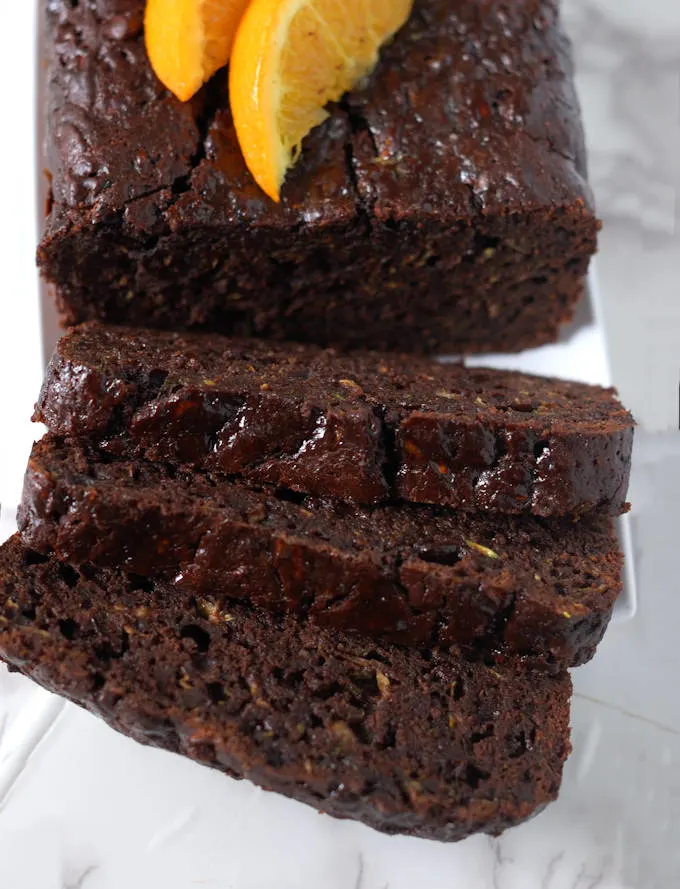 By now we've all seen about a 120,238,290,832 different zucchini bread recipes, haven't we?
I myself have already posted a Whole Wheat Zucchini Bread recipe, Lemon Zucchini Bread and a Zucchini Yeast Bread recipe, not to mention recipes for Zucchini Biscuits, Zucchini Galette, Zucchini Muffins and Zucchini Pie.
If you're ready for a little indulgence, you might want to try my Zucchini Cake with Cream Cheese Frosting.
But, just like the notoriously prolific veggie, there's no such thing as too much of a good thing, right? And anything with chocolate is a very good thing. That's a fact!
How to make the best Chocolate Zucchini Bread:
This Chocolate Zucchini Bread has a double dose of chocolate goodness. Not only did I replaced some of the flour with cocoa powder, I also tossed in a handful of mini chocolate chips. You know, just to ensure that we have enough chocolate in our lives.
What's better than chocolate? Well, nothing, except maybe the combination of chocolate and orange.
A hit of fresh orange zest gives this quick-bread a lovely fruity flavor. A drizzle of fresh orange juice glaze creates a sticky, gooey, delicious crust for this Chocolate Orange Zucchini Bread.
Drain the zucchini to wick away excess moisture:
Zucchini is a great baking ingredient because it has so much moisture. But we don't want to overdo it.
By blotting the shredded zucchini with paper towels we can wick away some of the moisture so the zucchini bread doesn't become gummy.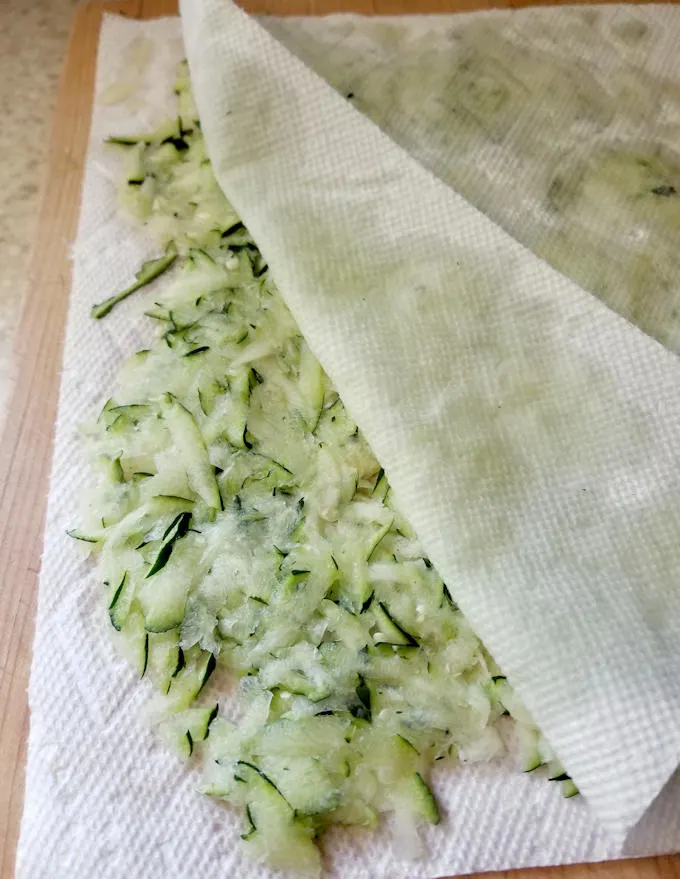 This Chocolate Orange Zucchini bread feels like a decadent treat, but there is a whole pound of veggies in this recipe.
But wait, there's more, this bread requires less oil because of the moisture added by the zucchini. So I'd say it's a win-win-win recipe.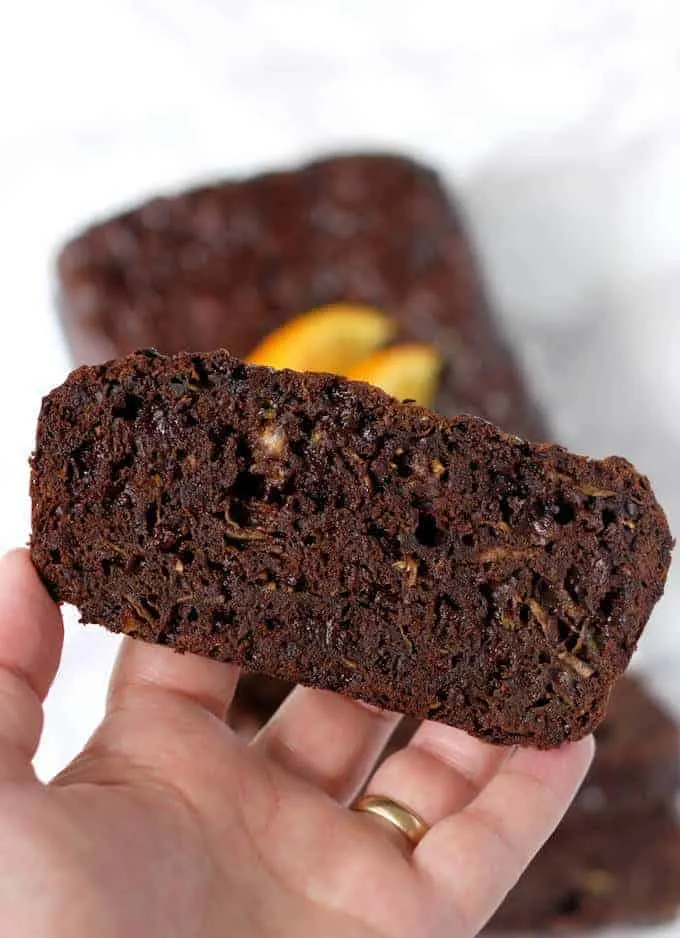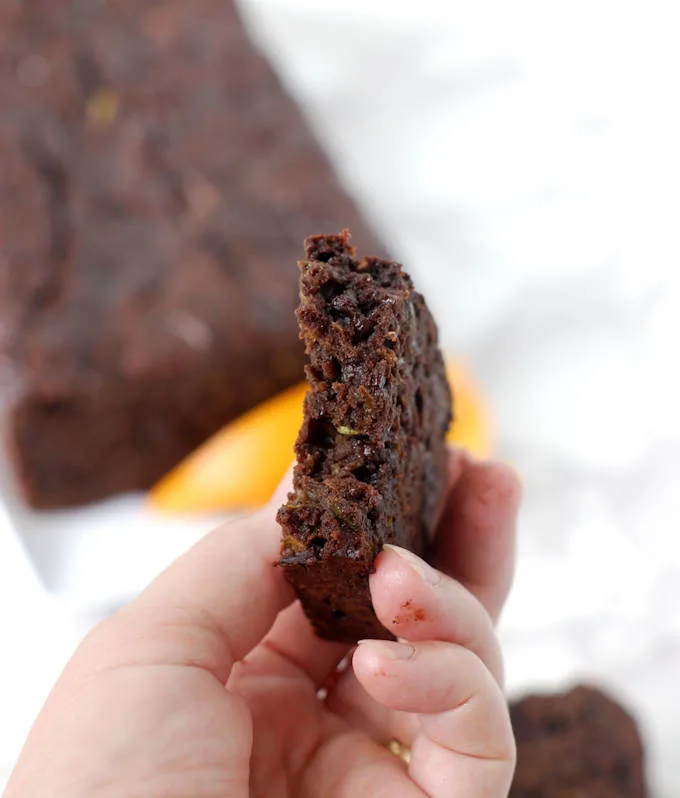 Chocolate and orange is a classic flavor combination. You'll also love these chocolate and orange Homemade Milano Cookies and my Chocolate Orange Cheesecake.
If you love this recipe as much as I do, I'd really appreciate a 5-star review.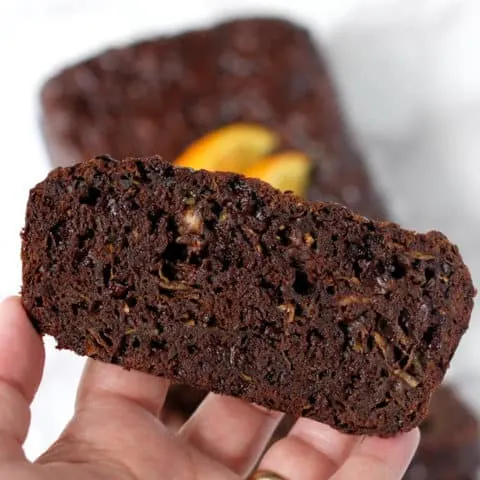 Chocolate Zucchini Bread
Total Time:
1 hour
10 minutes
Use up all that zucchini you've got to make Chocolate Orange Zucchini Bread. It's so good you won't even notice the healthy veggies in the mix. It's super-moist, super-chocolatey and, with a hint of orange, super-tasty. This quick-bread is, well, super!
Ingredients
1 pound (454g) zucchini (about 2 medium)
1 cup (6 oz, 170g) mini chocolate chips
1 1/2 cups (7.5 oz, 210g) all-purpose flour
1/2 cup (2 oz, 56g) cocoa powder
1 teaspoon ground cinnamon
1/2 teaspoon ground ginger
1/4 teaspoon ground nutmeg
1/2 teaspoon salt
1 1/5 teaspoons baking powder
1 cup (8 oz, 224g) brown sugar, packed
1/4 cup (1.75 oz, 50 ml) vegetable oil
3 large eggs
zest from 1 orange, very finely grated
Glaze
1/4 cup (2 oz, 60 ml) orange juice (about 1 orange)
1/4 cup (2 oz, 56g) granulated sugar
Instructions
Use the large holes of a box grater or the large grating disc of a food processor to shred the zucchini. Spread the zucchini in an even layer on a paper towel and cover with another paper towel. Press to absorb the liquid. Let the zucchini sit while you mix the batter.
Toss the chocolate chips with 2 teaspoons of water to moisten. Sprinkle a teaspoon of all purpose flour over the chips and toss, set aside.
Combine the flour, cocoa, spices, salt, and baking powder in a mixing bowl and whisk to combine. Add the brown sugar to the dry mixture and toss to incorporate.
In another bowl, whisk together the oil and eggs. Stir the zucchini and orange zest into the wet ingredients.
Add the wet ingredients to the dry ingredients all at once and stir just until combined. Fold in the chocolate chips.
Pour the batter into the prepared loaf pan. Bake until a toothpick comes out with a few moist crumbs, 45-50 minutes.
While the bread bakes, combine 1/4 cup of orange juice (add water if your orange has less juice) and the granulated sugar in a small saucepan. Cook over medium heat until the sugar dissolves. Set aside to cool.
As soon as the bread comes out of the oven, pour the orange glaze over the loaf. Cool the loaf in the pan for 30 minutes and then turn out onto a cooking rack to cool completely.
Wrap and store at room temperature until serving. The bread will keep for several days at room temperature.
Recommended Products
As an Amazon Associate and member of other affiliate programs, I earn from qualifying purchases.