Zucchini Yeast Bread is a nice change of pace from the more typical quick-bread, cakey style zucchini breads. Pureed zucchini adds great flavor, moisture and texture to this tasty yeast-risen bread.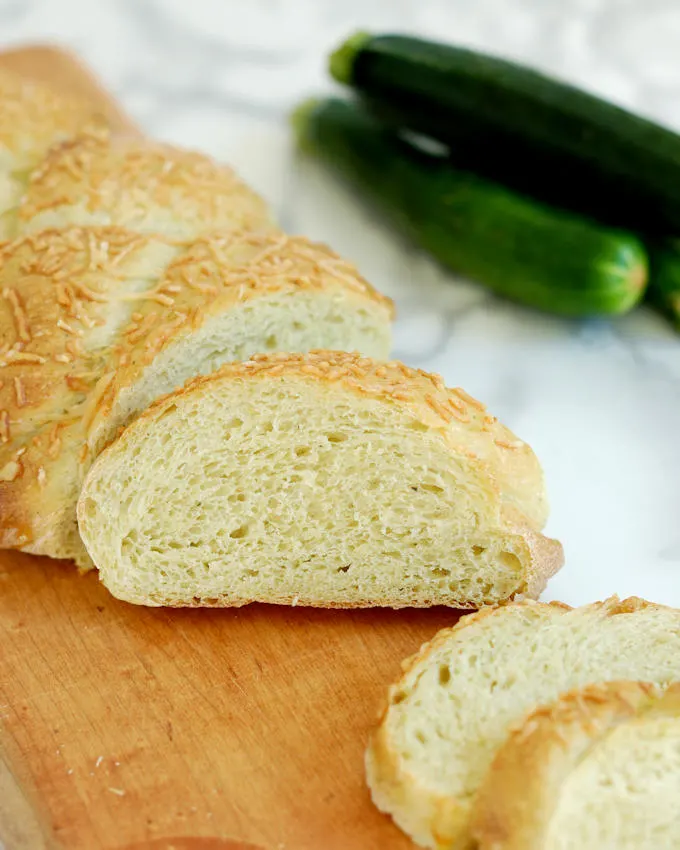 This is a recipe I've been working on for a while. Because I belong to a co-op farm I get LOTS of zucchini, all summer long. I'm always looking for new ways to use the prolific squash. I mean, there are only so many spiralized salads a gal can eat!
When I use zucchini for baking I basically treat it as added water, since that's mostly what zucchini is made of. Because it doesn't have a very pronounced flavor, zucchini is easy to slip it into all sorts of recipes.
For my Zucchini Yeast Bread I simply replaced some of the water in a fairly basic bread dough with zucchini. The first few times I made the bread I used shredded zucchini. But the bits of vegetable were breaking up the gluten strands in the bread dough.
Since the shredded zucchini was breaking up the gluten, I tried making a zucchini puree and that did the trick. Now I had a bread that was soft and moist with a very slight vegetable flavor from the zucchini.
All that was left to do was make a pretty braid, top it with some cheese, bake until golden brown, and enjoy! We ate it with a green salad and smoked salmon for a light dinner. Perfect!
Scroll through the process photos to see how to make Braided Zucchini Yeast Bread: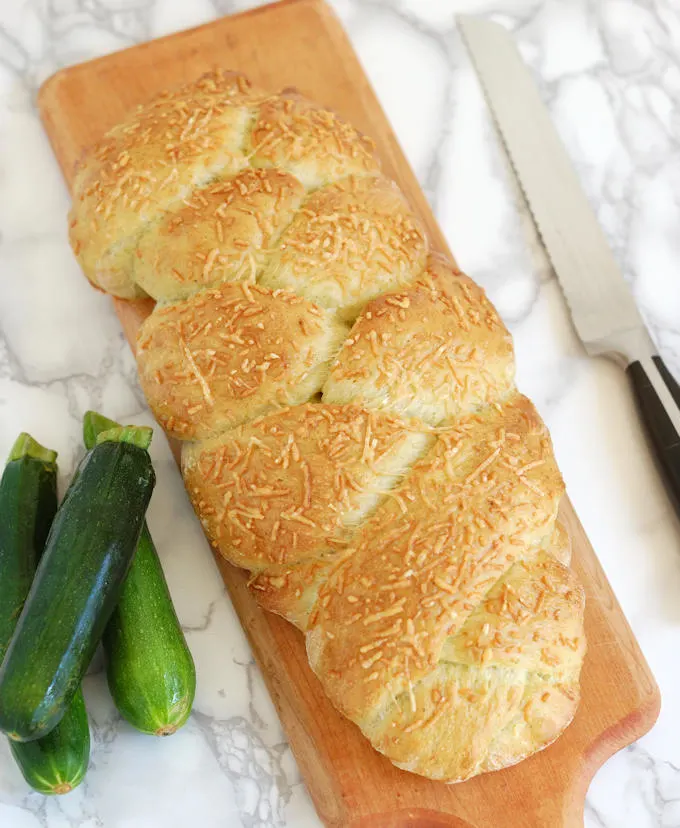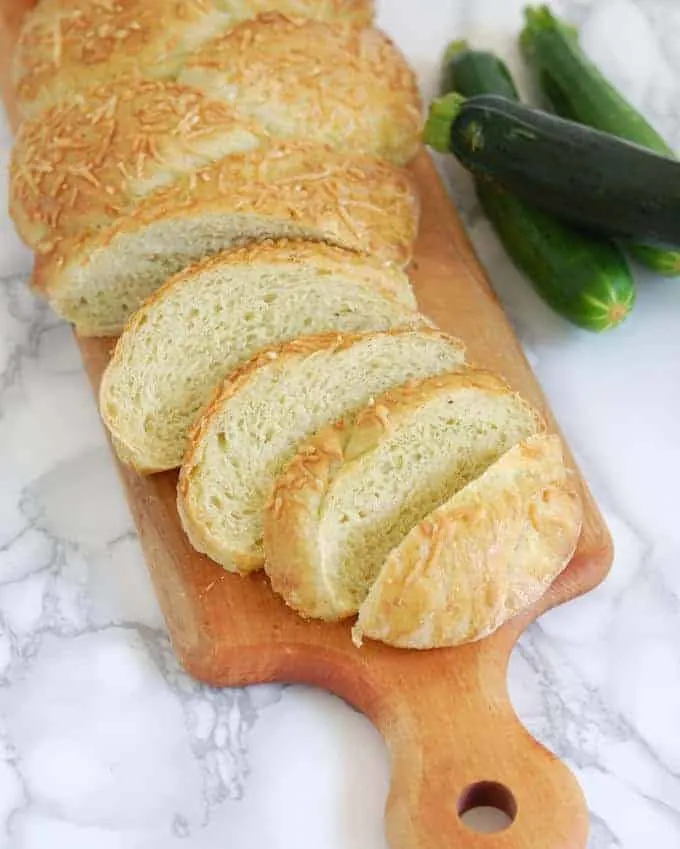 If you love this recipe as much as I do, I'd really appreciate a 5-star review.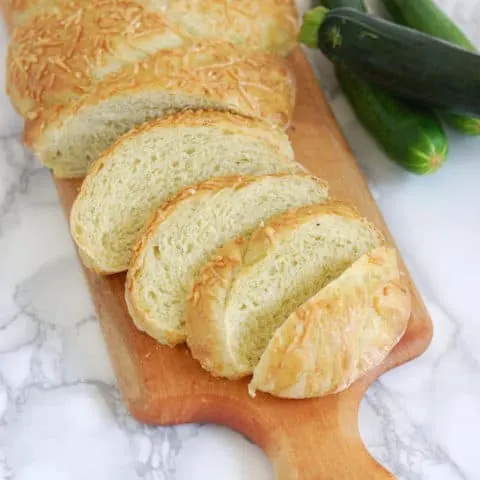 Braided Zucchini Yeast Bread
Total Time:
2 hours
55 minutes
Fresh zucchini puree gives bread great moisture and flavor.
Ingredients
1 large zucchini (8 oz, 225g) sliced 1/2" thick
1/4 teaspoon salt
1/2 cup (4 oz, ml) water, 110-120F
1 tablespoon dry yeast
1 teaspoon salt
1/4 teaspoon black pepper, or more to taste
1 large egg, room temperature
2 1/2 - 3 cups (13-15 oz, 380-450g) bread flour
Finish
1 egg whisked with 1 tablespoon water and a pinch of salt for egg wash
2 tablespoons shredded Parmesan cheese for garnish, or garnish of your choice.
Instructions
Toss the zucchini slices with the 1/4 teaspoon of salt. Set aside for 15 minutes. Spread the zucchini in a single layer on a paper towel. Lay another paper towel on top of the zucchini and press down to absorb the liquid. Puree the zucchini slices in a food processor until it looks like apple sauce.
Combine zucchini puree, water, yeast, salt, pepper and egg in a mixer bowl. Mix on low speed to combine. Add 2 cups of flour and mix 2 minutes to form a thick batter. Switch to the dough hook. Add the remaining flour a little at a time, until the dough gathers onto the hook and clears the sides of the bowl. Knead for 5 minutes. If working by hand, add as much flour as you can with a wooden spoon the turn the dough out onto a floured surface to finish kneading in the remaining flour.
Turn the dough out onto a floured surface and knead into a smooth ball. Place the dough in an oiled bowl, turning once to coat. Cover the bowl and set aside to rise until doubled, about 1 hour.
Turn the dough out onto a floured surface, knead a few times and divide into 3 equal pieces. Roll each piece of dough into a 14" long rope. Braid the three ropes, pinching each end to seal together and set the loaf onto a parchment lined baking sheet. Cover with plastic wrap which has been oiled to prevent sticking. Set aside in a warm place for about 1 hour until the dough has almost doubled in volume and springs back slowly when poked.
Meanwhile, preheat the oven to 350°F convection or 375°F regular. Brush the loaf with egg wash Sprinkle with grated Parmesan Cheese or garnish of your choice. Bake about 30-35 minutes until golden brown. The interior temp should be about 190°F.
Recommended Products
As an Amazon Associate and member of other affiliate programs, I earn from qualifying purchases.