These Yellow Squash Muffins are a new riff on traditional lemon poppy seed muffins. Shredded summer squash adds lots of moisture and nutrition to the muffins. And that sweet-tart lemon glaze on top? Oh my!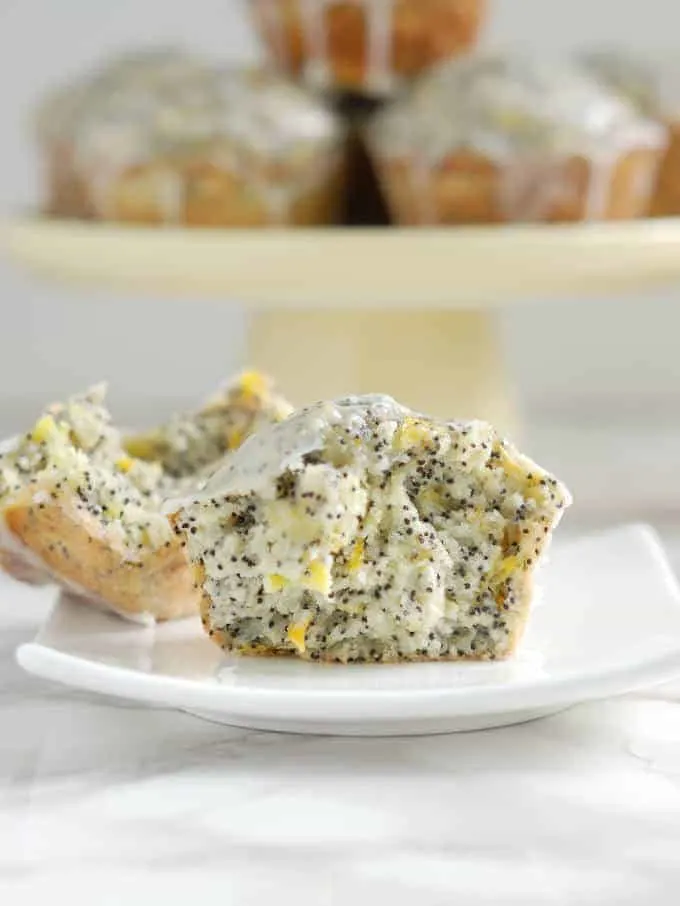 There are only 13,000,000 internet search results for "Yellow Squash Muffins", as opposed to the 26,000,000 results for "Zucchini Muffins". I know because I Googled it. So it looks like the world needs a yellow squash muffin recipe, no?
Well, maybe the world doesn't need just another squash muffin recipe, but this recipe has lemon zest, crunchy poppy seeds and a sweet/tart lemony glaze to make them extra special. This recipe is one in 13,000,000, if I do say so myself.
Scroll through the step by step photos to see how to make Yellow Squash Muffins with Lemon & Poppy Seeds:
Of all my zucchini recipes, I'm particularly crazy about my Chocolate Orange Zucchini Bread. So that recipe was the starting point for this new version of lemon poppy seeds muffins.
How I turned zucchini bread into Yellow Squash Muffins:
Obviously, I used yellow squash instead of zucchini. That's an easy 1:1 trade off since both veggies have the same texture and water content.
As I do whenever I bake with zucchini, I layered the shredded squash with paper towels to absorb excess moisture.
I eliminated the cocoa from the original recipe and replaced it with an equal amount of flour.
Inspired by the lemony-yellow color of the squash, I ditched the spices in the original recipe and added lemon zest and poppy seeds for a different flavor profile.
Finally, I created a sweet/tart lemon glaze to top the muffins. You can leave it off if you want a lower sugar muffin.
Do you need to soak poppy seeds in milk before baking?
If you've ever made a poppy seed cake or muffin you've probably seen the instruction to soak the poppy seeds in milk or water.
A while ago, as I was testing the recipe for my Triple Citrus Poppy Seed Cake I did a little kitchen experiment.
I was wondering if it was really necessary to soak the poppy seeds before adding them to the batter. I wanted to know if it really makes any difference to the taste or texture of the cake.
Spoiler alert! I obviously decided it was worth the time since I included the step to soak the poppy seeds in this recipe.
Go ahead and click over to the Triple Citrus Poppy Seed Cake post so you can read about my experiment. Sometimes these little steps do make a difference.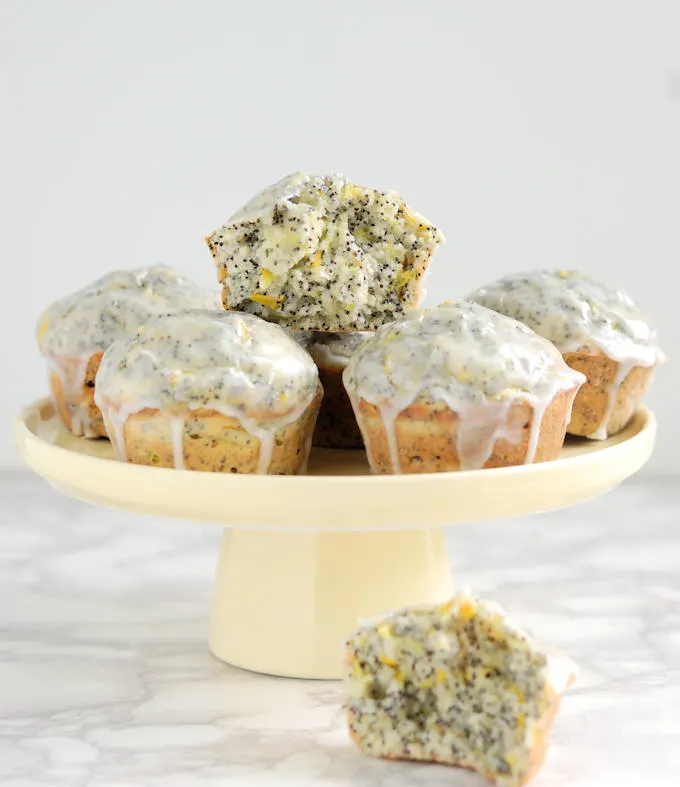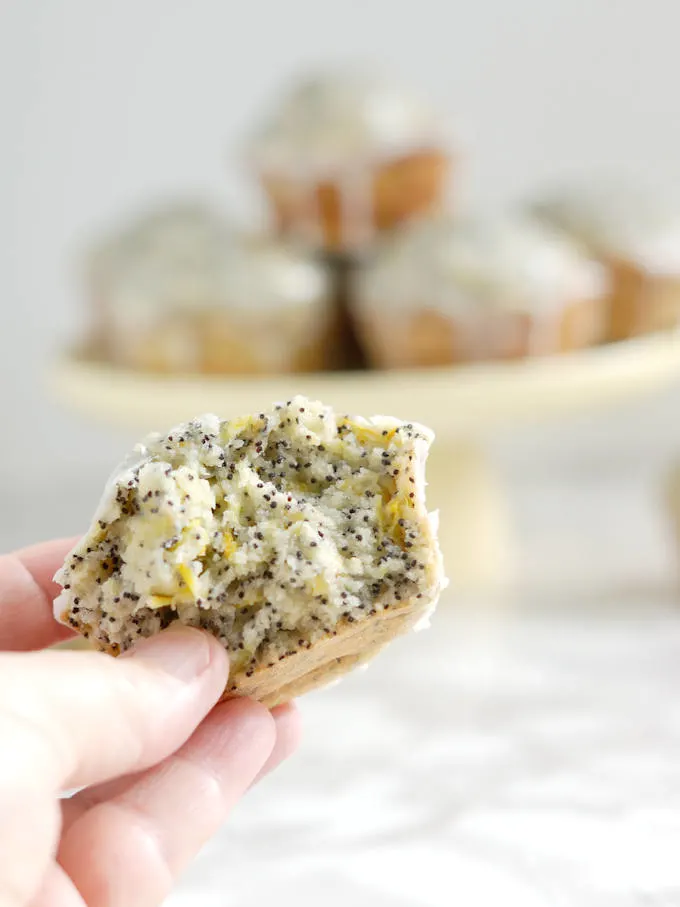 It's amazing how just a few simple changes to one recipe can yield two very different, yet equally delicious, treats. Once again proving that baking is both an art and a science.
Want more muffin recipes? Bacon & Egg Muffins, Blueberry Cornbread Muffins, Sourdough Blueberry Muffins, Sunflower Muffins, Zucchini Muffins, Bran Muffins, Cranberry Orange Muffins, Lemon Blueberry Muffins.
If you love this recipe as much as I do, I would really appreciate a 5-star review.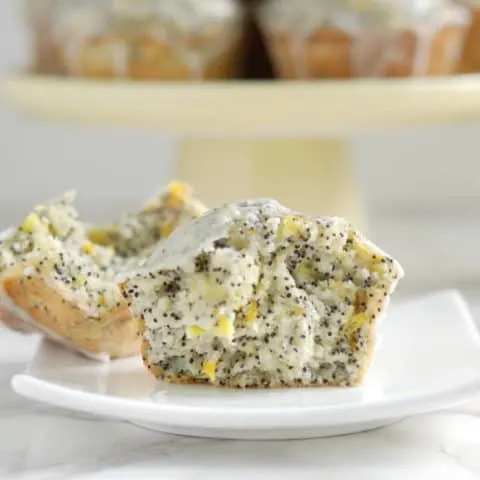 Yellow Squash Muffins with Lemon Poppy Seeds
A new riff on everyone's favorite lemon poppy seed muffin. Shredded summer squash adds lots of moisture and nutrition to the muffins.
Ingredients
1/2 cup poppy seeds
1/2 cup (4 oz, 120 ml) whole milk
Muffin Batter
1 pound (454g) yellow squash (2-3 medium)
2 cups (10 oz, 280g) all-purpose flour
1 1/2 teaspoons baking powder
1/2 teaspoon salt
1 cup (8 oz, 224g) granulated sugar
1/4 cup (1.75 oz, 50 ml) vegetable oil
3 large eggs
zest from 2 lemons, very finely grated
1/2 teaspoons lemon extract
Glaze
1 cup (4 oz, 112g) confectioner's sugar
3 tablespoons fresh lemon juice
Instructions
Place the poppy seeds in a small bowl and pour the milk over the seeds. Set aside to soak for at least 1 hour and up to 3 hours.
Preheat the oven to 350F. Butter and flour a 12 cup muffin pan or line with paper cupcake liners.
Use the large holes of a box grater or the large grating disc of a food processor to shred the squash. Spread the squash in an even layer on a paper towel and cover with another paper towel. Press to absorb the liquid. Let the squash sit while you mix the batter.
Combine the flour, baking powder, salt and sugar in a mixing bowl and whisk to combine.
In another bowl, whisk together the oil and eggs. Stir the squash, lemon zest and lemon extract into the wet ingredients.
Add the wet ingredients to the dry ingredients all at once and stir just until combined. Drain and rinse the poppy seeds and fold them into the batter.
Use a 2 ounce scooper or 1/4 cup measure to portion the batter into the prepared pan. Bake until the muffins spring back when lightly pressed in the middle, 12-15 minutes
While the muffins bake, combine the lemon juice and confectioner's sugar to make the glaze.
Cool the muffins in the pan for 5 minutes. Lift each still-warm muffin from the tin and dip the top into the lemon glaze. Set on a cooling rack. The glaze will set as the muffins cool.
Notes
This recipe will also make 6 jumbo muffins or one 9"x5" loaf. Adjust the baking times as needed.
Recommended Products
As an Amazon Associate and member of other affiliate programs, I earn from qualifying purchases.
You might also like: