Zucchini Biscuits with Basil and Parmesan is a great way to use excess zucchini, and there's always excess zucchini.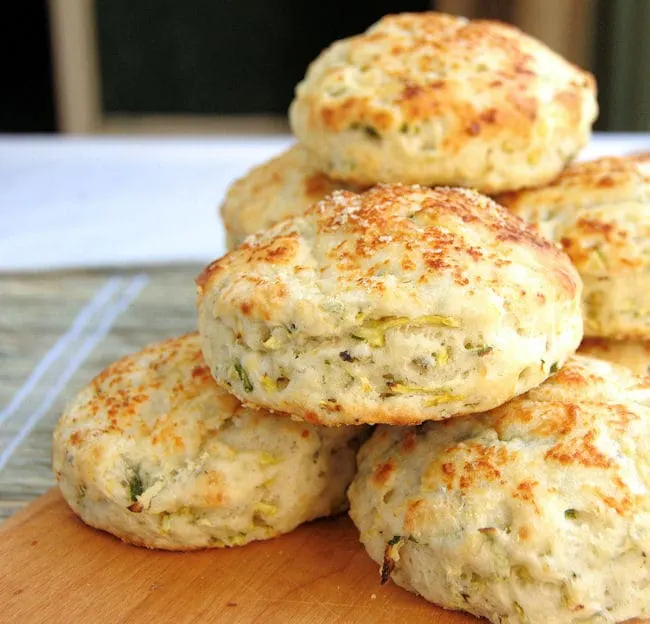 When I want to create a new recipe or a twist on an old favorite there's sometimes a bit of trial and error involved. I start by looking over my own recipes and/or looking at favorite recipes from trusted cookbooks. Then it's a matter of tweaking the ingredients based on the desired outcome.
This is exactly the process I went through to create a new zucchini recipe. I thought sharing this process might help you see how you can adapt and create your own recipes.
If you know the function of each ingredient in a recipe you can make changes with specific goals in mind. This is especially true when baking, as you can't just randomly change an ingredient without possibly running into big trouble.
Zucchini is a great baking ingredient since it's mostly water and doesn't have a strong flavor. I wanted to create a baked good that leaned more toward the savory side. I decided to make savory Zucchini Biscuits with Basil & Parmesan that could be served with dinner or used as the base for a nice breakfast or lunch sandwich.
In her book Bakewise the great Shirley Corriher discusses in detail how to bake a true southern biscuit. She tells us that two keys to a great biscuit are soft flour (like low protein cake flour) and a very wet dough. The starting point for my recipe was a cross between Shirley Corriher's recipe and a good buttermilk biscuit recipe I've used over the years.
Even though I wanted a wet dough I was afraid there might be too much added water from the zucchini. So I cut back on the buttermilk and made sure to get rid of some of the excess water in the zucchini by salting it lightly and layering between paper towels.
I thought the bits of zucchini running through the dough might weaken the structure a little, so instead of using only cake flour I used 1/2 cake flour and 1/2 all purpose flour. The higher protein content of the all purpose flour would make for a stronger structure and the all purpose flour would absorb a little more water than the cake flour. Finally, I reduced the amount of sugar and added shredded Parmesan cheese, basil and black pepper to amp up the savory flavor.
Well, my first attempt didn't come out that great. The biscuits tasted good but they baked up too flat and had a slightly gummy texture.
Back to the drawing board. I decided that the dough was just too wet and I wanted a little more zucchini in the biscuits. I reduced the amount of buttermilk by a full 1/2 cup and increased the amount of zucchini.
To improve the structure and texture I used all purpose flour only and no cake flour. Because the dough was not as wet, I could now cut the biscuits with a 3″ biscuit cutter rather and using the scoop. This also improved the shape.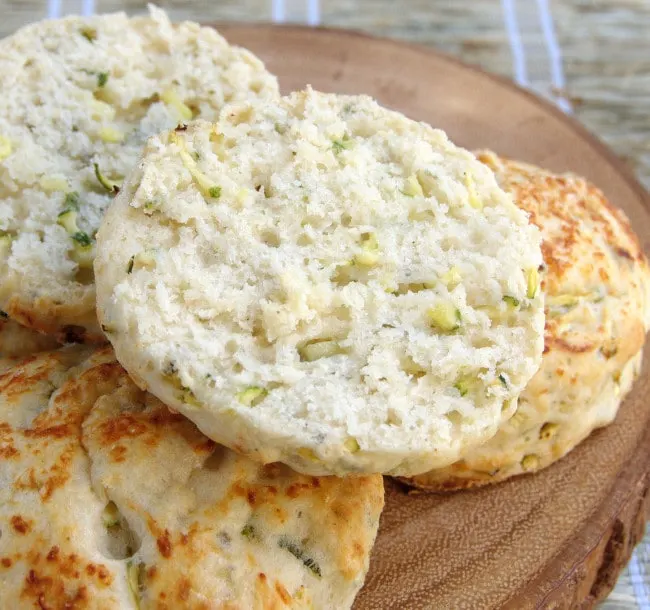 The second version baked up with a great flavor and texture. Not too sweet and nicely savory. Just what I was going for.
If you're reading this perhaps you've got a bunch of zucchini to use up. After checking out this recipe don't forget to look at my recipes for Whole Wheat Zucchini Bread, Chocolate Orange Zucchini Bread and Lemon Zucchini Bread.
I've also got recipes for Zucchini Yeast Bread recipe, not to mention recipes for Zucchini Muffins, Zucchini Galette and Zucchini Pie.
You might also want to try my Classic Buttermilk Biscuits, Cornmeal Biscuits and if you keep a sourdough starter you can make Sourdough Biscuits.
If you love this recipe as much as I do, I'd really appreciate a 5-star review.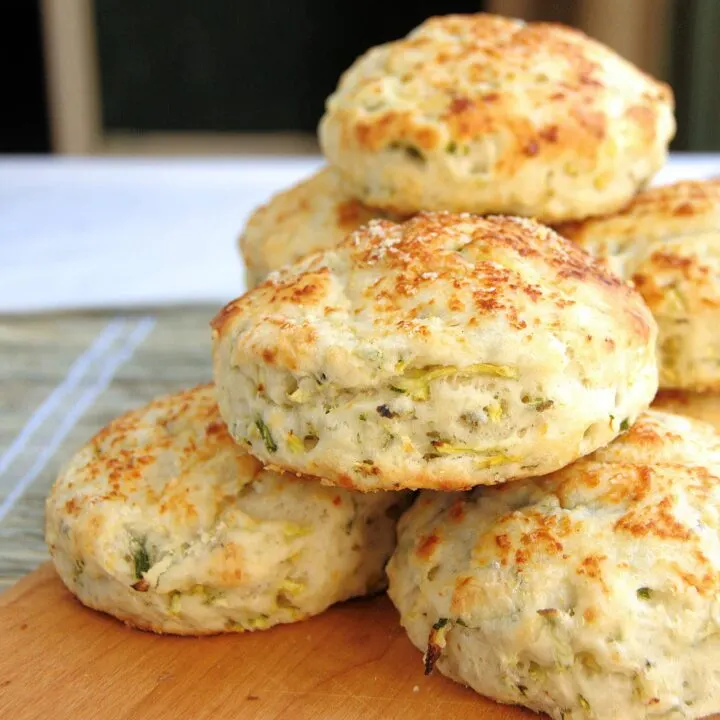 Zucchini Biscuits with Basil and Parmisan
Zucchini Biscuits with Basil and Parmesan is a great way to use excess zucchini, and there's always excess zucchini.
Ingredients
1 1/2 cups (6 oz, 170g) grated zucchini
2 cups (10 oz, 280g) all-purpose flour
1 tablespoon baking powder
1 tablespoon granulated sugar
1/2 teaspoon salt
1/2 teaspoon black pepper
1/4 cup grated Parmesan cheese, plus more for topping
1/4 cup fresh basil, minced
4 tablespoons (2 oz, 56g) unsalted butter
1 cup (8 oz, 240ml) buttermilk
buttermilk and parmesan for topping
Instructions
Preheat the oven to 450°F. Line a half sheet pan with parchment paper.
Toss the grated zucchini with a pinch of salt. Sprinkle the zucchini in an even layer on a paper towel and lay another paper towel on top of the zucchini and press down to absorb the liquid. Allow the zucchini to set while you mix the dough.
Combine the flour, baking powder, sugar, salt, pepper, Parmesan and basil in a large bowl.
Work the butter in with your fingers until there are no pieces larger than a pea. Add the buttermilk and the zucchini to the flour mixture and toss until combined. If the dough seems very dry, add 1 or 2 extra tablespoons of buttermilk just until all the flour is absorbed.
Turn the dough out onto a heavily floured work surface. Sprinkle the surface of the dough with flour and use your hands to flatten the dough into a 1/2" thick slab.
Dip a 3" biscuit cutter into the flour and cut rounds of dough. Gather the scraps and continue cutting to use up all the dough.
Place the biscuits on the prepared baking sheet. Brush each biscuit with buttermilk and sprinkle with more shredded Parmesan.
Bake 12-15 minutes until golden brown.
Recommended Products
As an Amazon Associate and member of other affiliate programs, I earn from qualifying purchases.