Use up all that zucchini you've got in the fridge to make Lemon Zucchini Bread with olive oil & thyme. It's so good you won't even notice the healthy veggies in the mix.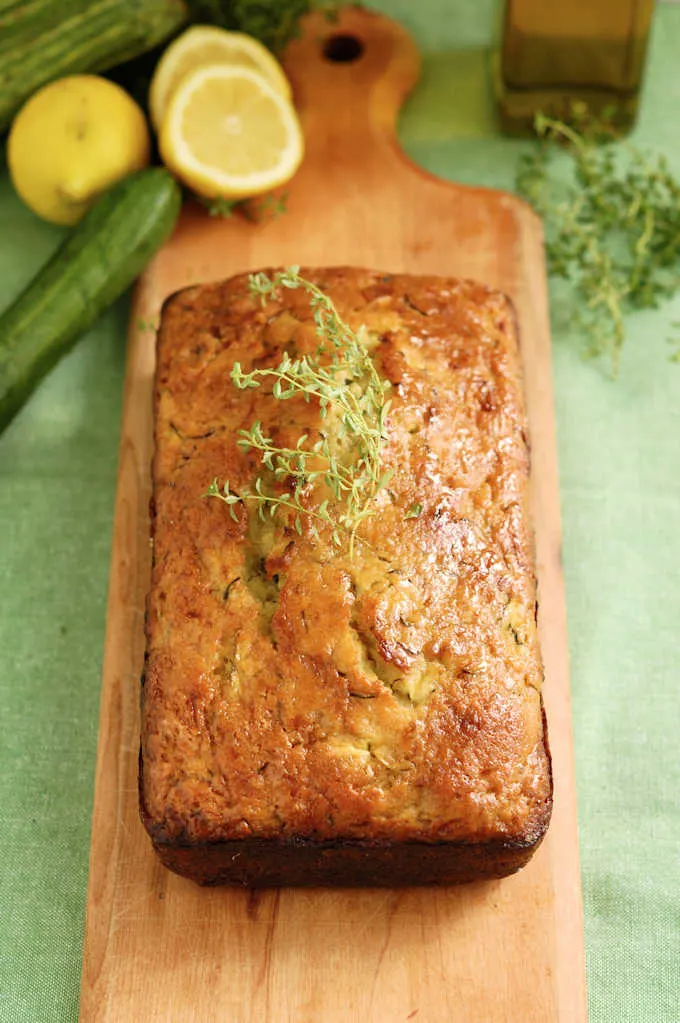 By now we've all seen about a 120,238,290,832 different zucchini bread recipes, haven't we?
I have already posted a Whole Wheat Zucchini Bread, a Chocolate Orange Zucchini Bread recipe and a Zucchini Yeast Bread recipe, not to mention recipes for, Zucchini Cake with Cream Cheese Frosting, Zucchini Biscuits, Zucchini Muffins, Zucchini Galette and Zucchini Pie.
But, just like the notoriously prolific veggie, there's no such thing as too much of a good thing, right?
This version of zucchini bread is super-moist with a hint of zesty lemon, a little olive oil & just a whisper of fresh thyme. I think you'll love the extra fresh flavor that's unlike any zucchini bread I've tasted.
How to make the best Lemon Zucchini Bread:
Add fresh lemon zest for a potent lemony flavor. Lemon juice is mostly acidic, but the zest has the lemon oil. That's where the lemon flavor comes from.
Use the lemon juice to make a sweet/tangy glaze.
Add extra virgin olive oil instead of basic vegetable oil for a fresh "green" flavor.
Add a hint of thyme to enhance the olive oil and lemon flavors. It's a slightly herbal background flavor that you'll hardly notice. But it makes a big difference in the overall bright flavor in the loaf.
Drain the zucchini to wick away excess moisture:
Zucchini is a great baking ingredient because it has so much moisture and a neutral flavor. But we don't want to overdo it.
Zucchini bread batter can only hold so much water. If you add too much water to the batter the bread will become gummy. Blotting the shredded zucchini with paper towels wicks away some of the moisture.
Less water in the zucchini means more overall zucchini with the same amount of water in the batter. By removing excess moisture we can add more zucchini to the recipe.
This is how we get a whole pound of zucchini in one loaf.
Scroll through the step by step photos to see how to make Lemon Zucchini Bread with Olive Oil & Thyme: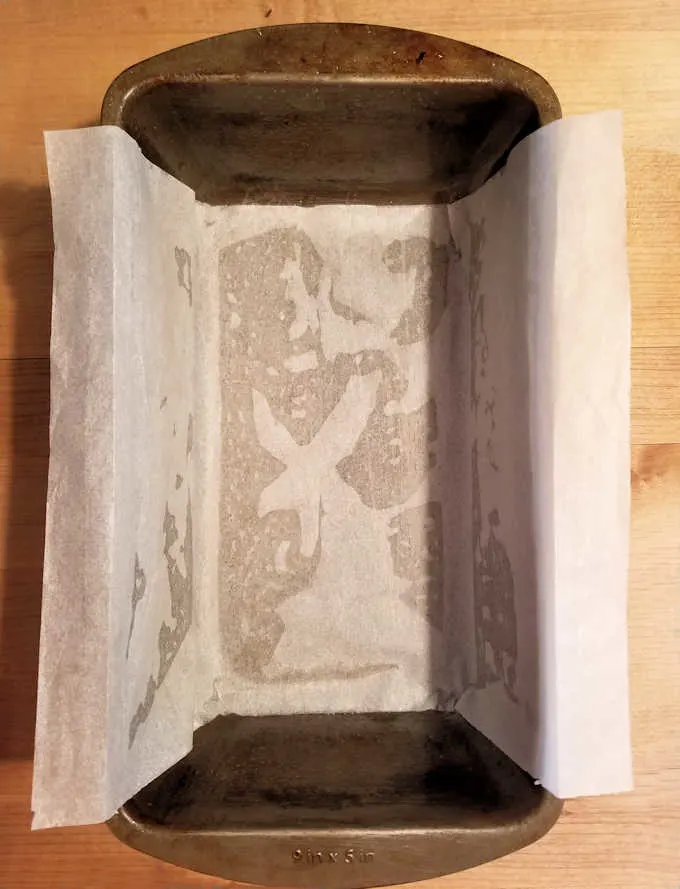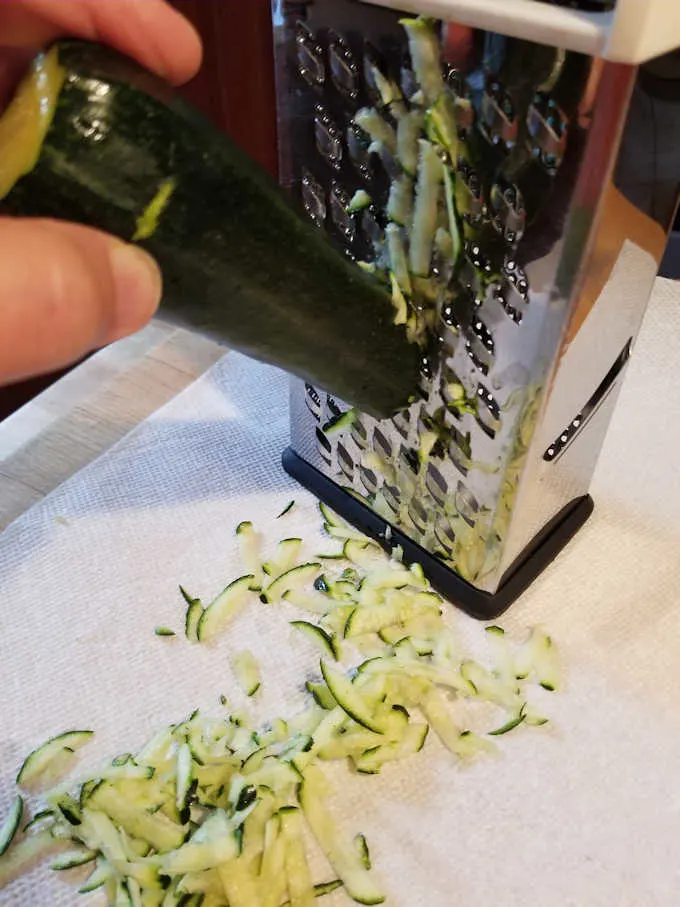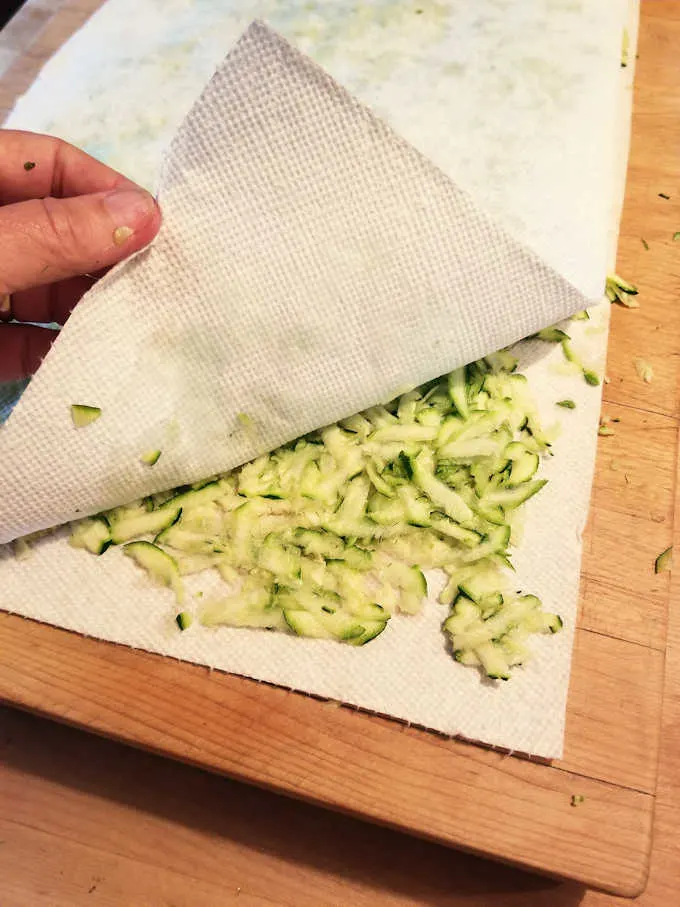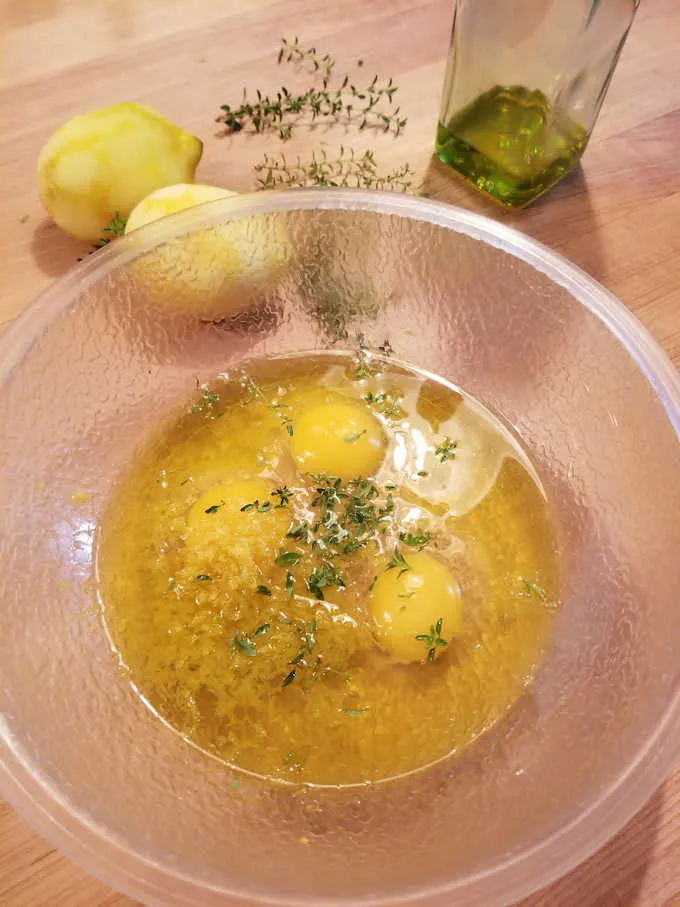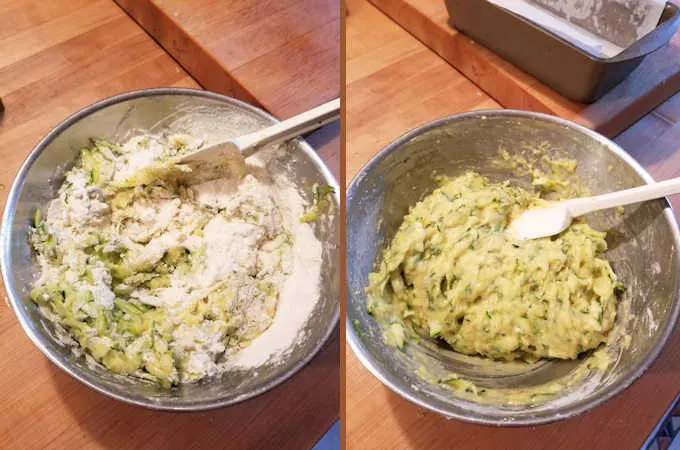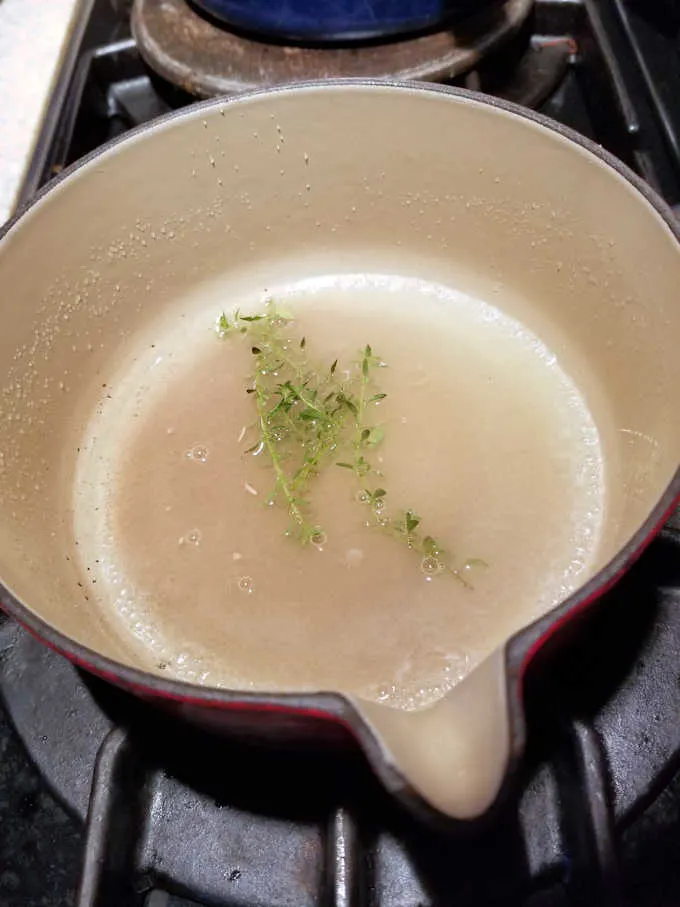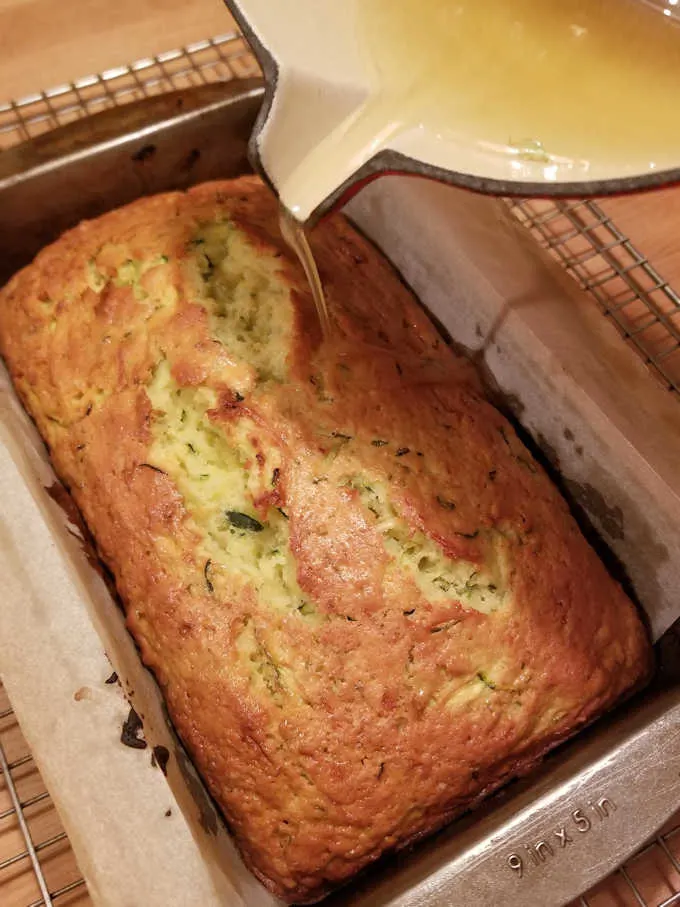 This Lemon Zucchini Bread feels like a decadent treat, but don't forget that there's a whole pound of veggies in this recipe.
But wait, there's more, this bread requires less oil because of the moisture added by the zucchini. So I'd say it's a win-win-win recipe.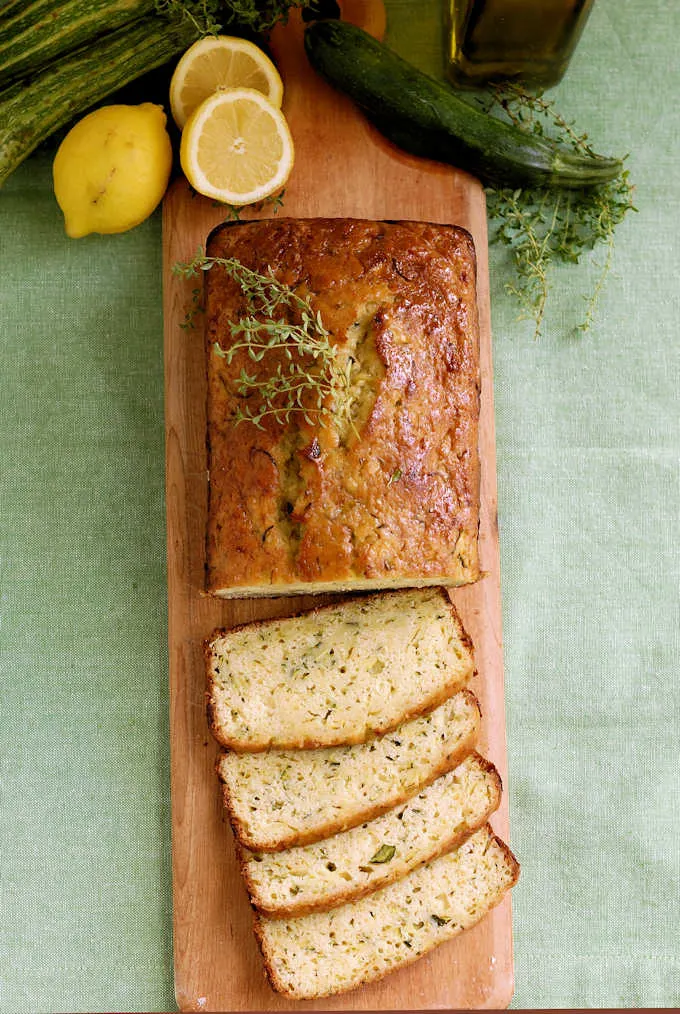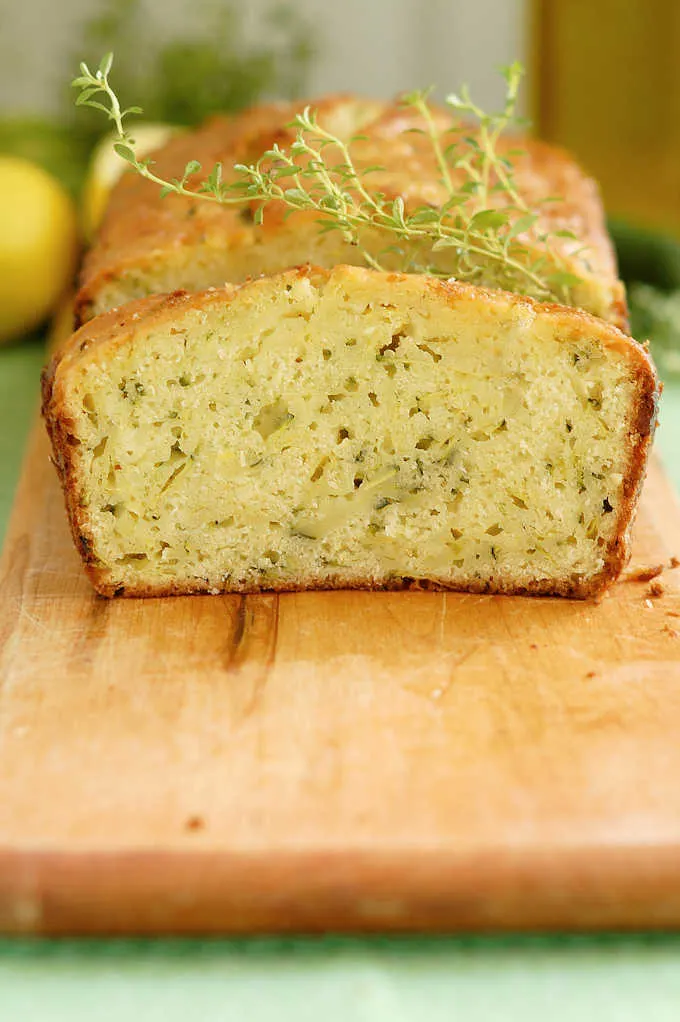 If you love this recipe as much as I do, I'd really appreciate a 5-star review.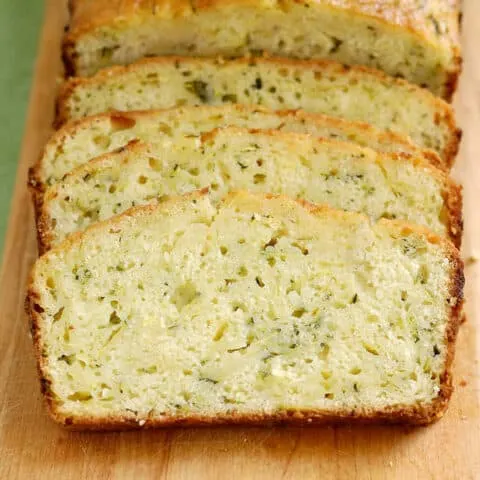 Lemon Zucchini Bread with Olive Oil & Thyme
Total Time:
1 hour
10 minutes
Use up all that zucchini you've got to make Lemon Zucchini Bread. It's so good you won't even notice the healthy veggies in the mix. It's super-moist with a hint of zesty lemon, a little olive oil & thyme. This loaf has an extra fresh flavor that's unlike your typical zucchini bread.
Ingredients
1 pound (454g) zucchini (about 2 medium)
2 cups (10 oz, 280g) all-purpose flour
1/2 teaspoon salt
1 1/2 teaspoons baking powder
1 cup (8 oz, 224g) granulated sugar
1/4 cup (1.75 oz, 50 ml) olive oil
3 large eggs
zest from 2 lemons, very finely grated
leaves from 1 sprig lemon thyme or thyme, about 1/2 teaspoon of leaves (optional)
Glaze
1/4 cup (2 oz, 60 ml) lemon juice (about 2 lemons)
1/4 cup (2 oz, 56g) granulated sugar
1 sprig lemon thyme or thyme (optional)
Instructions
Use the large holes of a box grater or the large grating disc of a food processor to shred the zucchini. Spread the zucchini in an even layer on a paper towel and cover with another paper towel. Press to absorb the liquid. Let the zucchini sit while you mix the batter.
Combine the flour, salt, baking powder and sugar in a mixing bowl and whisk to combine.
In another bowl, whisk together the oil and eggs. Stir the zucchini, lemon zest and thyme leaves into the wet ingredients.
Add the wet ingredients to the dry ingredients all at once and stir just until combined. The batter will look quite dry at first, but will loosen up as you mix it.
Pour the batter into the prepared loaf pan. Bake until a toothpick comes out with a few moist crumbs, 45-50 minutes.
While the bread bakes, combine the lemon juice and the granulated sugar in a small saucepan. Toss in the thyme sprig. Cook over medium heat until the sugar dissolves. Set aside to cool. Once the syrup is cool, remove the thyme sprig.
As soon as the bread comes out of the oven, pour the lemon glaze over the loaf. Cool the loaf in the pan for 10 minutes and then turn out onto a cooking rack to cool completely.
Wrap and store at room temperature until serving. The bread will keep for several days at room temperature.
Recommended Products
As an Amazon Associate and member of other affiliate programs, I earn from qualifying purchases.